Ireland is a magical place—especially for golfers. Anytime you set foot on the verdant shores of the Emerald Isle, it's a chance to enjoy some of the world's best golf, along with off-course experiences that make you want to never leave. Ireland is famous for its storied links gems, of course, but there are many parkland layouts that are equally enjoyable. And the warm welcome visitors receive, along with the legendary apres golf "craic," have elevated Ireland to the top echelon of golf destinations.
It's almost impossible to choose a favorite course from all the great ones Ireland has to offer—though if pressed, I would name a few. And it's only a bit easier to name my favorite holes. My initial list (inclusive of courses in both Ireland and Northern Ireland) had 27 contenders. But I've narrowed it down to these 10 (with yardages indicated from the tips). No doubt you will have your favorites, too, if you've been lucky enough to play in Ireland. Suffice to say that it would be a fit subject for a lengthy conversation over a pint of Guinness or a dram of Bushmills.
15th hole, Ballyliffin Golf Club (Glashedy course)—450 yards, par four
It's the No. 1 handicap hole on this stellar course, located in far northwest Ireland, and it's every inch a toughie. From the elevated tee, an accurate draw is the preferred shot as the hole doglegs to the left and you must avoid bunkers set into the sandhills on both the right and left. More bunkers await just shy of the green (with another at its rear for good measure). This "links in the sky" is one of two superb courses at Ballyliffin. I could've filled this list with holes from them alone.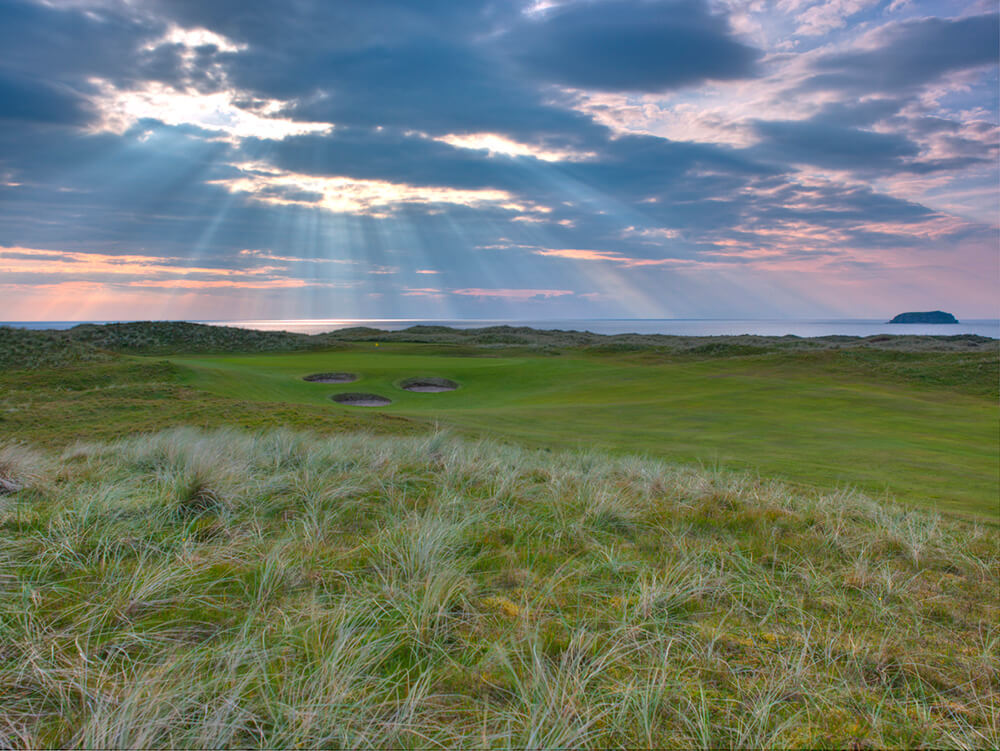 5th hole, Carne Golf Links (Kilmore course)—554 yards, par five
It's a hole that's unique in golf, one that bends steadily to the right in a tight valley stretching between two sets of towering dunes before dipping down a hill and then rising again to a small, kidney-shaped green. This hole also plays as the 8th hole on the club's Wild Atlantic Dunes composite course. Whichever way you play it, like the 26 other exhilarating holes at this fantastic club, it's unforgettably special.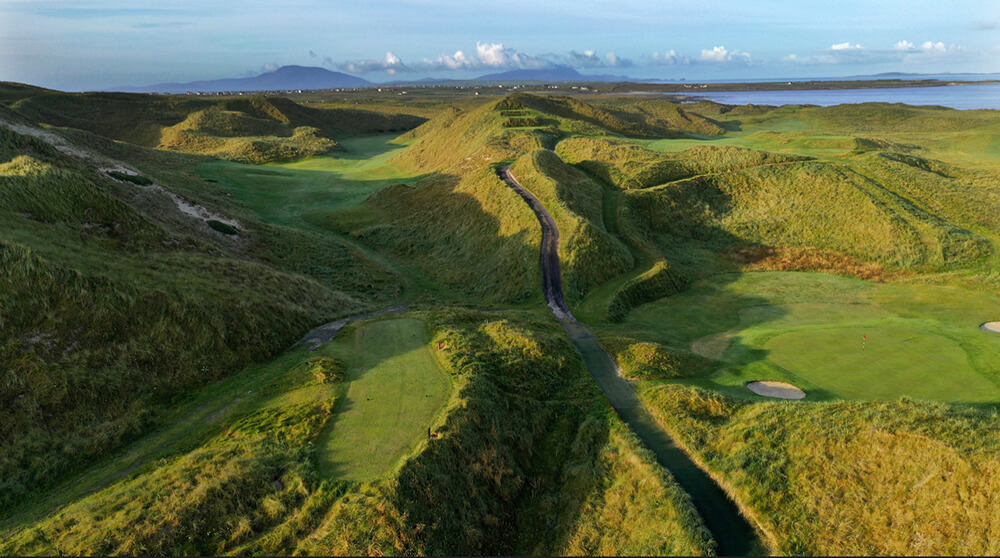 13th hole, Enniscrone Golf Club—338 yards, par four
Big dunes are one of the chief features at Enniscrone, too—especially on the back nine. The first challenge at the downhill, dogleg-right, par-four 13th is to decide where to play your tee shot. Do you try to play it safe down the middle between one set of dunes (and with which club)? Or do you try to mash it over another dune to leave yourself a shorter approach shot into the green that's hidden in its own private dell? Decisions, decisions…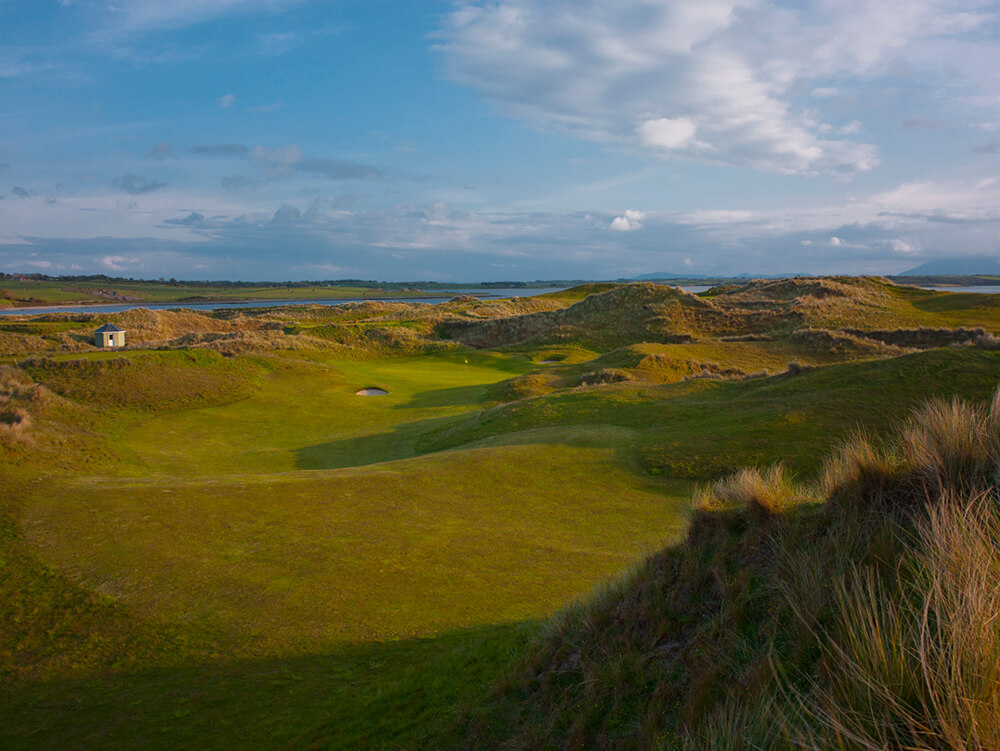 11th hole, Ballybunion Golf Club (Old course)—402 yards, par four
Several holes at Ballybunion made my short list, including the spectacular finishing hole. But the 11th is special. It plays right along the shoreline, with a line of stern sandhills to the left and saltwater to the right. After playing your tee shot into a narrow valley, your approach shot must carry the corner of two nettlesome dunes that guard the left side of the green. It's one of golf's most exhilarating holes.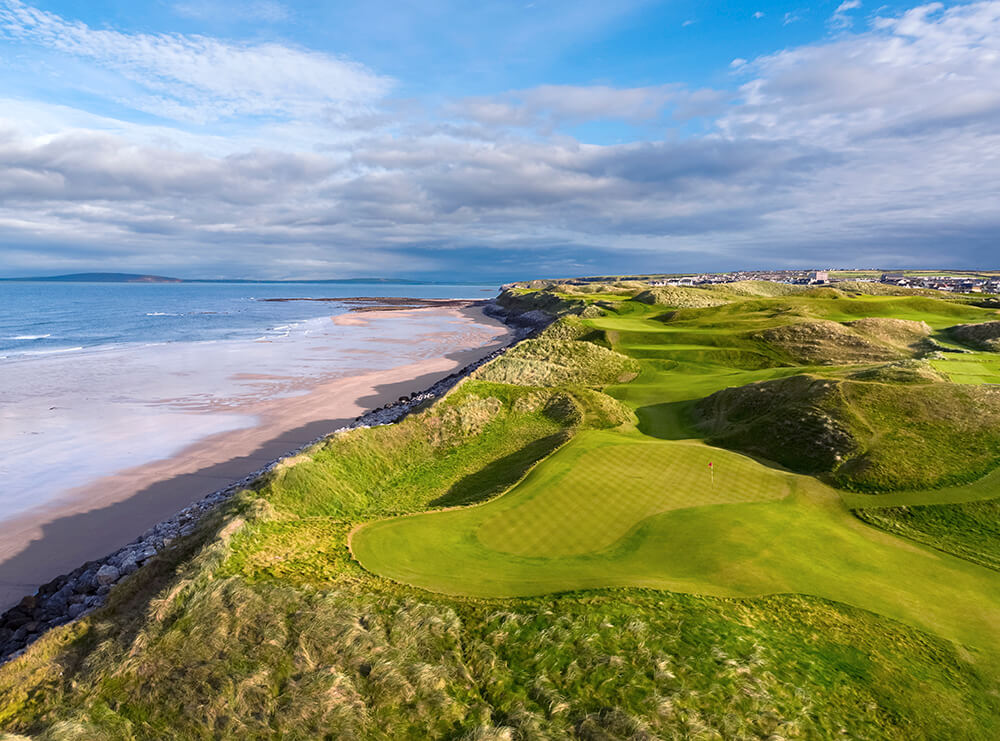 9th hole, Royal County Down Golf Club—486 yards, par four
This long par four also makes the list of the most photographed holes in golf, and with good reason. You play your tee shot over a ridge, keeping left of a tall sandhill that guards the right side. From the fairway, should you find it, your second shot plays slightly uphill to a green guarded by another small dune on the right and bunkers both left and right. The views of the sea, the Mountains of Mourne, and the stately Slieve Donard hotel as you play this standout par four will stay with you long after your round.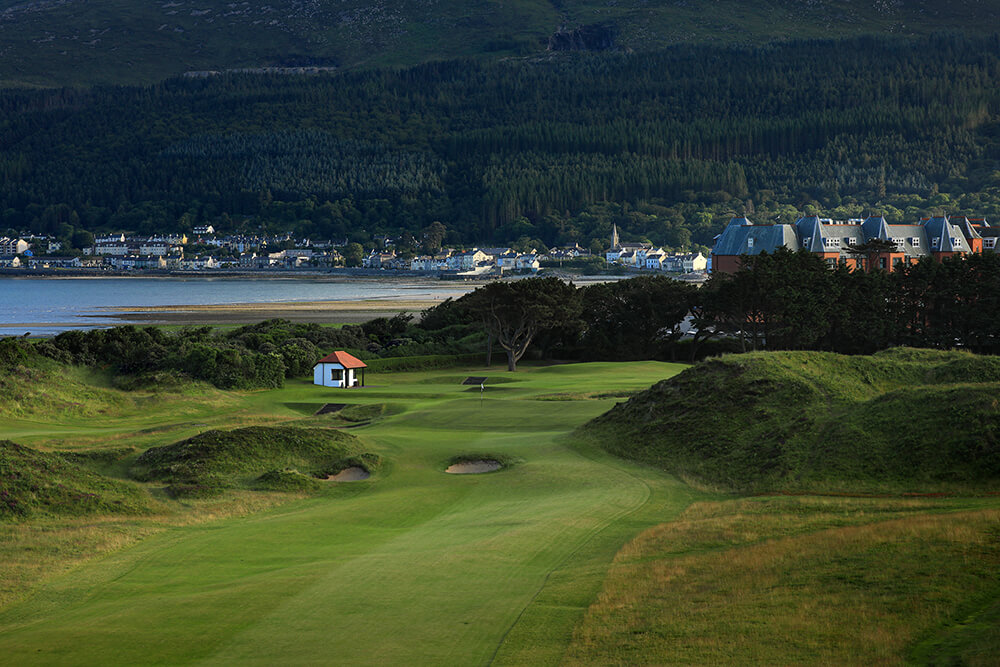 4th hole, Royal Portrush Golf Club—480 yards, par four
Royal Portrush has no shortage of spectacular holes, but the 4th is a personal favorite. The fairway looks wide, but it slopes considerably from right to left and features two pairs of deep bunkers at different ranges from the tee. Together, these elements effectively narrow the hitting area to the point that a wide-open tee shot becomes more of a thread-the-needle affair. Find the fairway, and you'll be left with a long second shot from a sidehill lie to a green that's tucked behind two Scylla and Charybdis sandhills, with only a narrow passage between them should you need to play a run-up shot to the putting surface.
12th hole, Old Head Golf Links—535 yards, par five
There are many dramatic holes at Old Head near Ireland's charming port town of Kinsale, but perhaps none more dramatic than the 12th, which hugs the edge of a towering cliff from one end to the other. Big hitters can try to shorten the hole by carrying their tee shots over the corner of the chasm, but everyone will eventually have to thread their way down the fairway, which tightens more and more as you approach the small green set just steps from oblivion. Those with a fear of heights be forewarned!
4th hole, County Sligo Golf Club—165 yards, par three
Typically, a downhill par three that plays this short doesn't present too much of a challenge—especially if there are no bunkers pinching in at the edges of the green. But the positioning of this green atop a small knoll gives this wee devil all the defenses it needs. You can't go long, left, right, or short and have an easy up-and-down. If you don't hit the green, you'll need to be a short-game wizard to save par.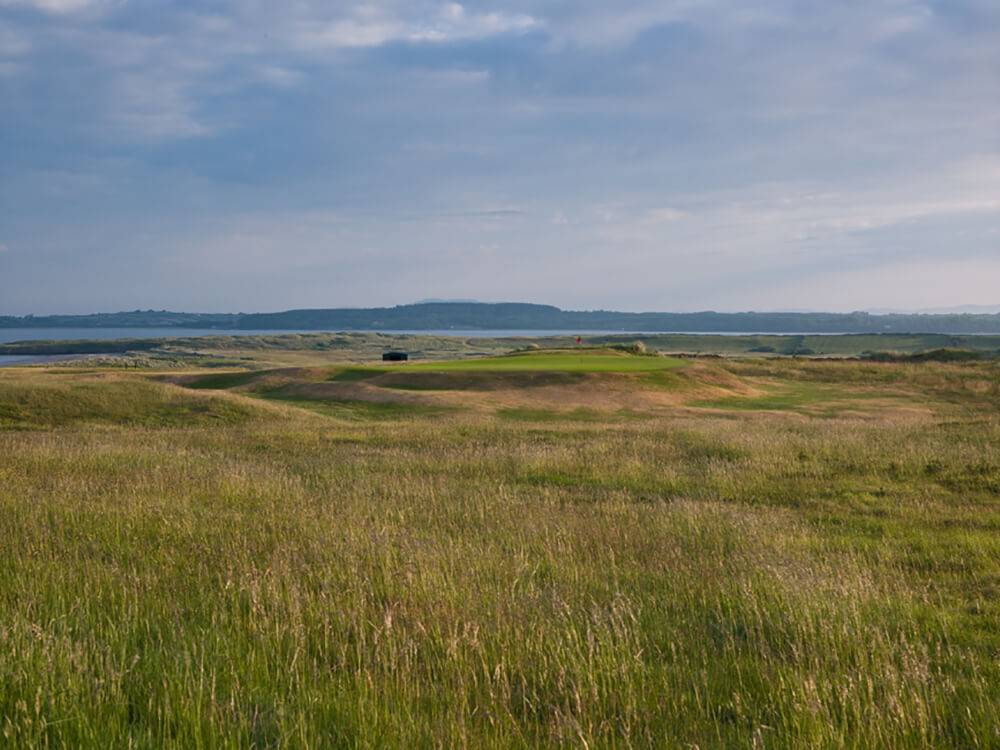 11th hole, Waterville Golf Club—505 yards, par five
This glorious hole is called "Tranquility" because when you're playing it, you feel like the only people on the planet. Situated in a bucolic valley that stretches between two lines of ever-tightening rough and sandhills, this hole meanders to the right, with a dip at about the 290-yard mark. Your approach is uphill to a crowned green with two deep bunkers on the left and steep drop-offs short and right. Play it with accuracy and birdie can be yours. Stray from the preferred path, though, and you'll be wedging out.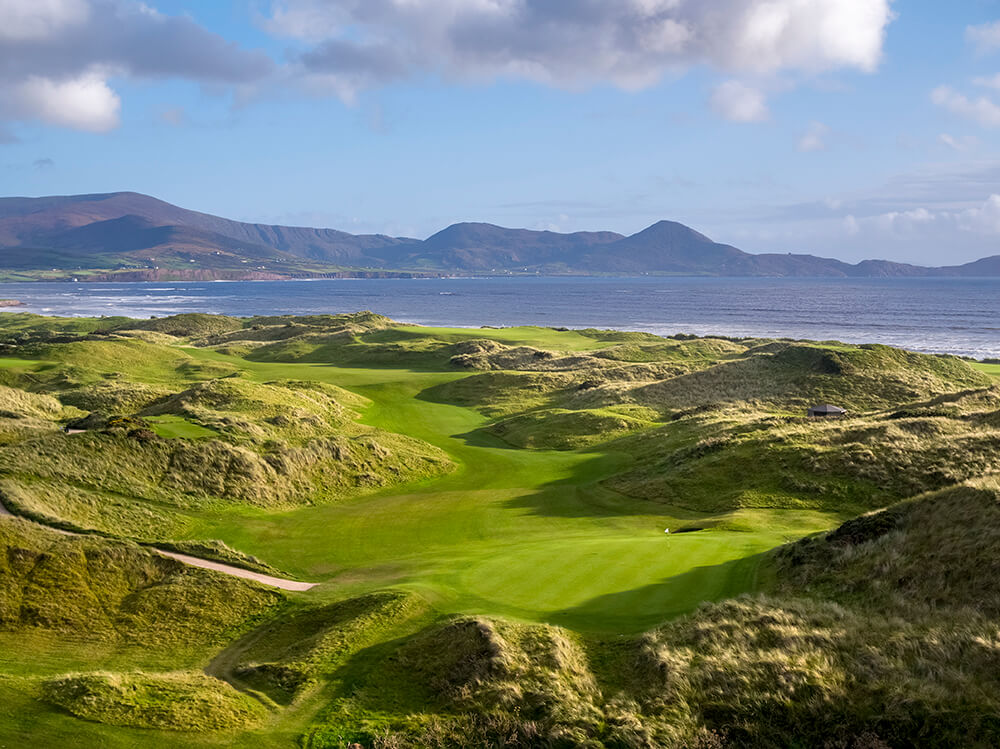 5th hole, Lahinch Golf Club—155 yards, par three
The famous "Dell" hole at Lahinch never fails to ratchet up your blood pressure. One of a handful of terrific blind par threes in the world, it's a hit-and-hope challenge that everyone playing the course looks forward to. Choosing the right club for the wind conditions and making a pure strike are key, as anything short will disappear into the face of a giant dune smothered in marram grass, and the green is wide but shallow. One of golf's great joys is playing a blind shot and racing to see where your ball ended up. You get to experience the pinnacle of that sensation here.
What are your favorite holes in Ireland?