Has anything or anyone benefitted more from the internet than Irish golf? Images of Waterville, Tralee, Old Head, or Royal County Down speed along the information superhighway and soon the world wants to visit. Courses that once charged 25 Pounds/Punts for 18 holes and lunch, and which people only knew about by reading the World Atlas of Golf, are now considered bucket-listers that can charge 10 times as much.
To play any of the four courses mentioned above—or Royal Portrush, The European Club, Lahinch, Portmarnock, Ballybunion—is a huge thrill, but those rounds on the Emerald Isle don't come cheap anymore.
Fear not, though. With roughly 350 courses, the island of Ireland (Northern and Éire as one) has a lot of golf you probably won't be familiar with. The following 15 courses may not be hidden exactly, but neither are they household names.
Birr—Co. Offaly
Golf was first played at Barrone Court in 1893, but the golfers moved to the north side of Birr, now designated an Irish Heritage Town, in 1909. The 18 holes were laid out over eskers and drumlins (mounds/ridges left by glaciers) which give the course its distinct character. Play here for just €20 (about $24) midweek. https://birrgolfclub.ie/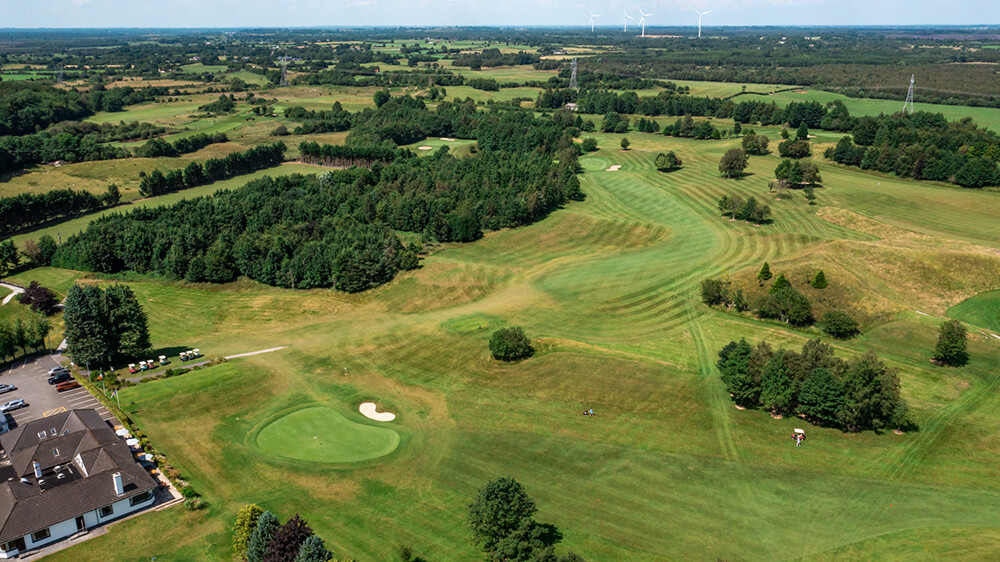 Castlerock—Co. Londonderry
Fourteen miles west of Royal Portrush (or about eight if you're a crow) is the charming seaside town of Castlerock whose golf course sits in the shadow not just of the 2019 Open Championship venue but also that of 2017 Irish Open venue Portstewart. The club was formed and the first nine holes laid out in 1901, but additional land was soon acquired and Ben Sayers built a second nine that opened in 1909. The Mussenden Course's holes—bordered by the North Atlantic, River Bann, and Northern Ireland Railways track and renovated in recent years by Martin Hawtree—are every bit as good as those of its distinguished neighbours, but at just under 6,800 yards and with all those borders it's not suitable for modern day tournament golf. The £135 (about $186) green fee is the highest here, but it's £105 less than Royal Portrush's and £60 less than Portstewart's, and worth every penny. http://www.castlerockgc.co.uk/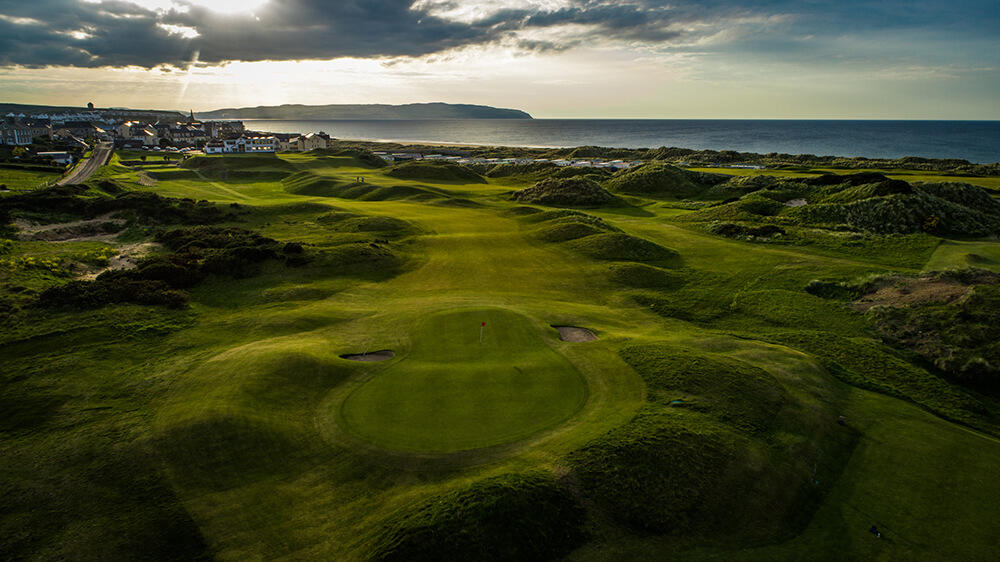 Carlow—Co. Carlow
The Leinster Golf Club formed in 1899 and played over nine holes in the village of Gotham, about five miles north of Carlow. The club became Carlow GC in 1901 and, 21 years later, leased 165 acres of a former deer park belonging to the Bruen Family and hired Portrush golfer Cecil Barcroft to lay out 18 holes. In 1937, Tom Simpson made some alterations along with Molly Gourlay, a successful competitive golfer who became perhaps the first female course designer. Today's course is much the same as Simpson and Gourlay left it and can be enjoyed for €30 midweek. https://carlowgolfclub.ie/
Course is looking fantastic 😀,
Top 10 Parkland course in Ireland in superb condition ⛳️ pic.twitter.com/szgfxkTaoB

— Carlow Golf Club (@carlowgolfclub1) July 3, 2020
Corballis Links—Co. Dublin
With a number of ownership changes and redesigns down the years, Corballis Links's history is long and somewhat confusing. All you need to know, though, is that this incredible par 66 on a narrow strip of linksland 15 miles north of Dublin was renovated by U.S. architect Ron Kirby in 2004 and has so many fun and eccentric holes you'll have a hard time limiting yourself to just one round. You can't spend €35 any better. https://corballislinks.com/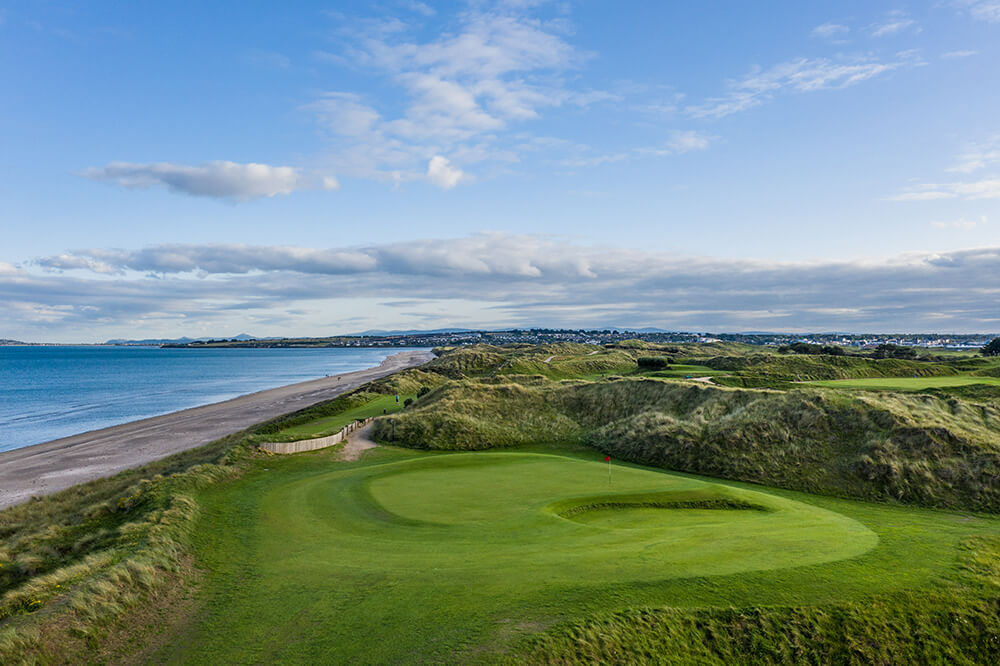 Cork—Co. Cork
In 1897, when Cork Golf Club was already nine years old, three members were out sailing on Lough Mahon when they spotted some interesting land on the water's edge. It belonged to the Cantillon Family and was marked by deep craters formed by quarrying for limestone, but the intrepid golfers wouldn't be deterred. They built four holes, filling the quarry scars with stones and covering it all with top soil. The course was extended to nine holes by club professional David Brown in 1901. New land to the north was acquired in 1909 and Harry Vardon was asked to advise on adding nine additional holes. After WWI, the club felt a major upgrade was in order so hired Alister MacKenzie, whose new holes and rebuilt greens created a course of 6,200 yards (par 78) that opened in the summer of 1925. Frank Pennick, Dave Thomas, and Robert Trent Jones have all made minor changes since, though Cork is still considered a MacKenzie design. Play it for €125 (about $147). https://www.corkgolfclub.ie/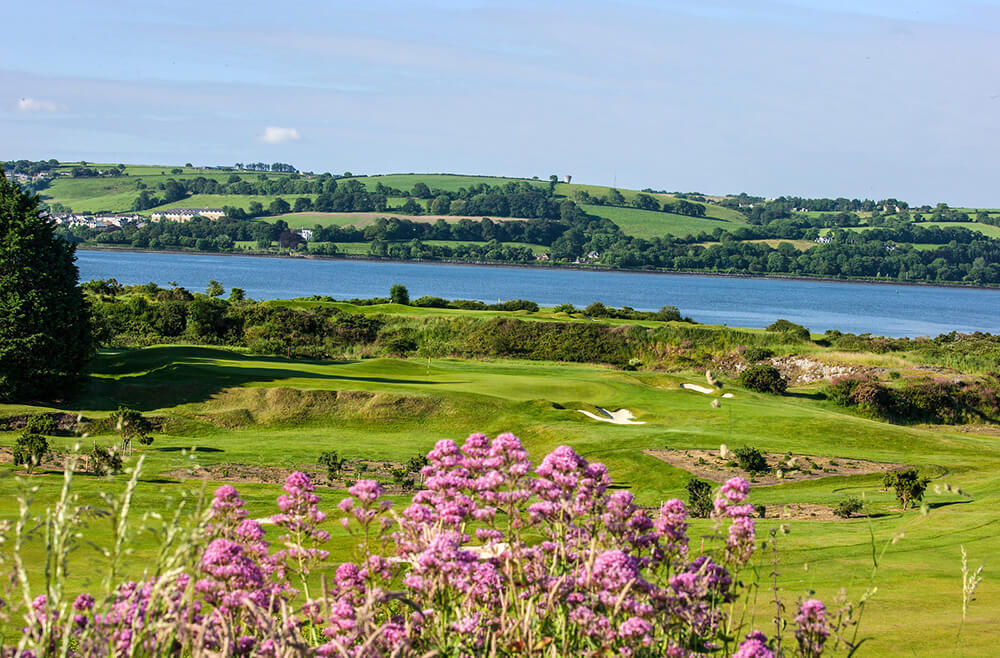 Dingle—Co. Kerry
If there's one course here you might be familiar with and question why it's included, it'll be Dingle, or to give it its proper name, Ceann Sibéal (Sybil's Head). Though most non-Gaelic speakers refer to it as "Dingle," it's actually a 15-minute drive west of town and much nearer the charming village of Ballyferriter. Dingle GC was founded in 1924, but the club abandoned its leased course in the late 1960s and hired the Godfather of Irish golf architects, Eddie Hackett, to build them a new course. The club could only afford to build nine of Hackett's holes, however, and had to wait until National Lottery money enabled them to add the second nine. Christy O'Connor Jr. was hired to build the holes Hackett had routed 20 years before, and the 18-hole course finally opened in 1991. Ken Kearney has made some subtle and well-received improvements in recent years, helping to spread Ceann Sibéal's already glowing reputation that little bit further. The €100 (about $118) summer green fee is money very well spent. https://www.dinglelinks.com/
Howth—Co. Dublin
It's said 23 golf courses are visible from Howth Golf Club, located on the circular Howth peninsula jutting out into the Irish Sea just 15 minutes east of Dublin city center. The course here began with nine holes in 1916, but James Braid added nine more that opened in 1929. The five-time Open Champion also remodeled the original nine and charged 28 guineas for the work (it's not known if he added a guinea or two for the inconvenience of getting lost in the gorse and bracken while walking the site and having to be found). In 1961, Irish engineer and building architect Desmond Rea O'Kelly made some changes and the club itself has made one or two of its own alterations, but the downland/heathland/links mix is still largely Braid's, and what a delightful brew it is. €75 (about $88) gets you a round. https://www.howthgolfclub.ie/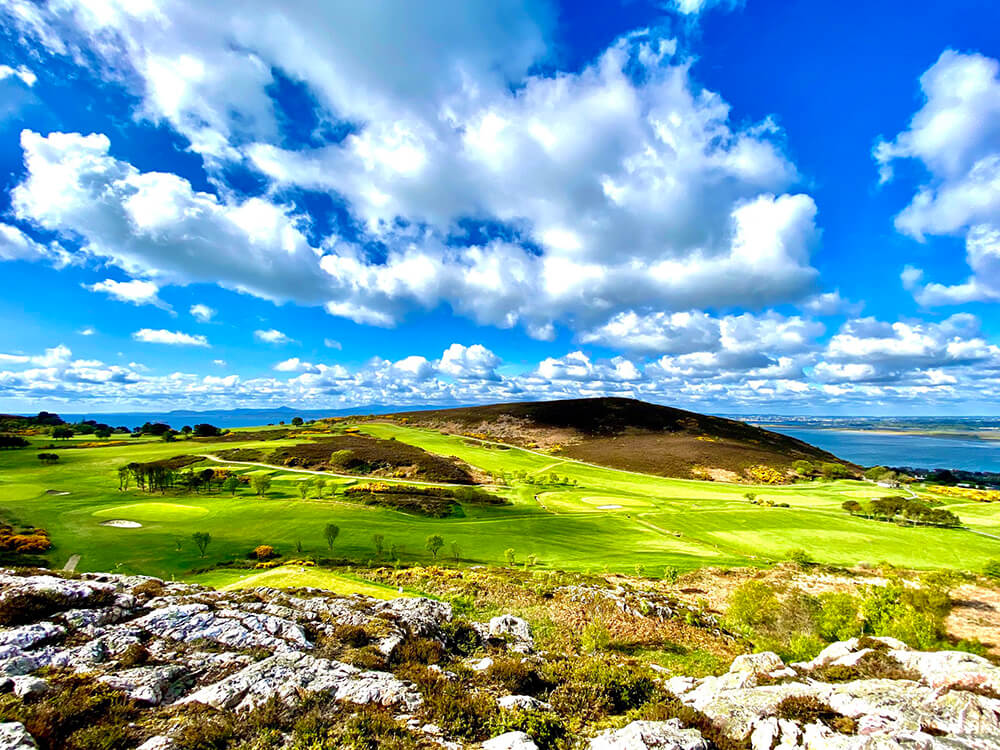 Malone—Co. Antrim
Belfast might not enjoy quite as much great golf as Dublin, but in Malone it can boast one of the island's finest parkland courses. Not unlike a number of clubs listed here, Malone's history is complicated involving a number of relocations since its founding in 1895. Its current home, in the southwest suburb of Dunmurry, is bordered by the River Lagan which empties into Belfast Lough five miles away. The course opened in 1962 and was designed by Englishman John Harris. Fred Hawtree made changes three years later, and in the early '80s three holes situated on low ground beside the river were moved to higher ground making way for construction of the club's third nine. Play the Championship 18 for as little as £60 and the Edenberry nine for £20. https://www.malonegolfclub.co.uk/
View this post on Instagram
North West—Co. Donegal
You have to love a country roughly the size of Indiana where courses as good, old (1891), and significant as North West barely get a mention outside of their immediate area. Located on the banks of Lough Swilly on the Inishowen Peninsula, North West was one of the nine founding clubs of the Golfing Union of Ireland (GUI) and was designed by the County Club's (which became Royal Portrush in 1895) professional Charles Thompson. For €60 (about $71) you can play this historic gem 15 miles south of the much better-known Ballyliffen. https://www.northwestgolfclub.com/
View this post on Instagram
Rosslare—Co. Wexford
Here's another Irish links you've probably never heard of, but which will have you in its grip by the time you reach the turn (much sooner, probably). For 20 years, the club played nine simple holes besides the now-closed Iona Hotel, but in 1925 it moved to a splendid strip of duneland half a mile to the north. Fred G. Hawtree and J.H. Taylor made the most of the sandy hollows and windswept, undulating terrain in routing a course that heads north toward The Point for seven holes, then turns south and hooks back north for the closer. The club has tinkered in recent years, but it's still essentially a Hawtree/Taylor course. The midweek green fee in summer is just €50 (about $59)—another of the country's great bargains. https://rosslaregolf.com/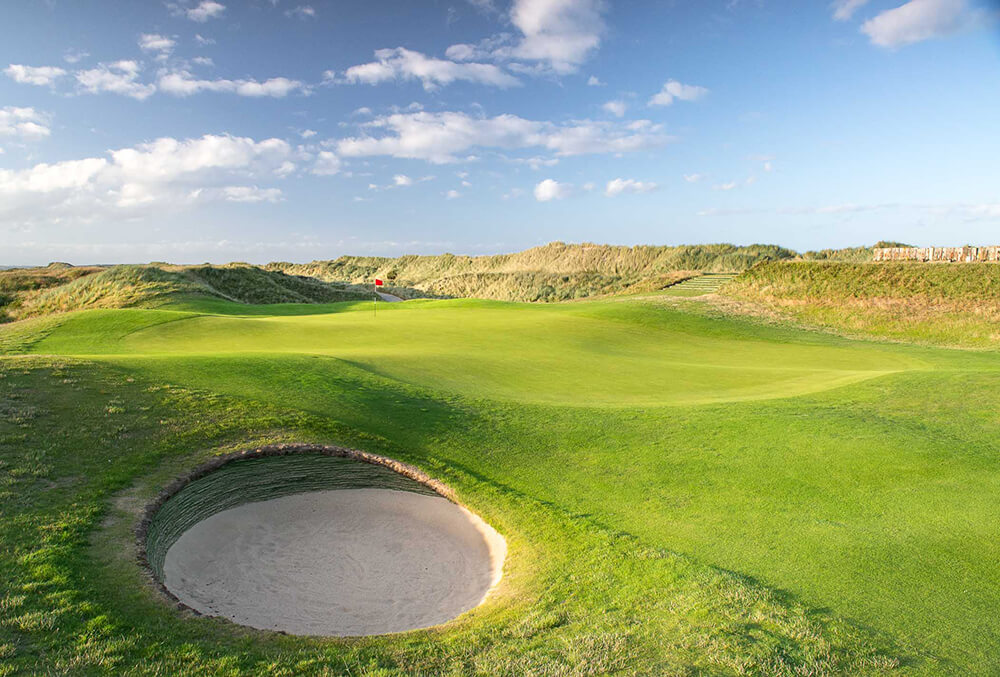 Strandhill—Co. Sligo
Rosses Point (County Sligo Golf Club) is just across Sligo Bay, with Murvagh (Donegal) an hour to the north. Enniscrone is 35 miles east and the spectacular Carne (Belmullet) 50 miles further on. In a somewhat sparsely golfed corner of the country, this quartet gets the lion's share of attention leaving Strandhill the scraps. It deserves so much more. The club played nine holes from 1931–73 when Eddie Hackett's meandering routing opened, bordered by Strandhill Beach, Cullenamore Beach, and a 1,000-foot-tall limestone hill called Knocknarea. Though not terribly long, Strandhill is full of quirk and character and might just be the highlight of your trip to Ireland. €100 (about $118) gets you a round. http://strandhillgolfclub.com/
Cruit Island—Co. Donegal / Spanish Pt.—Co. Clare / Mulranny—Co. Mayo / Achill Island—Co. Mayo
You'll forgive me for lumping four nine-holers in together. Each of them deserves more space, but in the name of brevity…
Despite being laid out by a club professional (Michael Doherty), Cruit (pronounced "Crutch") Island might be as memorable a golf course as you'll ever play. It opened in 1986 on a rocky peninsula with just enough playable land for about 2,500 yards of exhilarating, adventurous golf. €35 for 18 holes. https://www.cruitislandgolfclub.com/
Spanish Point, where golf has been played for 125 years, is just another gloriously rumpled patch of sandy linksland with enough knobs, troughs, ridges, and wispy dunes to ensure an entertaining game. €25 for nine or 18 holes. http://spanishpointgolfing.com/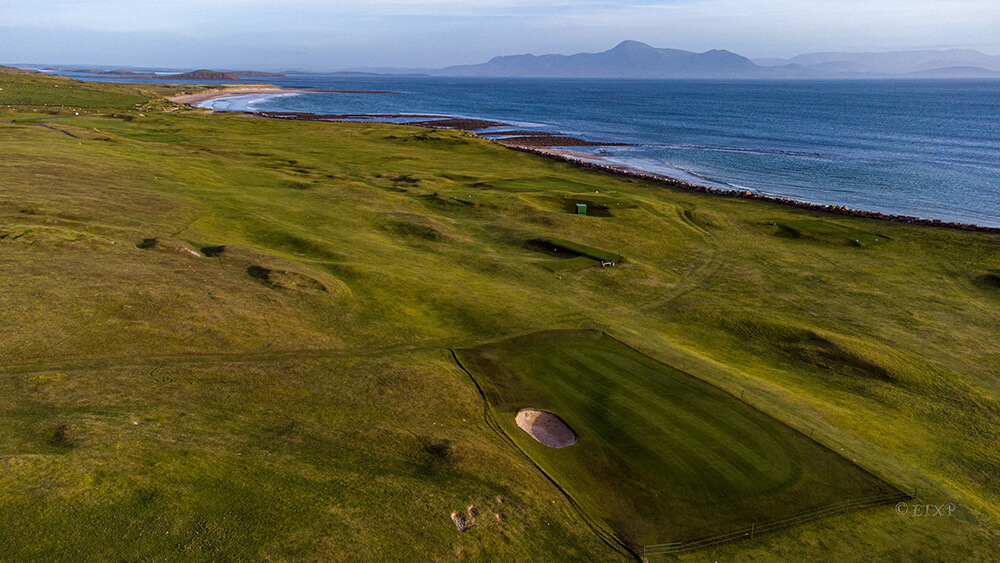 One hundred and thirty miles to the north of Spanish Point, on the banks of Clew Bay in Mulranny, Co. Mayo, another stretch of bumpy ground also "opened" to golfers on the west coast in 1896. With a €20 green fee, this really is the sort of place you could bring yourself for a quiet, affordable, memorable week of golf you'll still fondly remember in your twilight years. https://www.mulrannygolfclub.com/website/
Much the same is true of Achill Island just 15 miles west of Mulranny beside Keel Strand. The rugged, utterly natural course has been there for over 60 years and if, like me, you like to go in search of solitude and peaceful golf in an achingly beautiful place, Achill Island might be the place for you. €20 for 18 holes. https://achillgolf.com/
What are your favorite hidden gems in Ireland?