Architects, developers, an even golfers are learning to rethink how many holes—along with routing rules and acceptable terrain—can make up a golf course
At the debut of The Sandbox at Sand Valley golf resort in Nekoosa, Wis., three years ago, developer Mike Keiser was asked why the par-3 course designed by Bill Coore and Ben Crenshaw had only 17 holes. "Because there wasn't enough room for 18," said Keiser.
Good enough answer, though everyone present laughed at the idea. After all, it would have been easy to have reconfigured the 25-acre routing to accommodate another short hole. As it was, the holes ranged from 51 to 149 yards, and on two or three of them you could comfortably reach the green from the tee with a putter.
The fact is Keiser and his designers were not worried about conventional numbers. Indeed, across the golf map there is growing evidence that owners, operators, and architects are less concerned about conforming to standards and more interested in creating something that fits the land and the site. And in terms of marketing, it just might be that the less conventional a routing or property is, the more appealing it is.
One thing is for sure: The standard 18-hole loop of returning nines—with the 1st tee, 9th green, 10th tee, and 18th green near the clubhouse—is losing ground as a mark of identity. The same goes for your basic 9-hole course. At the moment, the more a routing sequence varies from the norm, the more market appeal it has.
Likely that's a lesson Keiser and others learned from development of the 13-hole par-3 Bandon Preserve at Keiser's own Bandon Dunes. When it debuted in 2012 as that resort's fifth course, its unconventional brevity—all of 1,609 yards, with holes from 63 to 150—proved to be a welcome relaxer after the rigors of the full-length golf elsewhere on property. At a resort where many guests might not be accustomed to the physical demands of walking day after day on firm, ungiving ground, often 36 holes at a stretch, the popularity of an abbreviated engagement quickly proved a big surprise.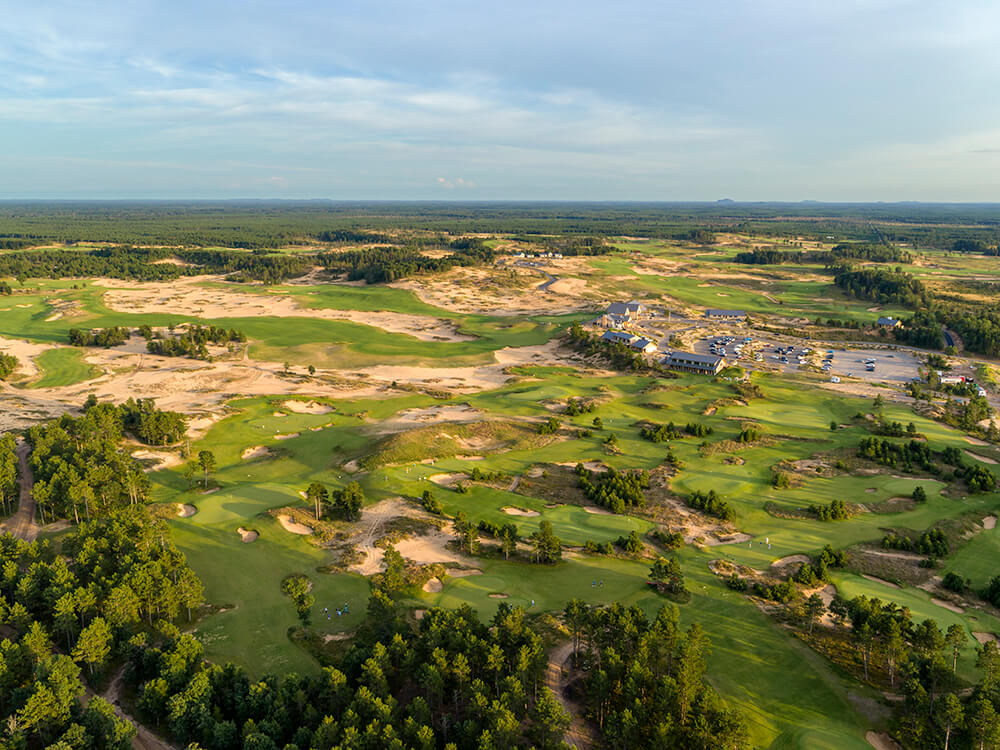 Why 13? Actually, the question is "how" 13, since "why" seems to presume some deliberate intent or singular source of the outcome. Architect David Zinkand, who was the project shaper when Coore & Crenshaw built Bandon Preserve, explains that a 13th hole came about because it fitted the terrain so naturally.
"We had a 12-hole routing under development," says Zinkand, "sitting on the southeast corner of the property, in these complex dunes that almost came down to the ocean. As Bill [Coore] walked off the setting for what was the 5th green, he looked down to the left and saw a perfect little green site at the foot of a massive dune. It tied in perfectly with what we had already planned as the next hole." With that, a 12-hole course became 13.
Tom Doak has never been shy when it comes to unconventional routing sequences. His perennial top-10, Pacific Dunes (also at Bandon Dunes), has a back nine comprised of four par threes (two of them back-to-back), three par fives, and only two par fours. A student of classic architecture, he was well aware that from the second half of the 19th Century until well into the 20th, the Old Course at St. Andrews was frequently played as a reversible 18-hole loop. Which got him thinking about replicating the idea.
Doak finally got his chance at the Forest Dunes Resort in Roscommon, Mich., with his 2016 debut of The Loop, an 18-hole course that is entirely reversible, with the clockwise Black Course (6,704 yards, par 70) and the counterclockwise Red Course (6,805 yards, par 70) set up for public play on alternate days.
Amazingly, it works, with all 18 greens approachable from totally different angles. Golfers often walk around in wonderment during their first round, trying to figure out how the routing could possibly work. Interestingly, Doak reports that most golfers who play both courses on successive days prefer whichever one they have played second—perhaps because only then are they convinced the scheme is successful.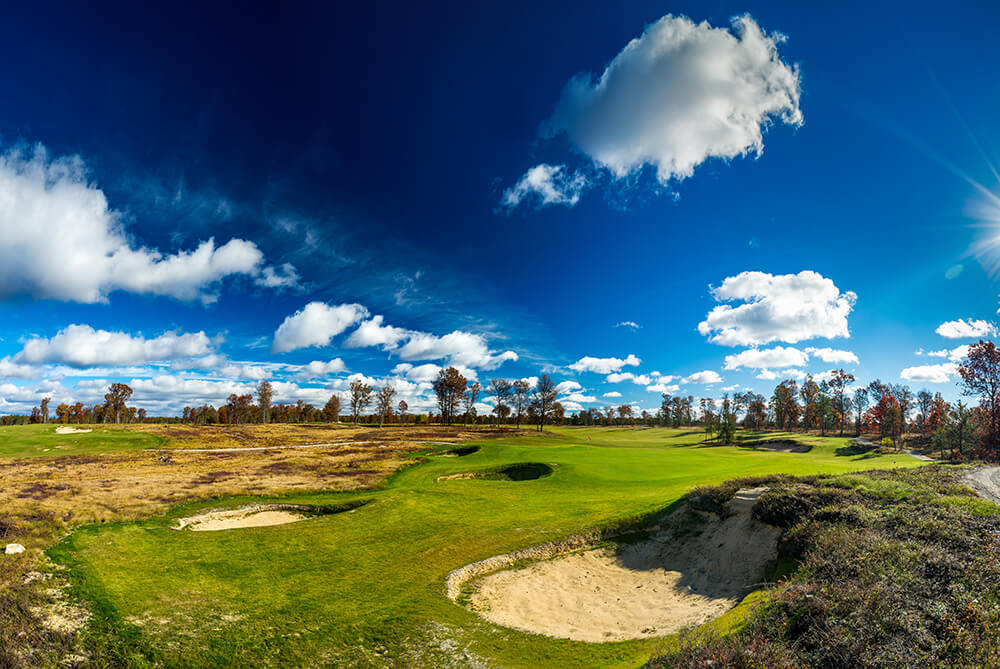 At Silvies Valley Ranch, in Seneca, Ore., everything is unconventional, starting with the location: the remote high desert of eastern Oregon, midway between Bend, Ore., and Boise, Idaho. Architect Dan Hixson converted 600 acres (out of the ranch's 225 square miles) into a golf complex that includes two interlapping (i.e., not quite reversible) 18-hole courses, the clockwise Craddock (7,035 yards, par 72) and the counterclockwise Hankins (7,075 yards, par 72).
Rather than strictly reversible, the two layouts occupy ground with 27 greens, nine of them doing double duty from different directions and, depending upon how you count, each course claiming four or five corridors that are unique. The ingenious sequencing enables golfers to play downhill holes without having to pay the price the next day by slogging back up the same slope in reverse.
Silvies Valley Ranch also offers a very conventional 9-hole par-3 layout called Chief Egan. But things get really wild again on the seven-hole par-22 McVeigh's Gauntlet, where holes running from 90 yards up to 275 bring golfers over extremely intense terrain (which helps explain the option of taking a goat as a caddie).
That's the beauty of unconventional golf courses: You get to play on land that borders upon dizzying terrain that would never work for a "real" golf course. Along the way, you get to question what real is, since it turns out golf out here is a hoot.
If not quite "anything goes," the tolerance of the golf public for diversity has definitely increased. The sudden rise of Big Cedar Lodge in Ridgedale, Mo., to the apex of American golf resorts is largely due to the creativity embodied in two of its short courses. Along with three fine 18-hole courses—designed by the likes of Tom Fazio, Tiger Woods, and Coore & Crenshaw—is a pair of par-3 layouts. A 13-holer designed by Gary Player called Mountain Top calls for just about every club in the bag over bold ground that juts its way across and over dramatically exposed limestone. The 9-hole, Jack Nicklaus-designed Top of the Rock is played as part of an annual PGA Tour Champions event held at the resort.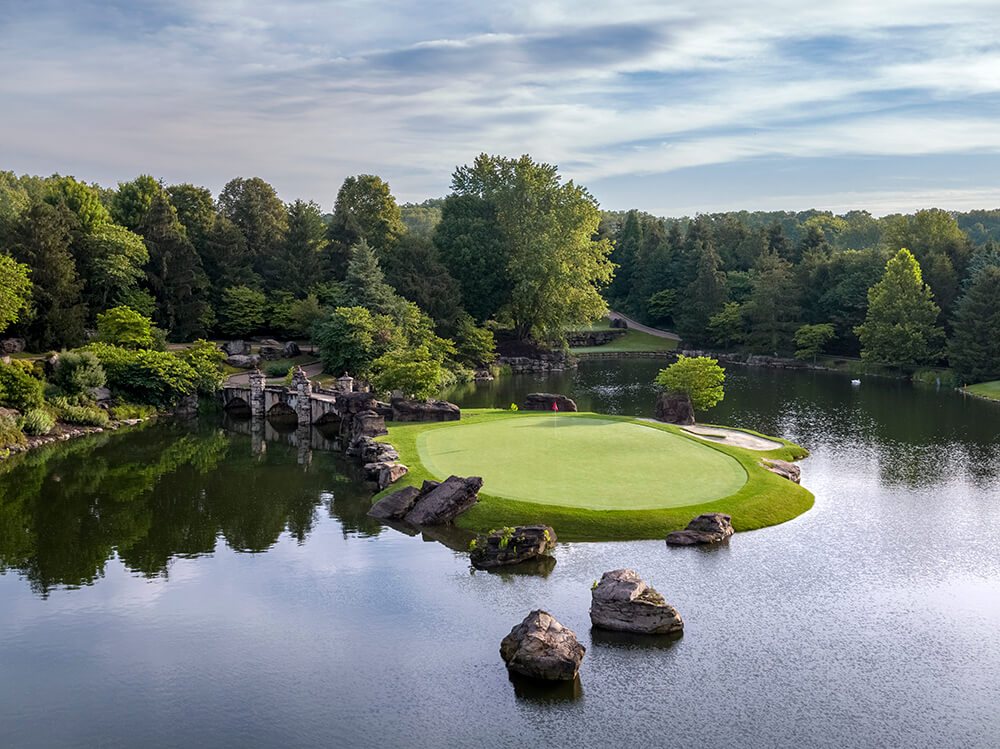 Gamble Sands in Brewster, Wash., has complemented its eye-catching David McLay Kidd-designed 18-hole course with Kidd's 14-hole par-3 QuickSands course, which sits on a wildly contoured bluff overlooking the Columbia River. At the Tiger Woods-designed Bluejack National in Montgomery, Texas, the real-estate community offers residents the run of a 10-hole par-3 called Playgrounds. Resort guests at Cabot Links, in Inverness, Nova Scotia, can snuggle into The Nest, a 10-hole par-3 alternative to its two widely acclaimed full courses. And golfers visiting Streamsong Resort in Bowling Green, Fla., can warm up or wind down on the seven-hole par-3 Roundabout, which is tucked under the front nine of the Gil Hanse-designed Black Course.
The variations aren't only fewer than 18 holes. Hanse's Ohoopee Match Club in Cobbtown, Ga., forms a full-length 22-hole layout, with an afternoon "Whiskey Routing" that brings four different holes into play along with slightly revised angles and distances on some of the other holes. In the northern Mexican state of Coahuila, Mexican-based golf architect Agustin Pizá and Golf Channel commentator Brandel Chamblee are launching a design partnership with plans for a 24-hole "butterfly effect" layout comprised of four six-hole loops. The intent is to facilitate multiple options to playing "a round." At the same time, the term "butterfly effect" is designed to evoke a major tenet of chaos theory, having to do with the cascading consequences of small changes to the environment.
But not all the changes to the standard golf environment are new. Sharon (Conn.) Country Club, in the state's northwest highlands, recently reclaimed use of its old, abandoned three-hole course. Beginning in 1895, the trio of holes served the club for decades until expansion to its present nine holes began, with the original holes eventually left to grow over in the 1950s. With the help of course architect Matt Dusenberry, the old 1st green and 2nd tee were rescued and incorporated into a short course that is also ideal for practice and junior golf.
When it comes to golf courses today, 9 or 18—like age—is just a number.