Over the years, we've all seen a thousand lists ranking golf's 18 "best" holes. But seldom have we come across any naming the best-known holes in the game.
Whether it be by TV exposure, social media fandom, or just plain old reputation, certain holes acquire a measure of fame over time. They may not be the best, necessarily, but in our minds, they usually appear front and center.
Here are the "Front Nine" holes we tend to think of first when we're thinking about the most famous holes in golf.
1st—Old Course (St. Andrews, Scotland)
There were, of course, a number of options for so significant a spot on the course—Prestwick (train); Machrihanish (beach carry); Augusta National (first hole of the Masters); Merion (clubhouse patio); Bethpage Black (warning sign); etc. But in the end, we had to give it to the Old Course. The hole is a short and fairly straightforward par four complicated only by the Swilcan Burn running across the front of the green… Oh, and the imposing R&A clubhouse a (short) stone's throw from the tee where it's not just the few people milling around the Old Pavilion, the Scores, Golf Place, or the Links that are watching, but every golfer who ever lived including Vardon, Jones, Snead, Nicklaus, Palmer, Ballesteros, and Woods (okay, not Hogan).
Runners-up: Augusta National (Ga.); Bethpage Black (N.Y.); Cape Wickham (Australia); Merion (Pa.); Machrihanish (Scotland); Prestwick (Scotland)
2nd—Gamble Sands (Brewster, Wash.)
By contrast, there weren't too many options for the 2nd. The carry over Lake Kadijah on Course Three at Medinah Country Club was mentioned, as was Gil Hanse's incredible renovation of Perry Maxwell's 500-yard par four at Southern Hills. But, given the number of photographs we've seen of it posted by people singing its praises, the final choice was David McLay Kidd's spectacular short par four at Gamble Sands which starts with an amazing view over the Columbia River, calls for a smart decision about where to place your tee ball, and finishes on a glassy, beautifully positioned green. "The promontory the green sits out on was a wonderful opportunity to use the downhill tee shot with a natural left kick to create a drivable par four," Kidd says.
Runners-up: Medinah C.C., No. 3 (Ill.); Southern Hills (Okla.)
3rd—Old Macdonald (Bandon, Ore.)
Had it featured more regularly on European Tour coverage over the years, Durban Country Club's superb par five might well have won here. National Golf Links of America's formidable Alps hole was another close contender as was Augusta National's bewitching short par four. Thanks largely to a million pictures of its distinctive Ghost Tree (a Port Orford Cedar long since shorn of any foliage) appearing on social media, however, the prize goes to Old Macdonald's 375-yard Sahara hole. Inspired by the long par-three 3rd at Royal St. George's, which was blind when C.B. Macdonald saw it, the hole becomes a great birdie chance the closer you fly to the tree as your ball will catch a significant slope and trundle down close to the green. Steer safely right of the tree and you leave yourself a tricky pitch.
Runners-up: Augusta National (Ga.); Durban C.C. (South Africa); National Golf Links (New York); Ocean Course at Kiawah Island (S.C.)
4th—Spyglass Hill (Pebble Beach, Calif.)
Who better to ask what the best-known 4th hole in the game might be than our friend Nick Edmund, who for several years has been traveling the globe playing the 4th hole specifically at some of the world's best courses in an effort to raise money for the fight against cancer. "The first 4th hole that springs to my mind is at Old Head," he says. "With 200-foot cliffs all along the left side and the lighthouse backdropping the green, it's a spectacular hole. In America, I think the 4th at Spyglass Hill would be a great fit." Indeed, the 55-yard-long (but just 10-yard-wide) green made this Robert Trent Jones's most-cherished par four of the roughly 5,000 he built. We'd add the supernatural "Devil's Cauldron" par three at Banff Springs in Canada to the list of contenders as well as the cross-water carry par three on Baltusrol's Lower Course (which Trent Jones aced in response to criticism of it being too tough). But Spyglass just edges it.
Runners-up: Baltusrol, Lower (N.J.); Banff Springs (Canada); Old Head (Ireland); Woking (England)
5th—Royal Melbourne, West Course (Black Rock, Victoria, Australia)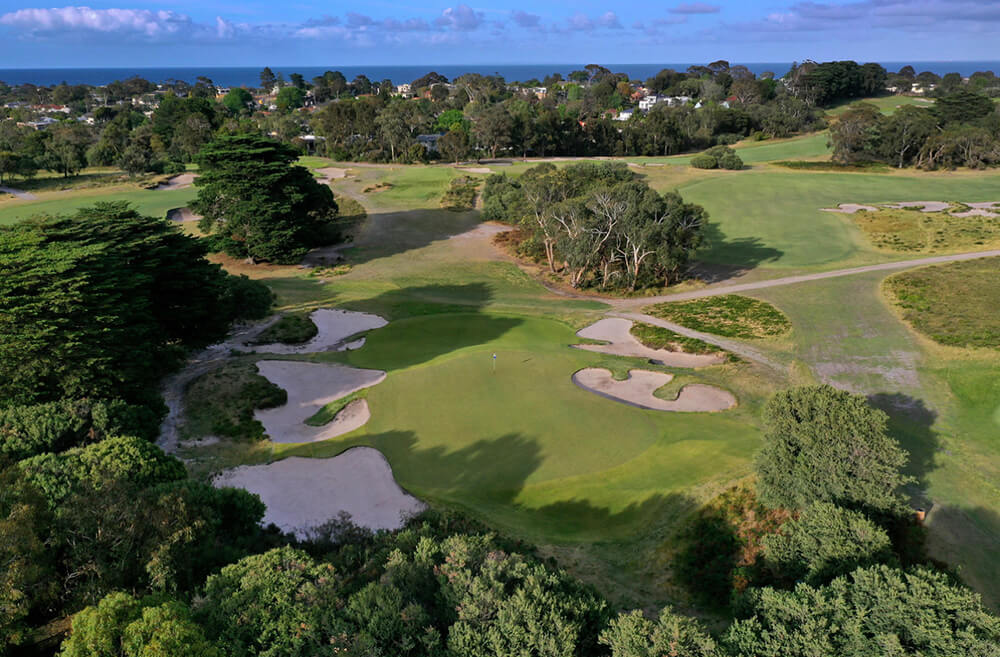 Augusta's 5th has received quite a bit of press in recent years thanks to its expanding/repositioned fairway bunkers, and regular lengthening. Royal St. George's wonderful 5th hole with its approach between two sand hills would be another good choice, as would the beloved "Dell" hole at Lahinch and Seth Raynor's superb Biarritz at Fishers Island. The 5th on Sunningdale's Old Course featured what is thought to be the first ever man-made water hazard, and the awesome view down the hill out to Botany Bay on Alister MacKenzie's 5th at New South Wales G.C. has become increasingly recognizable.
They all yield to MacKenzie's exceptional uphill par three on the West Course at Royal Melbourne, however, now a familiar sight having been a star of three Presidents Cups (1998, 2011, 2019).
Runners-up: Augusta National (Ga.); Fishers Island (N.Y.); Lahinch (Ireland); New South Wales G.C. (Australia); Royal St. George's (England); Sunningdale, Old (England)
6th—Riviera (Pacific Palisades, Calif.)
The fifth chapter of Geoff Shackelford's 2003 book Grounds for Golf is titled "Comic Relief," with the subheading: "Humor is one of the architect's most important design tools." The author gives a few examples of whacky features where architects let their serious natures slip for a moment—hidden pot bunkers behind greens, chocolate drop mounds, boomerang-shaped greens, etc.—and cites George Thomas's bunker in the middle of the 6th green at Riviera as one of the most whimsical. "Thomas knew how to present comic relief touches that in no way overshadowed the rest of the course but, instead, broke up a series of complicated, sometimes punishing, holes," Shackelford writes.
Runners-up: Bay Hill (Fla.); Carnoustie (Scotland); Sheep Ranch (Ore.); St. Enodoc (England)
7th—Pebble Beach (Pebble Beach, Calif.)
Only one winner here. Besides another Monterey Peninsula par three that will most likely appear on the back nine of this list, we doubt any golf hole has been photographed, painted, or dreamt about as often as Jack Neville and Douglas Grant's 106-yard drop-shot at Pebble Beach. The hole looked very different than it does today following Chandler Egan's changes ahead of the 1929 U.S. Amateur Championship when a new green was "placed as close to the ocean as possible with an irregular shape—100-feet long and 50-feet wide, and completely surrounded by sand." Egan's artificial dune look had more or less disappeared by 1950, however, as maintaining it had become impractical.
Runners-up: Barnbougle Dunes (Australia); Crans-sur-Sierre (Switzerland); Crystal Downs (Mich.); Pinnacle Point (South Africa); Shinnecock Hills (N.Y.); Whistling Straits (Wis.)
8th—Royal Troon (Troon, Scotland)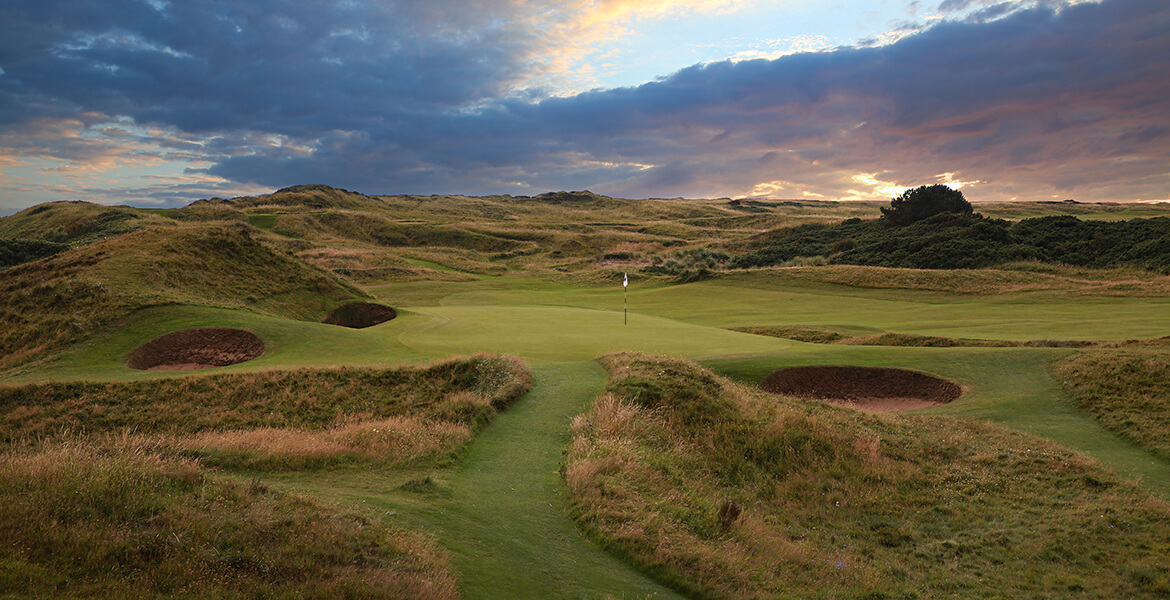 We could have moved quite easily right onto the following tee to find the next entry on our list, but the magnificent 8th hole at Pebble Beach, whose approach shot crosses a 70–80-foot-deep chasm, faced stiff competition. The 8th on the Majlis Course at the Emirates Club in Dubai is now well known thanks to the city skyline in the background. Mammoth Dunes's near-island green par three, Oakmont's 288-yard par three, St. George's Hill's gorgeous Harry Colt-designed par three, and the par five at Inverness where the Lon Hinkle tree once stood are certainly renowned, but they all must bow to the tiny Postage Stamp at Royal Troon, where Germany's Herman Tissies made an unfortunate 12-over-par 15 during the 1950 Open Championship and a 71-year-old Gene Sarazen made a hole-in-one in 1973.
Runners-up: Emirates Club, Majlis Course (U.A.E.); Inverness Club (Ohio); Mammoth Dunes (Wis.); Oakmont C.C. (Pa.); St. George's Hill (England)
9th—Yale (New Haven, Conn.)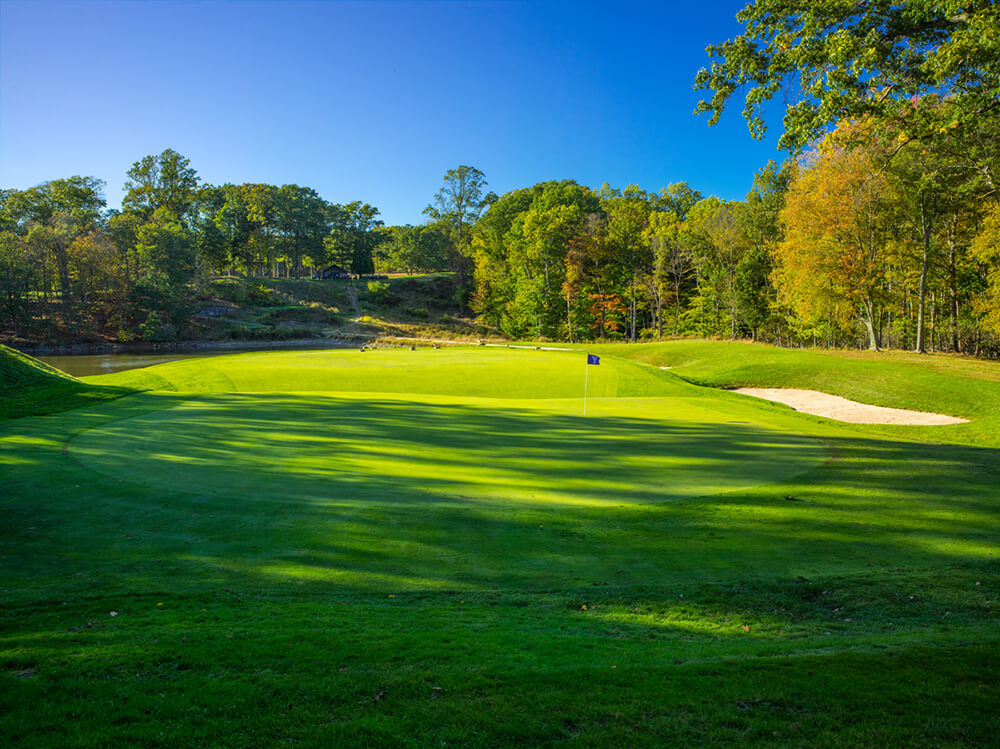 There are a few contenders here that, while not legendary perhaps, have all appeared under the spotlight in recent years. In Ireland, Royal County Down's blind tee shot, a 483-yard par four, has grown in stature. East across the Irish Sea in Scotland, you have Muirfield's splendid par five and Martin Ebert's sensational par three on the Ailsa Course at Turnberry. In America, the cliffside par four at Pebble Beach is certainly a challenger along with Myopia Hunt Club, Erin Hills, and Kingsley Club's par threes, all of which have shone in recent years. However, we are opting for a hole whose fame will undoubtedly spread far and wide once Gil Hanse has completed his highly anticipated renovation (2022–2023) of the course on which it sits. Macdonald and Raynor's par three Biarritz at Yale has always been a memorable hole with the deep swale running across the green, and while it likely won't see significant change under Hanse, prepare for it to trend on social media.
Runners-up: Erin Hills (Wis.); Kingsley Club (Mich.); Muirfield (Scotland); Myopia Hunt Club (Mass.); Pebble Beach (Calif.); Royal County Down (Ireland); Turnberry, Ailsa Course (Scotland)
What famous holes did we miss? Let us know in the comment section.