One can feel the soul of the game on a trip to the Emerald Isle, where several of the world's most dramatic seaside links lie on its coasts and inland rolling parkland layouts abound, built by some of golf's earliest adopters. As good as all of the golf is in Ireland, here are our top 10 courses.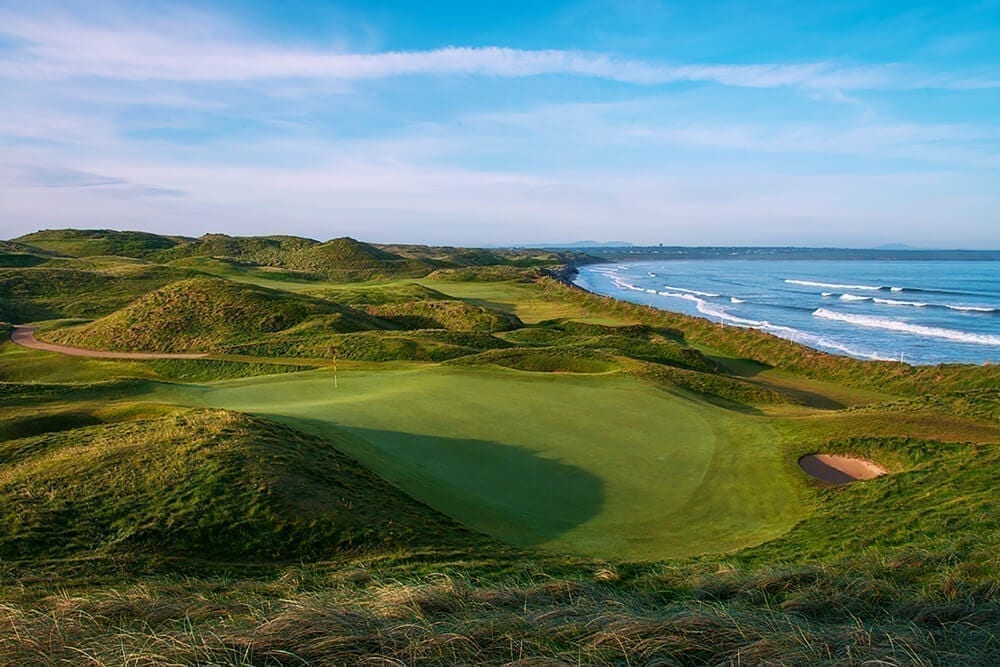 1. BALLYBUNION (OLD), Ballybunion In 1969, Herbert Warren Wind called it the finest links he'd ever seen and more than half a century later this rugged romp through seaside dunes remains one of the world's most breathtaking places to play.
2. LAHINCH (OLD), Lahinch Tucked between a broad sandy bay to the Atlantic and the quaint town of the same name, this Tom Morris gem, reworked by Alister MacKenzie, is Ireland's St. Andrews with all the charm and challenge that implies.
3. PORTMARNOCK (CHAMPIONSHIP), Dublin Arguably the Muirfield of Ireland, a no-nonsense, straightforward test laid out in two nine-hole loops, with the wind direction changing constantly and the par threes and fives the true stars.
4. WATERVILLE, Waterville Set on a windblown peninsula in a remote town in southwest County Kerry, this Eddie Hackett design, remodeled by Tom Fazio, is an unrelenting test of ball-striking with a particularly strong finishing stretch.
5. THE EUROPEAN CLUB, Wicklow Owner/designer Pat Ruddy has lavished unrelenting attention on his masterpiece since the day it opened, with the result a links that is both classic and distinctive, among the quirks being its total of 20 holes.
6. THE ISLAND, Corballis One of Irish golf's better kept secrets, recently updated by MacKenzie & Ebert, is set on a spit of land between an estuary and the Irish Sea. It winds through dunes and dips, humps and hollows with water always in view and occasionally in play.
7. TRUMP INTERNATIONAL IRELAND, Doonbeg Greg Norman's only design in the British Isles and the course he calls his favorite unfurls on dramatic seaside sandhills. The four par threes are standouts with the shortest, 14, the signature hole.
8. CARNE (WILD ATLANTIC DUNES), Belmullet With a reconfiguration bringing the addition of dramatic new holes just this year, Eddie Hackett's seaside jewel has become the new mecca of Ireland's northwest.
9. COUNTY SLIGO (CHAMPIONSHIP), Rosses Point Harry Colt wisely let the land do the talking, and it has plenty to say—raised tees, heaving fairways, hilltop greens, dramatic cliffs, with a winding burn adding to the test.
10. TRALEE, West Barrow Generally agreed to be Arnold Palmer's best course, this is a Jekyll-and-Hyde design, the front nine unfolding on flattish open land and the more dramatic back climbing through mammoth sandhills beside the sea.