On a family vacation in Bend, Ore., years ago, I vividly recall playing the Meadows course at Sunriver Resort and being captivated by not only the breathtaking surrounds—the snow-capped mountains, towering pines, and winding rivers—but by the occasional Cessna that would land at the airstrip adjacent to the course. The small prop planes would then taxi directly from the runway into the adjoining neighborhood to luxury homes that had hangars in addition to garages.
Talk about making it easy to fly with your golf clubs.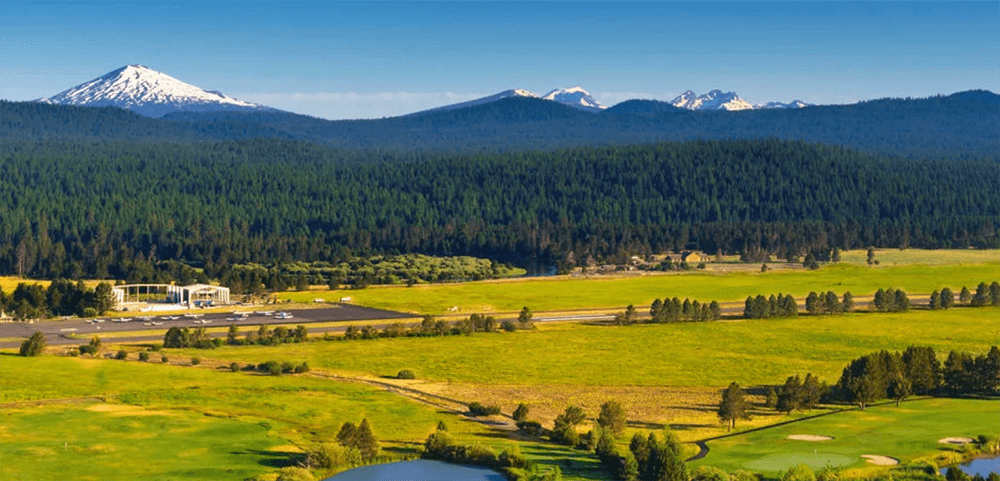 For guests arriving at the privately owned airport, it's a quick shuttle ride (or courtesy bike ride) to the resort, which has three 18-hole courses and a 9-hole family course.
There are several golf facilities—resort and private—around the country that have their own airstrips for those whose love of aviation rivals their passion for golf. Here's a sampling.
This private club and its Tom Fazio design are bordered by Coral Creek, a saltwater estuary flowing to the Gulf of Mexico, and a 6,000-acre nature preserve. Also nearby is the Coral Creek Airport, Boca Grande Jet Center on the Cape Haze Peninsula, with the sandy beaches of Gasparilla Island just across the causeway.
Located in the Blue Ridge Mountains, this private club is home to Jack Nicklaus's first signature golf course in North Carolina as well as a 4,500-foot airstrip that's for the exclusive use of property owners and their friends. The hangers at the airport, which sits at an elevation of 3,500 feet, can accommodate both private and corporate aircraft.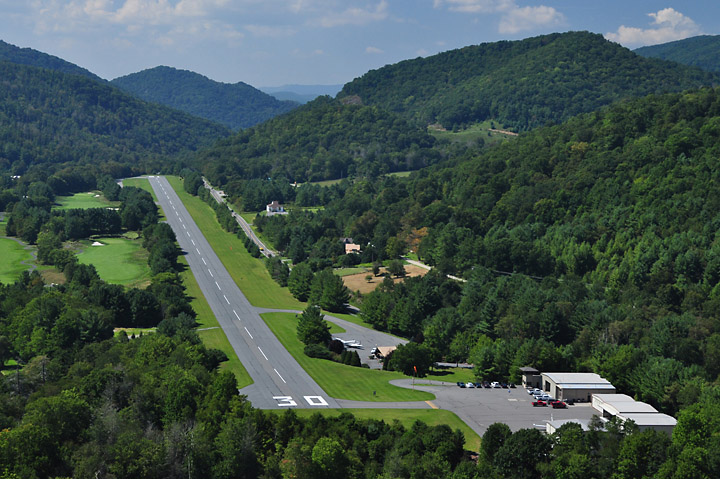 In southwest Wisconsin, about an hour from Milwaukee, the Grand Geneva Resort is not only home to two golf courses—the Highlands and the Brute—but also a runway. Formerly the Lake Geneva Playboy Club, the now AAA Four-Diamond resort has several golf holes that play alongside an airstrip that's almost 4,000 feet long.
The 6,000-foot runway at Horseshoe Bay Resort Airport sits just up the hill from the heralded resort itself, overlooking beautiful Lake LBJ (renamed in honor of 36th U.S. President Lyndon B. Johnson). The longest runway in the region can accommodate all personal and business aircraft up to a regional jetliner, allowing groups to fly in for outings and meetings at Horseshoe Bay, which has four 18-hole courses in total—three public (Apple Rock, Ram Rock, and Slip Rock) and one members-only course in the Jack Nicklaus-designed Summit Rock.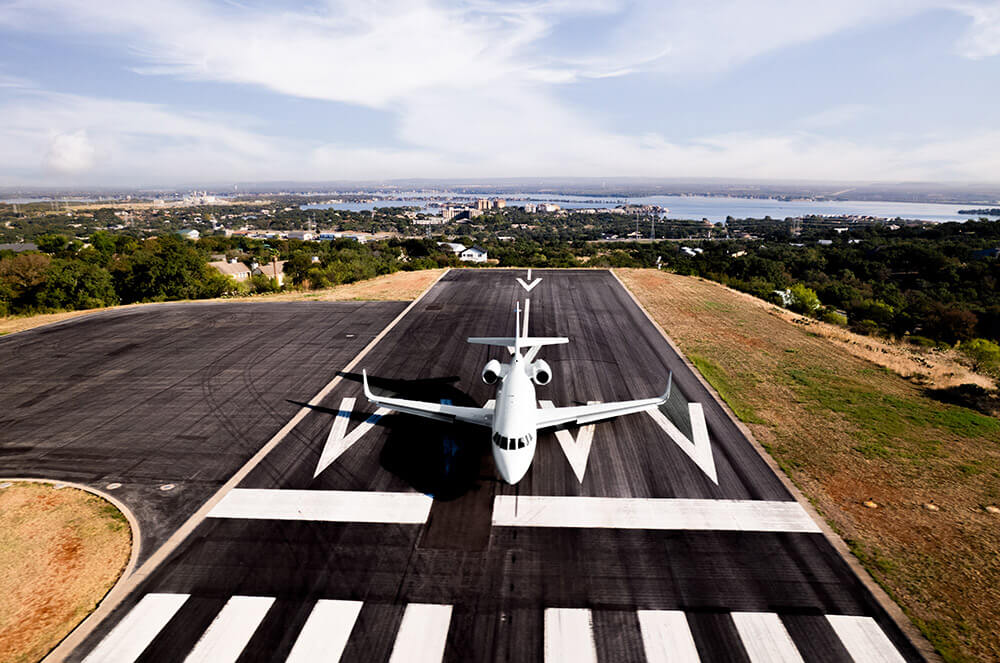 Following the theme of "everything's bigger in Texas," privately owned Lajitas International Airport has a 6,850-foot runway available for use by the resort's guests and property owners. It's situated on the resort's 27,000-acre property along the Rio Grande and adjacent to Big Bend National Park. The resort is also home to Black Jack's Crossing, an 18-hole layout with spectacular mountain vistas designed by World Golf Hall of Famer Lanny Wadkins.
View this post on Instagram
The name says it all at this destination community surrounded by the Blue Ridge Mountains. Dramatically situated front and center at an elevation of 4,500 feet, the airport at Mountain Air is central to the club's lifestyle and a complement to the Scott Pool-designed 18 scenic golf holes draped across the mountain. The runway that splits the 6th and 8th holes is the highest of its kind east of the Rocky Mountains.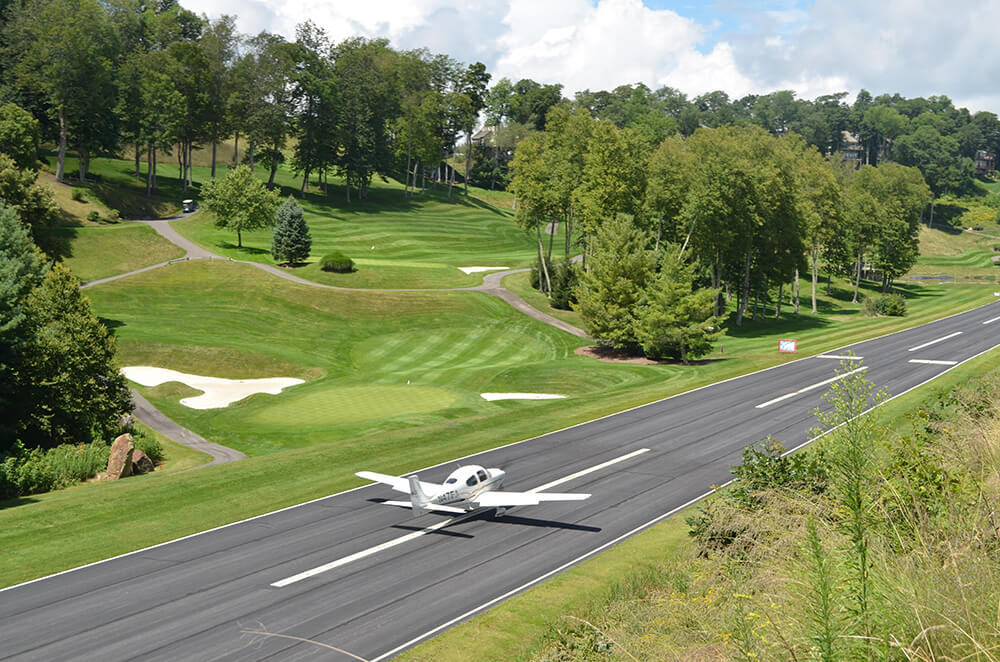 It feels like there's a little bit of everything at Nemacolin and that includes a 3,800-foot runway (for those who don't want to fly into the Pittsburgh airport about 90 minutes away by car). Nemacolin is a year-round resort, with hunting, off-roading, paintball, a wild animal park, spa, and much more, including two Pete Dye-designed golf courses, Mystic Rock and Shepherd's Rock.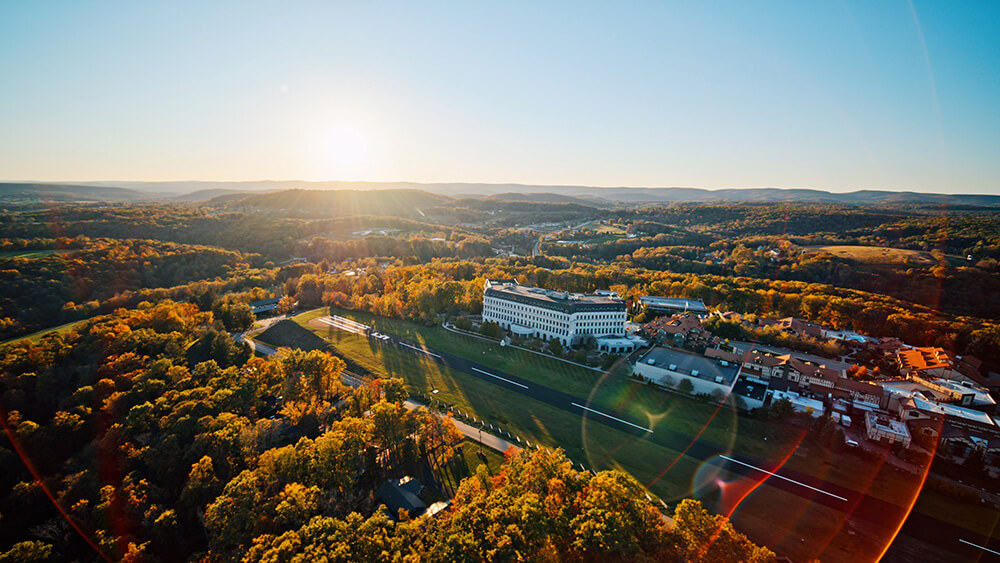 In the Florida Keys, the private Ocean Reef Club boasts two 18-hole courses designed by Bruce Devlin and Robert von Hagge—Dolphin and Hammock—but the airport is unquestionably also one of the club's prime amenities. The 4,500-foot runway can easily handle private jets, and lots of them, although the club permits only 20 takeoffs and landings per day to try to keep the noise down. On one hole in closer proximity to the runway, there's even a sign that warns golfers not to hit if they hear a plane coming.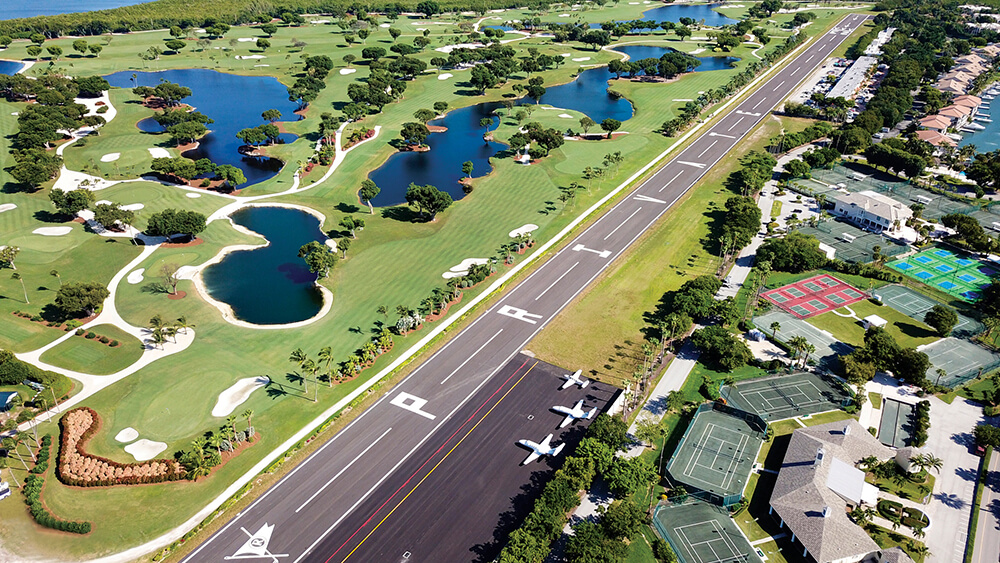 About 50 miles north of San Diego, Pauma Valley made a national splash four years after it opened in the late 1960s, welcoming Gary Player, Arnold Palmer, and Jack Nicklaus as part of the Shell's Wonderful World of Golf series. The club's golf course gets recognition as one of the few California designs by Robert Trent Jones Sr., but also draws plenty of attention for its 2,700-foot airstrip that's only a short cart ride away from the first tee.
Located just off the interstate near Daytona Beach, Spruce Creek is a fly-in community billed as a premier residential airpark in Florida. The country club offers limited public play at its Bill Amick-designed course that runs along the Spruce Creek, not to mention the neighboring runway that can accommodate jets and prop planes. The private airstrip runs between the 8th and 9th holes, with a sign on the tee box encouraging golfers to check for incoming or outgoing flights.
Know of other golf properties with private airstrips? Tell us about them in the comment section.