For public golf prominence, the Windy City soars high
In a city famous for the Bulls, da Bears, the Blackhawks, and the Cubbies (apologies to the White Sox faithful), it's understandable how golf could take a backseat for rabid sporting interest in Chicago. Don't be misled, however. The Second City boasts a rich golf tradition: No fewer than 10 of its private clubs have hosted major championships, and its collection of public courses is superb.
Our tour starts from the downtown area, which is awash in superior hotels, restaurants, museums, nightclubs, and Lake Michigan views. Sixteen miles south of downtown via I-94 is Harborside International, which delivers a pair of 1995 Dick Nugent faux-links designs. Both the Port and Starboard layouts feature city skyline views, with a nod to Starboard if you can play only one.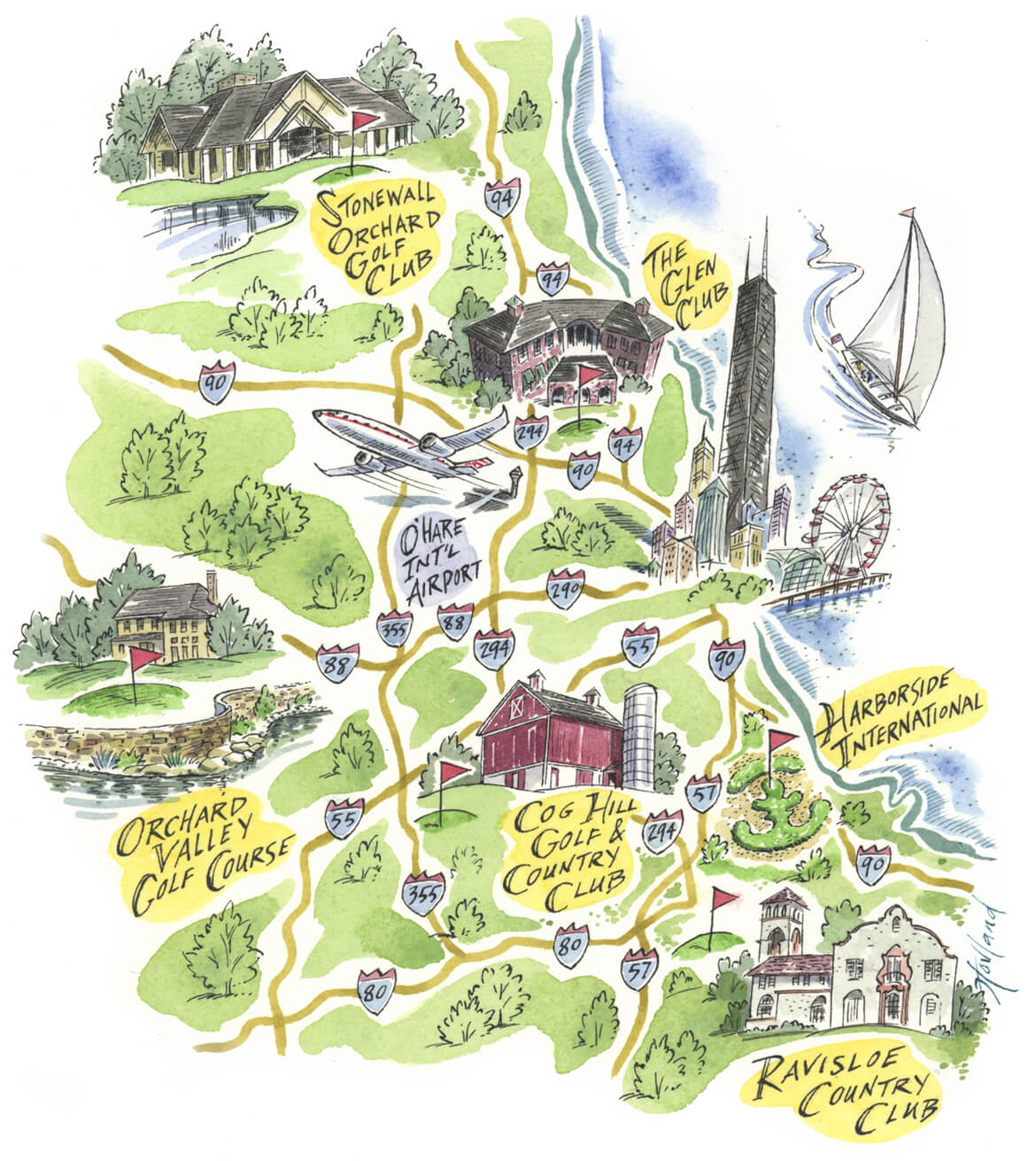 A 20-minute drive south to Homewood reacquaints us with classic architecture at Ravisloe. Private from its inception in 1901, Ravisloe hit its stride in 1917, when Donald Ross performed a renovation. In 2001, architect David Esler re-infused the Ross character, but a challenging economy shuttered the course in 2008. It reopened in 2009—to public play. Today, the tree-studded course remains decidedly Old World, at 6,281 yards, par 70.
Twenty-two miles northwest of Ravisloe sits a monument to mid-century architecture, Cog Hill No. 4. Designed by Dick Wilson and Joe Lee in 1964 for the Jemsek family, the gently rolling course nicknamed "Dubsdread" dishes out a tough, skillfully bunkered track that tested the pros on 20 occasions as home to the Western Open and the BMW Championship between 1991 and 2011. In 2008, Rees Jones restored the dread, reworking bunkers and greens and adding new back tees that stretched the course to 7,554 yards. Only Tiger Woods, a five-time winner at Cog Hill, can claim to have tamed the region's best public course.
From Cog Hill it's less than 40 minutes to Orchard Valley in Aurora. The former Illinois Open host, designed by Ken Kavanaugh in 1993, measures just 6,745 yards, par 72, but sports a sturdy 138 slope thanks to a healthy dose of lakes and sprawling bunkers. Easily walkable, it's also easy on the wallet: $30 to hoof it during the week.
7 COURSES
196 MILES
$415–$825
Continuing the arboreal theme, our 63-mile journey through the countryside west of Chicago leads to Stonewall Orchard in Grayslake. Designed by Arthur Hills in 1998, the 7,124-yard par-72 course rolls through pines, oaks, and wetlands in a tranquil environment that some compare to North Carolina.
If you're staying downtown, or even in the suburbs, make the pilgrimage to sample Uno Pizzeria & Grill and Gibsons. Many claim the original Uno's at Ohio and Wabash was the birthplace of Chicago deep-dish pizza. For maximum beef and atmosphere, book a table or booth at Gibsons on Rush Street; in a city renowned for its steakhouses, you and your expense account can't go wrong here.
Our final stop is The Glen Club in Glenview, a robust 2001 Tom Fazio creation adjoined by an excellent restaurant and a 21-room Inn. It's also home to the Illinois Golf Hall of Fame. Fazio took a flat parcel that was once the Glenview Naval Air Station, imported 4,000 trees, and peppered the layout with lakes, streams, and fescue-topped hills. The Glen Club's North Shore location yields spectacular Lake Michigan scenery and is less than a 20-minute drive to O'Hare Airport via I-294 S. Or, head back downtown to groove to some blues after a day on the greens.
Thank you for supporting our journalism. If you prefer to read in print, you can also find this article in the Fall 2023 issue of LINKS Magazine. Click here for more information.