The secret to Wisconsin's future as a golf destination isn't dairy cows or cheese. It's sand.
When Mike Keiser looks at Sand Valley, the 78-year-old developer doesn't see a successful venture so much as he sees potential—not just for the resort, but for all of central Wisconsin to develop into a robust and diverse golf destination. Such optimism is rooted in the land itself, since the region is enveloped by literally millions of acres of sandy soil.
"The central land of Wisconsin is what geologists call sand barrens," he says. "In terms of its fertility as a growing medium, sand is bad for agriculture but perfect for golf."
Keiser expounds on the virtues of sand barrens, explaining that they're naturally "scruffy" and not too verdant, pointing to Pine Valley as a perfect example of what great sand barren golf looks like. Refocusing his attention on the northern Midwest, he highlights a pair of exceptional golf properties in close proximity to Sand Valley: Whistling Straits along the shores of Lake Michigan and Erin Hills just outside of Milwaukee. While not built on naturally sand-based sites, they're equally compelling.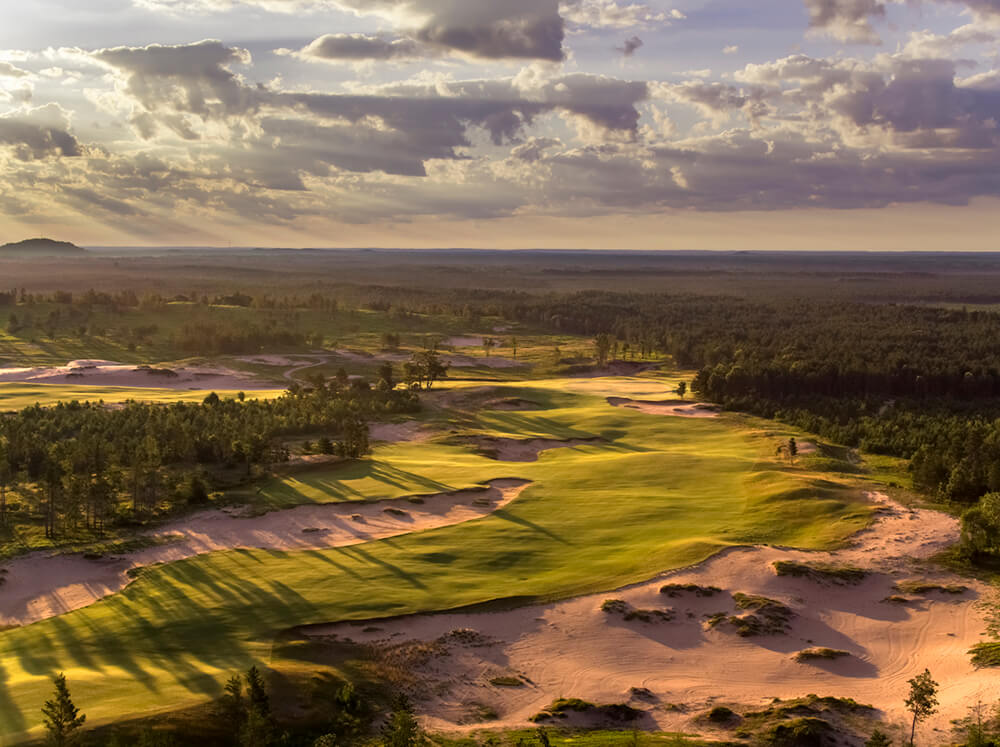 The undulating topography at Erin Hills was formed thousands of years ago when glaciers receded. (That recession is also what deposited millions of acres of sand further inland.) Every hole at Erin Hills features distinctive, natural changes in elevation, a design characteristic that the resort's head professional, Jim Lombardo, calls "remarkable."
The Straits course at Whistling Straits might look as sand-based as Sand Valley, but appearances can be deceiving. When Herb Kohler and Pete Dye surveyed the stretch of terrain along Lake Michigan—a parcel of land so flat it once served as a military airstrip—the late developer and plumbing magnate gave Dye a single marching order: "Make it look like Ballybunion." Given that the site was devoid of many naturally defining characteristics, recreating southwest Ireland was a monumental undertaking.
"I just let him go," Kohler once recalled. "I wouldn't interfere with him. And his execution was unbelievable, particularly because we started with no sand. So he had to find a sand pit, and he brought in over 10,000 truckloads."
In the years since, Whistling Straits has hosted a Ryder Cup, three PGA Championships, and the U.S. Senior Open in 2007. This summer, the U.S. Senior Open Championship returns to Wisconsin, but to yet another exciting venue, SentryWorld. Designed in 1982 by Robert Trent Jones Jr. and constructed on a wet, boggy site packed with heavy clay soil, the 7,320-yard layout was renovated in 2014 and again in 2021 in anticipation of this year's event. A stark visual contrast to the courses at Sand Valley, SentryWorld bears striking comparisons to Augusta National, which is no accident. Forty years ago, the resort's founder, John Joanis, presented the design firm with explicit instructions: "Give me the Augusta of the North," he told them.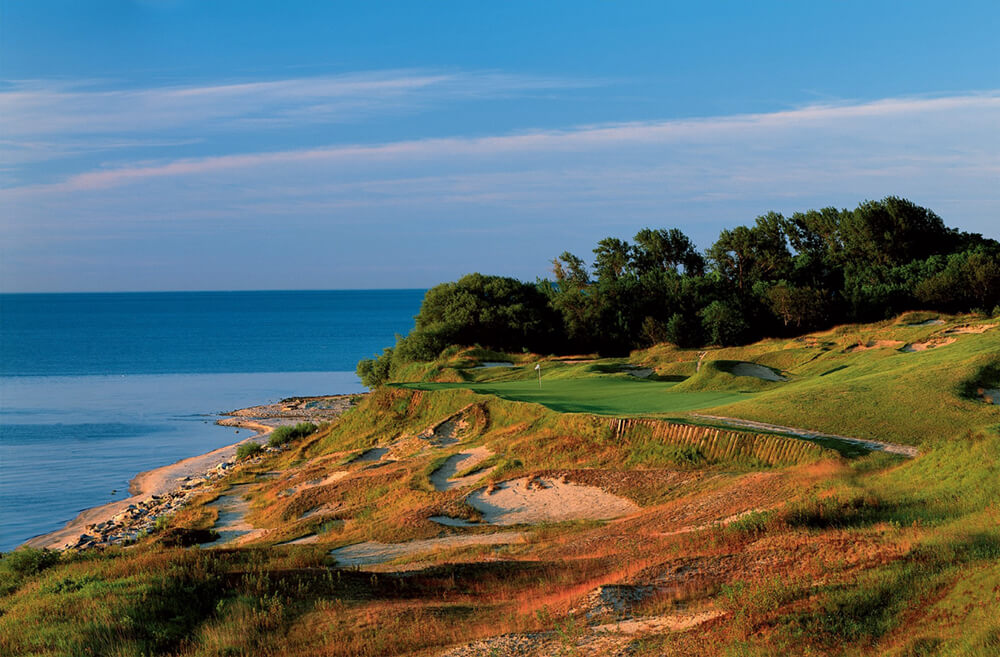 "SentryWorld was the pioneer for modern courses in Wisconsin," says Bruce Charlton, president of Jones Jr.'s design firm. "It's one of the best examples of parkland golf that we've ever done. You walk onto the course and it just feels special."
For all these reasons and more, it's hard to fault Keiser when he declares, "The new summer mecca for golf in America is Wisconsin."
Powered by steam shovels in the Roaring Twenties, the course architecture duo of William Langford and Theodore Moreau approached the creation of The Links—the premier layout at The Golf Courses of Lawsonia—with an antagonistic mindset. They pushed back against the minimalist ethos that defined much of Golden Age course design, and instead used earthmoving machinery to excavate cavernous bunkers and sculpt aggressively contoured, raised putting surfaces. Rumors suggest that they even buried a boxcar underneath the 7th green, which accounts for the steep 20-foot drop-off at the front edge of the putting surface.
Stretching to almost 6,900 yards, the firm and fast layout, which has benefited from a multi-phase restoration led by Craig Haltom, is as big and bold a test of golf as any you'll find. Best of all, the course still plays as it did when it opened in 1930, which means it can reward creative, "linksy" shotmaking.
About 50 miles west, Trappers Turn Golf Club features a trio of 9-hole courses, each offering a distinct playing experience. There, the Wisconsin Dells countryside provides an idyllic background for golf with its various rock outcroppings and swells carved by those same glaciers thousands of years ago. The club's 27 holes were designed by Andy North and Roger Packard, who were intent on creating a notable, though not overwhelming, challenge. From routings that abut nearby state parks to others that hug the shoreline of 13-acre Mystic Lake, Trappers Turn's three nines assure that each of the possible 18-hole rounds is unique and memorable.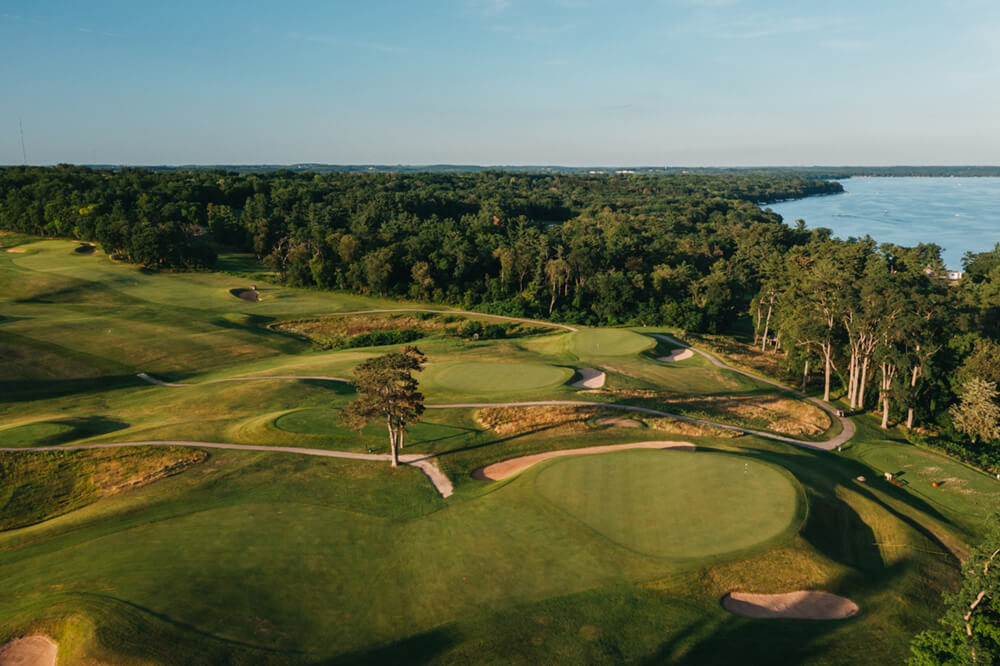 A vast majority of the world's most revered golf courses are built on sandy sites. There's a reason for that, as the ground naturally drains water.
"If you're working on a site with heavy clay, you have to artificially remove the water from the ground surface," explains designer David McLay Kidd, who created Sand Valley's second course, Mammoth Dunes, in 2018. Kidd adds that clay-based courses typically require golf carts and the requisite paths that go with them. "That dictates the routing of the course," he says. "The golf architect becomes less of a course designer and more of a road planner.
"Golf on sand is as simple as golf could ever be," he continues. "Because of that, it gives the architect the most flexibility to be creative. For any golf course designer, building in sand is the elixir of life."
At Mammoth Dunes, the holes are intended to reward bold, aggressive play and offer the chance of recovery. The generously wide fairways keep players in the hole, even if they hit a wayward drive, and the equally large greens are sculpted in such a way that perimeter contours will often boost marginal shots with a kick in the right direction. "Making birdie is the best thing in golf, no matter how you do it," Kidd says. "And the minute that you're not chasing birdie, I'm going to try to help you."
Bill Coore, who co-designed the eponymous first course at Sand Valley with his partner, Ben Crenshaw, also touts the merits of sand-based soil, explaining that naturally draining terrain allows a course designer to build contours that rise and fall in various directions. It allows them to move copious amounts of earth, if necessary, without sacrificing their ability to replicate natural landforms in the process. "The most fascinating contours for golf are almost always done in sand," Coore says, "because of the freedom to mold it and fit it into interesting contours that are already there."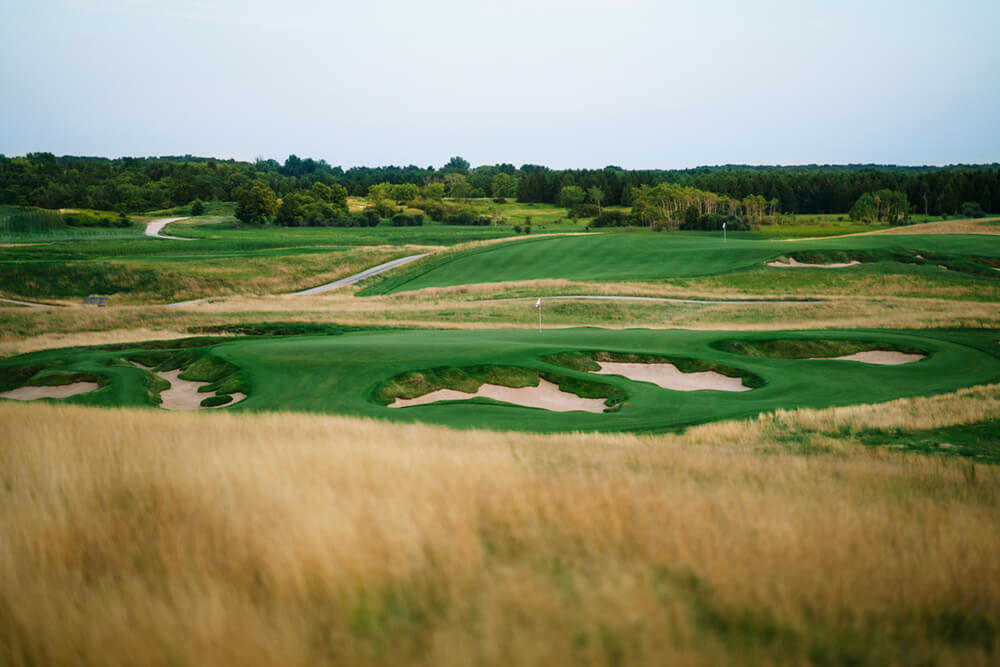 There's pressure that course designers face when presented with such an attractive site—expectations are heightened all around. But highly skilled course creators will always be drawn to those projects for their almost limitless potential, which is yet another reason why central Wisconsin has so much untapped potential for world-class golf. "If you can say, 'I have a true sand-based site,'" Coore opines, "you'll get any golf course architect's attention in a hurry."
Michael Keiser Jr. isn't coy when discussing his and brother Christopher's ambitions for Sand Valley, which they now co-own. "We want to build eight, full-length public golf courses and sprinkle in intermediate routings of par threes," he says. "The reality is that we do one at a time, but I would be surprised and disappointed if we don't end up having eight."
Two are already in the works: The Lido—a restoration of C.B. Macdonald's 1917 classic—is set to open this summer, and Sedge Valley sometime next year. Keiser reveals that he and his brother have already commissioned and received preliminary routings for four additional courses. "We wouldn't have put the time and effort into doing that if we didn't think we'd get there."
Sand Valley's existing courses, as well as the forecasted layouts, are all set on the naturally contoured 10,000 acres of sand barrens that the Keisers acquired years ago. However, about two million acres of sand-rich soil covers much of central Wisconsin, and Keiser Jr. knows that in the right architect's hands, a surplus of mostly flat land sits waiting to be transformed into compelling golf. "Minimalism is a method that has worked exceedingly well within the 600-year history of the sport of golf," he says, "but it's not my goal."
As for Wisconsin's potential as the new summer mecca for golf, the younger Keiser has a differing opinion from his father. "Wisconsin was a golf mecca long before we arrived," he says. "That fabric existed long before we got here."
Thank you for supporting our journalism. If you prefer to read in print, you can also find this article in the Summer 2023 issue of LINKS Magazine. Click here for more information.