There have been times the boundaries of the regions we've covered in this series have been rather stretched. The Northeast featured Pennsylvania, New York, and New Jersey—states I have since discovered could actually be considered part of the Mid-Atlantic.
So not only does this article about the Mid-Atlantic not include Pennsylvania, New York, and New Jersey, it does include Kentucky which some readers might regard as preposterous.
We're not here to quibble over boundary lines—we're here to recommend golf courses you may not know right now but should make the effort to visit. This is our version of the American Dream—really good golf where everyone is welcome and everyone can afford to play. Here's a dozen from D.C., Delaware, Kentucky, Maryland, Virginia, and West Virginia to add to your list.
Read the other features in our "American Dream Courses" series here:
Deerfield – Newark, Del.
William Gordon joined the design firm of William Flynn and Howard Toomey in 1923 and, following World War II, worked in construction for Donald Ross. In 1950, he set up his own design firm and earned several credits over the next 20 years with acclaimed designs such as Saucon Valley (Grace Course) and Sunnybrook in Pennsylvania, and the Stanwich Club in Connecticut. His beautiful course at Deerfield, located in the far north of the First State 15 miles west of Wilmington, opened in 1955 and was purchased by Delaware State Parks in 2005. $55 including a cart. https://deerfieldgolfclub.com
Deerfield Golf Club @deerfieldde in Newark, DE is a 145-acre wonder that lies within White Clay Creek State Park, and was originally built by Du Pont in 1955 as an employee amenity. We're thrilled to have them as one of only 500 Member Courses on the Trail! #Delaware #Golf pic.twitter.com/xqaDlsYJPx

— America's Golf Trail (@Play_AGT) March 15, 2018
Odessa National – Townsend, Del.
Designed by Cornell grad and McDonald Design Group Senior Designer Joel Weiman, Odessa opened in 2008 and is a terrific course where the houses are kept well away from the golf. "Our design focused on creating bold visuals with dramatic green sites and clustered bunkering," says Weiman. "We were diligent, though, to ensure it remain playable for the average and beginning player. It certainly has teeth, but it remains a fun experience for everyone." Play it for $45 midweek. http://odessanationalgolfclub.com/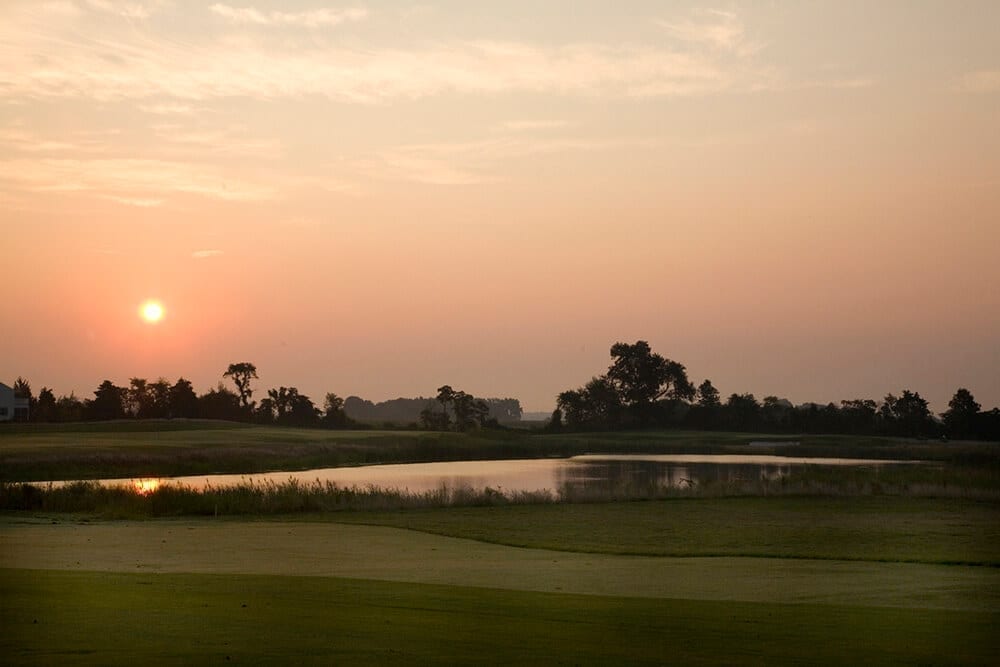 Whiskey Creek – Ijamsville, Md.
Shortly after winning the 1997 U.S. Open at Congressional Country Club, Ernie Els was approached by KemperSports to act as a consultant on the design of a new course just half an hour north of where he won his second major championship. The lead designer at Whiskey Creek GC, just outside the town of Ijamsville, Md., was J. Michael Poellot who routed the holes through meadows, pine forests, and wetlands on a pastoral 200 acres with some elegant bunkering, sizeable water hazards, and gentle elevation changes. $86 for a round in a cart. https://www.whiskeycreekgolf.com/
Our tee sheet is open for Father's Day weekend. Book your tee time now! 📷: @back9ben #getoutandplay #golfisgreat #bookyourteetime #summergolf pic.twitter.com/ahJJiA0I3j

— Whiskey Creek GC (@WhiskeyCreek) June 7, 2020
Swan Point – Issue, Md.
Located on the shores of the Potomac River 55 miles south of the White House, the golf course of the Swan Point Yacht and Country Club began as a quiet nine-holer before being extended by Bob Cupp in the late 1980s. Some lake holes, some marsh holes, and some deep in the forest make up an exciting round during which you'll likely come across deer, herons, ospreys, and bald eagles. $55 with a cart. https://swanpointgolf.com/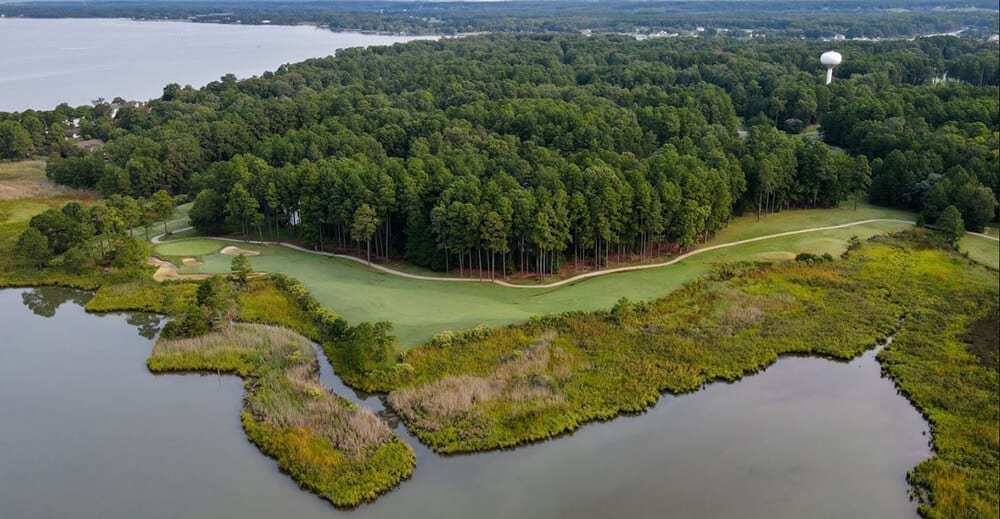 East Potomac – Washington, D.C.
The historic municipals of the nation's capital have received much media coverage in 2020 as a group of enthusiasts called the National Links Trust (NLT) sought the operation contract for each of the three courses—East Potomac, Rock Creek, and Langston. The National Parks Service, which owns them, signed a 50-year lease with the NLT in October allowing the group to go ahead with restoration plans. It's not clear yet when the projects will begin as funding still needs to be secured, though the willingness of architects Tom Doak, Gil Hanse, and Beau Welling to provide their services pro bono will certainly ease the strain. Doak will take on the job of breathing life back into East Potomac, aka Hains Point, whose Blue Course was designed by Walter Travis and first opened in 1916. It may be a while yet before Doak gets to work, but don't wait to play a course with so notable a past. Pay $33 for 18 holes midweek. https://www.golfdc.com/east-potomac-gc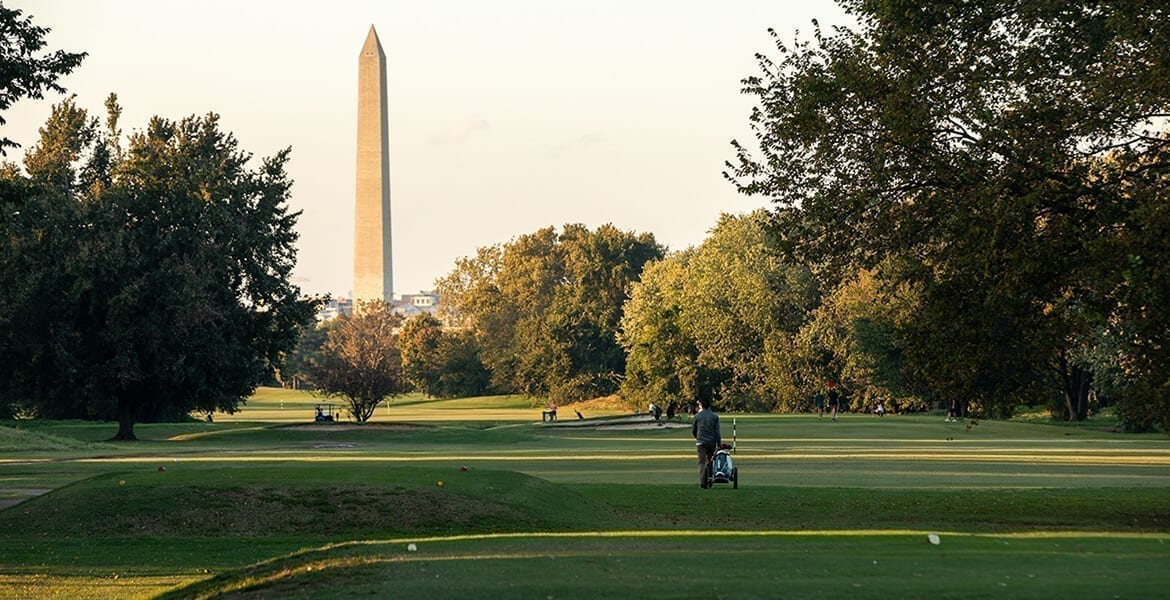 Royal New Kent – Providence Forge, Va.
Originally opened in 1996 as the Tradition at Royal New Kent, this memorable Mike Strantz design reopened in March 2019 after a two-year rebuild by new owners Wingfield Golf, which had purchased the 280-acre property in the summer of 2018. Wingfield pumped more than $2 million into its revival, rebuilding 105 bunkers with 2,300 tons of sand and returfing the greens with Champions Bermuda. The result is truly remarkable. A midweek 18 costs $75. https://www.royalnewkent.com/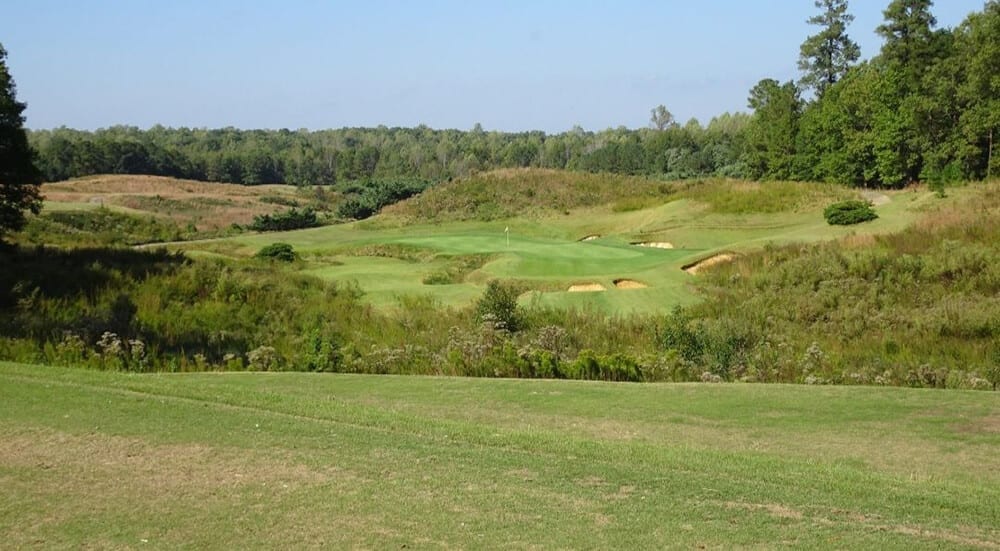 Kiskiack – Williamsburg, Va.
Ten miles north of Colonial Williamsburg on the edge of York River State Park you'll find this gorgeous John LaFoy design that opened in 1997. Greenville, S.C.-based LaFoy began his career working for George Cobb with whom he made alterations to Augusta National during the 1950s and '60s. After developing a taste for remodel work, he later renovated courses designed by A.W. Tillinghast, Seth Raynor, C.B. Macdonald, and Donald Ross, but at Kiskiack—a Native American tribal group of the Powhatan Confederacy—he ably demonstrated his ability to build from scratch too. During the week, $59 gets you a round. https://www.kiskiackgc.com/
Set along the ridge of a natural bluff, Kiskiack offers a day of golf for players of all levels. As our award winning architect John LaFoy said "after playing Kiskiack, 18 golfers may each have a different favorite hole." ➡️ What's yours? pic.twitter.com/qXBXGllbKr

— Kiskiack Golf Club (@Kiskiack) August 13, 2020
Riverfront – Suffolk, Va.
Because his designs are mostly for private clubs or are high-profile public courses that command a not insignificant green fee, we don't get the chance to feature many Tom Doak layouts. Some of his earliest work from the 1990s is still very affordable though (Arizona's Apache Stronghold appeared in the Southwest post), and his design at Riverfront gives you a fair taste of the talent that later gave us Pacific Dunes, The Loop, Streamsong Blue, and many others. Riverfront opened in 1999 and boasts greens and bunkering that Doak described as "some of the best we have ever built" on his Renaissance Golf web site. That was over 20 years ago, but he clearly has fond memories of the job. "Our goal was to make the approach shots as different as possible from one side of the fairway to the other, and I definitely think we accomplished that," he says. $53 with a cart. https://www.riverfrontgolf.com/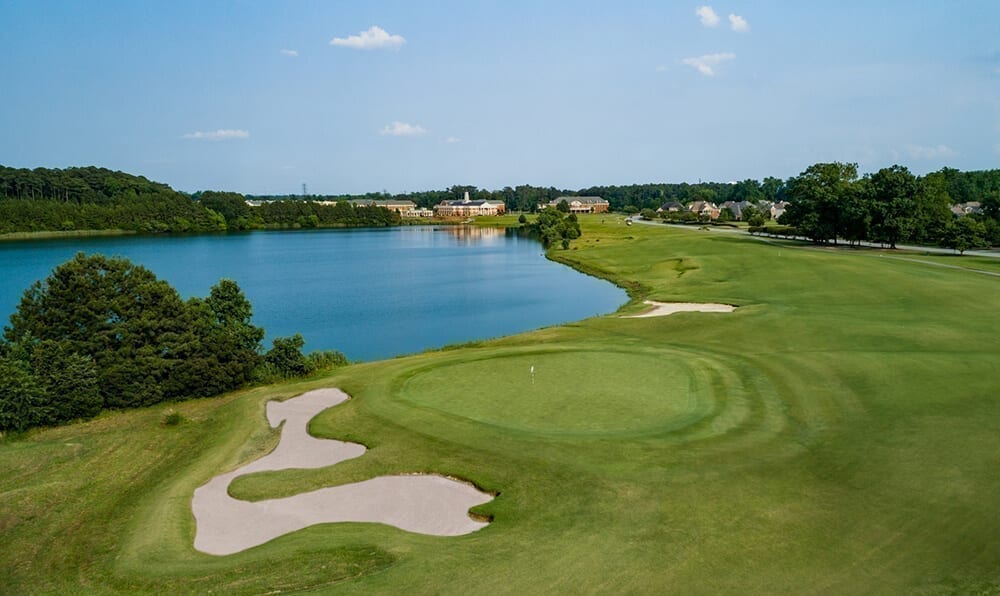 Mattaponi Springs – Ruther Glen, Va.
Like any designer, Bob Lohman had a number of potential projects fall through, and he was never entirely convinced Mattaponi Springs would ever happen. Its owner—Jim Oliff, founder and managing partner of a law firm headquartered in Alexandria, Va.—did things differently and after their intial meeting in 1997, Lohman was left wondering if he was "just another fly-by-nighter on a shoestring" who would run out of money and call it a day before long. Oliff is retired now but was traveling a good deal for work during the years of construction. The process took years to complete, but when the course did eventually open in the fall of 2004 it was hailed as one of the best in the Old Dominion. You can play it for $59 with a cart. http://mattaponisprings.com/
Sugarwood – Lavalette, W. Va.
Opened in 1965 but lengthened and completely overhauled by Ed Allen who bought it in 1980, Sugarwood may well be the course we were thinking of when we devised this series. Barely known outside of West Virginia, Sugarwood is one of those places you'll chance upon but never tire of returning to. A seldom-used railroad track bisects the course which you can enjoy for just $36 with a cart. https://www.sugarwoodgolfclub.com/

Dale Hollow Lake – Burkesville, Ky.
Perhaps we should all feel a little envious of Kentucky, whose state parks are home to 13 quality courses (one a nine-holer) of which Brian Ault's Dale Hollow Lake is generally considered the best. A hundred and thirty miles south of Lexington and just a mile north of the Tennessee state line, Dale Hollow Lake is surrounded by forest which serves as scenery but thankfully not as part of the stage,  which is reserved for a number of holes that are very easy on the eye. $45 midweek for 18 holes. https://parks.ky.gov/golf
Golf Digest ranks Brian Ault's Dale Hollow Lake GC in Burkesville, KY as the Bluegrass state's best public course. I rank #85 on my #TweederMidwestPublicBucketList, the design looks topsy-turvy through woodlands & ravines. With peak rates under $50 w/cart, the value is crazy!! pic.twitter.com/YVMXJh6DNW

— Bryan Tweed (@BryanTweed16) June 6, 2020
Mineral Mound – Eddyville, Ky.
During the 1990s and early 2000s, Michael Hurdzan designed four government-owned courses in the Bluegrass State—Gibson Bay in Richmond, Lassing Pointe in Union, Wasioto Winds in Pineville, and the wonderful Mineral Mound on the Cumberland River in the far west of the commonwealth. Lead architect on the job was David Whelchel who worked with Hurdzan for 20 years. Having dealt with Kentucky's various state departments before, Whelchel says getting Mineral Mound built wasn't a tremendous burden, but the site itself did throw up some challenges. "It was pretty hilly in places and a little awkward trying to route the back-nine through the peninsula that protrudes into Lake Barkley," he says. "But I think we built a very interesting and challenging course." Play it for just $36 midweek.  https://parks.ky.gov/golf
Mineral Mound State Park golf course in western Kentucky. Make plans to play! pic.twitter.com/OTJxb38iFO

— KentuckyStateParks (@KYStateParks) March 11, 2016