After exploring the southeast, we stay at a similar latitude but move across the country to the southwest for the second installment of our "American Dream" series—specifically California, Arizona, New Mexico, Nevada, and southern Utah.
The southwest isn't blessed with quite as much golf as the southeast perhaps, and there are comparatively few old-school golf clubs with similar history and character. There is a lot of excellent, modern, top-dollar resort golf, but that doesn't really fit our mold. Remember, in this series we're looking for quieter, lesser-known courses/clubs that anyone can play at a reasonable price—courses that might not necessarily ring a bell now, but which you'll appreciate knowing.
Just as it was with our southeast selection, leaving some very enjoyable courses off our list of 10 was really tough. But we're confident you'd have a memorable round at any of the following…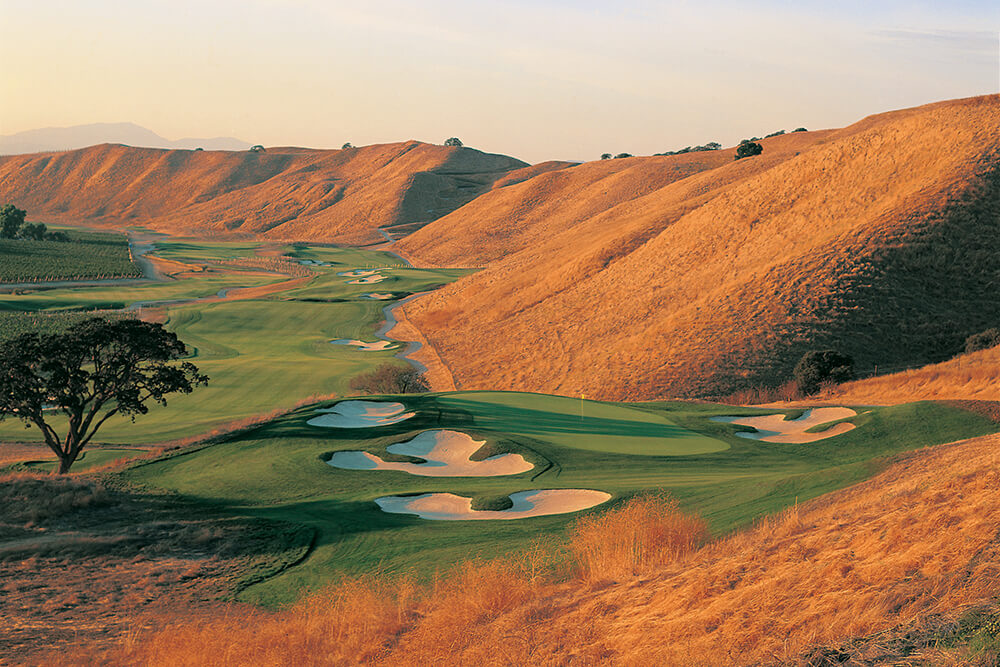 Olivas Links—Ventura, Calif.
In 2008, Forrest Richardson performed a major redesign of the original 1960s 27-hole Olivas Park Municipal, owned by the City of Ventura, creating an attractive 18-hole course adjacent to the Santa Clara River and overlooking Ventura Harbor. Now managed by Kemper Sports, Olivas Links can be played for $51 midweek, making it slightly dearer than nearby Ventura County courses—Rustic Canyon, Soule Park, and Saticoy—but still remarkably good value.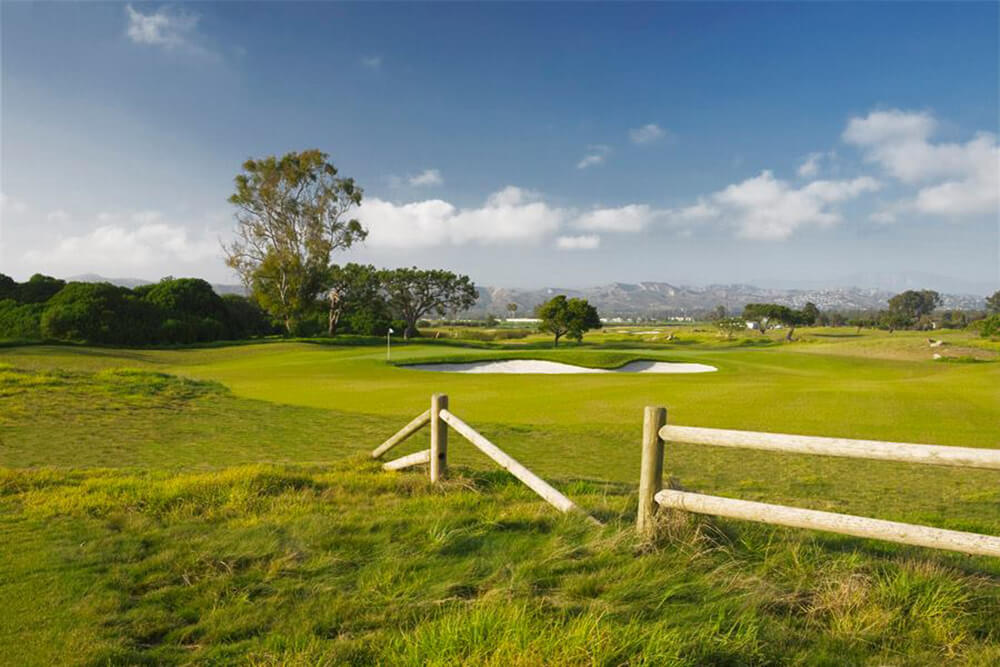 The Course at Wente Vineyards—Livermore, Calif.
Wente Vineyards, a little closer to San Jose than San Francisco in the Livermore Valley American Viticultural Area (AVA), is among Greg Norman's best designs and opened in 1998. It climbs and falls over some fairly hilly terrain with views over the vineyards for much of the round, but levels out at the 15th. The final four may be flat but together cover 1,938 yards with the 18th fairway divided by a creek. Go right and the approach is shorter but must carry a pond. If you manage a four, you deserve a glass of Wente to the nth degree in the clubhouse. Not surprisingly perhaps, rates can rise quite sharply here, but come at the right time and you can play this beautiful course for $69.
Mt. Woodson Golf Club—Ramona, Calif.
The scorecard will undoubtedly put some off and if, indeed, you hit bombs off the tee, then perhaps this 1991 Brian Curley and Lee Schmidt design half an hour northeast of San Diego isn't for you. But we're not ashamed to recommend 5,800-yard courses (we've done it before), especially when they're this enjoyable. $50 midweek gets you around.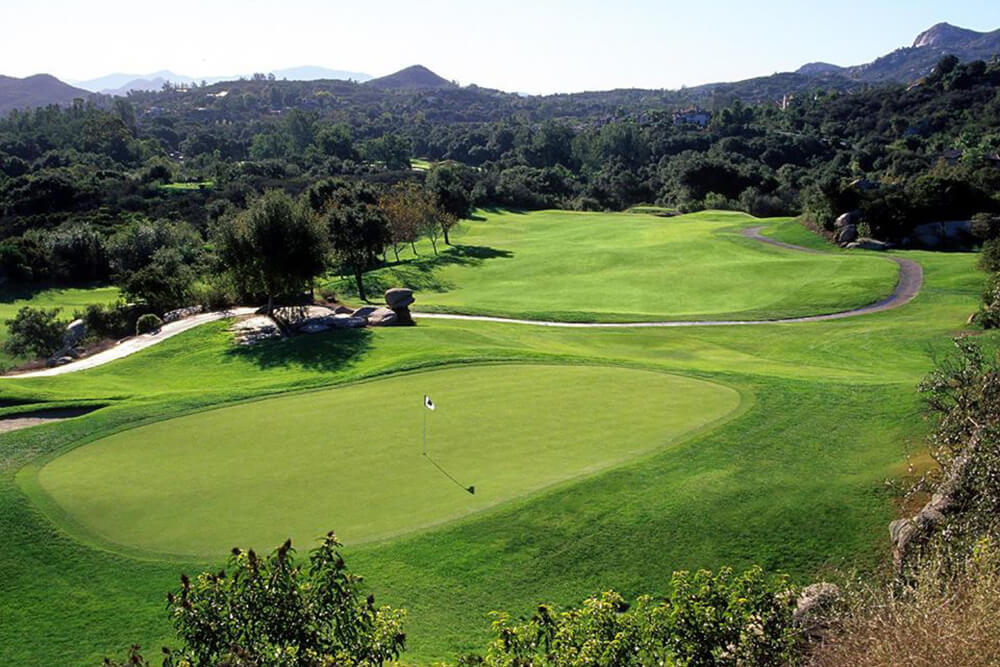 Apache Stronghold Golf Club—Globe, Ariz.
At 3,200 feet above sea level, playing Apache Stronghold is usually a lot more comfortable than grinding it out in the blast furnace of Phoenix, 100 miles due west. Part of the Apache Gold Casino Resort and owned by the San Carlos Apache Tribe, the course was Tom Doak's first west of the Mississippi and opened in 1999. As you might expect given who created it, the layout is pretty much as good as anything you'll find in the desert but, sadly, the condition of the course has never matched its design. If it's architecture that interests you, we recommend you visit. If manicured surfaces and uniform bunker sand are more important, we suggest you drive on by. $45 midweek.
Los Cabelleros Golf Club—Wickenburg, Ariz.
A Greg Nash and Jeff Hardin design that just passed its 40th birthday, Los Caballeros sits at 2,100 feet above sea level just outside Wickenburg, 70 miles northwest of Phoenix. Not flashy by any means, the course opened before the target-golf era arrived so much of it is grassed, giving it more of a parkland feel than pure desert. Peak winter rates do top $100, but in summer you can play for as little as $45.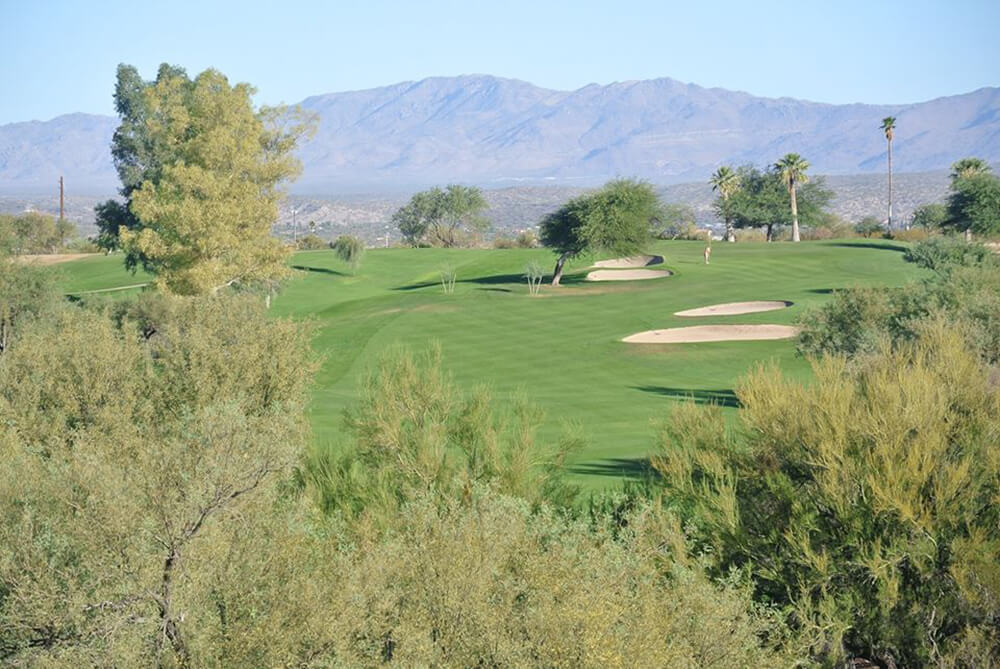 Tubac Golf Resort and Spa—Tubac, Ariz.
You might expect a course 45 minutes south of Tucson and just 25 minutes north of the Mexican border to be surrounded by cacti and so stinking hot you'd have to tee off by 5 a.m. or later than 8 p.m. to have any hope of making it all the way round. You probably wouldn't expect anything quite so charming as Tubac, whose holes are actually lined with mature cottonwoods and mesquites, and which doesn't really feel like a desert course at all. The first 18 were designed by Red Lawrence in 1959, the third nine by Ken Kavanaugh in 2006. Play the course where Roy "Tin Cup" McEvoy dueled with David Simms for as little as $49.
Boulder Creek Golf Club—Boulder City, Nev.
The Desert Hawk, Coyote Run, and Eldorado Valley nines make up one of the most popular facilities in the Las Vegas area (25 miles southwest of the strip) and were designed by former Robert Trent Jones Jr. associate Mark Rathert. The original 18 (Desert Hawk/Coyote Run) opened in 2003 and though there's plenty of grass, the desert, large bunkers, water hazards, and arroyos are never far away. The twilight (1 p.m. or later) rate for non-residents is $70.
University of New Mexico Golf Course—Albuquerque, N.M.
Our second Red Lawrence layout, the Championship Course at UNM in Albuquerque opened in 1967 and sits 5,300 feet above sea level, making it comfortable to play in winter, when you might need a sweater, and summer, when you'll definitely take it off. The course has been ranked among the top 15 campus layouts in the country and has hosted four men's NCAA championships and one women's NCAA Championship. The weekday rate for N.M. residents is just $35. Non-residents pay $55.
Sky Mountain—Hurricane, Utah
After warming up on one of the most spectacular ranges in the country, you move on to the hugely enjoyable Jeff Hardin-designed course—20 miles northeast of St. George—with the magnificent peaks and ridges of the Red Cliffs National Conservation Area looming to the north and west. The front side follows a fairly rugged path, seemingly miles from civilization, while the back circles a residential neighborhood before finishing with a couple of exciting holes looking down on the Virgin River. Walking rates range from $37 to $57.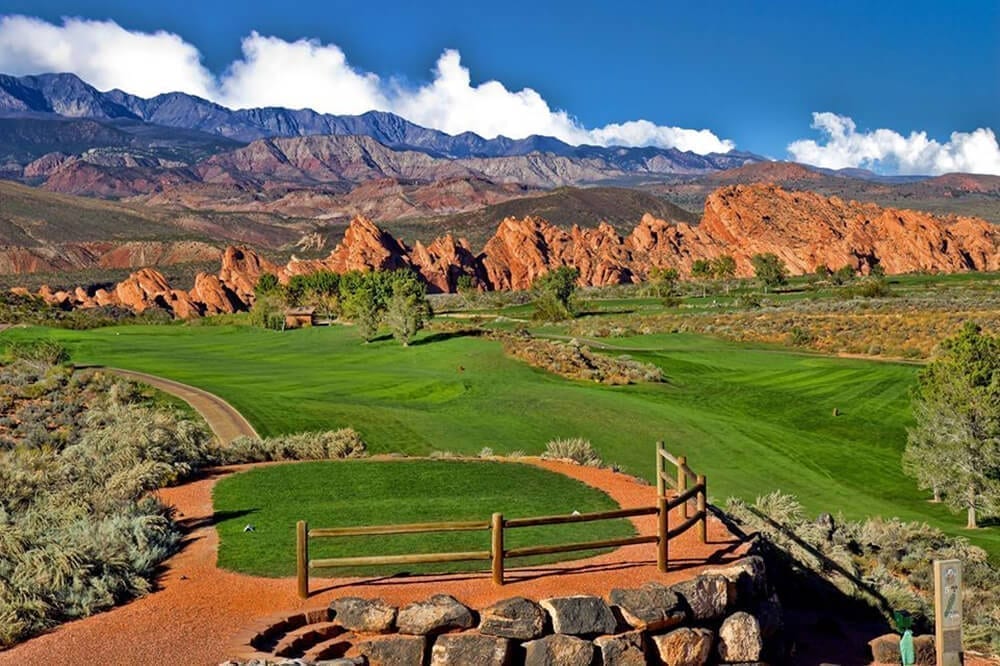 Pinon Hills—Farmington, N.M.
Consistently ranked as one of the best municipals in the country, Pinon Hills is owned by the city of Farmington, 180 miles north of Albuquerque, and was designed by Ken Dye. It opened in 1989 and is playable all year round, though winter mornings can be pretty chilly and summer afternoons pretty warm in the high desert. During the week, non-residents pay $44.
Which clubs in the southwest would you recommend? Let us know in the comment section.