In the second installment of our four-part series ranking the world's golf countries (outside of the U.S.), we turn to the increasingly attractive offerings among the 20-plus nations of Europe.
Unlike golf in the British Isles, which we covered in the previous issue of LINKS, quality and quantity in Europe varies dramatically. There is less than one course per million residents in Turkey and Russia, for example, but more golf per capita in Sweden, Denmark, and Iceland than there is in England, which will surprise many.
Perhaps equally surprising is the quality at the top end. The 2018 Ryder Cup focused attention on our number-one nation, France. Beyond the somewhat contrived Le Golf National facility, however, are a number of high-end private and public-access courses that regularly rank among the finest in Europe and collectively rival the best golf available in a country like Ireland. Rounds at Morfontaine, Fontainebleau, Chantilly, Les Bordes, Golf du Medoc, Le Touquet, Hardelot (Les Pins), Prince de Provence, Sperone, and Grand Saint-Emilionnais would make for a wonderful golf trip.
The Dutch also have a number of great Golden Age courses, such as De Pan, Royal Hague, and Kennemer, but the quality falls away more noticeably after the top handful than it does in France.
Perhaps the biggest surprise in the top five countries is Denmark, which earned its number-three spot on the back of a solid collection of good courses, both old and new. Along with interesting modern courses like The Scandinavian (New/Old), Lubker, Lyngbygaard, and Stensballegaard is the charming Copenhagen (Kobenhavns) Golf Club, which is the oldest in Scandinavia (founded in 1898) and set within the expansive grounds of a beautiful old castle.
Those looking for a warmer golf getaway could choose from a number of tourist-friendly regions in both Portugal and Spain, or perhaps 2022 Ryder Cup host Italy, which is an ideal self-drive destination because its most appealing courses are spread far and wide across an intoxicating landscape: from Verdura (West/East) in Sicily and Pevero on the island of Sardinia, through the likes of Acquasanta and Ryder Cup host Marco Simone near Rome, Castiglion del Bosco in Tuscany, and the northern lakes district, where golfers can enjoy Circolo Golf Bogogno (Bonora/DelConte), Villa d'Este, Castelconturbia, and the Milano Golf Club, set beside the world-famous Monza racetrack.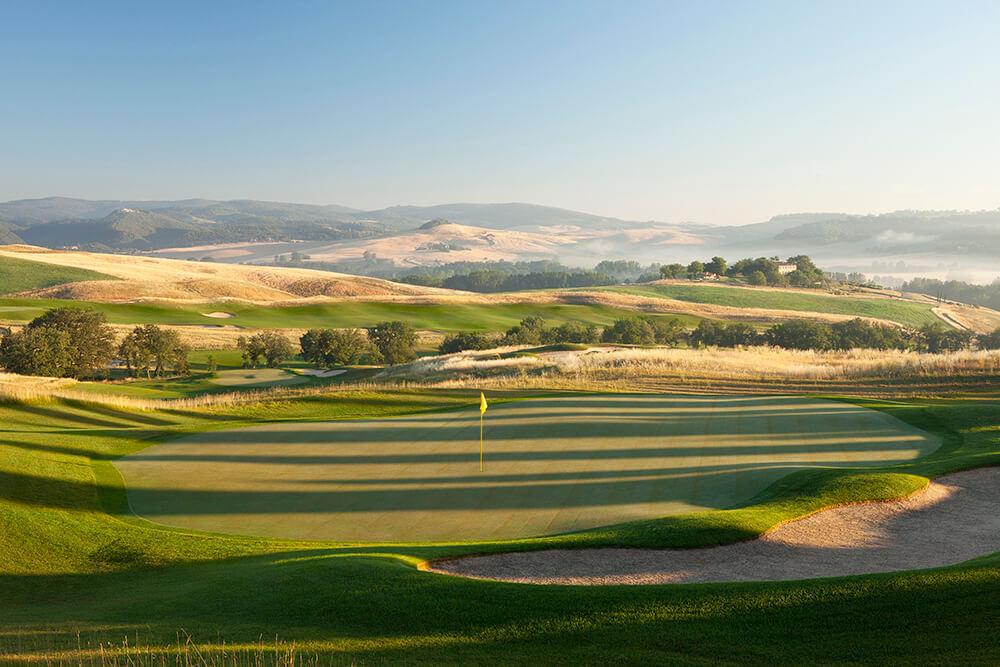 Portugal is another impressive European destination with year-round sunshine and plenty of high-quality, affordable courses. It finished ahead of neighbor Spain primarily because its green fees tend to be lower and visitors have greater access to its best courses.
Both Spain and Portugal are popular winter destinations for Swedish golfers, who actually have it pretty good at home during their short golf season. Sweden finished second in our ranking on the back of the sheer volume of golf courses it has, as well as both value and bucket list venues like Falsterbo, Bro Hof Slott (Stadium & Castle), Ullna, Halmstad, Barseback, Ljunghusens, and the PGA of Sweden. For fans of old-school architecture, the likes of Stockholm Golf Club and Royal Drottningholm are also recommended.
When it comes to value, the best courses in each of Europe's top six countries are much cheaper than their equivalents across the channel. In France, for example, although it's tough to get onto Morfontaine and Prince de Provence, you can play seven of its best 10 courses for under $150 each. And though we would never dissuade readers from the great links of the UK and Ireland, these results show that for those interested in combining a little culture with their next golf trip, Europe is a terrific option. Most of the best golf on the continent is accessible for foreigners, inexpensive, and probably better than you expect.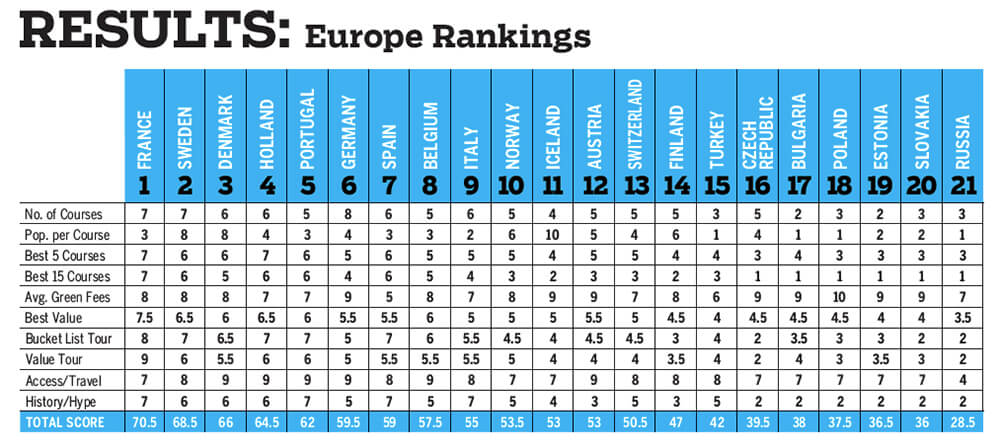 HOW WE SCORED THEM:
NUMBER OF COURSES:
10 pts. = 5,000+, 9 = 2,000 to 5,000, 8 = 1,000 to 2,000, 7 = 500 to 1,000, 6 = 300 to 500, 5 = 100 to 300, 4 = 50 to 100, 3 = 25 to 50, 2 = 10 to 25, 1 = fewer than 10
POPULATION PER COURSE:
10 pts. = less than 10,000, 9 = less than 15,000 8 = less than 20,000, 7 = less than 25,000, 6 = less than 30,000, 5 = less than 50,000, 4 = less than 80,000, 3 = less than 100,000, 2 = more than 100,000
BEST 5/15 COURSES
In order to properly compare the quality of golf across Europe, we looked at both small- and medium-sized samples of the best courses in each country, judging each on the strengths of its top-5 and top-15 layouts. Not surprisingly, the leaders here were Holland and France, whose best old courses are usually prominent on European Top 100 ranking lists. Following close behind were Sweden, Portugal, and Spain.
BEST COURSES, COUNTRY BY COUNTRY
FRANCE: Morfontaine, Fontainebleau, Chantilly, Les Bordes, Grand Saint-Emilionnais, Golf du Medoc (Chateau/Vignes), Le Touquet, Hardelot Les Pins, Sperone, Terre Blanche, Le Golf National, Saint Germain, Chiberta, Prince de Provence, Biarritz Le Phare, Moliets. Top 5 (7), Top 15 (7)
SWEDEN: Falsterbo, Bro Hof Slott Castle/ Stadium, Sand, Visby, Ullna, Halmstad (North/ South), Barseback, Royal Drottningholm, Ljunghusens, Stockholm GC, PGA of Sweden (Links/Lakes), Svartinge. Top 5 (6) , Top 15 (6)
DENMARK: The Scandinavian (New/Old), Lubker, Copenhagen GC, Lyngbygaard, Stensballegaard, Great Northern, Himmerland, Silkeborg Ry, Holstebro, Rungsted, Esbjerg. Top 5 (6), Top 15 (5)
HOLLAND: Kennemer, Royal Hague, De Pan, Noordwijkse, De Swinkelsche, Hilversumsche, Eindhoven, Stippelberg, Rosendaelsche, The Dutch, Lage Vuursche, The International. Top 5 (7), Top 15 (6)
PORTUGAL: West Cliffs, Praia D'El Rey, Oitavos Dunes, Troia, Monte Rei, Quinta do Lago (South/North), Palmares, Vilamoura (Old/Victoria), San Lorenzo, Penina, Penha Longa, Vale do Lobo. Top 5 (6), Top 15 (6)
GERMANY: Hamburger, Budersand, Sporting Club Berlin (Faldo/Palmer), Frankfurter, Seddiner See, Winston (Open/Links), St. Leon Rot (Rot/St. Leon), Bad Griesbach, Beuerberg, Hubblerath, Rethmar, Fohr. Top 5 (5), Top 15 (4)
SPAIN: Valderrama, El Saler, PGA Catalunya, Sotogrande, Puerta de Hierro, Finca Cortesin, Sevilla, Son Gual, Neguri, Las Brisas, Santander, Las Colinas, La Reserva, El Prat, Villa de Madrid, Emporda (Links/Forest), Pedrena. Top 5 (6), Top 15 (6)
BELGIUM: Royal Zoute, Ravenstein, Royal Limburg, Royal Waterloo (La Lion/Marache), Royal Golf des Fagnes, Royal Ostend, Royal Antwerp, Royal Sart Tilman. Top 5 (5), Top 15 (5)
ITALY: Verdura (West/East), Villa d'Este, Circolo Golf Bogogno (Bonora/DelConte), Castelconturbia, Biella, Royal Park, Roma (Acquasanta), Donnafugata, Le Robinie, Castiglion del Bosco, Milano, Pevero, Is Arenas, Olgiata, Torino, Marco Simone. Top 5 (5), Top 15 (4)
NORWAY: Lofoten Links, Oslo GC, Kongsvinger, Miklagard, Stavanger, Atlungstad, Holtsmark, Notteroy. Top 5 (5), Top 15 (3)
ICELAND: Keilir, Brautarholt, Vestmannaeyja. Top 5 (4), Top 15 (2)
AUSTRIA: Eichenheim, Klagenfurt, Fontana, Adamstal Franz Wittmann, Gutenhof, Murhof, Seefeld-Wildmoos, Schloss Schonborn, Gut Altentann. Top 5 (5), Top 15 (3)
SWITZERLAND: Domaine Imperial, Crans-sur-Sierre, Zurich, Bad Ragaz, Engadine, Geneva, Lausanne. Top 5 (5), Top 15 (3)
FINLAND: Kytaja, Linna, Nordcenter. Top 5 (4), Top 15 (2)
TURKEY: Carya, The National, Antalya (PGA Sultan), Cornelia, Lykia Links, Montgomerie Maxx, Gloria. Top 5 (4), Top 15 (3)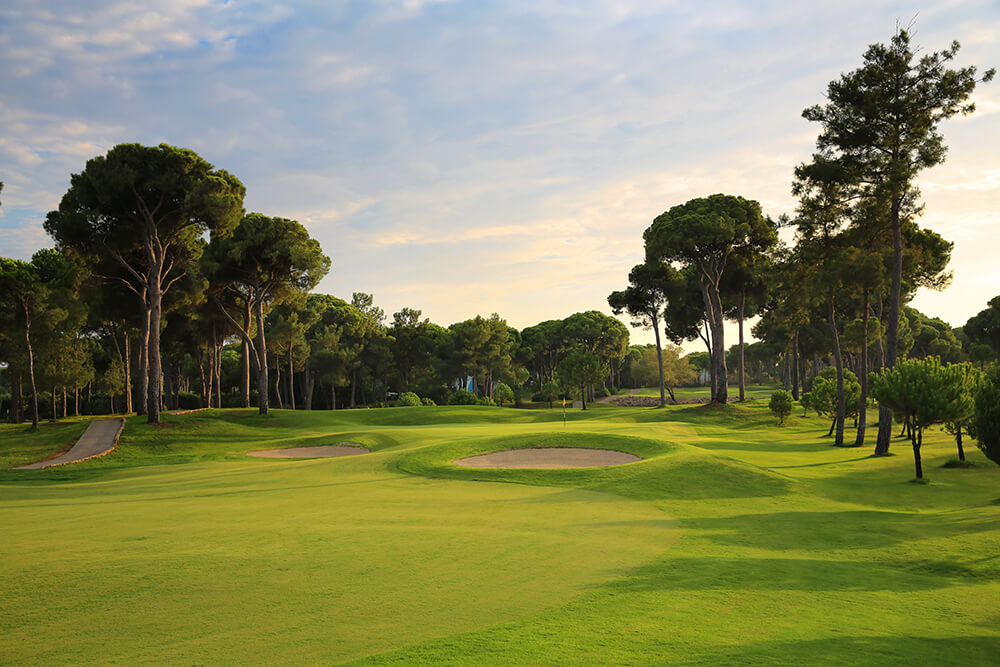 CZECH REPUBLIC: Albatross. Top 5 (3), Top 15 (1)
BULGARIA: Thracian Cliffs, Pirin, BlackSeaRama. Top 5 (4), Top 15 (1)
POLAND: Sand Valley, Modry Las, Rosa. Top 5 (3), Top 15 (1)
ESTONIA: Parnu Bay, Estonian. Top 5 (3), Top 15 (1)
SLOVAKIA: Penati (Legend/Heritage). Top 5 (3), Top 15 (1)
RUSSIA: Raevo, Pestovo, Tseleevo, Skolkovo, Zavidovo, Moscow CC, Peterhof, Agalarov. Top 5 (3), Top 15 (1)
AVERAGE GREEN FEES
For these criteria, we considered courses that featured on the Top 100 ranking lists for Europe in Golf World Magazine and on the Top100GolfCourses.co.uk website. The summary (collated) results were as follows.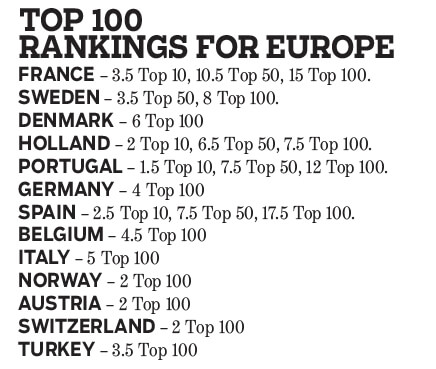 AVERAGE GREEN FEES
10 pts. = < $80; 9 = < $100; 8 = < $120; 7 = < $150; 6 = < $180; 5 = < $220; 4 = < $260; 3 = < $300; 2 = over $300.
FRANCE – €104.80 = $115 (8)
SWEDEN – SEK 1020.35 = $104 (8)
DENMARK – DKK 734.54 = $108 (8)
HOLLAND – €115.70 = $127 (7)
PORTUGAL – €131.20 = $145 (7)
GERMANY – €88.45 = $97 (9)
SPAIN – €180.30 = $198 (5)
BELGIUM – €95.00 = $104 (8)
ITALY – €125.66 = $138 (7)
NORWAY – NOK 1090 = $120 (8)
ICELAND – €72 = $81 (9)
AUSTRIA – €84.85 = $93 (9)
SWITZERLAND – CHF 146.40 = $147 (7)
FINLAND – €105 = $115 (8)
TURKEY – €146.00 = $160 (6)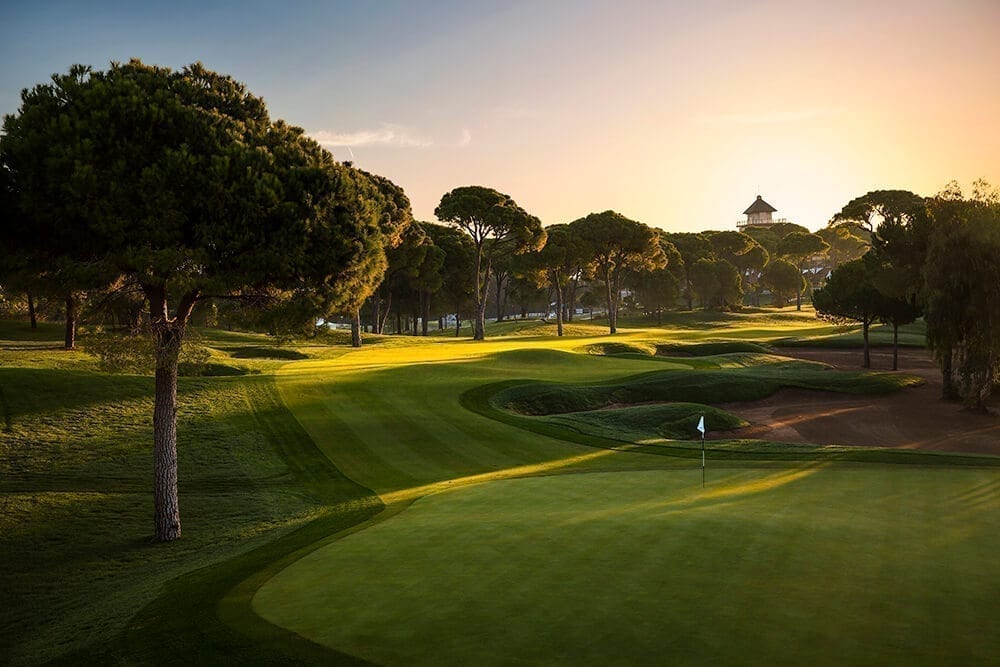 CZECH REPUBLIC – €77 = $85 (9)
BULGARIA – €79 = $87 (9)
POLAND – €70 = $77 (10)
ESTONIA – €75 = $82 (9)
SLOVAKIA – €79 = $87 (9)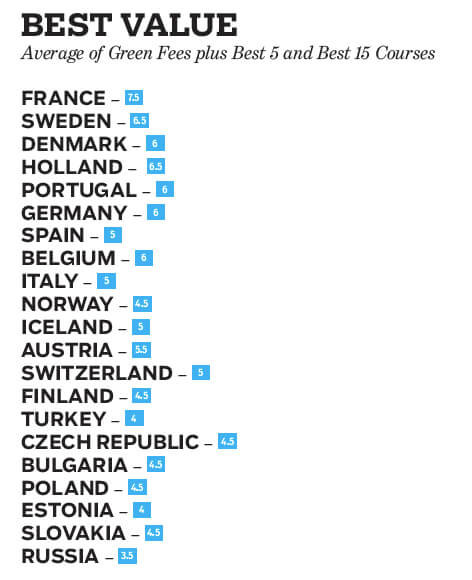 GOLF TRIPS
Although nothing in Europe can top the sort of Bucket List itinerary available in Scotland, Ireland, or England, a trip through the top courses of France would be world-class, especially because of the affordable green fees. The same is true of Holland, Sweden, and particularly Portugal, which stands out from neighboring Spain because its best golf courses are both more accessible and more reasonably priced.
BUCKET LIST TOUR
FRANCE: Morfontaine, Fontainebleau, Chantilly, Les Bordes, Grand Saint-Emilionnais, Golf du Medoc (Chateau), Le Touquet, Hardelot Les Pins, Prince de Provence, Sperone, Terre Blanche, Le Golf National. (8)
SWEDEN: Falsterbo, Bro Hof Slott (Castle/Stadium), Sand, Ullna, Halmstad (North/South), Barseback, Royal Drottningholm, Ljunghusens, Stockholm GC, PGA of Sweden (Links/Lakes), Svartinge. (7)
DENMARK: The Scandinavian (New/Old), Lubker, Copenhagen GC, Lyngbygaard, Stensballegaard, Great Northern, Himmerland, Holstebro, Rungsted. (6.5)
HOLLAND: Kennemer, Royal Hague, De Pan, Noordwijkse, De Swinkelsche, Hilversumsche, Eindhoven, Stippelberg, Rosendaelsche, The Dutch. (6.5)
PORTUGAL: West Cliffs, Praia D'El Rey, Oitavos Dunes, Troia, Monte Rei, Quinta do Lago (South/North), Vilamoura (Old), San Lorenzo, Penina, Penha Longa, Vale do Lobo. (7)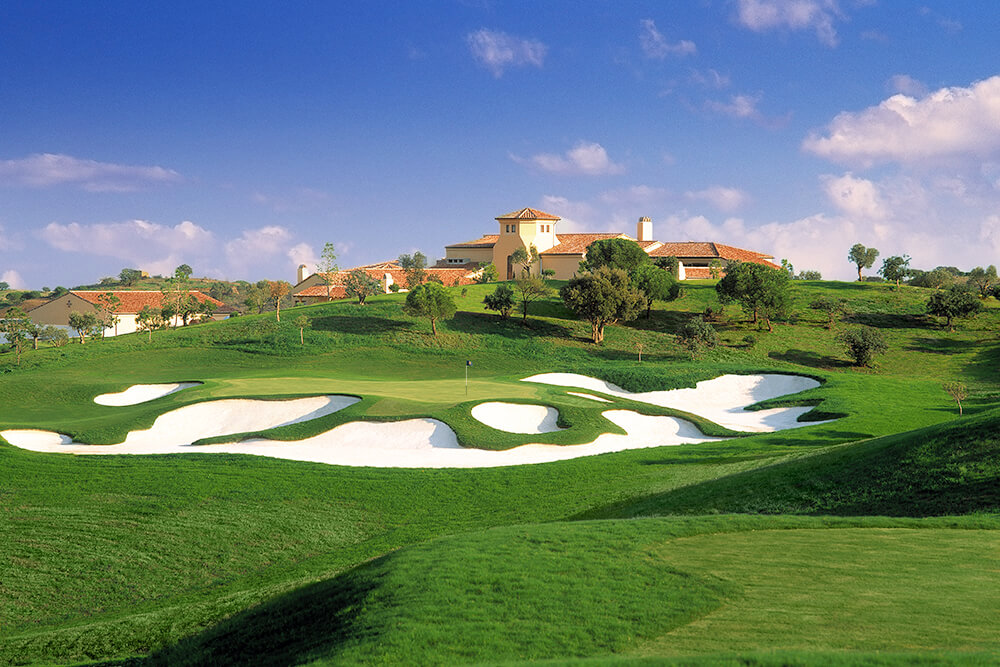 GERMANY: Hamburger, Budersand, Sporting Club Berlin (Faldo/Palmer), Frankfurter, Seddiner See, Winston (Open/Links), St. Leon Rot (Rot/St. Leon). (5)
SPAIN: Valderrama, El Saler, PGA Catalunya, Sotogrande, Puerta de Hierro, Finca Cortesin, Sevilla, Son Gual, Neguri, Las Brisas, Santander, Las Colinas, La Reserva. (7)
BELGIUM: Royal Zoute, Ravenstein, Royal Limburg, Royal Waterloo (La Lion/Marache), Royal Golf des Fagnes, Royal Ostend, Royal Antwerp, Royal Sart Tilman. (6)
ITALY: Verdura (West/East), Villa d'Este, Circolo Golf Bogogno (Bonora/DelConte), Castelconturbia, Biella, Roma (Acquasanta), Donnafugata, Castiglion del Bosco, Milano, Pevero, Marco Simone. (5.5)
VALUE ITINERARY
Best golf under $150 peak rate
FRANCE: Fontainebleau, Chantilly, Grand Saint- Emilionnais, Golf du Medoc (Chateau/Vignes), Le Touquet, Hardelot Les Pins, Sperone, Saint Germain, Chiberta, Biarritz Le Phare, Moliets. (9)
SWEDEN: Falsterbo, Bro Hof Slott Castle, Sand, Visby, Ullna, Halmstad (North/South), Barseback, Royal Drottningholm, Ljunghusens, Stockholm GC, PGA of Sweden (Links/Lakes). (5.5)
DENMARK: Lubker, Copenhagen GC, Lyngbygaard, Stensballegaard, Great Northern, Himmerland, Silkeborg Ry, Holstebro, Rungsted. (5.5)
HOLLAND: De Pan, Noordwijkse, De Swinkelsche, Hilversumsche, Eindhoven, Stippelberg, Rosendaelsche. (6)
PORTUGAL: West Cliffs, Praia D'El Rey, Oitavos Dunes, Troia, Palmares, Vilamoura (Old/Victoria), San Lorenzo, Penina, Penha Longa. (6)
GERMANY: Hamburger, Budersand, Sporting Club Berlin (Faldo/Palmer), Frankfurter, Seddiner See, Winston (Links/Open), St. Leon Rot (Rot/St. Leon), Beuerberg, Hubblerath, Rethmar, Fohr. (5)
SPAIN: El Saler, Sevilla, Las Colinas, El Prat, Emporda (Links/Forest), Pedrena. (5.5)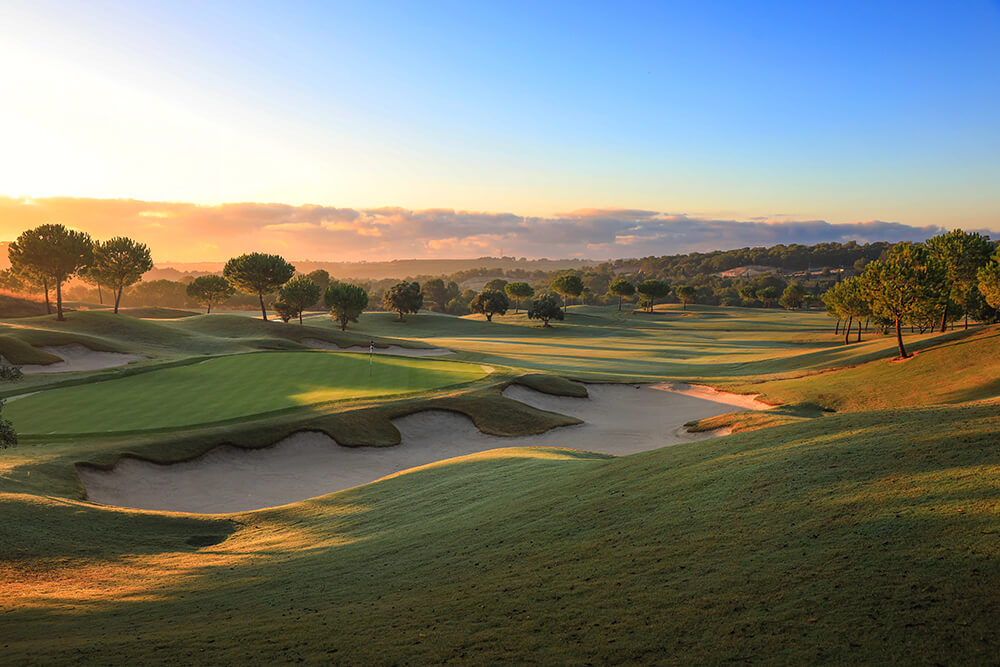 BELGIUM: Royal Zoute, Ravenstein, Royal Limburg, Royal Waterloo (La Lion/Marache), Royal Golf des Fagnes, Royal Ostend, Royal Antwerp, Royal Sart Tilman. (5.5)
ITALY: Villa d'Este, Circolo Golf Bogogno (Bonora/ DelConte), Castelconturbia, Biella, Royal Park, Roma (Acquasanta), Le Robinie, Castiglion del Bosco, Milano, Pevero, Is Arenas, Marco Simone. (5.5)
NORWAY: Lofoten Links, Miklagard, Stavanger, Atlungstad, Holtsmark, Notteroy. (5)
AUSTRIA: Eichenheim, Klagenfurt, Fontana, Adamstal Franz Wittmann, Gutenhof, Murhof, Seefeld-Wildmoos. (4)
SWITZERLAND: Crans-sur-Sierre, Zurich, Engadine. (4)
TURKEY: The National, Antalya (PGA Sultan), Cornelia, Gloria. (4)