The PGA Tour swings through the Lone Star state a handful of times every year, and when it does one of several standout Texas courses enjoys its annual 15 minutes of fame. Yet, there are plenty of other great tracks all across the state. Here, we take a closer look at the greater Dallas area, spotlighting a half-dozen public layouts that belong on your short list the next time you find yourself visiting Big D.
There's a saying that everything is bigger in Texas. A quick glance at the two championship-caliber courses at Omni PGA Frisco Resort provides evidence that the adage is true at least some of the time. These behemoths have the potential to play excessively long—Fields Ranch East can be tipped out to almost 7,900 yards, while Fields Ranch West stretches just beyond 7,300 yards. Both routings feature generously wide fairways, though Gil Hanse, who designed Fields Ranch East, explains that precision is necessary for players who are looking to go low. "We have wide playing corridors," Hanse says, "but we're making angles relevant." While both courses share many characteristics, they're also unique in key areas. Panther Creek, which snakes its way across the property, comes into play more often on the East course. Hanse's routing also sports green complexes that are more significantly protected by hazards and sand. The West course, by contrast, features greens that typically have at least one unguarded side; however, the green complexes feature deep run-offs and collection areas. The putting surfaces are also more aggressively contoured.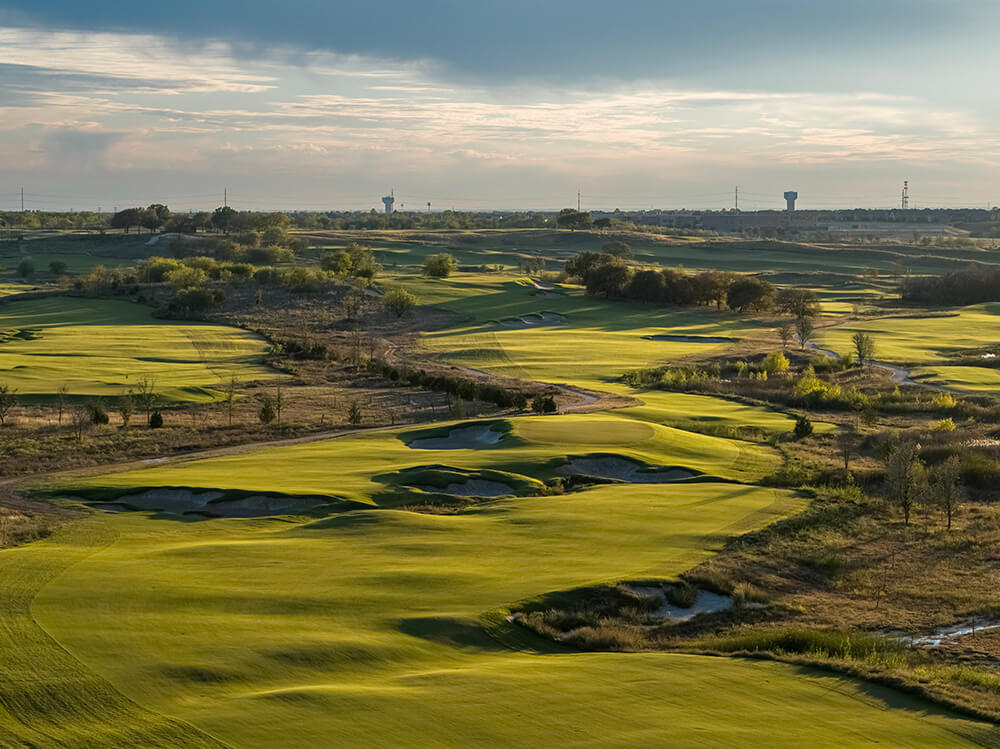 Elsewhere on property, golfers will find plenty of additional venues where they can put a club in their hands. Lounge by Topgolf, for example, is an indoor sports bar equipped with several Swing Suites that feature Full Swing simulator technology. Nearby, resort guests can also step onto The Dance Floor, a lighted, two-acre putting course. And then there's The Swing, a 10-hole short course that was created via a collaboration between Hanse and course architect Beau Welling, who also designed Fields Ranch West. "It was a true collaboration," explains Hanse, adding that the project was fun for other reasons, too. "We're always talking about shot values, and what are you hitting here, and how does this hole work, etc. But there [on The Swing], it was just about trying to create fun golf holes."
Some have gone so far as to call Stevens Park in southwest Dallas the "Little Augusta of North Texas." It's easy to see why, as the 6,285-yard layout meanders across a landscape planted with mature oaks and defined by dramatic changes in elevation. Originally designed in the early 1920s by Jack Burke Sr.—a pioneering professional golfer who tied for second in the 1920 U.S. Open—Stevens Park was comprehensively redesigned in 2011 by Colligan Golf Design. As part of that project, two-thirds of the holes were rerouted, most holes were lengthened, new greens and bunkers were built, and more than 900 trees—along with 2,000 rosebushes—were planted. The completed work drew rave reviews, with coverage declaring Colligan's efforts to be a "rebirth of a classic."
First-time visitors to Heritage Ranch will immediately encounter a clubhouse that plays off the course's name, but they'll soon feel similar ranching vibes out on the almost 7,000-yard championship-caliber golf course, which features playing corridors lined with mature oak, cedar, and pecan trees. Designed by Arthur Hills in 2001, the course reflects the architect's ethos during that era, as generously wide fairways pinch in the closer players get to the club's raised green complexes. In other words, Heritage Ranch is decisively a second-shot golf course. Pay attention to the scorecard, as it offers up good guidance for tee selection based on a player's driving distance.
Getting to Texas Star requires a 25-minute drive east of downtown Dallas. As you get close to the 26-year-old club, the neighborhood becomes strikingly industrial. Don't be alarmed. Once you reach the golf club—and especially once you're out on the 6,936-yard course—the Keith Foster-designed track will transport you to a more idyllic, pastoral setting, one that brings numerous water features and old oaks into play. Pay heed to the names of each hole, as they serve as a harbinger of things to come. Holes 9 and 18, for example, are named "Devil's Point" and "Deguello," which in Spanish means "give no quarter." On both holes, water hazards not only line portions of the fairway but also completely bisect the holes along the way.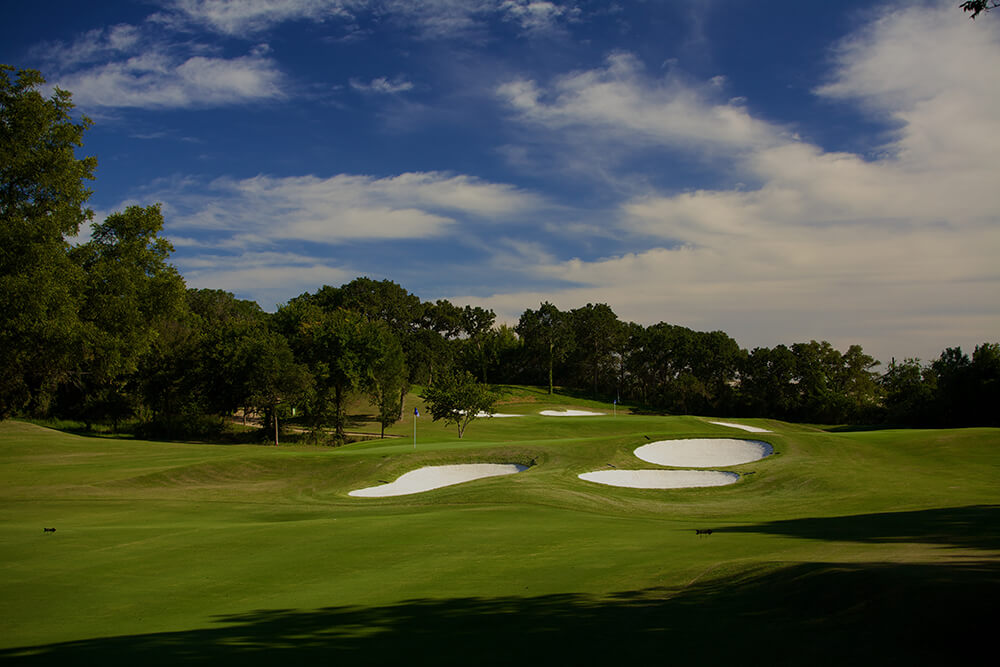 While it's true that playing from the correct set of tees is imperative if golfers want to play their best, it's especially true at Sky Creek Ranch, where the undulated Bermuda fairways are narrow, the greens are mostly elevated, the bentgrass putting surfaces roll quickly, and water is in play on 16 of 18 holes. Needless to say, biting off more than you can chew in terms of total distance is the last thing that you'd want to do here, not only because it adds another level of difficulty, but it also elevates the aforementioned challenges. For all the golf-related dangers that loom at Sky Creek Ranch, the 6,953-yard course is also a bastion of natural beauty, which comes as no surprise given that its creator, Robert Trent Jones Jr., has long tried to enhance wildlife habitats along and within his course routings.
This championship layout, originally designed by Jay Morrish in 1983 (and more recently renovated by D.A. Weibring and Steve Wolfard in 2009), hosted an annual PGA Tour event (the AT&T Byron Nelson) for more than 30 years, which means there's a good chance you'll recognize aspects of the course during your round. As you might expect given the course's TPC status, all 7,166 yards of it are kept in pristine condition. Best of all, the round builds to a crescendo as the back nine offers more exciting shot opportunities and more memorable holes. In particular, the 198-yard par-three 17th requires all but a forced carry—either over a deep bunker guarding the front-left portion of the green, or an expansive pond protecting the opposite side. Only the truly daring (or lucky) golfer will thread the needle between the two. Similarly, on the final hole, golfers must navigate around a large, multi-tiered water hazard on the left—not just with their tee shots, but also their uphill approaches, which are made all the more difficult given that the green is also protected by a bunker on the right.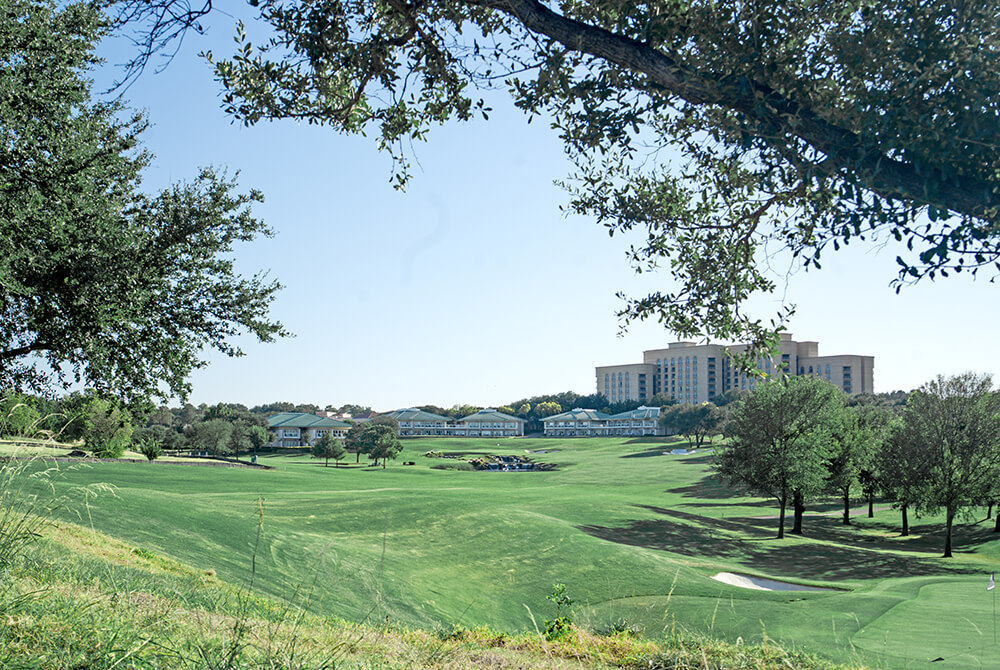 What other great public golf courses have you played in the greater Dallas area?