PGA Frisco, the new home of the PGA of America, boasts two freshly built courses ready to challenge the world's best—and you
At PGA Frisco, just north of Dallas, the 14th hole on Fields Ranch West is aptly branded "Big Country." The subtle dogleg-left plays notably uphill to a well-guarded green that is exceedingly wide, though only moderately deep. The fairway on this 409-yard par four is significantly wider, at least 100 yards at its broadest point. In other words, you don't need to make an excellent swing to find short grass off the tee.
I discovered that firsthand during a preview round last fall, hitting my drive to the left side of the fairway, which offers the shortest route to the green. The A position, however, is a narrow shelf that sits atop a ridge on the right side: Finding that spot may leave longer approaches into the green, but the higher portion of the fairway provides a more favorable angle—one that accommodates lower, running shots.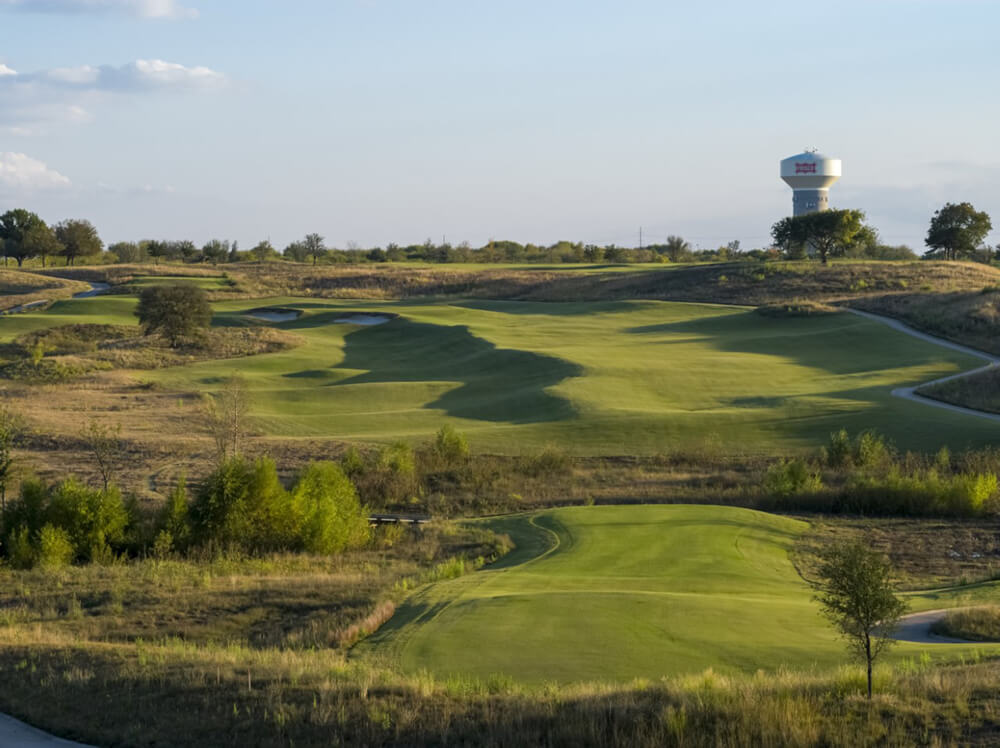 Forced to hit a short iron over two cavernous bunkers, I flushed an 8-iron, foolishly posed over the shot, then watched as my ball stalled in the wind and splashed high into the face of the closer sandbox. That was followed by what I thought was a great recovery over a lip looming six feet above me, until I heard my playing partners let out a collective groan and pleas to "Stay up! Stay up!" But no cries for mercy were going to stop my ball once it trundled over the crest of a slope running away from the center of the green.
Such contours around the edges of the putting surfaces, which merge into tightly mown embankments that funnel into low collection areas, are features that architect Beau Welling implemented throughout Fields Ranch West. They're meant to provide golfers with more recovery options, but they're also intended to punish approach shots—or, in my case, recovery efforts—that aren't hit to precise locations.
"A big part of what we're trying to do is to create optionality and get people thinking their way around a golf course," says Welling. "It goes back to the early days of golf [course architecture] where angles are important. If a golf hole is really wide, you're forcing golfers to have to make a choice. It's a concept that I've been around my entire career. We've just presented that in a bigger, bolder way at PGA Frisco."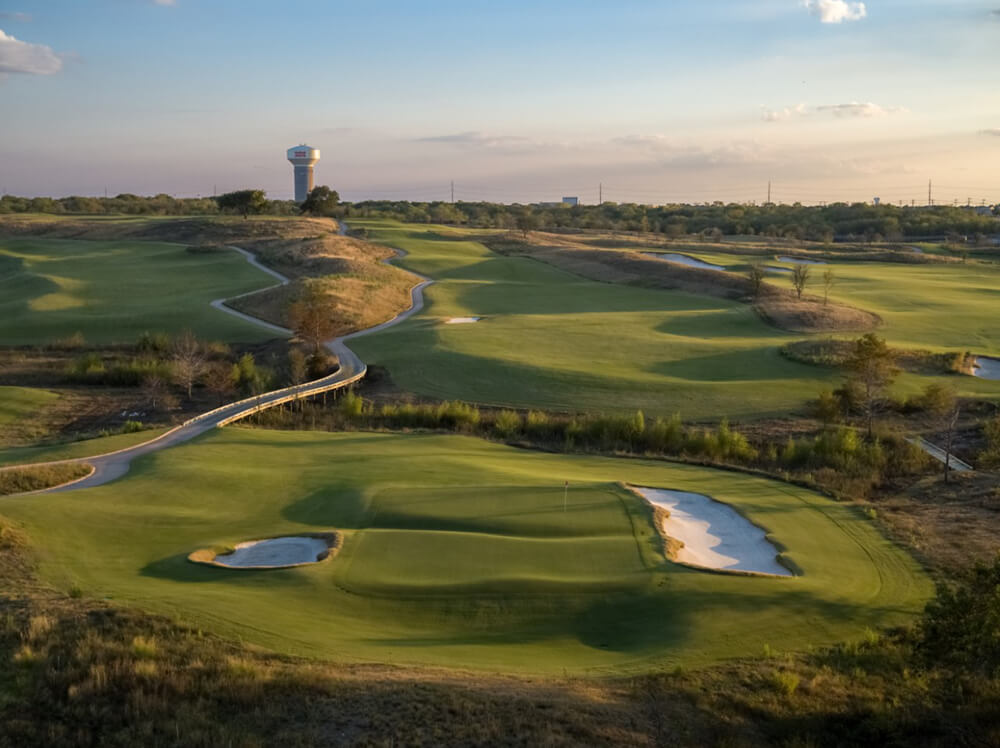 The blustery conditions of north Texas not only reinforced the necessity for wide fairways, they compelled Welling to adjust par on certain holes. Take the 9th hole of Fields Ranch West, originally conceived as a long, uphill par four. Welling immediately reconfigured it once he walked the layout and felt the prevailing headwind. "I got out there and realized this hole was going to be brutal," he says. "I remember asking, 'Who is going to play this hole?' That's how strong the wind was."
The hole is now a short par five, one that might tempt players to go for the green in two if the wind allows. Even so, a monstrosity of a greenside bunker—the largest on the property both in area and depth—will likely cause some reconsideration of that strategy. "The harsh conditions convinced us to take a hard hole on paper and make it more of a fun, sporty hole," Welling says.
This May, the world will get its first in-depth look at the world-class courses of PGA Frisco when the KitchenAid Senior PGA Championship is contested on Fields Ranch East, a second course designed by Gil Hanse and Jim Wagner. Since being proposed back in 2014, it was the hope of the development's founders that PGA Frisco—owned by Omni Hotels & Resorts—might someday host a major championship. Bringing on Hanse and Welling to design the two courses, however, was the first in a series of events that ultimately enticed the PGA of America to relocate its headquarters from Palm Beach Gardens, Fla., to the 660-acre property in North Texas. (The PGA of America also manages the resort's golf operations.)
With the PGA of America in the fold, Hanse and Welling began sharpening their focus toward allowing at least one of the two courses to host golf's biggest events. "I was actually surprised that the Ryder Cup is the biggest footprint," says Hanse, "and we're hopeful that we'll have a Ryder Cup there, so that's what we built everything to."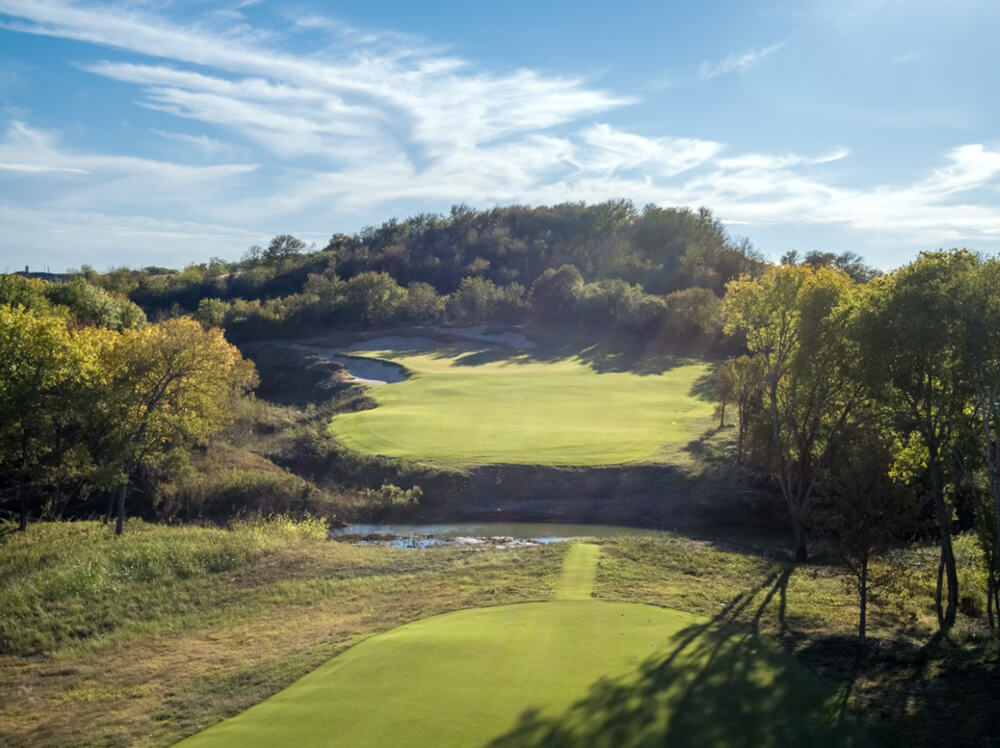 In the meantime, PGA Frisco will host a major every other year, beginning with the aforementioned Senior PGA this spring, followed by the KPMG Women's PGA Championship in 2025 and the PGA Championship in 2027. That sequence of championships will repeat starting in 2029.
Those majors will be contested on Fields Ranch East, a layout defined by many of the same features that characterize the West course with one notable exception: The East occupies land that can better accommodate the infrastructure needed to host at least 50,000 fans each day. Hanse and Wagner were immediately attracted to the site's topography—specifically its rolling hills. And Hanse is quick to point out that Panther Creek, which meanders its way across much of the land allocated to the East course, also stood out for "the opportunity to utilize it in any number of ways from the standpoint of strategy and beauty."
Much like Welling at Fields Ranch West, Hanse and Wagner constructed wide playing corridors where shot placements off the tee and angles into greens are paramount if players want to circle numbers on their scorecards. "The level of precision needed to play the golf course—literally to just go out and play—should be fairly low," Hanse explains. "There should be width, and you should have the ability to easily find your ball and hit it again. But the level of precision required to score should be off the charts, especially if you're trying to challenge the best players in the world."
Testing the world's best shouldn't be a tall order not given the way the East course is set up. Only two species of Bermudagrass were used—TifEagle on the greens and Northbridge everywhere else—which means that when Kerry Haigh, PGA of America's chief championships officer, begins tweaking the course ahead of the forthcoming majors, he can bring the fairways in or he can keep them wide. "He can alter those lines," Hanse explains, "so there's a lot of flexibility in the design. It was a fun exercise for Jim and me to figure out where the bunkers fit into this scheme and how the fairway lines could be tailored to the hazards."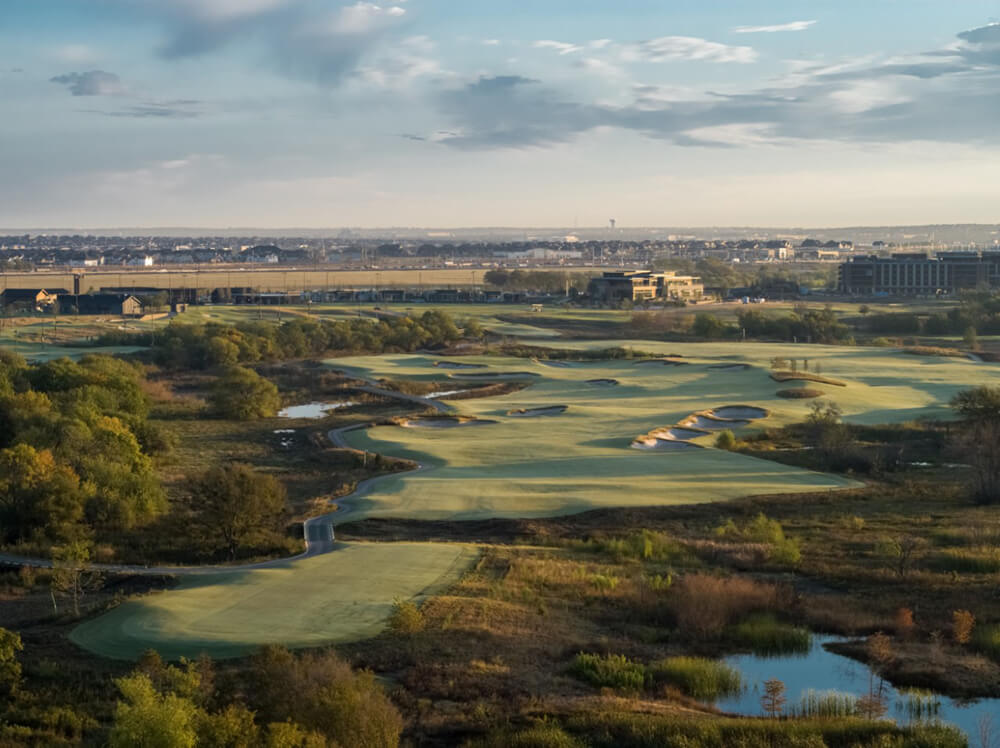 The two courses also feature ribbon teeing grounds, which allow for maximum flexibility in both hole lengths and tee shot angles. Fields Ranch East can stretch to 7,863 yards—more than 500 yards longer than Fields Ranch West—which means the course can adequately fight back against the remarkable distances that tour players are hitting the ball. "With that yardage, with the wind out there, and with hole locations and angles being relevant," Hanse says, "we feel like we have the setup for a major championship course."
There's much more to the diverse menu of amenities PGA Frisco will offer when the resort welcomes its first guests in May. The campus is home to a 500-room Omni hotel, 13 food and beverage venues, expansive meeting spaces, a Lounge by Topgolf, and a two-acre putting course called The Dance Floor.
Add to that The Swing, a 10-hole short course that represents a meeting of the minds of the two architects. The initial plan was for Hanse and Welling to tackle five holes each, but, says Hanse, "It quickly became a 10-hole free-for-all." In no time at all, Welling was directing the other team of shapers, while Hanse and Wagner, in turn, were directing Welling's crew.
"It was a true collaboration," explains Hanse, adding that the project was fun for other reasons. "We're always talking about shot values, and what are you hitting here, and how does this hole work, etc., etc. But there [on The Swing], it was just about trying to create fun golf holes, and from a design standpoint, that's liberating."
Another feature of PGA Frisco will be The Ronny Golf Park, a two-acre, lighted golf area made entirely of synthetic turf that was designed predominantly for junior golfers and will be operated by the Northern Texas PGA. It's an amenity that strongly resonates with Welling, who, along with designing Fields Ranch West, was responsible for master planning the entire project.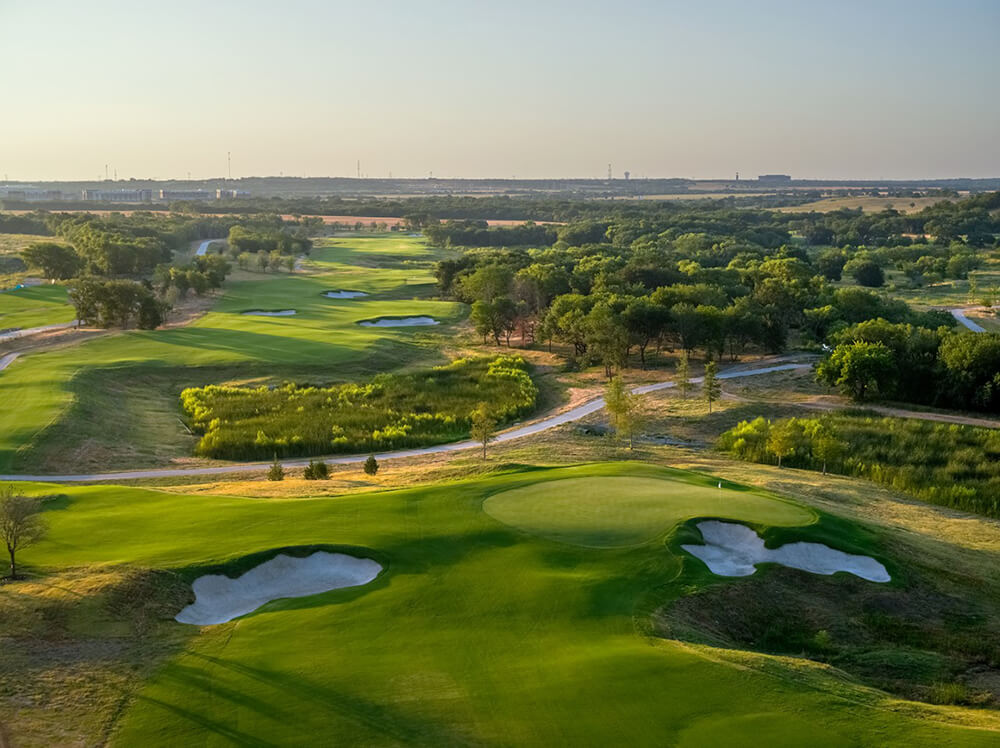 As a child, Welling learned to play golf at Greenville (S.C.) Country Club, which at the time featured a short course and two full-length layouts of varying difficulty. That variety of venues provided a ladder-like path for junior golfers to learn the game in environments commensurate with their ability levels. It's a model that Welling believes will be used with incredible success at PGA Frisco.
"Programs have a lot to do with growing the game, but facilities can help, too, by having the right facility for people no matter what level they are," he says. "That's how I learned golf, and I think PGA Frisco will have that same effect on people, so I was super excited [about this project] from day one."
Thank you for supporting our journalism. If you prefer to read in print, you can also find this article in the Spring 2023 issue of LINKS Magazine. Click here for more information.