Unfortunately for visiting golfers to Georgia, the host venue of the Tour Championship—East Lake Golf Club—is private, as are former Tour stops Atlanta Country Club, TPC Sugarloaf, and multiple-major-championship-host Atlanta Athletic Club. However, Atlanta and the rest of the Peach State boast a multitude of superb public-access layouts.
Here are the 10 best courses you can play in Georgia.
Seaside soared from a 1999 Tom Fazio makeover that combined a 9-hole, Harry Colt/Charles Hugh Alison-designed Golden Age classic and a less distinguished nine from the '70s into a formidable track that has played host to the PGA Tour's RSM Classic since 2010. Huge bunkers, low dunes, marsh-tinged wetlands, firm fairways, and several Atlantic Ocean views lend an Old World, linksy feel, especially when the breezes blow. At 7,005 yards, par 70, Seaside isn't brutishly long by modern standards, but combine wind and marsh carries and it can play plenty tough.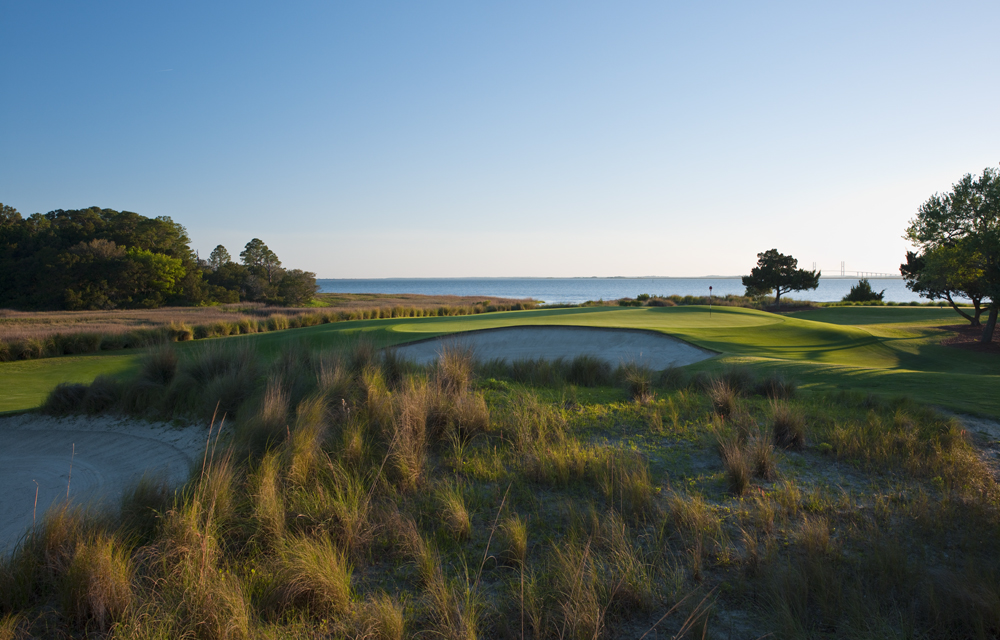 Few courses so successfully fuse beauty, challenge and playability as this 1992 Jack Nicklaus creation that hugs the shoreline of Lake Oconee for nearly the entire back nine. Tall pines frame most of the holes, but the essence of the course centers on superior risk/reward tests such as the 414-yard par-four 9th, 351-yard par-four 11th, and 543-yard par-five 18th, each which challenges the mind and delights the eye with lakeside peril. Following a successful refurbishment in 2019 by Nicklaus and his associate Chad Goetz, Great Waters is greater than ever.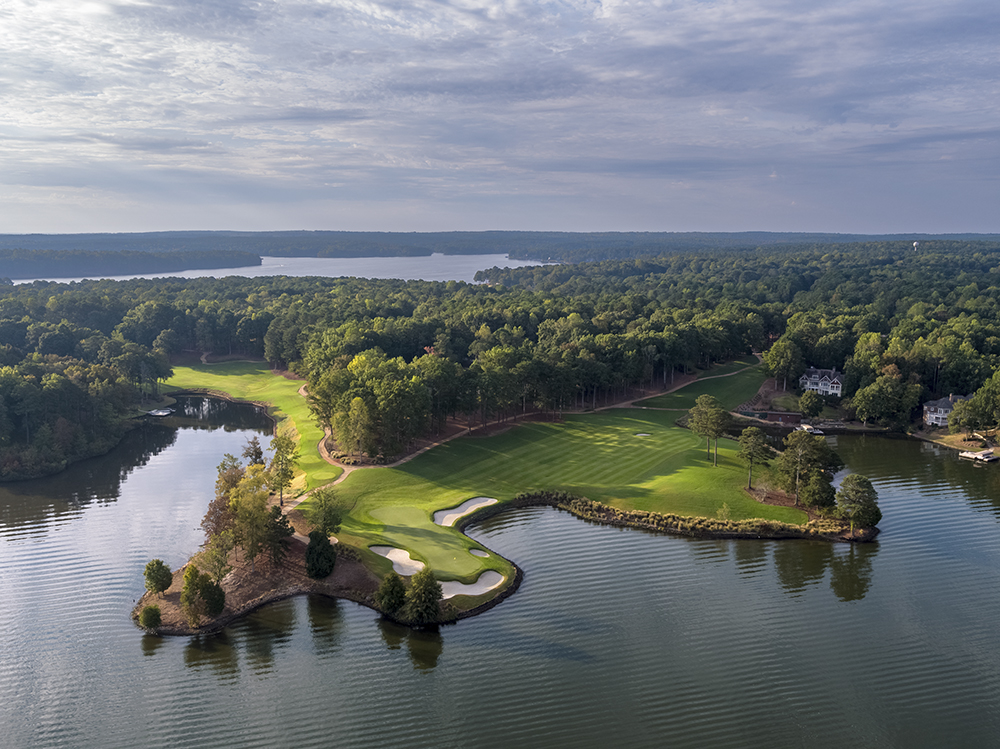 In 2019, architects Bill Bergin and Rees Jones transformed the old Canyon Ridge Club in the mountains of northwest Georgia into McLemore, with both resort and private club components. At 2,300 refreshing feet, the 7,055-yard par-71 layout zigzags through canyons and uplands—and along cliff edges, notably at the unforgettable 435-yard par-four 18th. Perched on a rocky ledge, the fantasy-calendar hole wows with a forested hillside to the right and a sheer, vertigo-inducing drop-off to the left, with a green situated on the edge of the abyss. The club's new course, another Bergin/Rees Jones collaboration called The Outpost, will debut in 2024.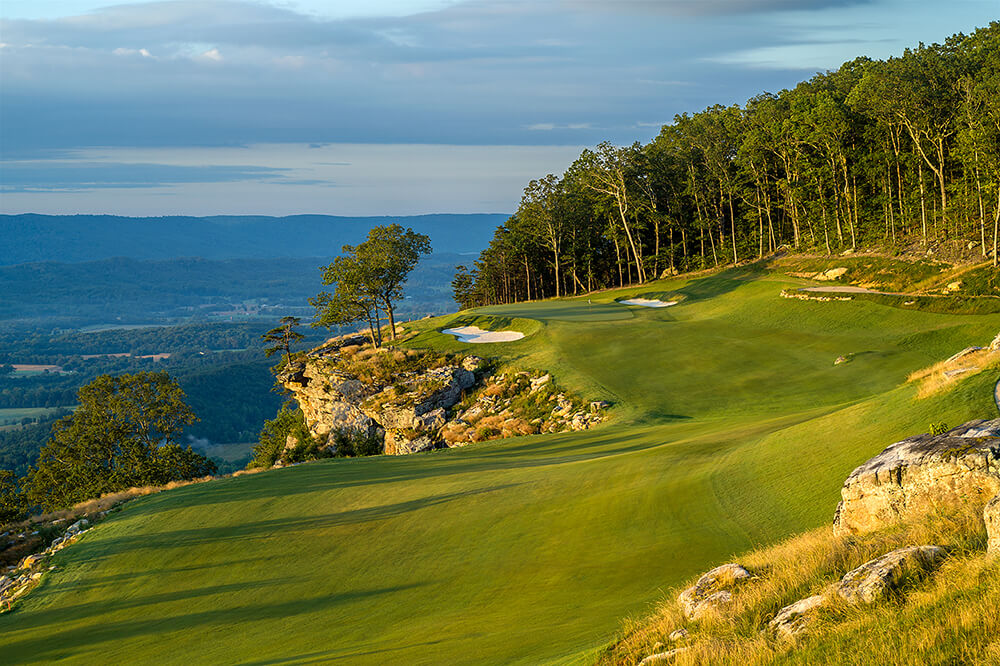 Rees Jones's big, bold 7,158-yard par-72 layout benefits from rolling terrain that sweeps through giant pines and mixes strategy-laden shotmaking options with eye-candy views of Lake Oconee. The 425-yard par-four 16th, with stone-dappled cascades of water bisecting the fairway and the massive 481-yard par-four 18th, which demands a bite-off-as-much-as-you-can-chew drive over an inlet of the lake are standouts.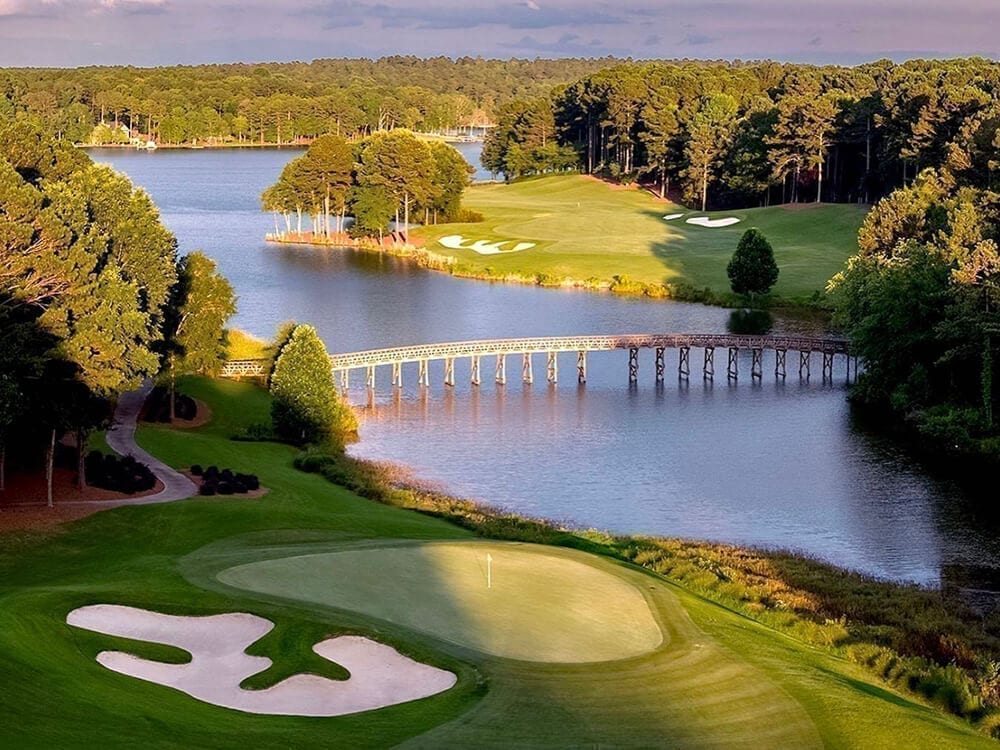 Co-host to the PGA Tour's RSM Classic, the 7,160-yard par-72 Plantation is comprised of the resort's original Walter Travis nine dating to 1927 and a Dick Wilson nine from 1960. Rees Jones first renovated the layout in 1997. In October 2019, Davis Love III, his brother Mark, and lead architect Scot Sherman completely reworked the course, adding strategic bunkering, introducing risks and rewards to the shorter par fours, and making over greens to add variety and interest. Marsh, lagoons, live oaks, and sea views heighten the aesthetic appeal.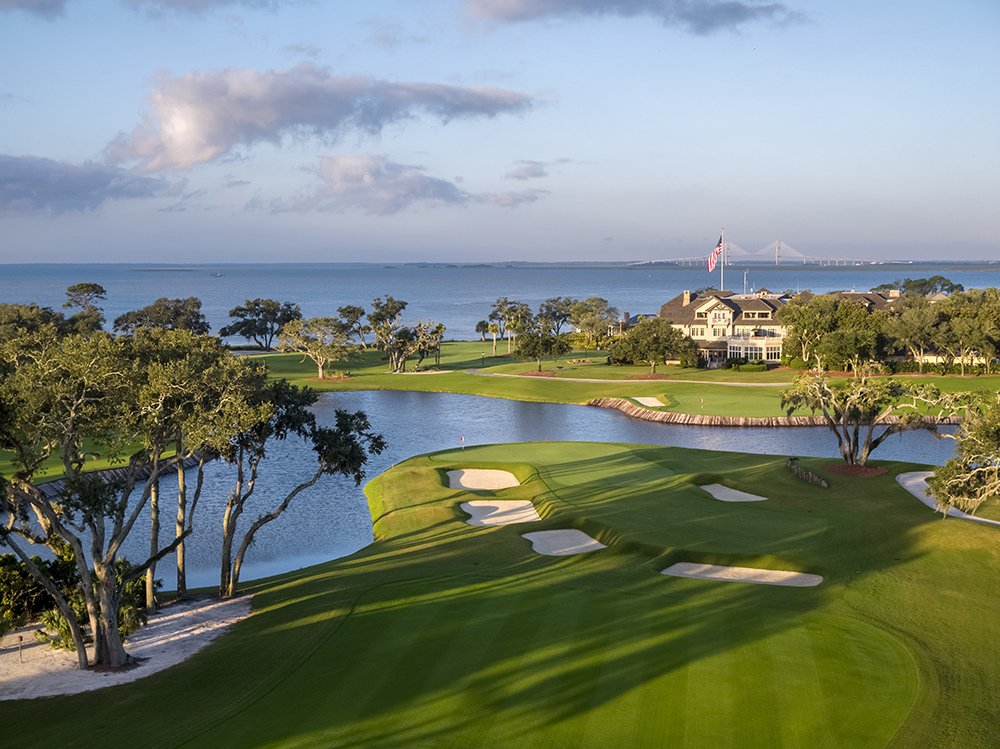 Don't sleep on the Harbor Club. Its near neighbors may attract most of the limelight, but this 1991 Tom Weiskopf/Jay Morrish design easily earns its top-10 stripes thanks to its low-profile, 7,000-yard journey through wooded, lakeside terrain. The routing encompasses four creeks, several ponds, and encounters Lake Oconee on six occasions, notably at the 182-yard par-three 17th. The drivable 341-yard par-four 7th that skirts the lake is one of the region's most exciting risk/reward holes.
Suburban Atlanta isn't Swiss Alps hilly, but it's not far off either, so if you like your golf to include climbs and drops, drop in on Achasta. This enticing up-and-down spread is a sporty Jack Nicklaus Signature design an hour from Atlanta in the North Georgia Mountains. Once known as Nicklaus at Birch River, the course actually plays through the Chestatee River Valley at just under 7,000 yards, par 72. More than half the holes interact with the Chestatee, most impactfully at the 169-yard par-three 5th, which features a green set into an island on the river.
In 2002, Jack Nicklaus took 18 of his favorite designs and replicated them on a rolling, wooded tract in Suwanee, 45 minutes northeast of downtown Atlanta. It could have resulted in a gimmicky mess, but the Golden Bear wisely avoided picking pure all-stars and instead chose holes that fit the land he was given. Consequently, some of the homage holes are from lesser-known tracks, such as England's St. Mellion and the Club at Nevillewood, near Pittsburgh. Still, two of the standouts are among the most famous—and feared—the 11th (the 15th at PGA National's Champion course) and the 6th (the 12th at Muirfield Village), two legendary, watery par threes.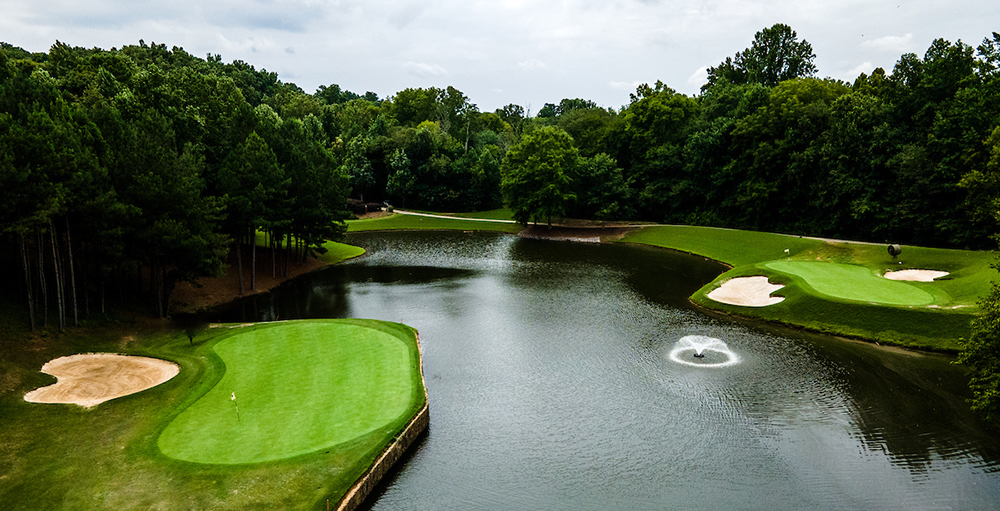 The longest course on what is now the Korn Ferry Tour when it played host to the South Georgia Classic from 2007–14, this 2004 Davis Love III design stretches 7,781 yards from the tips. Situated on a historic farm near the Florida border, Kinderlou sports dramatic elevation changes, ravines, hardwoods, and pines. The 657-yard par-five 4th that boomerangs around a pit and the forced-carry, 195-yard par-three 5th skillfully combine beauty and brawn.
Conceived and built by Tom Fazio as a 27-hole layout, the National is undergoing a radical change—but what remains is still top-10 material. The original 18, comprised of the Ridge and the Bluff nines, opened in 1997. Three years later, it was joined by the Cove nine. Ridge/Bluff was judged the highest-ranked combo, though all three nines delivered Peach State magic, tumbling over hilly terrain, amid hogback fairways, massive bunkers, and lake encounters. Come 2024, the Bluff nine will be requisitioned to form part of a new private course at Reynolds, to be combined with nine new Fazio-designed holes. That leaves Ridge/Cove as the public-access National 18—a strong, scenic pairing in its own right.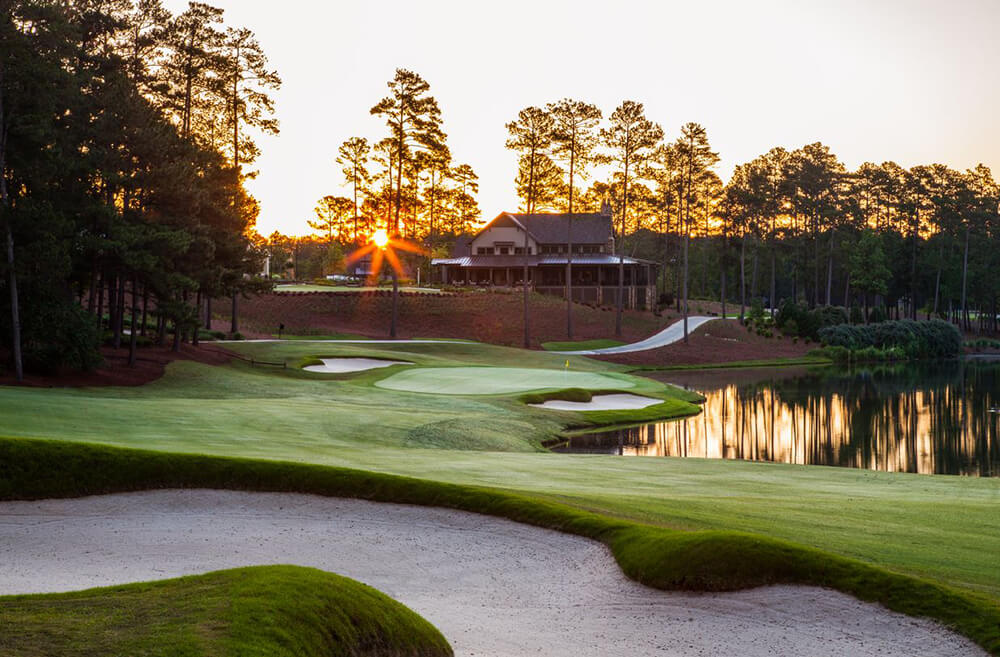 What is your favorite public golf course in Georgia?