In his 1962 travelogue Travels with Charley, John Steinbeck wrote of his shock at seeing the rapid expansion of Seattle. He'd thought of it as a "little city of space and trees and gardens, its houses matched to such a background," but it was now a place of eight-lane highways with traffic that rushed with "murderous intensity." There were high-wire fences, mile-long factories, and the "yellow smoke of progress."
A lot of water has passed under the Fremont Bridge since the Nobel Prize-winning author was here, and he'd surely be impressed with what became of the place. Of course, its size—roughly 3.5 million people now call the metro area home—busyness, and downtown's high-rise towers would no doubt play havoc with his sensibilities, but he'd welcome the absence of yellow smoke in a city that is now an important part of the world economy. And if he played any golf, he'd likewise approve of the handful of highlights within an hour of the city that keep its golfers happy.
The most sought-after tee time in the area is Chambers Bay, host to the 2015 U.S. Open won by Jordan Spieth. Thrust into the limelight just eight years after opening, the linksy layout bordering Puget Sound and designed by Robert Trent Jones (assisted by Bruce Charlton and Jay Blasi) was not only the site of the championship's first visit to the Pacific Northwest but also its debut on fine-fescue greens. Despite close, expert attention, however, and the cool, northern climate in which it does best, the fescue never really thrived. A period of drought prior to the event together with steady accumulation of poa annua didn't help matters, the surfaces becoming so impaired competitors were less than complimentary. In 2018, Director of Agronomy Eric Johnson, course operator KemperSports, and owner Pierce County made the wise decision to convert all 18 greens to poa annua—a move that has surely boosted Chambers Bay's chances of perhaps hosting a second U.S. Open (2036 is the next opening).
When Chambers Bay hosted the U.S. Amateur five years prior to its U.S. Open, it did so with the Michael Asmundson-designed Home Course which had opened in the same month as its more famous neighbor 10 miles to the north and which staged one of the two strokeplay rounds. Among the better scores recorded on the 7,317-yard course were a 67 by 18-year-old Patrick Cantlay, a 68 by Patrick Rodgers (18) and 69s from Max Homa (19), Patrick Berger (17), Harris English (21), and Nick Taylor (22)—all of them eclipsed by 47-year-old Jeff Wilson's 62. The holes travel through some parkland and more exposed areas from where you get amazing views west to the Sound and Olympic Mountains, and east to Mount Rainier.
Half an hour further west on I-5 and Highway 101 is the Squaxin Island Tribe-owned Salish Cliffs, an amenity of the Little Creek Casino Resort. We're now 75 miles and 80 minutes from the famous Pike Place Market—which is pushing our Seattle boundary a bit, admittedly—but this Gene Bates design is too good to pass up. Cutting through a dense coniferous forest and moving over an exposed plateau with wonderful views of the Kamilche Valley for a couple of holes, the course has some significant changes in elevation that add to its enormous appeal.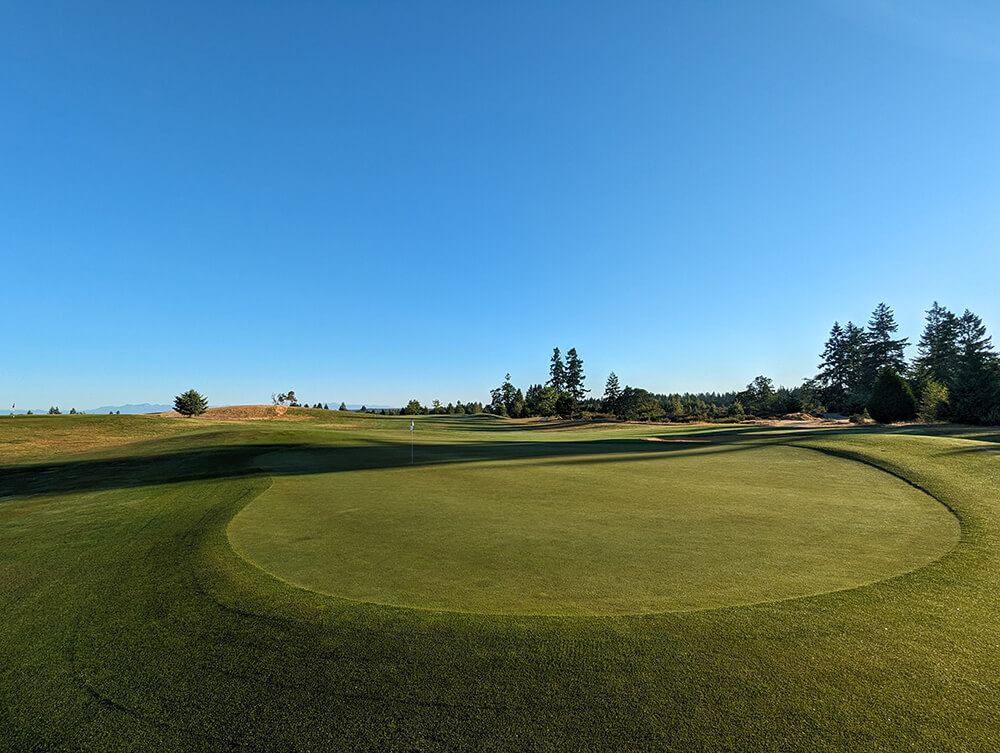 Also west of the city, but just a short ferry ride across Elliot Bay and the Sound, are the City of Bremerton-owned Gold Mountain and White Horse near Kingston. The Olympic course at Gold Mountain opened in 1996 and was one of John Harbottle's finest designs—a genuine championship course that hosted the 2011 U.S. Junior Amateur won by Spieth and 2006 U.S. Public Links with Anthony Kim losing in the final to Hawaii's Casey Watabu. Like its similarly excellent neighbor—the Cascade course which opened in 1971—Olympic is a fairly stereotypical Pacific Northwest layout surrounded by skinny pines, though it has more variety and more outstanding holes, and consistently ranks within Washington's top four or five courses.
Harbottle, who died tragically at age 53 shortly after designing the excellent Palouse Ridge on the Washington State University campus in the southeast corner of the Evergreen State, was also instrumental in making White Horse across the Sound so enjoyable a round. Cynthia Dye McGarey's (Pete Dye's niece) original won much acclaim but was perhaps a little difficult for the majority of visitors who thought it too narrow and heavily bunkered. In 2012, two years after the Suquamish Tribe had purchased the course out of foreclosure, Harbottle was hired to soften it and ended up removing 200 trees and 62 bunkers, 12 of them on one hole.
West Seattle, opened in 1940, is generally considered the city's best municipal and was designed by Chandler Egan. The front nine is relatively flat and 300 yards longer than the much tougher back nine which throws up a lot of sidehill lies as well as splendid views of downtown.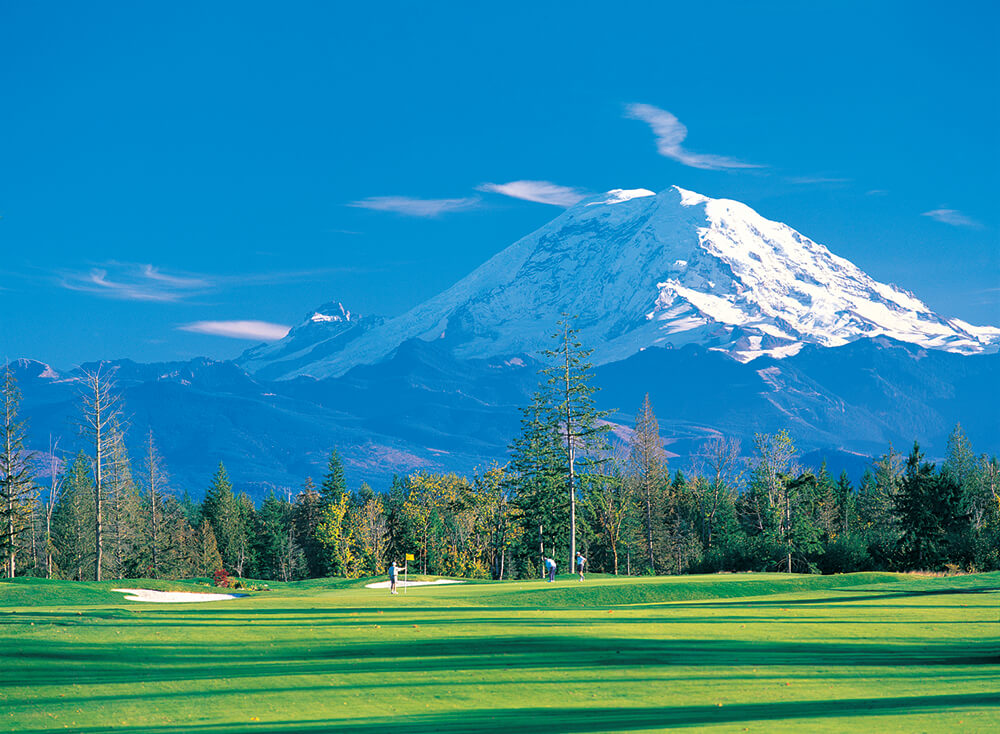 An equally memorable view—nature rather than urban—can be had at the 2004 Keith Foster-designed Druids Glen, 30 miles southeast of downtown and about 40 miles north of 14,417-foot Mount Rainier, which gets your attention on the 2nd hole. Owner Parks Legacy Project hired Forrest Richardson and Jeff Danner to make improvements a couple of years ago and, while the work has stalled briefly, once it happens an already excellent course will shine even brighter.
Oki Golf-owned Newcastle across Lake Washington and Washington National 45 minutes southeast of the Space Needle both have good bones and, if you can tolerate less than pristine bunkers, are worth a visit.
You'll need to rent a car for a few days to play all the Seattle area's best courses, but with scenery like this, the fact those courses take some getting to really isn't a problem.
Have you played golf in the Seattle area? Tell us about the courses you played in the comment section.