The label "risk/reward" is applied liberally to golf holes these days. Probably too liberally. Look at any course's hole descriptions and you're likely to see it appear at least a handful of times. In reality, there's risk involved in every swing, and reward to be earned anytime a shot is successfully executed. Strategy comes into play with just about every shot—decisions that depend not just on things like the hole design, angle to the target, and hole location, but on the player's innate capabilities, as well. So what is a risk/reward hole, exactly?
Generally speaking, it's one that presents a player with a strategic decision that involves both an obvious (but avoidable) risk, and an equally obvious (if difficult to achieve) reward. Drivable par fours are good examples. Putting for eagle is always an appealing idea, but if you need to avoid a penal hazard to drive a green, or your second shot from near the green is likely to be considerably more difficult than it would be from a safe layup spot, you need to take those risks into account.
Here's a list of 10 proper risk/reward holes from the U.S. and UK. Should you find yourself on these tees, you'll have decisions to make—which is a big part of what makes golf such a fun game to play.
This creative par five is the epitome of a risk/reward hole. From the tee, you first need to choose a fairway. You can play it safe(er) and aim to the one that stretches up the right side of a small lake, or you can shoot for an island fairway in the middle of the lake, from which point you'll have a shorter second shot and a better chance of reaching the green in two. But you also need to think ahead. Because even if you do make it safely to the island fairway, you'll have a long second shot that's all carry over water to the shallow peninsula green. So if you're going to gamble at all here, you'll need to plan on gambling twice.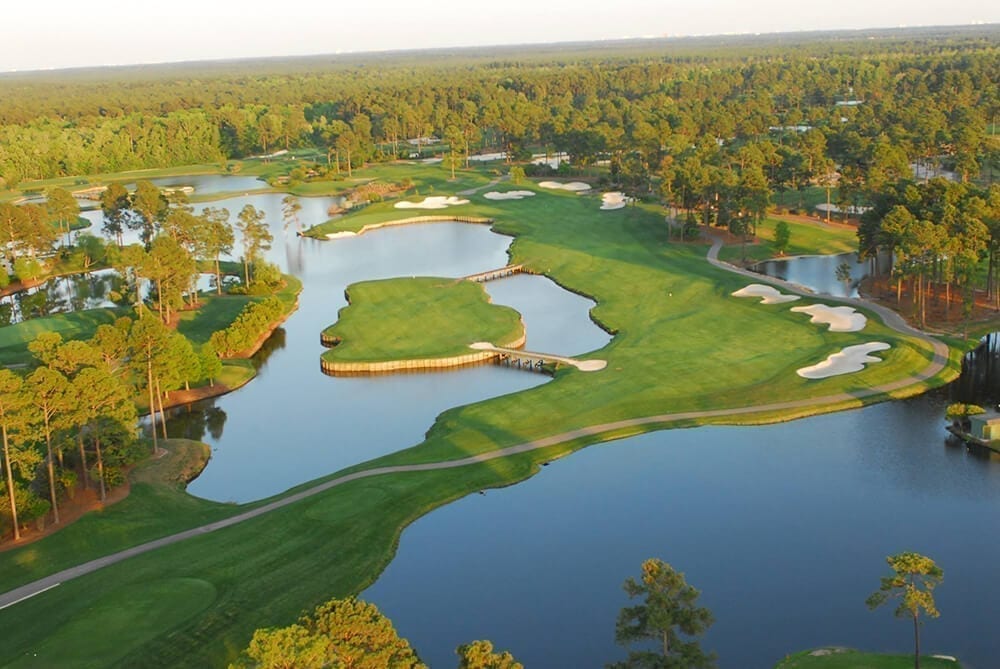 No matter whether you're playing for the Claret Jug or a five-pound nassau, the hole called "Road" asks you to make some strategic choices. First, how close to the Old Course Hotel (and out of bounds) do you dare to aim your tee shot? The farther right you can be in the fairway, the less difficult your approach shot will be. Then, if you happen to go left off the tee, should you even try to hit this green in two—or should you lay up short and right and let your pitching and putting prowess bail you out? Decisions, decisions…
It's only 315 yards, but it may well be one of the tougher par fours in golf. Those who try to drive the green will need to shape their tee shot from left to right to access the well bunkered and elevated putting surface. Miss in the wrong spot and you'll be faced with a treacherous bunker shot or pitch shot. Many has been the player who's gone from bunker to bunker after missing this green, en route to a big number. Scott Piercy once saw his tee shot trickle into a back bunker at this green—then had to hit four more bunker shots before he made it safely to the narrow putting surface. Drivers, beware!
Another drivable par-four hole that's been the scene of much drama is the 10th at The Brabazon course at The Belfry, site of four Ryder Cup Matches. In the 1989 matches, Seve Ballesteros drove the green and sank a 15-footer for eagle. To match his feat, you'll need to hit a fading tee shot of some 280 yards to reach the green, which is protected short and left by a winding stream.
The 570-yard closing hole at Torrey Pines South used to be reachable in two for the pros with almost any good drive. But from the very back tees that are used for tournament play now, there's more risk—and hence, more reward. With a pond fronting the green, which slopes from back to front, it takes a well-struck second shot to have a reasonable chance of reaching the putting surface in two. Your lie and the wind direction will be factors in making this decision, which could spell the difference between hoisting a trophy or drowning your tears.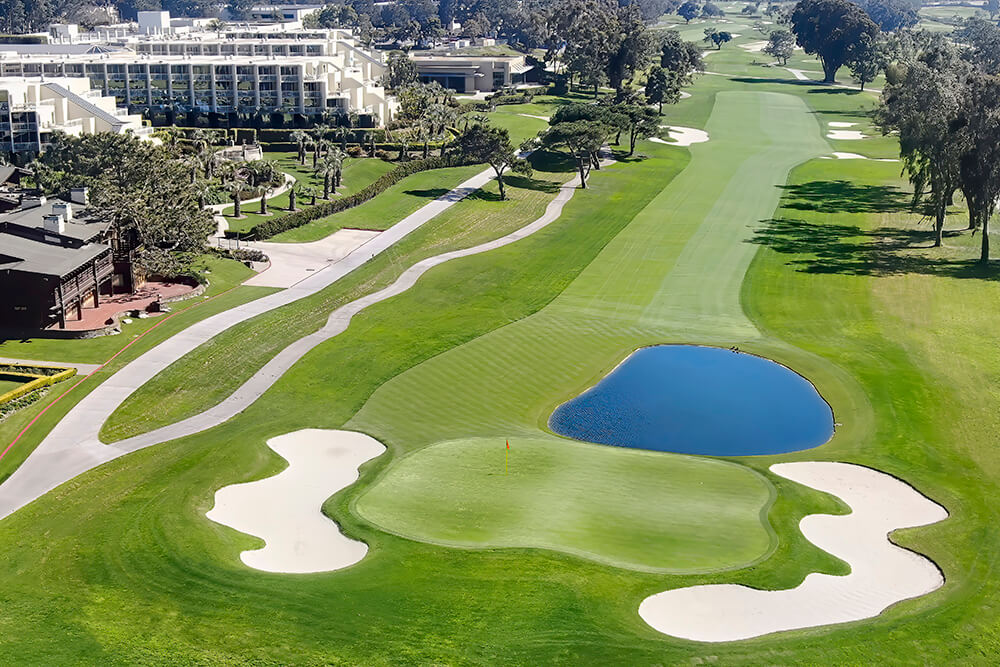 Another sometimes-drivable par four, the 14th at Quail Hollow plays downhill between a gaggle of bunkers to a green that drops off steeply on the left into a water hazard. If the wind isn't favorable or the course is soft, it could require a layup, which will have to avoid those bunkers, some of which are deep. Otherwise, the courageous may decide to rip a driver or even a 3-wood in the hope of having an eagle putt on the hole's long, narrow green.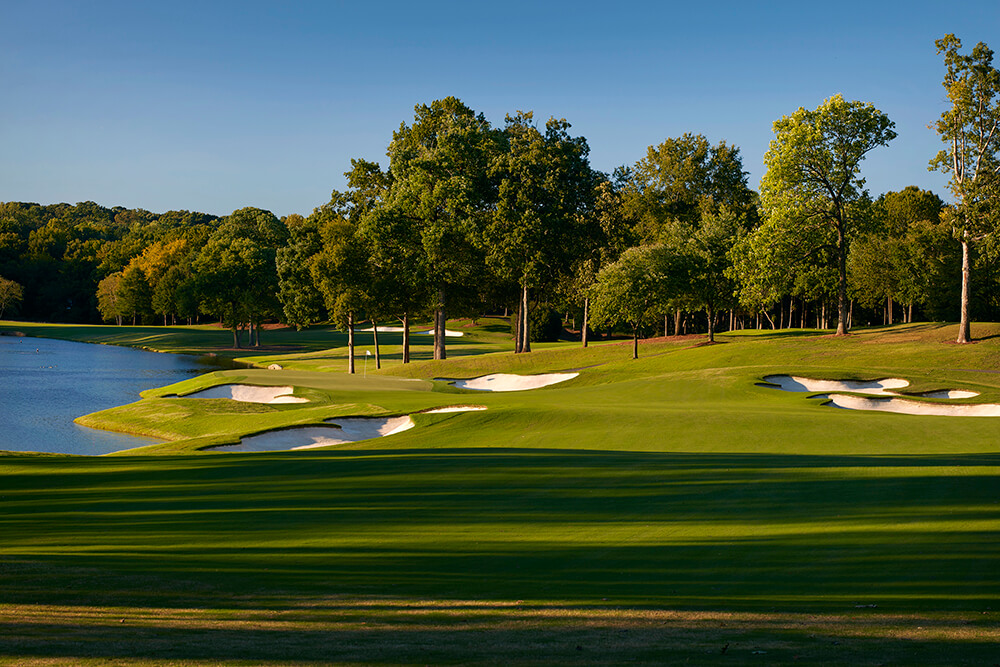 At just 296 yards, the 15th Hole at TPC River Highlands is gettable for just about every tour player—and many amateurs, too. But again here, there's plenty of risk en route to that dreamed-of reward. For starters, there's a lake to the left of the green; anything hooked is going to wind up wet. There's a nasty pot bunker short and right of the green, too—just far enough away from the putting surface to make it a difficult shot for even the best of players. And the green itself is two-tiered and elevated, so if you miss the green with your tee shot, you'll be faced with a delicate pitch.
When you step onto the tee at the 16th at Bandon Dunes, you have a decision to make. But it may not be the one you initially think about. At 345 yards, the clifftop green is only really reachable if the wind is out of the north. But even then, you may want to think twice, because you're not likely to hold that green downwind. You can lay up left with a hybrid or 3-wood and pitch to the green from there, or, as architect David McLay Kidd has suggested, play your tee shot to left and beyond the green, a place from which the small putting surface is more accessible and its guardian pot bunker not a factor.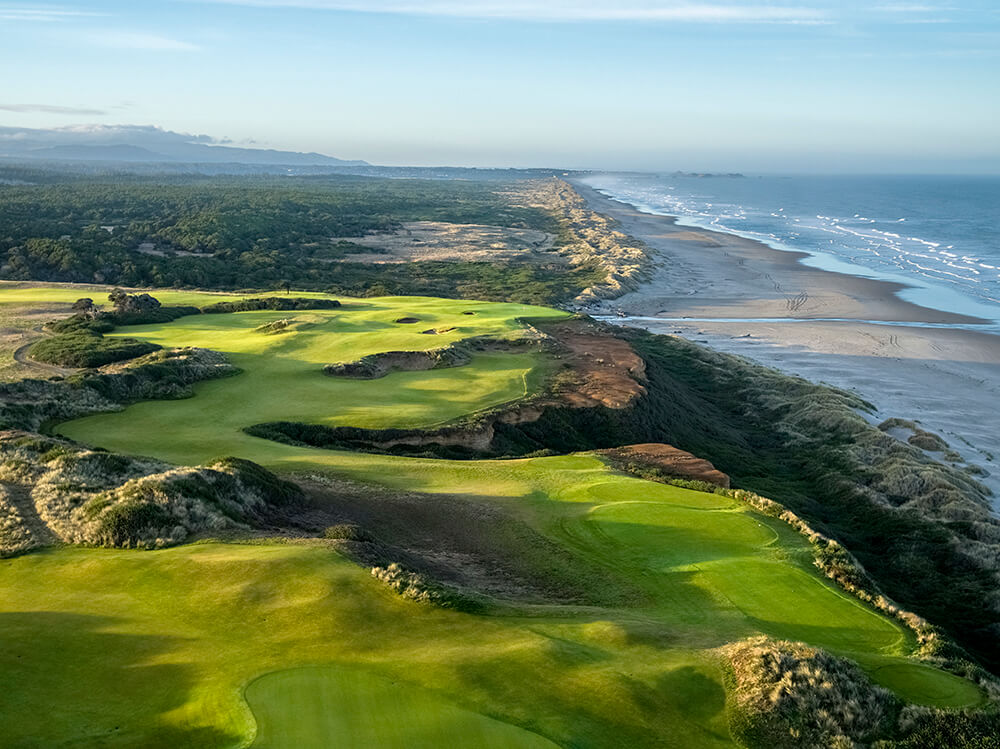 It would take a mighty blow indeed to drive the green at this 428-yard par four. The risk/reward feature here revolves around the placement and shape of your tee shot, which must carry a corner of the beach to reach the fairway. How much of that beach do you dare try to cut off? The farther left you can play your drive, the shorter your approach shot will be. Hitting a draw will also benefit you. But if you don't pull off the tee shot, you could be playing your second from the strand. Should you decide to play it safe, you'll have a long second shot to a large green, and par will be far from guaranteed. Risk/reward takes many forms, and this is one of the more enchanting ones.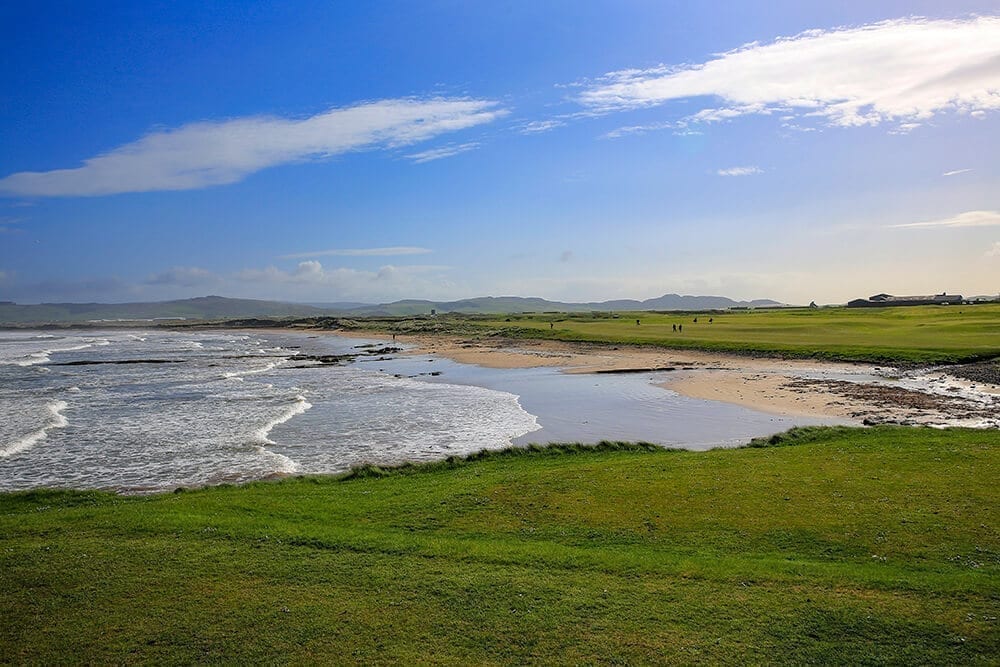 Cypress Point Golf Club, 9th hole—Monterey, Calif.
The par-three 16th at Cypress Point, which calls for a 220-yard carry over water, gets most of the attention at this exclusive Alister MacKenzie-designed course. It's a risk/reward hole itself, as you can safely lay up to the left (if you're a coward). But the 9th hole is the one that gets my vote for the best risk/reward hole on the course. Just 290 yards, it plays downhill from the tee and then uphill to a green mostly fronted by a wall of sand. There's just enough putting surface to the right of the greenside bunker to be alluring, though, and make you ignore that front bunker and sandy areas behind and to the right of the green. As local resident and golf enthusiast Clint Eastwood might say: Are you feeling lucky, punk?
9th Hole, Cypress Point Golf Club, Pebble Beach, California pic.twitter.com/7csuYcNprc

— Great Golf Holes ⛳️ (@GreatGolfHoles) April 20, 2023
What other great risk/reward holes have you played? Tell us about them in the comment section.