When the NBA playoffs draw to a close, you can bet Steph Curry will be headed to a golf course somewhere. The two-time NBA MVP is golf obsessed and no stranger to celebrity events, like the annual American Century Championship in Lake Tahoe, televised showcases like The Match, or even the occasional foray into a lower-tier professional event.
A scratch golfer, Curry is a member at the Cal Club in San Francisco, home to his Golden State Warriors.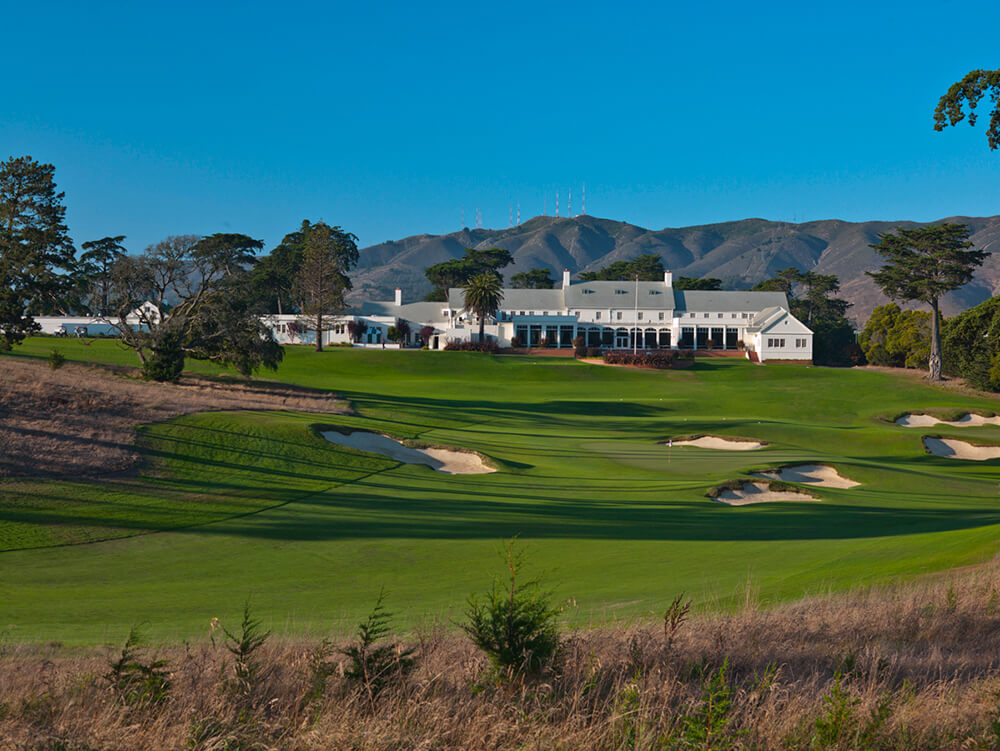 You probably won't find too many cities with much better golf than can be found in and around the Bay Area. But here's a look at how some of the best private and public golf stacks up around the five cities with the most recent NBA championship teams—both in the U.S. and north of the border.
Milwaukee, Wis. (Milwaukee Bucks, 2021 NBA Champions)
Wisconsin is one of the more underrated states for great golf—due in part to a shorter season—and the pristine Milwaukee Country Club similarly may be a tad underrated when it comes to American classics. Another historic private club in the suburbs just west of the city, Blue Mound, often gets more attention thanks to a Seth Raynor-designed layout that was the first in Wisconsin to host a major: the 1933 PGA Championship, won by Gene Sarazen.
Some shots from the @WSGAGolf internship kickoff at Brown Deer Park. pic.twitter.com/bVNPKGFqIg

— Patrick Koenig (@PatrickjKoenig) July 18, 2021
Whistling Straits and the phenomenal Kohler courses are only about an hour due north up the coastline of Lake Michigan, but the best public option in and around the city is arguably Brown Deer Park, a magnificent muni managed by the Milwaukee County Parks department. Brown Deer, which dates back to 1929, was a longtime PGA Tour host site and maybe best remembered as the course where Tiger Woods made his professional debut in 1996, at the Greater Milwaukee Open.
Los Angeles, Calif. (Los Angeles Lakers, 2020 NBA Champions)
In the City of Angels, home of the 17-time NBA champion Los Angeles Lakers, Riviera Country Club might be more widely known (thanks to the PGA Tour's annual stop), but Los Angeles Country Club actually sits higher in most prominent Top 100 U.S. rankings. The club's esteemed North Course hosted the 2017 Walker Cup just outside Hollywood, a handful of years after Gil Hanse and his team restored George C. Thomas Jr.'s classic design that harkens back to 1921. LACC's North will truly get its moment in the spotlight as the home of the 2023 U.S. Open.
Saving one of the best for last in this California Dreaming series: the North Course at the Los Angeles Country Club, a 1921 George Thomas masterpiece lovingly restored by Gil Hanse, Geoff Shackelford & Jim Wagner. The 2017 Walker Cup was amazing; the 2023 US Open will be epic. pic.twitter.com/eQE7QD9nDg

— LinksGems Golf Photos (@LinksGems) October 30, 2020
There's a wealth of pubic golf around Los Angeles, with 26 municipal facilities operated by the city or county, and one of the best can be found in the Los Angeles coastal city of Rancho Palos Verdes. Los Verdes Golf Course is a Billy Bell design just south of the city of L.A. that boasts terrific ocean views. Tucked above the cliffs in Southern California, the putting is a challenge on just about every hole thanks to the influence of the Pacific Ocean.
Toronto, Ontario, Canada (Toronto Raptors, 2019 NBA Champions)
Nestled among tree-lined streets in Toronto's west end, St. George's Golf and Country Club is an exclusive private escape boasting a spectacular, classic Stanley Thompson design that's been revitalized and restored in recent years by Tom Doak and Ian Andrew. In addition to wonderfully rolling terrain and a challenging closing stretch, the club has one of golf's memorable logos courtesy of the legend of St. George and the Dragon.
TPC Toronto at Osprey Valley has three distinct 18-hole layouts from Doug Carrick, most notably the Heathlands course that pays homage to traditional Scottish links. But arguably the best public golf near Toronto can be found at Angus Glen, a former farmstead northeast of the city that's hosted the PGA Tour's Canadian Open on each of its courses. Exceptionally well maintained, the courses are a very popular destination for corporate play.
San Francisco, Calif. (Golden State Warriors, 2018, 2017, & 2015 NBA Champions)
There's an embarrassment of private club riches in the Bay Area, starting first and foremost with San Francisco Golf Club, where A.W. Tillinghast's architectural genius is on full display. The California Club of San Francisco, or Curry's hometown "Cal Club," is another Golden Age gem that fairly recently underwent a full-scale restoration, while the Olympic Club touts two great 18s, including the seriously sloping Lake course that's played host to five U.S. Opens.
Just four miles southwest of downtown San Fran, TPC Harding Park is closing in on its centennial. But it's more recent history that thrust this city-owned muni (built by the same architects behind Olympic's Lake course) back into prominence. A publicly funded restoration project in the early 2000s brought Harding Park back to its former glory—good enough to host World Golf Championship events, the 2009 Presidents Cup, and, most recently, the 2020 PGA Championship fittingly won by Cal's Collin Morikawa.
Cleveland, Ohio (Cleveland Cavaliers, (2016 NBA Champions)
While names like Scioto, Camargo, and Muirfield Village might first jump to mind when thinking about the great private golf in the Buckeye State, Canterbury Golf Club has firm footing in the game's history as one of the few courses to host both the U.S. Open and PGA Championship. Canterbury fittingly is where Ohio's Jack Nicklaus won the 1973 PGA Championship for his 14th major title to surpass Bobby Jones's previous record.
Cleveland Metroparks operates eight golf courses across Northeast Ohio, with both Manakiki Golf Course (Donald Ross) and Sleepy Hollow Golf Course (Stanley Thompson) rightfully recognized among the top municipal courses in the country. A little further afield from downtown Cleveland, Fowler's Mill Golf Course is deserving of mention given that it's one of the early designs from another native son, Pete Dye, and one of his relatively few courses open to public play.
Which are your favorite golf courses in these NBA cities?
And which team (with the best hometown golf) would you like to see win it all this year?