Quick, think of a U.S. golf destination.
Chances are what springs to mind is somewhere pretty warm, somewhere coastal, or both.
But there's a lot of terrific golf in the U.S. that's well removed from the Sunbelt. One dividing line for "well removed" is the 45th Parallel, the significance of which is that it's the midway point between the equator and North Pole. Most Americans probably couldn't place this invisible line on a map, but it cuts across the northernmost reaches of the country, skirting the top part of New York, through Michigan, Wisconsin, and Minnesota, and under (or almost entirely under) states like North Dakota, Montana, and Washington.
Less than five percent of the American population lives north of the 45th Parallel. The golf season is significantly shorter that far up in the Frostbelt, too. But that doesn't mean there aren't some great options for golf getaways that give us the chance to look beyond the usual suspects.
Here are 10 golf destinations north of the 45th Parallel to keep in mind.
The largest family-owned golf resort destination in North America, Boyne has 10 golf courses spread across its three Northern Michigan resorts, two of which (Boyne Mountain Resort and The Highlands at Harbor Springs) have accompanying ski mountains for winter getaways before the fairways and greens open. The three properties, including the Inn at Bay Harbor, are separated by only about 25 miles and boast a delightfully diverse group of golf options, from mountainside to lakefront.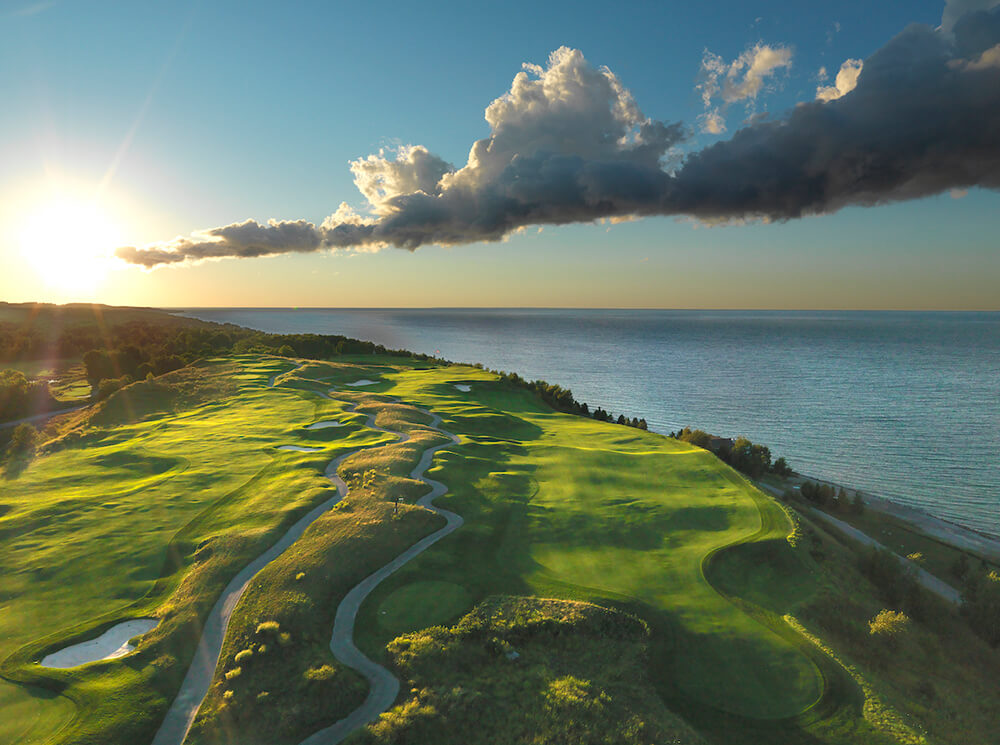 This one might be the most identifiable of the bunch thanks to the iconic floating green at the resort layout along the shores of Lake Coeur D'Alene in northwest Idaho. Almost every hole on the course has stunning views of one of the world's most beautiful lakes, as does the lakeside infinity pool at the 338-room resort, which is only about a half-hour drive away from another Idaho golf gem: Circling Raven at the Coeur d'Alene Casino.
In eastern Washington, about 200 miles from Seattle, Gamble Sands has garnered significant attention and acclaim in recent years thanks to two fantastically fun courses from architect David McLay Kidd, the man behind the original course at Bandon Dunes. It's well deserved, with the sprawling serenity of the Sands course, and its endless views of the Cascade Mountains and Columbia River, complemented by the 14-hole, par-3 Quicksands course that has music piped throughout.
The year 2022 marks the 25th anniversary of the property that helped make northern Minnesota a golf destination. Giants Ridge boasts two unique Jeffrey Brauer-designed courses—the Legend and the Quarry—set in the rugged Mesabi Iron Range, about an hour from Duluth International Airport. After winter operations finish their season, there's a range of outdoor activities and accommodations, from suites and villas to rustic or modern homes, that are perfect for golf groups as well as families.
Another Minnesota resort with winter and summer season offerings, Grand View Lodge has 45 holes of golf along with a new $55 million boutique hotel and spa in the Brainerd Lakes area. The 27-hole Pines course offers variety in its Lakes, Woods, and Marsh nines, while the many elevated tees at The Preserve provide 18 holes with scenic views of the Minnesota woods and wetlands, not to mention pristine playing conditions.
On the Upper Peninsula of Michigan, not far from the Wisconsin border, this casino property has two of the newer 18-hole layouts in the U.S.—Sweetgrass and Sage Run. There are contrasting looks, with a prairie links style of sorts at Sweetgrass, while Sage Run is marked by hardwoods and a natural drumlin—an elongated ridge that was formed by glaciers centuries ago. Beyond the golf, the resort has 454 guest rooms or suites, plus great gaming, dining, and entertainment options.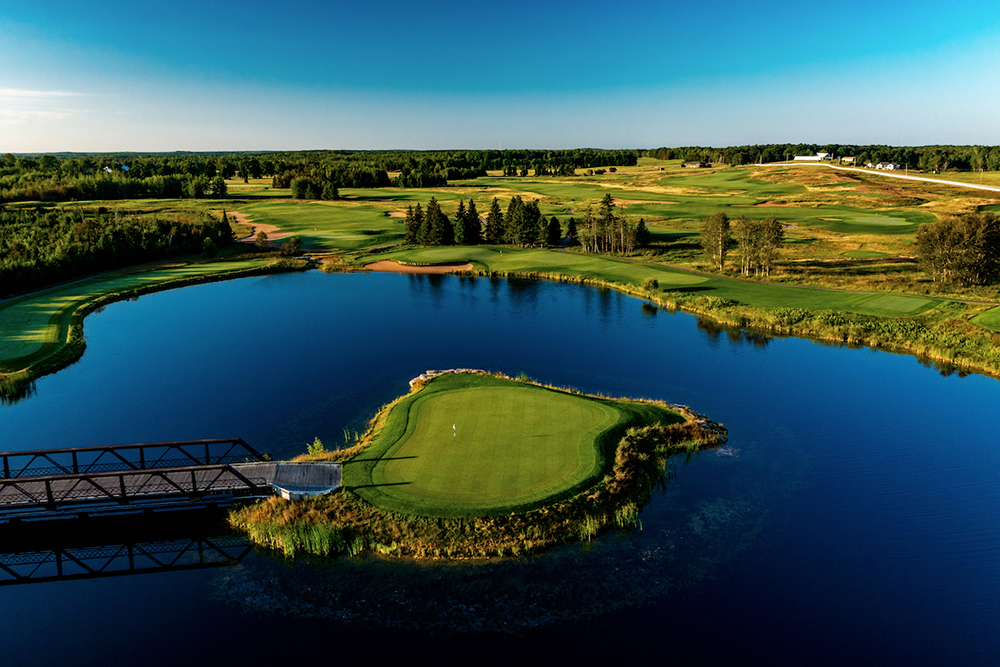 Situated on a 1,000-acre peninsula in the Brainerd Lakes Area, this central Minnesota resort northwest of Minneapolis has offered golf and other outdoor activities to guests for close to a century, with accommodations that include an inn, villas, lakefront cottages, and multi-bedroom houses. The resort also has 63 holes of golf spread across four courses, including The Classic, a tranquil and traditional layout that has been ranked among the nation's top 100 public courses.
This luxury Pacific Northwest getaway is only about an hour and a half east of Seattle in the Cascade Mountains and is home to three golf courses—the public Prospector and Rope Rider, along with the Tom Doak-designed Tumble Creek course, located in the private resort community within the property. Suncadia is set among 6,000 acres of forested mountain landscape and has accommodations that include an inn, a lodge, and custom vacation rental homes for larger groups or families.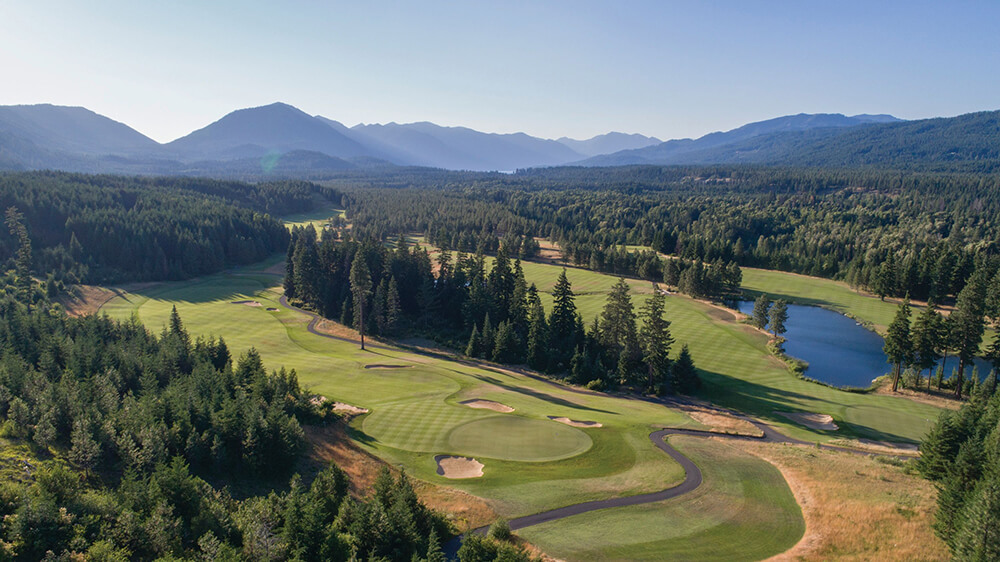 Almost right on the 45th parallel in northern Michigan, this resort just outside Gaylord features 81 holes of golf, including the state's lone Tom Fazio design and a par-3 course—Threetops—that used to host a primetime televised shootout on ESPN and predates many of the resort short courses that have popped up over the past few decades. Treetops's well-contoured Himalayas putting course, built a year after Threetops in 1993, was also a forerunner of its kind among resort properties.
This mountain retreat spanning 500 acres in northwest Montana is just minutes from the Kootenai National Forest and the Canadian border—unquestionably one of the northernmost golf courses in the continental U.S. A Nick Faldo course with Ponderosa pine-lined fairways and scenic views is central to the family-friendly property's long list of outdoor amenities, which also include fishing, horseback riding, a sports park, and a water park that overlooks Wilderness Lake.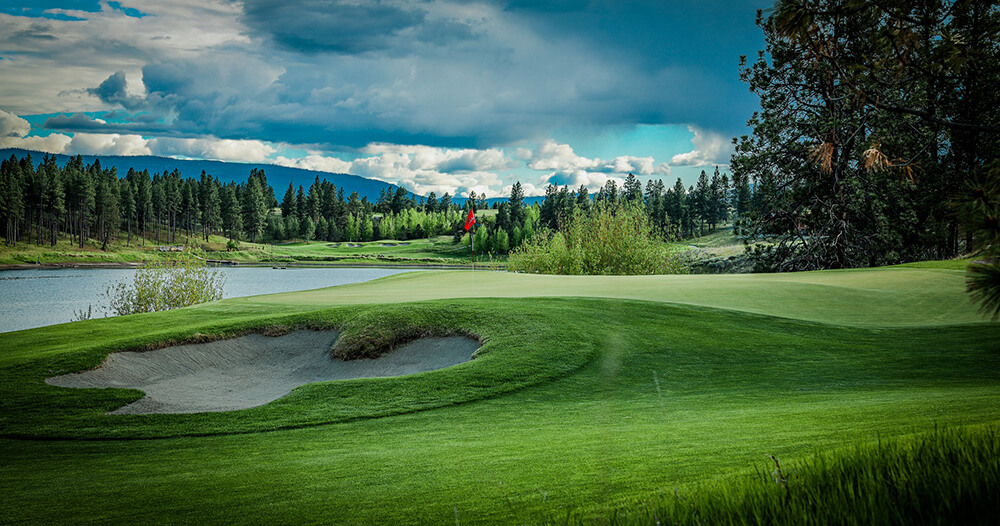 Whether above or close to the 45th Parallel, are there other northern golf getaways you've experienced?