You've booked a trip to one of America's major golf resorts for a marathon golf vacation. You don't know when (or if) you'll be back, so you definitely want to play every course on the resort menu. The question is: If you're tackling all of them in one trip, in what order should you play these dream designs?
We sought the advice of the pros—directors of golf, club professionals, etc.—at these properties (all with three or more 18-hole courses) for their recommended order of play and also an explanation of their reasoning.
We started with golf resorts west of the Mississippi River—here, we move on to resorts in the east.
Pinehurst Resort—Pinehurst, N.C. (Nine 18-hole courses)
Pro's Recommended Order (Ben Bridgers, Director of Golf): Order of inception (No. 1 to No. 9)
Explained: I kept coming back to this—if you're going to play all nine, why wouldn't you play them in order? Donald Ross did the original No. 1 through No. 4, and if you get through those chronologically then you should just continue on in order. It would probably be pretty hard to play all nine in a row like that, but we could make it happen if somebody wanted to do it.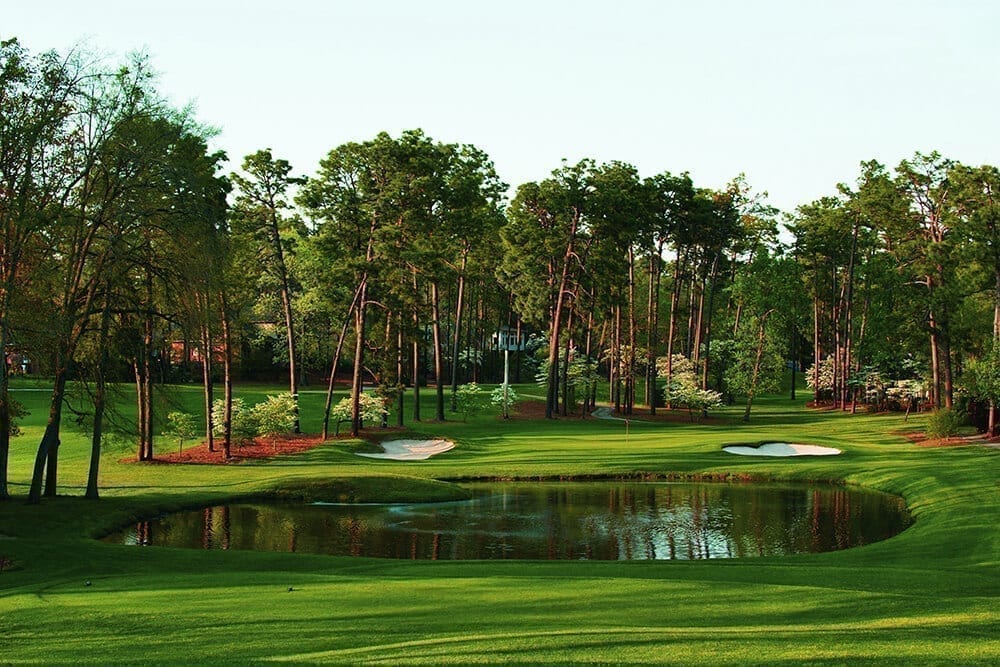 I'd start the first day with our 18-hole putting course, Thistle Dhu, and maybe The Cradle short course to get yourself going. There's an aura about being on The Cradle and watching this spectacle of golf right next to the main clubhouse with people all around. On the first day you'd play No. 1 and No. 2, then No. 3 and No. 4 the second day, No. 5 and No. 6 the third day, and No. 7, No. 8, and No. 9 to end it. Maybe take one day to play just one 18-hole course, since there is an odd number—and if you play The Cradle first, you're going to want to play it again at some point in your trip.
If you're coming in and haven't played much golf, you could play No. 1, No. 5, and No. 3; then take on the more challenging No. 2 and No. 4. If you wanted to play No. 6 and No. 8 in one day, those are situated pretty close together; No. 7 and No. 9 are next to each other for another 36-hole experience. —Ben Bridgers https://www.pinehurst.com/golf/ 
Kiawah Island Golf Resort—Kiawah Island, S.C. (Five 18-hole courses)
Pro's Recommended Order (Brian Gerard, Director of Golf): Osprey Point, Cougar Point, Turtle Point, The Ocean Course, Oak Point
Explained: First, enjoy 18 holes on Tom Fazio's Osprey Point. Its wide fairways, generous greens, and limited forced carries—in addition to the beautiful gently rolling terrain—make it a perennial favorite and a good confidence builder. Second, the Gary Player-designed Cougar Point offers a lot of options for how to approach each hole thanks to his ingenious placement of tee boxes, making it challenging, fair, and enjoyable for golfers of all levels. The stretch of holes 4–6 along the Kiawah River is arguably the most picturesque sequence of holes on the island.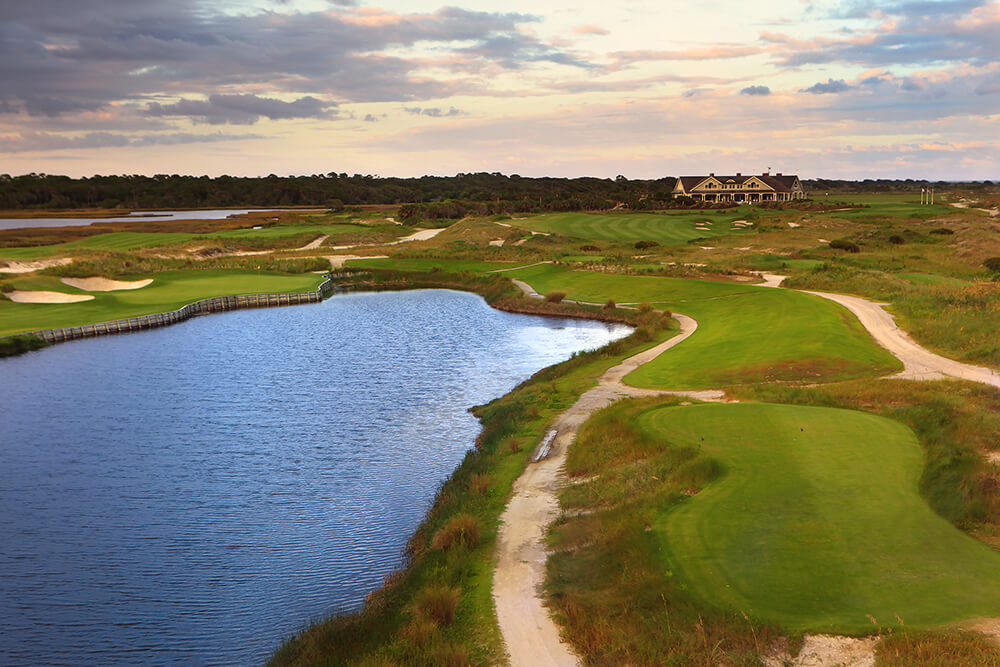 Third, tackle Turtle Point, a characteristic Jack Nicklaus thinking-golfer's masterpiece that doesn't leave much room for error. It requires the golfer to hit shots using every club in the bag, and on the ocean-side holes of 14–16, the golfer who gets distracted by the stunning view may very well pay a high price on the scorecard. Fourth, The Ocean Course by Pete Dye speaks for itself. Resist any temptation to opt out of taking advantage of the caddie service. If you listen to them, they can save the golfer a number of strokes (and possibly balls). Dye built the course keeping in mind the severity of the fluctuating direction and strength of the wind, and the caddies can direct you to the appropriate tees and club selections.
Last, you'll discover why Clyde Johnston's Oak Point was voted by the Charleston Golf Course Owners Association 2019 Course of the Year and remains a constant favorite. It offers a lot of variety, from fairly open terrain at the opening and closing holes to mature woodland, all played over undulating terrain—a real shotmaker's course that is kept in meticulous condition. —Brian Gerard https://kiawahresort.com/golf/
Reynolds Lake Oconee—Greensboro, Ga. (Five* 18-hole courses)
(*Reynolds Lake Oconee's sixth 18-hole course, The Creek Club, is reserved for Member-only play)
Pro's Recommended Order (Wesley J. Forester, PGA Director of Golf): The Preserve, The Landing, The National, The Oconee, Great Waters
Explained: Knowing that I will be traveling some distance I would imagine I will be stiff, tired, and ready to get started with less than my "A" game. At Reynolds, my first-round recommendation would be at The Preserve or The Landing. They are forgiving off the tee, have great shotmaking qualities to the greens, and are just fun to play for all skill levels.
Now that I have knocked off the rust, I am ready to tackle a more challenging course. The National by Tom Fazio requires precise shotmaking from tee to green. The greens are the traditional tabletops that challenge the most experienced short game. This course also has 27 holes in the event you'll need an emergency nine. Next would be The Oconee—this Rees Jones design is forgiving off the tee but increases in difficulty as you play to the green. Afterwards, The Tavern (The National) or Linger Longer Steakhouse (The Oconee) are great places to grab a drink and enjoy dinner after a long day of golf.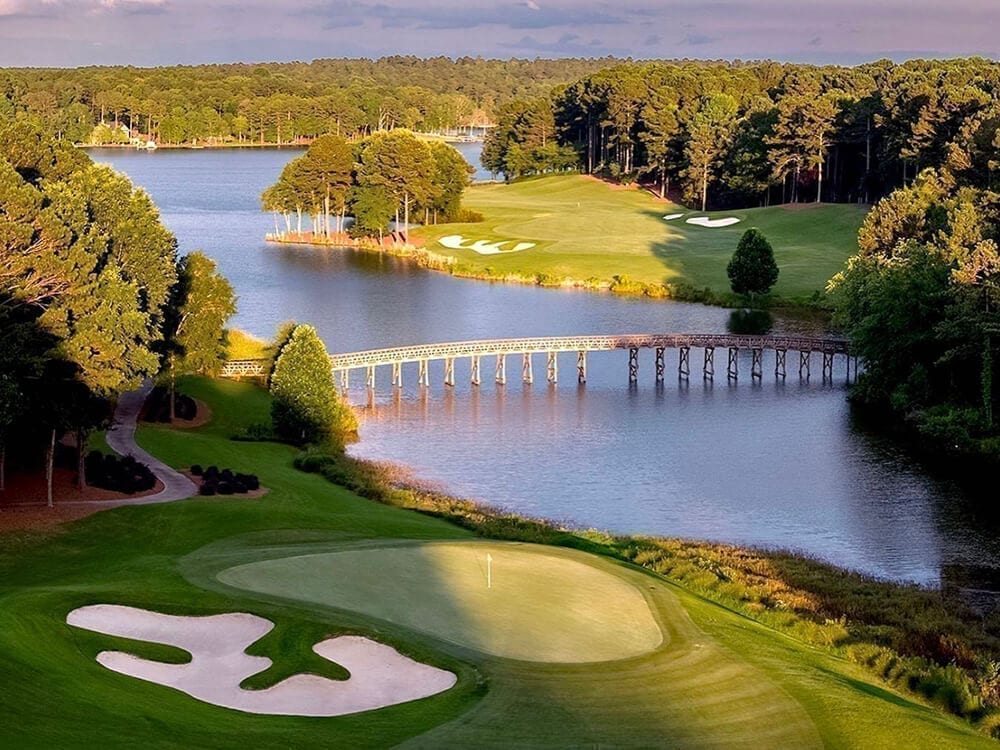 End the visit at Great Waters, a Jack Nicklaus design that was renovated and reopened in October 2019. This amazing golf course is well conditioned and one of Nicklaus's best designs and requires thoughtful and precise shotmaking from tee to green. Nine of the last 10 holes work along the lake and the signature par-three 17th will have your heart racing while boats and jet skis watch you and your friends try to hit the tiny green. —Wesley J. Forester https://www.reynoldslakeoconee.com/life/golf
BOYNE Golf—Northern Michigan (10* 18-hole courses)
(*Of BOYNE's 10 courses, the pro recommends these four)
Pro's Recommended Order (Josh Richter, Director of Golf): The Alpine, Bay Harbor Golf Club (Preserve/Links), Donald Ross Memorial, The Heather
Explained: The Alpine is a fantastic course that starts with over a mile drive to the first tee and plays downhill throughout your round with views of Deer Lake. The change in elevation along with the variety of holes makes this a fun 18-hole adventure you must play.
While the Links/Quarry is on everyone's play list, my favorite at Bay Harbor Golf Club is Preserve/Links. It provides an authentic Northern Michigan experience with great variety—starting through the woodlands, continuing along Lake Michigan's shoreline, and ending with the most breathtaking views you will find in the Midwest.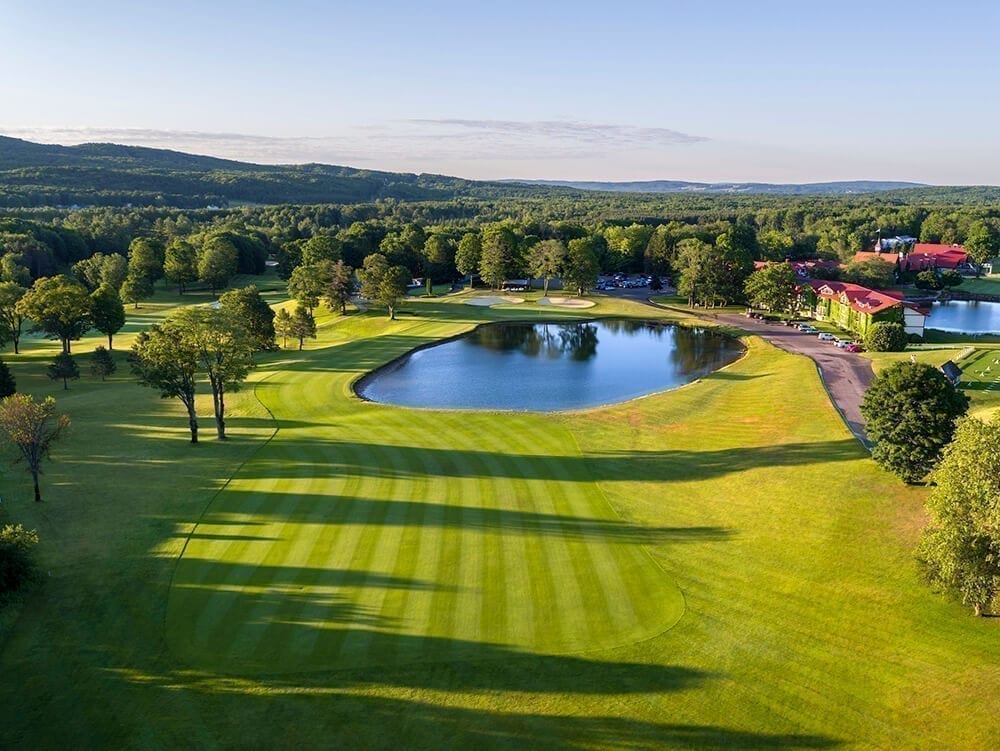 The Donald Ross Memorial has grown on me the most throughout my career at BOYNE Golf and is such a unique compilation of holes from Ross's best. It also features a great finishing stretch that makes the competition among friends a blast. The more you play it, the more you love it.
I may be a little bias with placing The Heather as my No. 1 favorite, as this was the first course where I was a head professional and will always be a special place. The course has natural amphitheater-like surroundings on many holes and has served as a great hosting site for many high-profile events that we have hosted throughout the years. Great spot to wrap up a great golf trip! —Josh Richter https://www.BOYNEgolf.com/
Destination Kohler—Kohler, Wis. (Four 18-hole courses)
Pro's Recommended Order (Mike O'Reilly, Director of Golf Operations): Meadow Valleys, River, Irish, Whistling Straits
Explained: You can't really go wrong. A nice warmup golf course, probably the most approachable golf course we have is the Meadow Valleys course at Blackwolf Run. It's a phenomenal golf course, one of the first ones here at the resort. The front nine is more approachable and it will be a nice warmup golf course. Then I would jump to the River course (also at Blackwolf Run).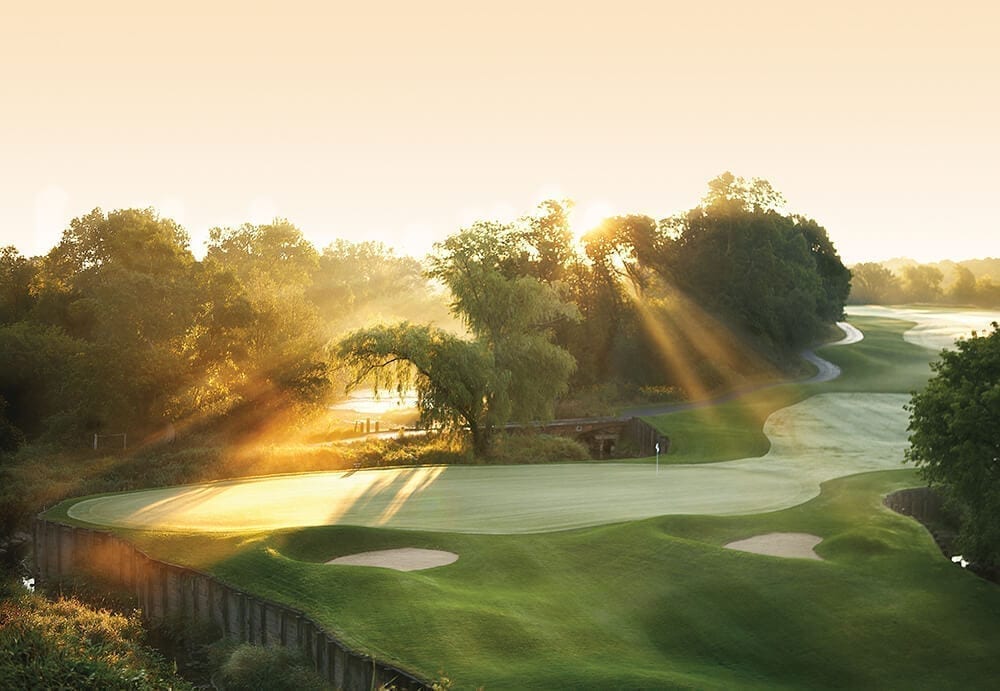 I'd follow that by heading to Whistling Straits for the Irish course then the Straits course—a lot of our guests want to keep the Straits course as the grand finale. Also included in packages now is the opportunity to test the new two-acre putting course and play The Baths of Blackwolf Run, our new 10-hole par-3 course, which I would keep as a replay option or as a pre-round warmup before one of the days. —Mike O'Reilly https://www.destinationkohler.com/golf
Innisbrook Resort—Palm Harbor, Fla. (Four 18-hole courses)
Pro's Recommended Order (J. Michael Williams, Managing Director): Island Course, Osprey South Course, Osprey North Course, Copperhead Course
Explained: First, the Island Course—our original course and member favorite (and my personal favorite!). It is a great track with dramatic elevation changes on numerous holes. Phil Mickelson won the 1990 NCAA Division I Men's Golf Championship on this course.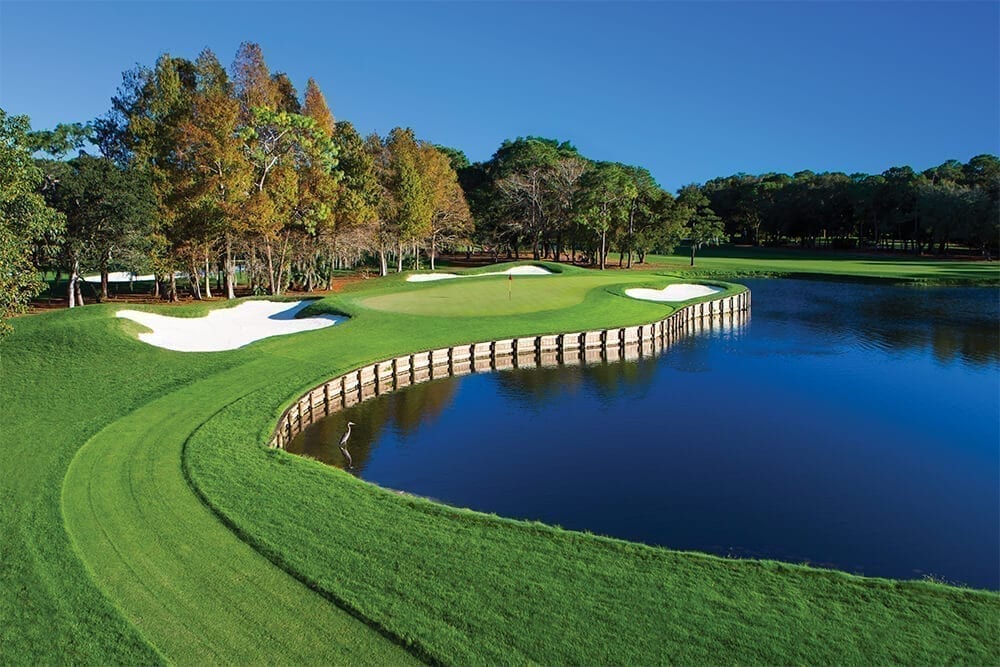 Next, the Osprey South Course—a more open links-style offering where the 9th green is as far from the clubhouse as you can get. Don't let the wide-open nature lull you into thinking this is an easy track—its subtle greens are deceivingly tough! Then, the Osprey North Course—often called "little Copperhead," it is the toughest 6,000-yard course you may play all year. Tight, hilly fairways wind amid century old oaks. A fitting warm up to Copperhead.
Finally, the Copperhead Course—at over 7,200 yards, the annual host of the Valspar Championship on the PGA Tour is the fitting end to four rounds of golf. Tour pros annually rank it in the top three or four courses they play all year. It will test all types of players; the tournament can be won by both bombers and shotmakers. —J. Michael Williams https://www.innisbrookgolfresort.com/golf/overview
Sea Island Resort—Sea Island, Ga. (Three 18-hole courses)
Pro's Recommended Order (Brannen Veal, Director of Golf): Seaside, Plantation, Retreat
Explained: When playing golf at Sea Island, players can choose from three championship golf courses—each offering a unique experience not to be missed. In addition to its storied history, the world-renowned Seaside course is a masterpiece and joy to play with beautiful vistas of windswept dunes and the Atlantic Ocean. Adjacent to Seaside is the recently renovated Plantation course, which offers a completely different experience with fun green complexes and thoughtful shotmaking opportunities.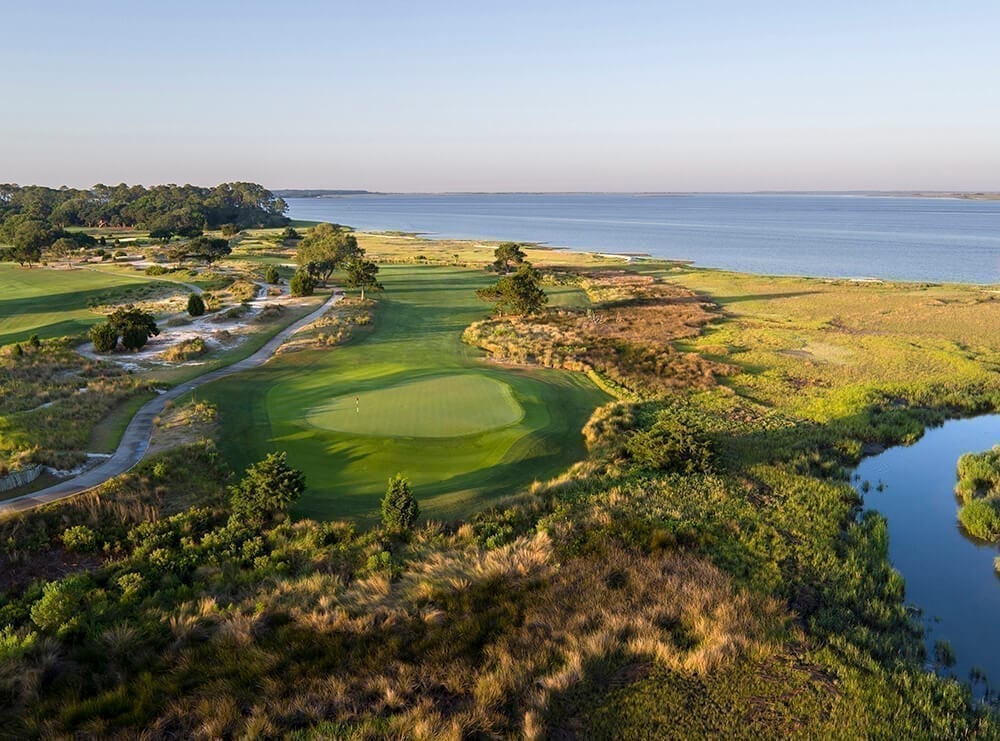 After playing a round on Seaside and Plantation, golfers will love the Retreat course with its tree-lined fairways and large greens. —Brannen Veal https://www.seaisland.com/golf/
Sea Pines Resort—Hilton Head Island, S.C. (Three 18-hole courses)
Pro's Recommended Order (John Farrell, Director of Golf): Atlantic Dunes, Heron Point, Harbour Town Golf Links
Explained: I'd start with Atlantic Dunes. Davis Love III and Love Design did a total makeover of our original Ocean Course but gave it a new look, new feel, and new challenge. The "new" course is more spacious than the original, with wider, more scenic corridors, smaller water hazards, and larger, more welcoming greens.
Then, as a Pete Dye warm-up, I'd play Heron Point, which was designed as a risk-reward course, with dramatic fairways leading into tight targets and small greens protected by Dye's signature mounds and swales.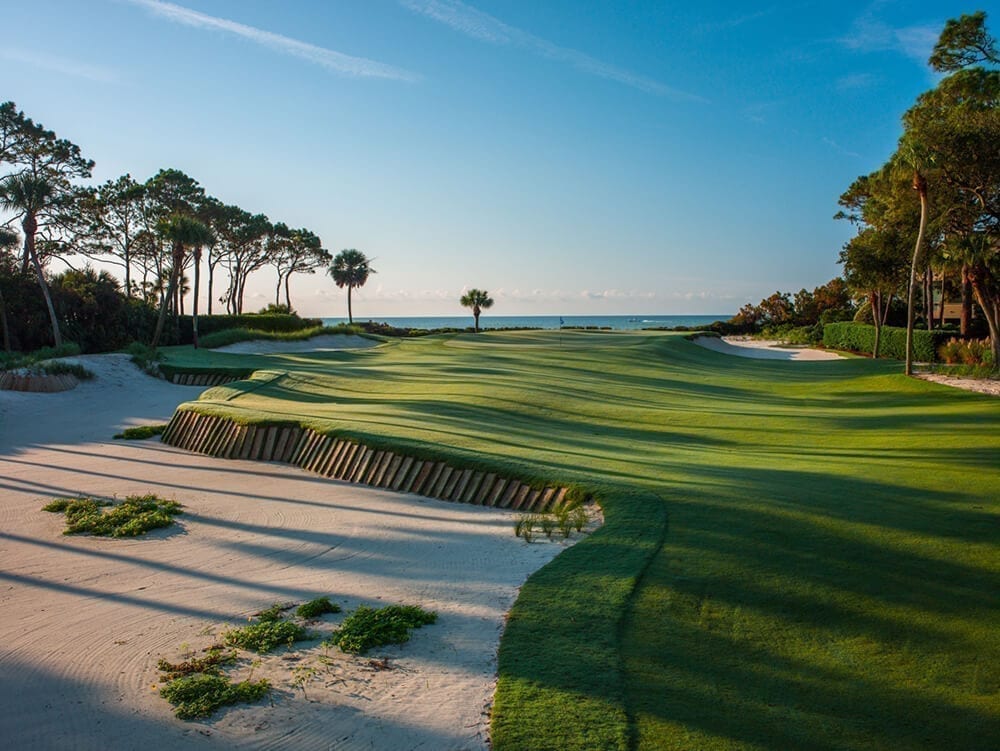 I'd complete the trifecta with Harbour Town Golf Links. It's obviously our best-known golf course due to the annual television coverage received during the RBC Heritage and the iconic lighthouse behind the 18th hole green, framing one of golf's most recognizable finishes. —John Farrell https://www.seapines.com/golf/
Streamsong Resort—Bowling Green, Fla. (Three 18-hole courses)
Pro's Recommended Order (Scott Wilson, Director of Golf): Streamsong Blue, Streamsong Red, Streamsong Black
Explained: I believe the order should follow the cadence at which the courses were unveiled. Streamsong Blue would be first—the first tee is the highest point and you're able to see what lies ahead of you over the next three rounds. On Blue you can also catch glimpses of Red along the way, including two points during the round that actually cross over. The premium here is the creativity around the greens. The fairways are ample and fair, a perfect way to warm up with your driver.
Streamsong Red, which shares a clubhouse with Blue, should come next, and if you play Blue in the morning, you can step right out onto the first tee of Red after a nice post-round lunch. Again, you will still enjoy glimpses of Blue during your round on Red. The premium is all about driving accuracy here on the Coore & Crenshaw routing.
While Blue and Red opened in 2012, Black was not unveiled for another five years. The greens on Black are the boldest of the three courses, and they give you a chance to get used to all of the recovery shots you can expect to hit (and yes, those shots will take some creativity!). —Scott Wilson https://www.streamsongresort.com/golf/
Turning Stone Resort | Casino—Verona, N.Y. (Three 18-hole courses)
Pro's Recommended Order (Miles Blundell, Director of Golf and Recreation): Shenendoah, Kaluhyat, Atunyote
Explained: With so much to do here, pace yourself—play golf 27 holes a day so you can sleep in a little and recharge. On day one, play Shenendoah and Sandstone Hollow. Shenendoah is the resort's original championship course and offers generous landing areas, so it's a perfect first round. The course winds through wooded areas and open pastures and was built with the highest standards and Audubon certification in mind, just like all of our championship courses. Sandstone Hollow is a great par-3 course to wrap up the day with wetlands and rock outcroppings framing many holes.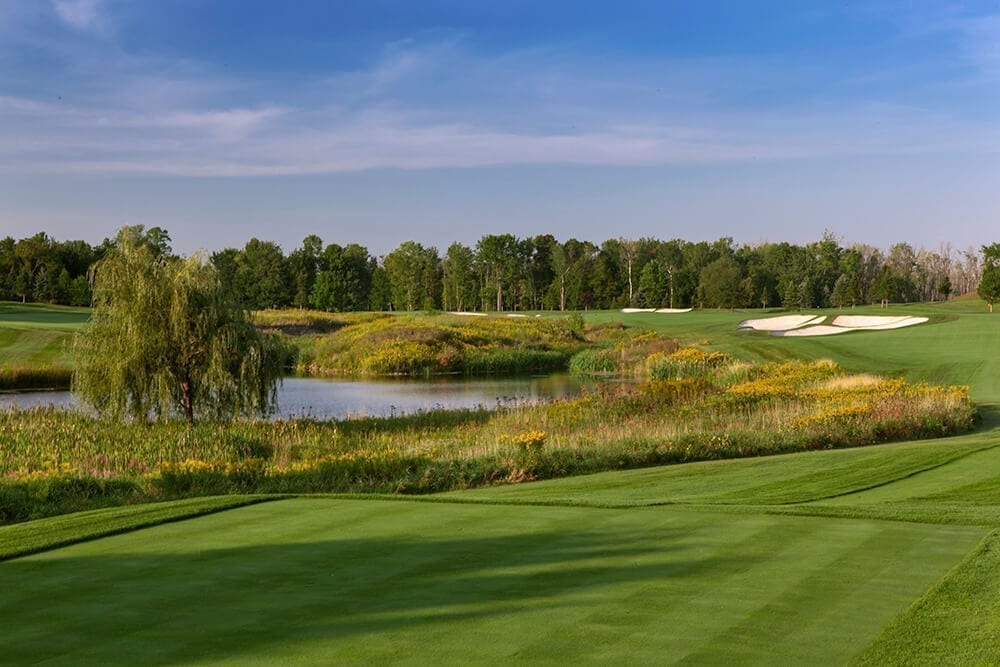 After warming up on day one, the Robert Trent Jones Jr. Kaluhyat awaits. Kaluhyat has the most dramatic elevation changes of all the courses at Turning Stone, along with six lakes that come into play. Finishing the day at 9-hole Pleasant Knolls is a great place to settle bets and just simply have a good time.
With a 17,000-square-foot indoor short game area, indoor driving range, and 6,000-square-foot Golf Superstore, the Golf Dome & Sportsplex is a great place to warm up before heading to the PGA Tour tested Atunyote. At Atunyote, you walk the same fairways that Tiger, Dustin, Annika, Rickie, Natalie, Kuchar and so many of the legends have. The Fazio design has some incredible holes, great shot variety and unbelievable playing conditions, along with many waterfalls and an abundance of flowers. It doesn't get much better than finishing on the back patio of the Atunyote Clubhouse with views of the course and countryside. —Miles Blundell https://www.turningstone.com/golf
Have you played at any of these golf resorts? What order would you recommend?