Destination Yipsville: The meanest greens in golf belong to Oakmont Country Club
Gene Sarazen once described Oakmont as possessing "all the charm of a sock to the head." The smackdown begins at the first green and never lets up, due mostly to the ferocity of the putting surfaces, a lethal combination of speed, contour, and firmness.
"What's the rationale for keeping our greens so firm and fast? It's in our DNA," says Chick Wagner, a winner of multiple Oakmont club championships. "It goes all the way back to the founders, Henry and William Fownes. We prefer it that way. We think it's fun. We like to be challenged. It allows us to tell stories. There aren't a lot of stories to tell about greens running at 8, 9, or 10 (on the Stimpmeter)."
Oakmont's greens are not only (horror) story-worthy, they're also unique. "They're natural," explains Wagner. "Henry Fownes laid them out (in 1903–'04) on the ground that God created." So while these greens lack the bold movement and abrupt sweeps of many demanding dance floors elsewhere, they hew to every bump and ripple of the original terrain, creating endless variety and vexation.
The most prominent putting nightmare belonged to Arnold Palmer at the 1962 U.S. Open. The western Pennsylvanian knew the greens as well as anyone, but over 72 holes, plus 18 more in his playoff loss to Jack Nicklaus, the King sputtered with 10 threeputts. Nicklaus three-jacked just once.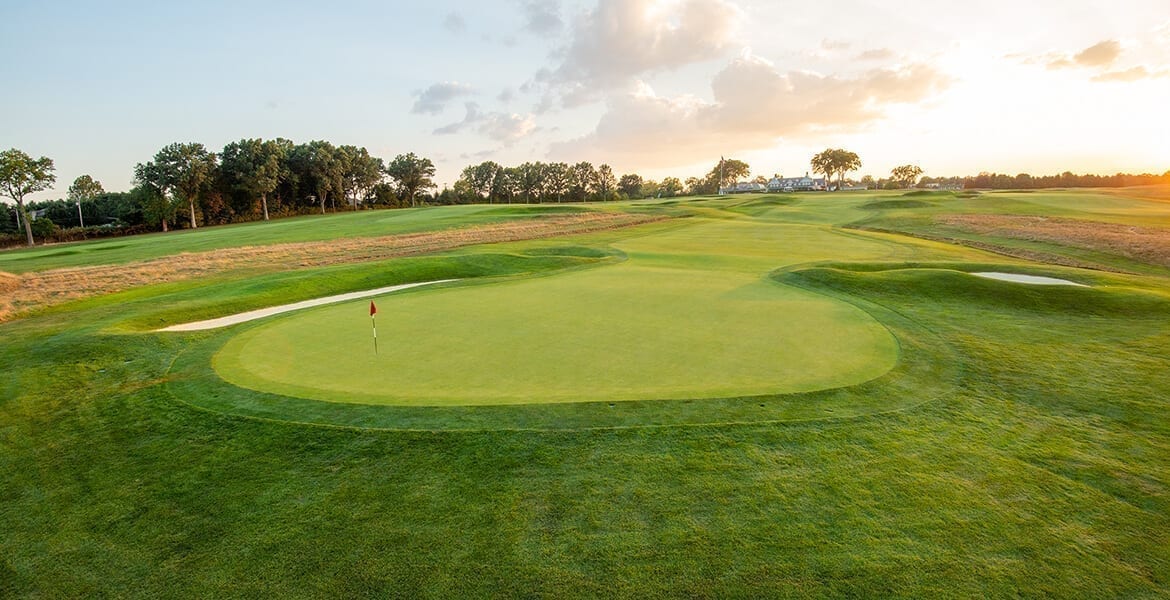 "They are by far the most difficult greens I've ever played," exhaled Tiger Woods at the 2007 U.S. Open. "I thought Winged Foot was pretty tough. Augusta is pretty tough. But both courses have flat spots. Here, I'm trying to figure out where a flat shelf is."
Oakmont's vast, Poa Annua greens average 7,000 square feet and were shaved to .09" for the 2016 U.S. Open. They are frighteningly fast but also incredibly pure, so they're never labeled "unfair." The Poa is hardier than bentgrass and thus able to withstand the double-mowing, rolling, and foot traffic year-round. "If there's no snow on the ground, our greens will still run 12 in January," chuckles Wagner.
Competitors at the 2021 U.S. Amateur this August will find every green a potential headache. According to Bob Ford, Oakmont's head professional from 1979 through 2016, the three nastiest greens are those at the par-four 1st hole, the par-four 10th, and the par-five 12th. All three slope front to back, away from the fairway. The toughest individual putt is downhill from the back portion of the green at the 9th—which doubles as the club's putting clock—to a front-right plateau called the "Piano Bench." Even a putt from the middle of the green must traverse several valleys on its downhill, left-to-right journey to reach the hole. If rolled with too much pace, it will exit the green.
No Top-10 track features greens that are as central to the course's mystique, awe, and excellence as Oakmont. That their everyday presentation is comparable to what one would face in a major championship makes for a singular, unforgettable experience.
Three More Three-Puttable Dance Floors
A fear-inducing fusion of slopes, tiers, ledges, and bowls defines every Donald Ross-crafted green at Oakland Hills (South). "You have as tough a set of greens here as there is," stated Jack Nicklaus at the 1996 U.S. Open. Following a Gil Hanse renovation, look for the wickedly quick, topsy-turvy surfaces to be more consistently firm with the installation of a PrecisionAire Sub-surface System when they reopen this summer.
The diabolical green at the par-3 9th on the South Course at Oakland Hills Country Club. The venerable 1918 Donald Ross design has hosted a slew of big events, including 6 US Opens, 2 US Amateurs, 3 PGA Championships, 2 US Senior Opens, a Western Open and a Ryder Cup. pic.twitter.com/foJD4dKa9r

— LinksGems Golf Photos (@LinksGems) April 10, 2018
The wild, dramatic green undulations were Augusta National's primary defense when Alister MacKenzie and Bobby Jones designed the course in 1933. Toss in SubAir firmness and modern green speeds that approach 13-plus at tournament time and it's little wonder two-time Masters champion Bubba Watson called the greens "the most difficult we play every year."
Harbor Shores is a Nicklaus-designed public layout in Southwestern Michigan that frequently hosts the KitchenAid Senior PGA Championship. Ahead of the 2012 event, the greens had competitors all mixed up. "They could be the most severe green complexes I've seen," said Bernhard Langer. "You could have six different breaks in a 30-foot putt—with three different elevation changes, or four."
What course do you think has golf's meanest greens?