By James A. Frank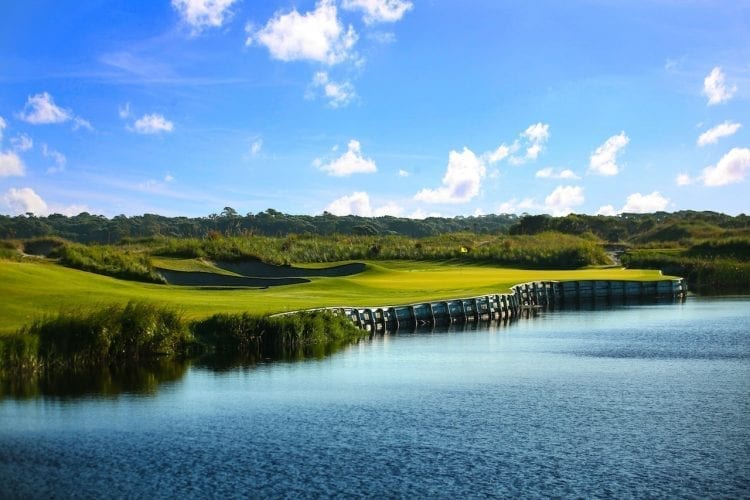 You toil hard to earn yourself a little vacation time with your clubs. You book the flights, hotel, rental car, and tee times, excited to play a highly ranked course. But you quickly discover your game is ill-suited to the layout, and instead of having fun, you toil some more, growing increasingly aggravated at having spent a lot of money and used up valuable leisure time to play what, for you, is the wrong spot.
How to pick the right spot for your game? Here's our guide to some of the best, and most popular, resort and public courses classified by the kind of player they're best suited for.
Long but Occasionally Wrong 
Kapalua (Plantation), Maui, Hawaii. Home of the PGA Tour's first tournament of the calendar year, the Coore/Crenshaw-designed Plantation opened in 1991 and this year succumbed to Justin Thomas's impressive firepower. Most weeks, the 23-year-old hits just over 56% of fairways; at Kapalua, however, he found over 73%, which suggests holes that are more accommodating.
Prairie Club (Dunes), Valentine, Neb. Tom Lehman built fairways averaging 58 yards wide on an exposed, 1,000-acre parcel of Nebraska Sandhills. The course measures a humbling 7,583 yards from the back tees, but with so much width, you can afford to let fly.
Wine Valley, Walla Walla, Wash. This underrated gem opened eight years ago on rolling, windswept farmland. Dan Hixson's brilliant design allows you to blast away, but it is the unwise golfer who does so without first considering the best line from which to approach the green.
Short but Straight
Blackwolf Run (River), Kohler, Wis. Here, perhaps more than at any of his other courses, Pete Dye doesn't force trouble upon you, but he does offer ample opportunity to find it yourself with only one forced carry and plenty of red stakes along the Sheboygan River.
Crosswater, Bend, Ore. Bob Cupp's superb achievement may be long from the back tees (7,683 yards), but it's above 4,000 feet and there are plenty of teeing options. There also are plenty of holes alongside the Little Deschutes River that call for accuracy over power.
Indian Wells (Celebrity), Indian Wells, Calif. Clive Clark's baroque extravaganza is full of drama, color, and trouble. Stray from the straight and occasionally narrow and you inevitably pay hefty consequences. Tiptoe between the danger zones, however, and it's a thrilling experience.
Hooker Beware
Doral (Blue), Miami, Fla. They don't call it the Blue Monster for nothing. Water comes into play on 14 holes, and on most of them that's bad news for anything moving hard and fast to the left.
Circling Raven, Worley, Idaho. There's sufficient room for many inaccurate shots on this Gene Bates-designed beauty: With 620 acres to play with, why build narrow, pokey fairways? But a hook or pull lands you in deeper trouble than a push or slice, particularly at 1, 5, 6, 9, 11, and 12.
Sand Hollow, Hurricane, Utah. When the holes for which a course is famous—the ones you most want to play well—all punish the same shot, you'll likely go home disappointed if that's your miss. This glorious John Fought/Andy Staples co-design in the high desert asks for a variety of shots, but you definitely don't want to hit hooks at the three holes that appear in the pictures—12, 13, and 15.
Slicer Beware
Pebble Beach, Pebble Beach, Calif. A hook is disastrous on the magnificent closing hole, but think of that stretch from 4 to 10 where a big slice is going to find the beach.
PGA National Resort (Champion) Palm Beach Gardens, Fla. You may get through the first nine unscathed, but there's water right on each of the last seven holes, including the notorious Bear Trap (15–17).
Bandon Dunes, Bandon, Ore. The resort's original course has holes that bend both ways, and the player with the full repertoire will fare well. But a wicked slice into the Pacific at the famous par-four 16th, or into the wooded hollow right of 17, will stain what might otherwise be a great day.
Iron Man
Harbour Town, Hilton Head, S.C. South Africa's David Frost, a superb iron player and putter, shot a course-record 61 here in 1994, while Spain's Jose Maria Olazabal, another iron master, says, "You have to be very sharp with your irons because the greens are so small."
Tobacco Road, Sanford, N.C. Good strategy and pinpoint approach shots are required to score well at the late Mike Strantz's eccentric course located between Raleigh and Pinehurst.
Barton Creek (Fazio Foothills), Austin, Texas What are the elements of a shotmaker's golf course? Smallish, well-defended greens with an emphasis on position and precision rather than length. Sums up Fazio Foothills nicely.
Love the Wind   
Whistling Straits, Haven, Wis. When the wind whips off Lake Michigan, this three-time PGA Championship venue—and site of the 2020 Ryder Cup—becomes a fearsome test, with par at any of the crosswind short holes extremely hard-earned.
Ocean Course, Kiawah Island, S.C. When the wind shifts, hybrids become short irons and vice-versa on Pete Dye's notorious, beguiling layout.
Cabot Cliffs, Cape Breton Isl., Nova Scotia, Canada. Coore/Crenshaw's memorable Cabot Cliffs, and sister course Cabot Links designed by Rod Whitman, are both vulnerable to chilly Gulf of St. Lawrence winds that impel you to play the ball as close to the ground as possible.
Great Green Reader
Chambers Bay, University Place, Wash. We all saw the videos posted by players of the excessive contours ahead of the 2015 U.S. Open. You need a vivid imagination to read some of the greens here.
Streamsong Red, Bowling Green, Fla. It's a toss-up between the Blue and Red as to which course has the more enjoyable set of greens. The Miniverde surfaces are immaculate, contoured, and exposed, making putting very tricky. We give the nod to Red for its amazing Biarritz green at 16.
Pasatiempo, Santa Cruz, Calif. The greens on Alister MacKenzie's 1929 masterpiece don't have sharp contours so much as graceful, sweeping undulations and significant tiers. And they are quick.
Great Long Putter  
Old Course, St. Andrews, Scotland. The green shared by the 5th and 13th holes (one of seven huge double-greens) is almost 38,000 square feet. Be sure to practice lag-putting before you arrive.
Old Macdonald, Bandon, Ore. More large, firm, and fun-filled greens here. This tribute to C.B. Macdonald has surfaces that average almost 14,000 square feet, making them some of the largest in America.
Erin Hills, Erin, Wis.  Far larger than the average American green, plus they heave, swell, tumble, and roll, and will provide plenty of challenge to the world's best when the USGA has them rolling at 12–13 at this year's U.S. Open.