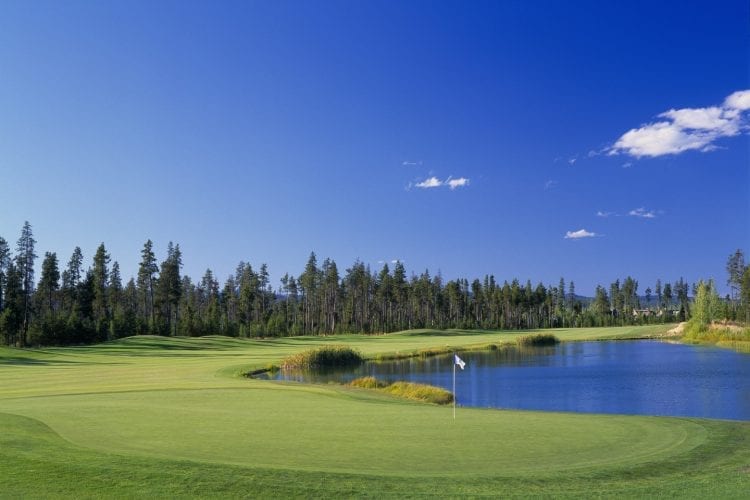 Rare is the golfer who hasn't driven past a wide-open patch of grass and envisioned a golf course on it. Case in point: Jim Ramey, a former California club pro and avid outdoorsman who
moved to Sunriver, Oregon, in the mid-'70s. For years as golf superintendent at Sunriver Resort, Ramey would look longingly on a nearby meadow at the confluence of the Deschutes and Little Deschutes Rivers, picturing golf balls landing where cattle then grazed.
As it turned out, other golf-minded types had the same idea. The result is Crosswater, a garden spot for any golfer who relishes fresh air and wilderness views between shots. And so subtle is the marriage of golf design to landscape, one isn't intimidated by what can be a punishing layout. The target-golf routing crosses the Little Deschutes on five holes and requires more than a dozen forced carries over water or wetland.
While labeled as private, Crosswater is open to Sunriver guests, who flock to the 3,200-acre spread in search of every adventure from skiing to mountain biking to whitewater rafting. Crosswater's thrills include the short par-4 8th and its wetland-encircled landing area; and the left-swinging, seemingly endless 12th hole, a water-lined par 5 that stretches 687 yards.
No. 14 parallels the "big" Deschutes, which flows peacefully here, as opposed to the whitewater froth that churns a few miles downstream, closer to the laid-back tourist town of Bend. The adventure concludes with an 18th-hole approach to an hourglass-shaped green set hard by the Little Deschutes.
In its short history, Crosswater has hosted the PGA of America's Club Pro Championship twice, and both the men's and women's NCAA Championships. Crosswater's role as a tournament venue furthers its reputation as a world-class golf facility and casts the spotlight on a work of art blueprinted by Bob Cupp and his former design partner, John Fought.