Once considered remote, this island Lowcountry community now finds its location further proof that it's the ideal place to be
If ever there were a place perfectly positioned to live life to its fullest (or ride out a quarantine), the island community of Spring Island, located midway between Hilton Head Island and the coastal village of Beaufort, S.C., fits the bill. Secluded, off the beaten path, and modest in size, Spring Island was considered somewhat remote when it was first developed on a former cotton plantation in the 1990s. In today's climate, all the things that make Spring Island different also make it socially cool.
The community's 3,000 acres (1,200 of which are forever preserved) set the stage for a community where nature is revered. The members keep busy with a native-plant nursery and a seven-and-a-half-acre farm that alternates between summer and winter crops. They take pride in the golf course's designation as an Audubon International Certified Cooperative Sanctuary for 20 years running. And they take full advantage of an expanded program of outdoor pursuits that includes fresh and saltwater fishing, hunting, horseback riding, sporting clays, and nature programs. Four naturalists, plus a wilderness director, help members make the most of their natural surroundings.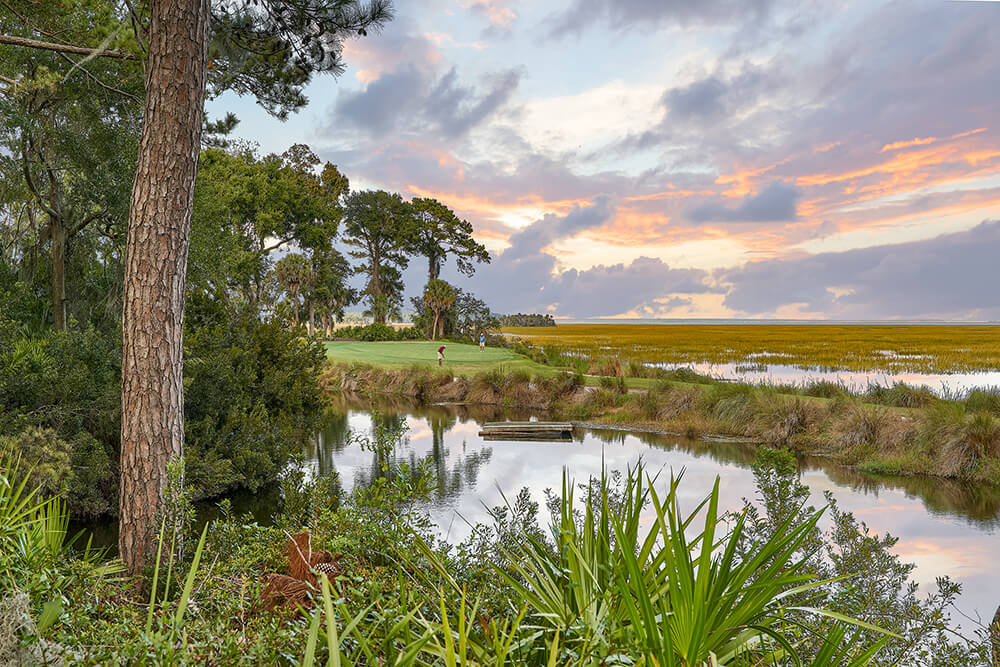 To say the membership here is active is to do it injustice. They are deeply driven by a passionate commitment to continued learning and the arts. Their collective efforts make the quality of life something to be treasured. A passion for the arts has resulted in a soon-to-open Art Barn, where members will pursue creative interests in painting, woodworking, welding, pottery, and studio facilities. The Art Barn also hosts the club's popular Artist-In-Residence program.
Arnold Palmer's golf course at Spring Island, Old Tabby Golf Links, is another point of pride for members, as it was for Palmer himself. Arguably one of Palmer's greatest designs, the King told members at the reopening ceremony for the course in 2012 (after a seven-month restoration of his original design) that it was "absolutely" his favorite. The course weaves through the rugged beauty of the marsh and one of the Southeast's largest live oak forests with hardly a home in sight. The marsh-hugging, par-three 17th is one of the most photographed holes in Palmer's vast portfolio.
With only 400 homesites, inventory is not easy to come by. But for those who crave privacy, a full social life, and an intimately shared experience with fellow members and neighbors, the wait is well worth it.