They couldn't have picked a nicer place—or a worse time—to launch a golf community.
Red Ledges, located along the back range of Utah's Wasatch Mountains less than an hour from Salt Lake City and 15 minutes past Park City, began selling real estate around a Jack Nicklaus Signature Course in 2007. Which, if you don't remember, was just as a tsunami was taking aim at the global economy.
But the owners stuck it out, joined by a core group of employees who believe in the project and love the area, with its majestic beauty, small-town feel, and abundance of nearby outdoor activities like skiing, hiking, and fishing. They tightened their belts and kept the doors open. Eventually, things got better and buyers showed up: It took nearly 10 years, but they sold and built the first 100 homes out of a master plan that has room for 1,200.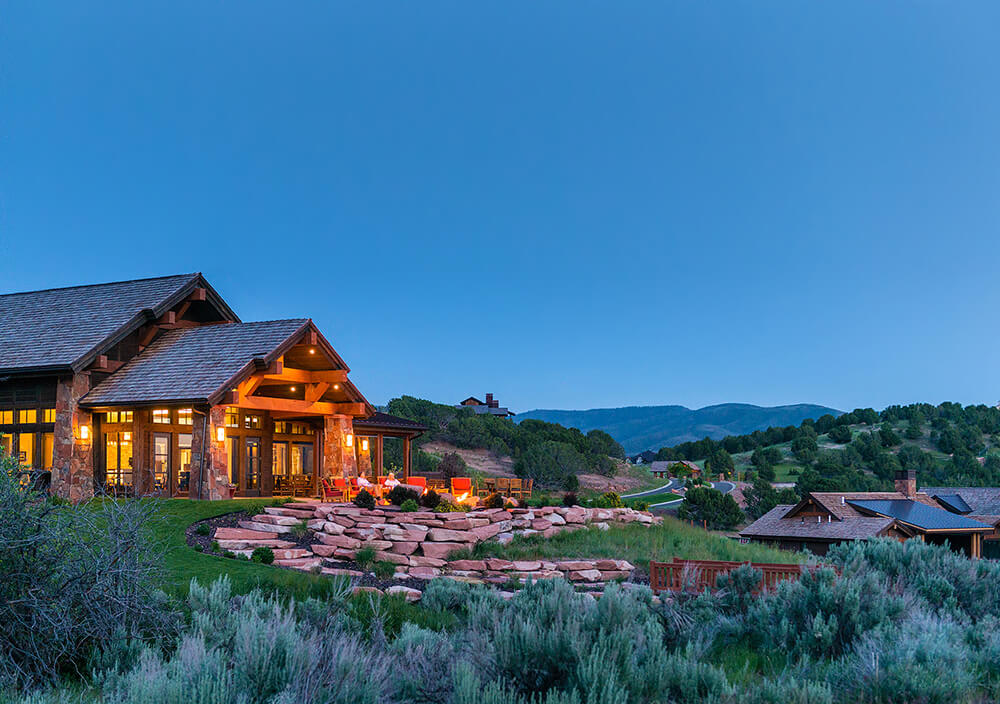 In the next two-and-one-half years, the second 100 were constructed. And in another nine months—which brings us up to date—the third 100.
An overnight success, 12 years in the making.
One of the reasons Red Ledges stayed open is it's a family business with deep roots in the surrounding Heber Valley. Stewarding the project on-site is Mitchel Burns, whose parents, Tony (former CEO of Ryder Systems) and Joyce—along with Nolan Archibald (former CEO of Black & Decker)— amassed more than 2,000 acres over 40 years, including land that had been farmed and ranched by Joyce's ancestors for generations. Today, the property begins in the valley, rises along hillsides where elk and moose still run, and looks out over farms and across to 11,750-foot-tall Mount Timpanogos ("Timp"), a popular spot for hiking—and admiring.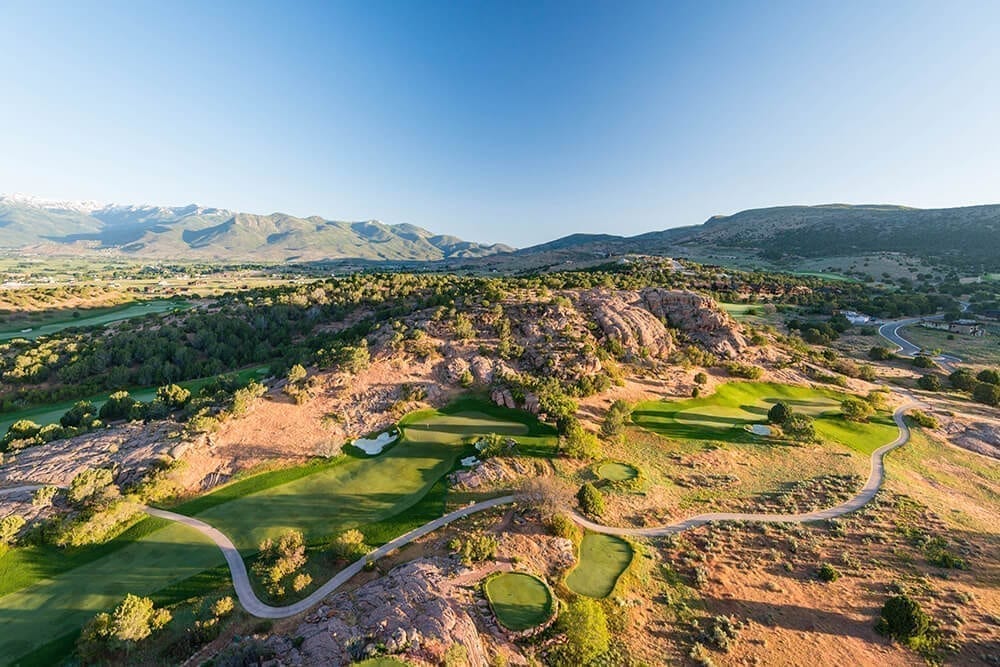 Actually, the valley is popular for just about everything. Wasatch County is one of the fastest growing in the country, attracting newcomers with its authentic Western atmosphere, gentle pace, and easy access to the great outdoors all year round. Combine those attributes with a brawny golf course, a host of amenities, and custom-designed housing and it's easy to understand why Burns refers to Red Ledges as "a four-season resort community."
At its heart is not one but two Nicklaus Signature courses. The big one is just that—big and bold, with plenty of elevation change, undulating greens, and fairway-tightening natural areas that gobble up errant shots. It's a strong test of any golfer's game, but lots of fun when played from the correct tees. Luckily, there are five sets and another five combinations, so finding the right starting point isn't hard: If you're hitting anything more than a short iron into the heaving greens, you're playing from the wrong blocks. (A new set of "Golden Bear" tees, many positioned in the fairway, was recently added to ease new golfers onto the course.) The Signature shop is located close by in the main clubhouse, where there's also a comfortable restaurant featuring fine cuisine, and next to it the fitness center.
"It's a course that puts an emphasis on where you miss," explains member Dennis Levine, who with wife Elke divides their time between Palm Desert, Calif., and Red Ledges. "That sets up your next shot, and if you're in the wrong place, you're potentially in a lot of trouble. The greens are also extremely challenging, which makes it more enjoyable to me."
Balancing the challenge of his original layout, Nicklaus came back a few years after Red Ledges opened and created the first-ever 12-hole Jack Nicklaus Signature Golf Park, which is designed to attract new players while keeping experienced ones enchanted with the game. Easily walkable— and open to golfers, kite fl yers, Frisbee throwers, soccer-ball kickers, and anyone else who likes to frolic on perfectly maintained turf—its 12 par-three holes, none longer than 185 yards, have big greens that funnel toward the middle and no rough. Golf pro Jon Paupore, one of the core employees who have been with the club since the beginning, says it's very popular because "it's easy to play with one ball, one club, and two dogs." (The entire region is slightly pet-mad, which is why nearby Park City is nicknamed "Bark City.")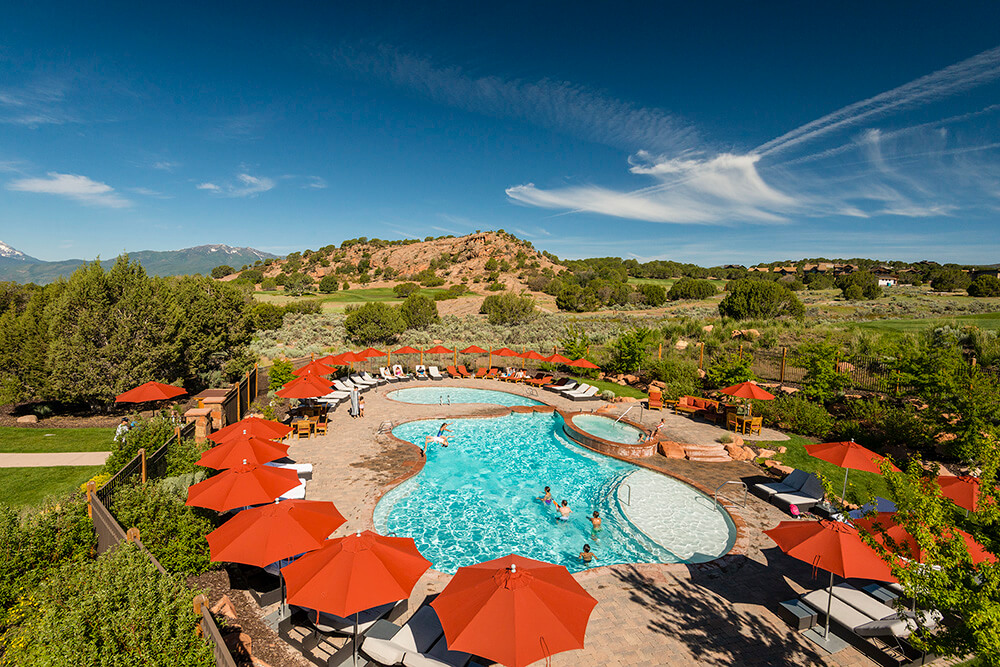 The golf park is both family friendly and a great place to work on your game. As is the spacious and scenic practice area, which is home to a Jim McLean Golf School. The teaching center offers year-round instruction with a golf simulator and heated bays that allow hitting onto the range even when it's covered in snow. In summer, McLean visits and conducts golf lessons with the club's golf pros.
Adjacent to the golf park is the newest amenity at Red Ledges, the Village Center, a family-focused pool and casual dining venue designed with kids, and their minders, in mind. Rising out of the 6,500-square-foot pool is a 144-footlong water slide that keeps youngsters busy, and laughing, all summer long. The pool is surrounded by 300 lounge chairs along with a bar and grill, hot tub, water playground, and other games, enhanced by incomparable views of blue sky and purple mountains. Plans are already in the works to add to the Village Center with another clubhouse, a pro shop for the golf park, and an expanded fitness center.
Racquet sports keep growing in popularity, too. Red Ledges has four tennis courts and six pickleball courts, some of which also stay open year round thanks to a bubble that goes up when the leaves start to come down. A Cliff Drysdale Tennis School offers lessons, clinics, a summer camp, and tournaments in season.
Even without golf and tennis to run, one of the busiest—and best-loved— staff members is Activities Director Stephanie Potempa, who maintains a vigorous calendar of member events for day and night, all year long. "My job is to help members find a bridge to connect with their neighbors and with the things they love to do," she says. "I'm just trying to help them live the dream."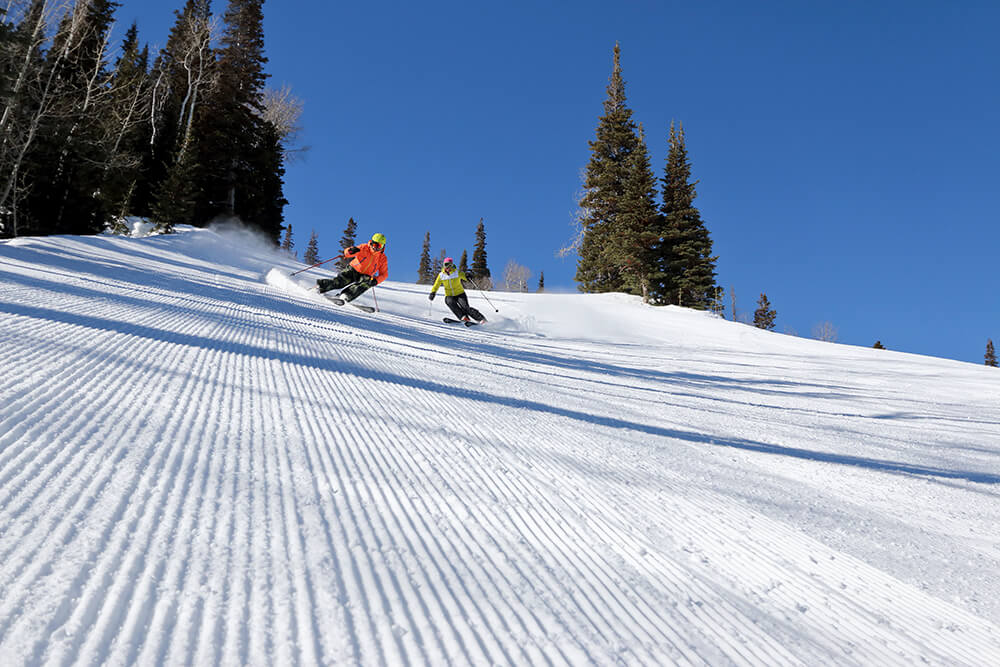 The dream includes bike trips, both mountain and road, as well as regular hikes on the hundreds of miles of trails that cover the valley and head into surrounding natural wonders like nearby Uinta National Forest. Summer culminates with a hike up "Timp," a tough, daylong excursion that Potempa helps members prepare for with a series of training hikes to build up the legs and lungs.
Other pastimes on Potempa's schedule include ATV trips; wellness classes at the fitness center; a Kids Club (located in its own yurt); classes in painting, cooking, flower arranging, and just about anything else artistic; plus entertainment of all variety. There also are dance parties, lectures, geology tours, star gazing (the night sky is incredible!), and big holiday events: More than 900 people attended last summer's Fourth of July celebration, which featured a day full of food and games and the club's own fireworks over the driving range.
And then there's winter. Red Ledges members enjoy access to two private oases at Deer Valley Resort in Park City. Both the Deer Crest Club lounge at The St. Regis Deer Valley hotel and the very private Stag Lodge offer ski-in, ski-out services including food and drink, valet service, and a place to get ready before and unwind after time on what locals call "the Greatest Snow on Earth."
"It's great that we have different seasons and enjoy them both," says member Ken Baugh, who along with wife Melinda have been owners almost since the club first opened. "The golf course is a huge draw and the summers are wonderful, but I'm always excited when the winter comes with snow and I can get geared up for that. We also love the tennis bubble and love being able to play tennis when it's cold outside."
According to Potempa, the wide choice of convenient ski areas—Deer Valley Resort, Park City Mountain Resort, Sundance Resort, and others less than an hour away—usually convinces members it's worth buying a number of different passes and lift-ticket specials, letting them enjoy varied experiences. She also leads regular ski outings to Deer Valley Resort for Red Ledges downhillers, both challenging Rippin' Wednesdays and more laid-back Cruiser Thursdays member groups.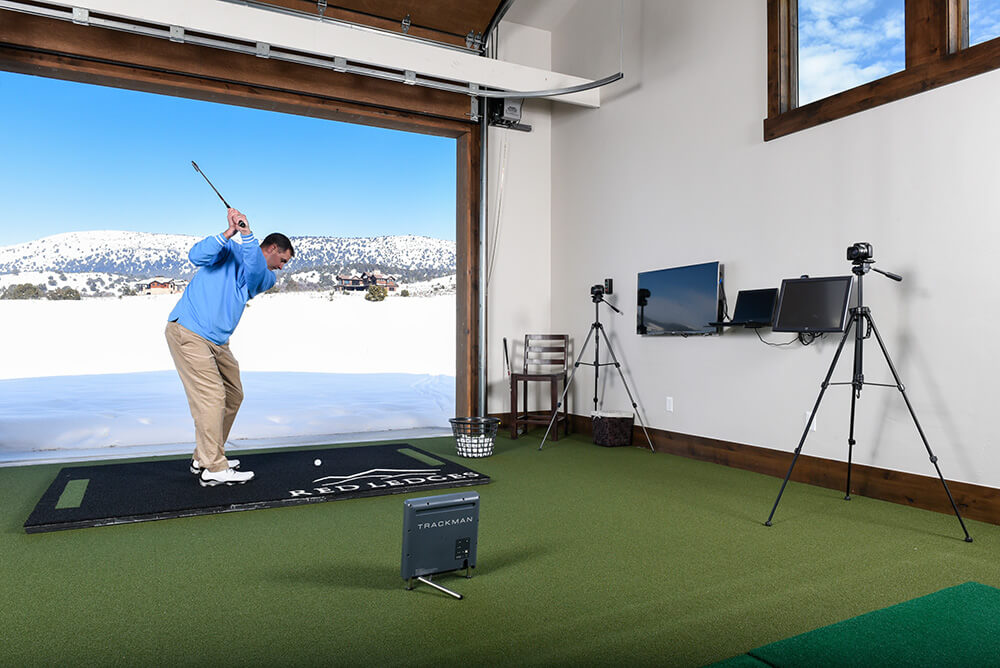 While the Heber Valley usually gets less snow than Park City, Red Ledges has more than enough to host cross-country skiing on the golf course, and snowshoeing is one of the club's fastest-growing activities. Ski-conditioning classes in the fall help members get ready for the many winter options.
"Our members love to get involved and take up all kinds of new activities," Potempa reports. "There are so many great experiences and fun to enjoy with your friends and neighbors."
One special sort of fun available right on property is horseback riding with KB Horses, run by Brenda Metzger, who along with her husband Don are among the founding members of Red Ledges. After a successful tech career in the Bay Area, Brenda literally rode her passion into the Heber Valley, where she loves to introduce people of all ages to the pleasures of riding. There are more than 40 horses and nearly as many dogs (who earn their keep by accompanying trail rides and keeping other animals from spooking the steeds).
With so much to offer, including a community-wide devotion to protecting the surrounding environment while making the most of it, Red Ledges is sure to keep growing and adding new amenities. There also are many scenery-rich homesites to choose from and the club maintains its own in-house homebuilding division, which guides members through the process of creating a custom masterpiece. Using the finest natural materials, engaging expert architects and designers, and with a full-service design center on site, Red Ledges Homebuilding has already built a magnificent portfolio while working one-on-one with clients to ensure one-of-a-kind results.
Years in the making and grounded in the founders' commitment to the responsible management of the land and amenities, Red Ledges is well poised to thrive for years to come.