Champion golfer Gene Sarazen is probably best known for the "Shot Heard 'Round the World"—the double-eagle he scored on the 15th hole in the 1935 Masters that earned him a spot in a playoff, which he won. But if you could ask The Squire which of his career shots was the most satisfying, he just might choose the hole-in-one he made at age 71 in the 1973 Open Championship at Royal Troon in Ayrshire, Scotland, when he laced a perfect 5-iron into a gusty wind—and the hole.
"For many years, the Postage Stamp haunted me," said Sarazen. "I feared it, so when I walked onto the tee and faced the wind, I must admit I was somewhat nervous. I selected my 5-iron as I was determined not to be short. When the crowd roared and I realized the ball was in the hole, I felt there was no better way to close the books on my tournament play than to make a hole-in-one on the Postage Stamp and call it quits."
This wee menace of a hole has been delighting and bedeviling players ever since.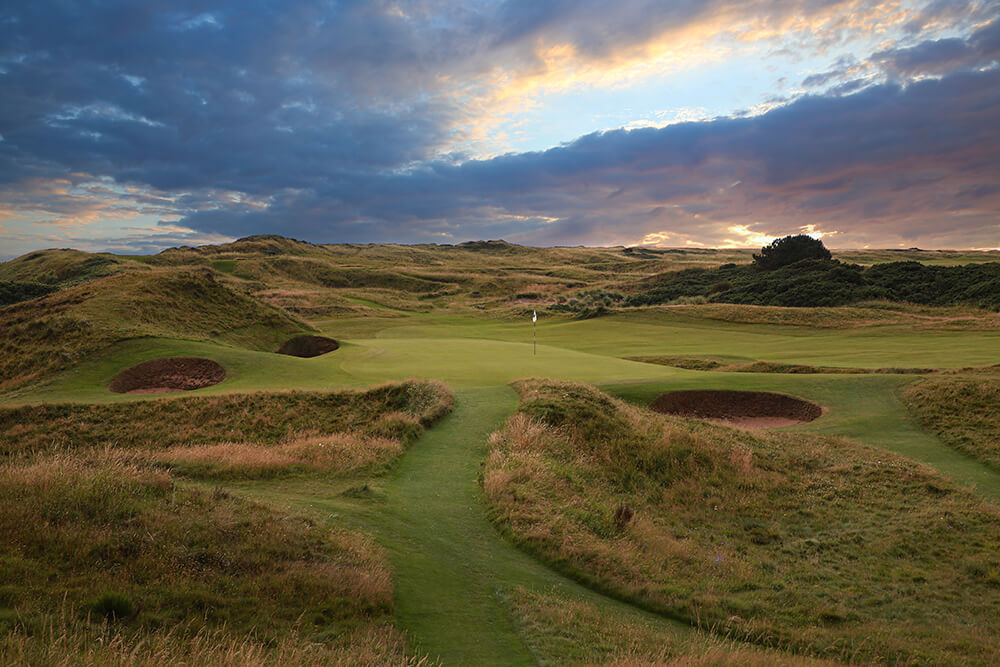 The original Willie Fernie-designed 8th at Royal Troon played as a longer hole when it debuted in 1878. James Braid later shortened it to its current length, but that didn't make it any easier. In the 1989 Open, Greg Norman scorched Royal Troon in his final round, shooting a blistering 64. He bogeyed just one hole. Had he not, he'd have avoided the playoff with Mark Calcavecchia, which he lost. The hole he bogeyed? The 8th. In the 1997 Open, Tiger Woods took two to get out of a bunker on this hole then three-putted his way to a triple-bogey six. In the 2016 Open, Bubba Watson did Tiger one worse after an untimely trip to the Coffin Bunker, so named both for its tight dimensions and its deadliness. On the flip side, Phil Mickelson birdied it twice in the 2016 Open; it pays to be a wizard with your wedges.
The Stats
Par three
114–118–123 yards (shortest in Open Championship golf)
Five bunkers
Stroke Index: 18
Hole Description
The hole was originally called "Ailsa," owing to the view you have from the tee of the Ailsa Craig. It got its current name after a golf writer described its green as "a pitching surface skimmed down to the size of a postage stamp." The shortest hole on any of the Open Rota courses, it's a dropshot tester that plays slightly downhill from an elevated tee, across a gully, to a green that's cut into the side of a sandhill and guarded by two bunkers left of the green, another bunker guarding the approach in the front, and two more deep bunkers with nearly vertical faces on the right. The putting surface is barely 10 paces wide, and maybe three times that deep.
What Makes It Great
It's the ultimate all-or-nothing hole. Hit the green and you'll be all smiles—and enjoy well-earned bragging rights when the day is done. Miss the green, and you'll need to be a short-game wizard to have any chance at saving par. The green is so narrow that it's not unusual for a player to explode out of one bunker and roll straight into another. It's not like you can play it safe off the tee, either. There's no bail-out to be found.
How to Play It
I'm tempted to say: Close your eyes and just swing. Because if you can put all those bunkers out of your mind and make a confident swing, you'll stand a much better chance of reaching the dance floor. But of course, that's impossible. You're standing on the tee, the wind is likely blowing in your face or slightly from the left, the green looks to be the size of, if not a postage stamp, maybe a baby pool—there's no way not to see all the danger that lurks in front of you. You're to be forgiven if you feel your muscles tighten and your heart beat a bit faster. This tiny terror of a hole is the ultimate examination of your short-iron game.
To pass the test, you simply must try to take the wind out of the equation to the degree that that's possible. And that probably means hitting a knockdown shot. If this is normally your wedge yardage, play a three-quarters 9-iron instead—with a nice, measured backswing and good acceleration through the ball. Avoid getting steep—you want this shot to have less spin, not more. Direction is everything here. You simply must hit it straight.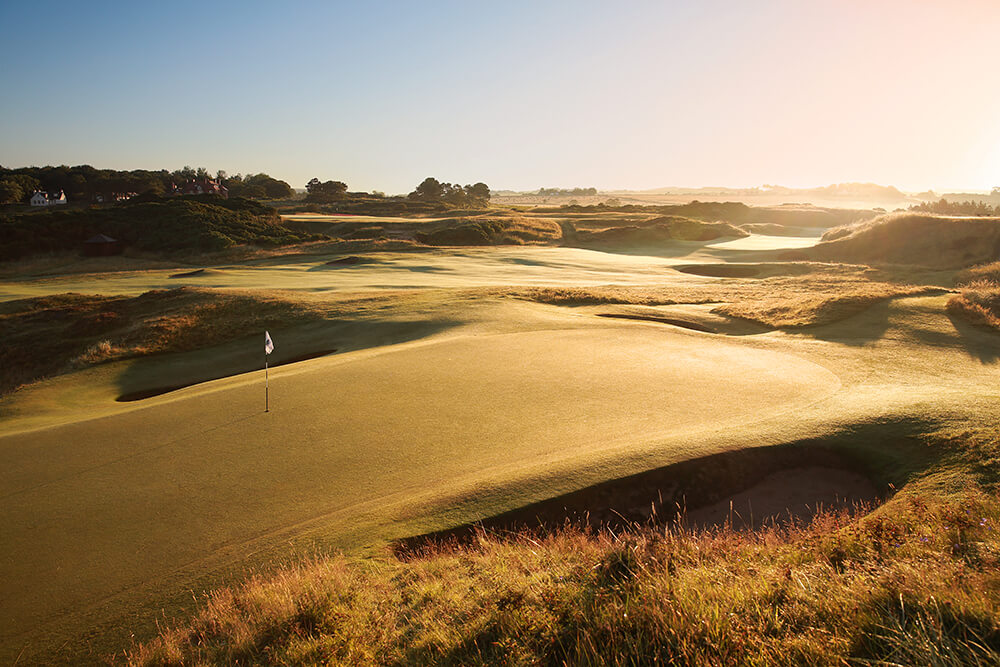 Should you fail at that, and find yourself in one of the greenside bunkers, you have a choice to make. Do you want to try to pull off a miracle, or are you going to play it safe(r)? If you decide to try to knock it close and save par, you'll need to be something of a magician. There just isn't much green to work with from any angle. And if you're in one of the right-hand bunkers, you'll be well below the putting surface; it'll be hard to get enough height on that shot to stop the ball very quickly. Maybe you'll get lucky and the hole will be located toward the back of the green. The safe(r) play from any bunker is almost always going to be playing the ball toward that part of the green, from which point two-putting should be possible, but not guaranteed.
Should you pull your tee shot up onto the sandhill overlooking the green, you also have a choice to make. Do you declare it lost and hit again from the tee, or steel yourself to play one of the most difficult recovery shots you are ever likely to face? Of course, there's a third option: You could just say that the Postage Stamp licked you and head to the next tee. But what fun would that be?
Have you played Royal Troon's "Postage Stamp?" Tell us about your experience in the comment section.