Here

'

s our list of the top 10 courses in Massachusetts, also known as the Bay State
1 THE COUNTRY CLUB, Brookline Boston's bastion boasts three nines that are merged into a formidable composite that has hosted 16 USGA Championships and a Ryder Cup, with the U.S. Open returning this year.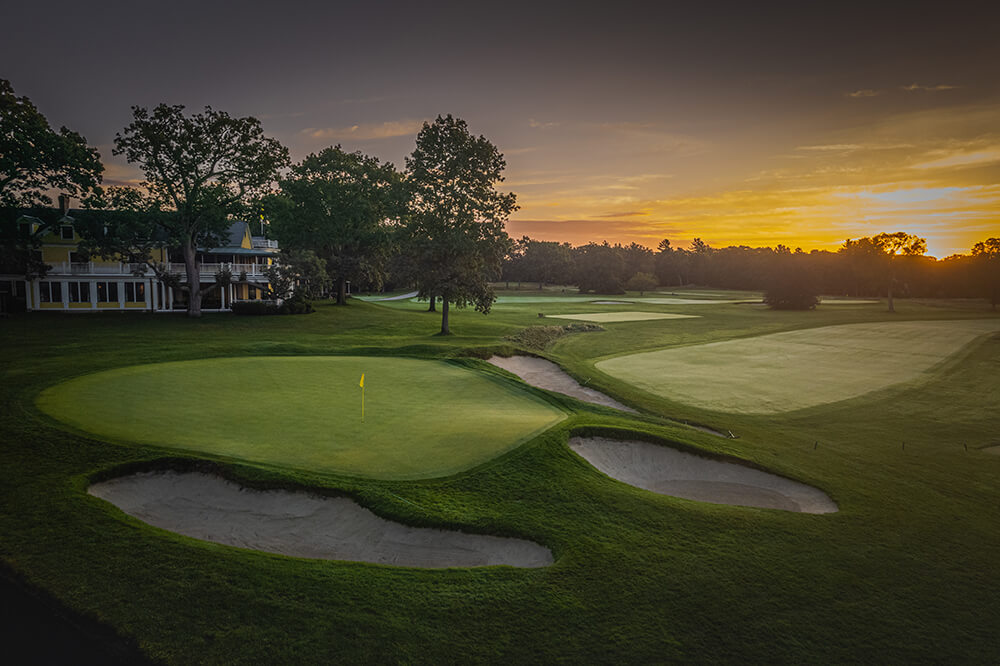 2 MYOPIA HUNT CLUB, South Hamilton Founded 140 years ago as a fox-hunting club, it added a Herbert Leeds golf course in 1894. Four turn-of-the-century U.S. Opens were played over this superb stretch of bucolic New England terrain.
3 OLD SANDWICH GOLF CLUB, Plymouth Although less than 20 years old, this Coore & Crenshaw layout evokes the look and feel of the classic courses of a century ago, a brilliant routing set on rolling, woodsy, sand-based land.
4 ESSEX COUNTY CLUB, Manchester-by-the-Sea Donald Ross was the golf professional here from 1909–1913 and converted the course from nine okay holes to 18 superb ones. Recent tree removal and renovation have made it even better.
5 THE KITTANSETT CLUB, Marion Unfurled on a point of land jutting into Buzzards Bay, it delivers relentlessly in scenic splendor and shotmaking challenge. An ongoing Gil Hanse update has enhanced both the views and the test.
6 EASTWARD HO!, Chatham Few courses are sited more dramatically than this one perched atop a glacial moraine on Cape Cod's Pleasant Bay. The result has been described as a roller-coaster ride beside the sea.
7 BOSTON GOLF CLUB, Hingham One of Gil Hanse's first designs, and a paean to Pine Valley, its holes meander through a dense sand-bottomed forest. Sharp climbs and dips and fiercely contoured greens are the hallmarks.
8 SANKATY HEAD GOLF CLUB, Siasconset A nearly century-old links-like gem set 30 miles out to sea on the eastern shore of Nantucket Island. With each nine routed in a figure eight, the wind is both constant and ever changing.
9 SALEM COUNTRY CLUB, Peabody Six national championships have been held on this rolling parkland layout designed in 1925 by Donald Ross, known equally for its challenging greens and always immaculate conditioning.
10 HYANNISPORT CLUB, Hyannis Port There are no water hazards on this Cape Cod course, but water is visible from every hole and the ever-buffeting breezes off the sound have earned it respect as "the toughest 6,200 yards in golf."
What Massachusetts courses did we miss?