With The Ryder Cup spotlight focused on Gleneagles, we have the perfect opening to talk about the man who truly put that resort on the map as a golf destination. James Braid (1870–1950) simply had a monumental career in golf. The Scotsman first achieved renown as a player: The winner of five Open Championships between 1901 and 1910, only his "Great Triumvirate" rival, Harry Vardon, has as credible a claim to the mantle of the best golfer of his generation. Overlapping with the prime of his playing career was Braid's "day job" as head professional at Walton Heath Golf Club near London, a position he held for nearly half a century, making clubs, giving lessons, and playing foursomes with the likes of David Lloyd George and Winston Churchill. Braid was a poor traveler––afraid of boats and even automobiles, he got around almost entirely by train—but despite this limitation he carved out a successful side career as a golf architect. He worked throughout the British Isles, but was especially fond of his native Scotland. Today, it would be fairly difficult to plan a decent Scottish golf holiday without encountering a course touched in some fashion by Braid, whether it be an original design or a noteworthy renovation.
Design Signature: Many of Braid's design tenets—that opening holes should provide what Donald Ross would call a "gentle handshake"; that holes should offer multiple avenues of play; that the two nines should be balanced in terms of length and character—seem orthodox today, but in the early 1900s they made him part of the first wave of architects to break from the penal concepts espoused by many of his contemporaries. He commonly used diagonal cross-bunkering to break up drive zones and could be especially aggressive in multiplying hazards close to the green. Braid seldom designed anything self-consciously "quirky," but he did not shy away from using unusual natural features.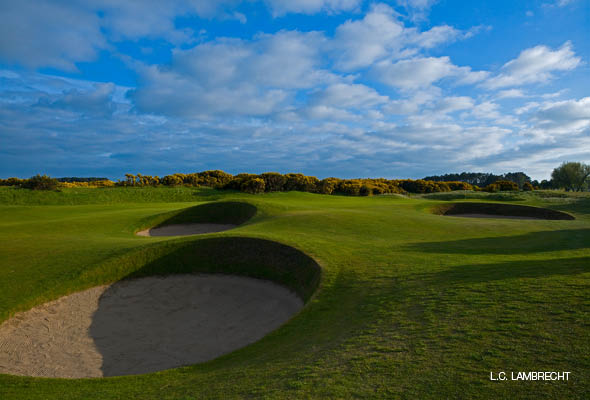 Best Course: There are a few good contenders here. Lovers of champion- ship tests can point to Braid's major influence in the development of Carnoustie, though its famous (and famously punishing) finishing holes are not his work. Connoisseurs might plump for St. Enodoc, the rollicking, spectacularly scenic links on the Cornish coast. Yet another faction could make a strong case for either the King's or the Queen's at Gleneagles, a pair of strategically engaging and surpassingly beautiful  designs in the hills of Perthshire.
Most Representative Course: There's really no such thing as a "typical" Braid design. His prolific output—some 350–400 courses feature some kind of Braid contribution—was made possible, according to author Phil Pilley, "by instinctive decision-making, immediate planning and the laying-off of construction work to others." For every high-profile layout like Gleneagles or Carnoustie, there are many more "country courses" like Brora Golf Club in the Scottish Highlands. Braid wrote that linksland like Brora's provided "the best and most interesting golf," adding that in such a setting, "the holes should be laid out and arranged in such lengths as are suggested by the lie of the land, [with] every natural obstacle being taken advantage of." Brora concludes with a par three, a situation that the architect explicitly preferred to avoid, but with its economical bunkering and clever use of the Clynelish Burn, this charming and infinitely playable links shows Braid at his sporting best.
Sleeper: Braid's Johnny Appleseed-like role in the development of golf in the UK means that his legacy is long on hidden gems. Some are hidden in plain sight, like the North Berwick East Links, which Braid designed with the esteemed local pro Ben Sayers. Bass Rock often seems within arm's reach at this underrated links, especially on the one-shot 13th, which plays blindly out to sea. Other Braid gems are farther afield, like Porthmadog in north Wales. Don't be put off by a forgettable first side here––after the turn, golfers are treated to one of the wildest nines in links golf.
Most Famous Hole: Braid wasn't a "signature hole" kind of guy, but a couple of his true standouts can be found at the King's Course at Gleneagles. The par-three 5th, nicknamed "Het Girdle" (or "hot griddle") presents the opportunity to play a mid-iron to an upwelling green fronted by a gang of deep bunkers. The 9th, "Heich o' Fash" ("height of trouble"), features a thrilling downhill drive, then a vaulting approach to another plateau green.
Further Reading: Phil Pilley's Heather and Heaven, an award-winning centenary history of Walton Heath, contains a wealth of excellent material on Braid. It can be found on Amazon, as can John Moreton and Iain Cumming's James Braid and His 400 Golf Courses. A couple of years after the great man's death Bernard Darwin published a biography entitled simply James Braid. As a teaching pro, Braid himself wrote several popular instructionals, notably Advanced Golf,  which includes several chapters related to his design philosophy; that volume has been digitized and is freely available on Google Books.