Some golf courses have a unique and unmistakable sense of place.
The ancient Romans had an expression: genius loci, or sense of place. Their belief was that every city and town had its own spiritual identity, the way it was experienced, imagined, yearned for, and held in the heart and soul.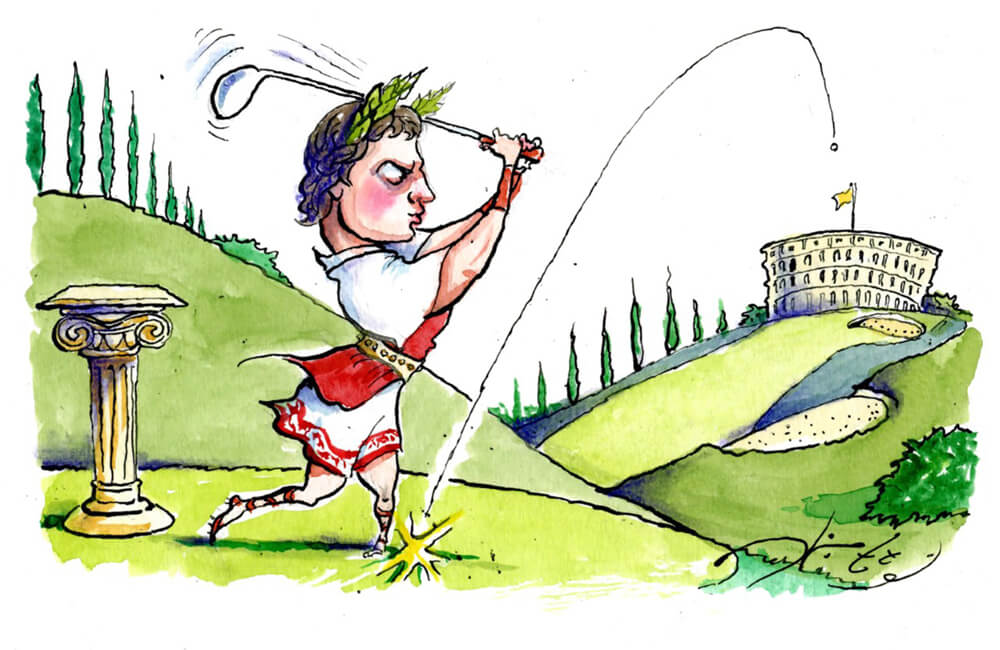 Now, 3,000 years later, it would be a stretch to extend that idea to each of the myriad municipalities around the globe. But the idea of genius loci does have relevance to our game of golf. Who can deny the evocative character of Augusta National, Pebble Beach, or St. Andrews? Even if you've never been to those places, you have a pretty good sense of what they're all about.  
Golf is unique in this way. Other sports have their shrines—Wimbledon and Roland Garros, Yankee Stadium and Fenway Park, Lambeau Field and Wembley, Madison Square Garden and the Montreal Forum—but let's face it, if you were to pluck any of those courts, fields, and rinks out of its storied setting and plop it down in a Peoria parking lot, what would you have? A pretty pedestrian playground: fixed, flat, and featureless. No loci, no genius.  
Except in golf, where each playing field is unique. But that doesn't mean every golf course in the world exudes a powerful, penetrating aura. Often it's just a personal thing between a course and you. For instance, the course where you learned to play the game likely will always have a special resonance for you, no matter how humble that course may be. This is a theory called "primal geography," the notion that at some point in our life we will bond with a landscape that is known, familiar, and comforting. You likely have a similarly comfy relationship with your current home course. Conversely, you'll have a negative genius loci—basically a bad attitude—toward a course that doesn't fit your eye or game or where you have a history of playing poorly. It's the whole horses-for-courses idea. 
But for a golf course to radiate a distinct and broad-reaching genius loci—a unique atmosphere almost everyone can feel—it needs to have a few things going for it. First is geographic location, whether that means a spectacular natural setting, proximity to a major city, or just the opposite, an off-the-beaten-path allure.  
Age and tradition also play a part. These days, many American courses and clubs are celebrating their centennials, and most of them exude a measure of genius loci simply via their longevity. Any link to golf history—whether through individual players or major competitions—adds to the luster.  
There's also an aspect that emanates from the overall tone of the club, beginning with the nature of the membership—is it exclusive or open, young or aging, male-dominant or family oriented, conspicuously lavish or shabbily genteel? 
And, finally, the quirk factor. Some courses simply are one-offs, memorable for reasons having little to do with their fairways and greens or members and facilities.  
It might be fun to rank the Top 100 Genii Loci in golf. I won't be doing that here, partly because I'm not sure there are as many as 100 courses in the game with a sufficiently distinct and generally agreed-upon sense of place. Nor I can categorize every facet of LG that's going to appeal to every golfer, but what follows is an attempt to group some of the more dramatically resonating examples into a few groups.  
Meccas
The strongest siren calls come not from single courses but destinations with three of more places to play, usually anchored by one powerful magnet course: The Australian Sandbelt, Bandon Dunes (Ore.), Mullen (Neb.), Myrtle Beach (S.C.), Monterey (Calif.), Pinehurst (N.C.), St. Andrews (Scotland). 
Requiems for the Common Man
No courses inspire greater love and devotion than the public parks and municipal facilities. Ala Wai (Hawaii), Bethpage (N.Y.), Cog Hill (Ill.), George Wright (Mass.), Griffith Park, Harding Park, and Torrey Pines (Calif.), Brackenridge Park and Memorial Park (Texas). 
Stadia
Major championships and Ryder Cups have been held at nearly 200 courses in America, Great Britain, and Europe, but fewer than half of them retain a strong genius loci. Think in terms of the multiple hosts, the current Open Championship rotation, and, of course, Augusta National. Those with a particularly salient genius loci include Prestwick, Muirfield, Carnoustie, Merion, Oakmont, Baltusrol, Shinnecock, and The Country Club. Also included here is the ultimate stadium, the TPC at Sawgrass. 
Shrines
A handful of courses have strong identities based on the heroes closely associated with them: Latrobe and Bay Hill (Arnold Palmer), Muirfield Village (Jack Nicklaus), Colonial (Ben Hogan), and East Lake (Bobby Jones). 
Enclaves
A century or so of intimidating exclusivity combined with a formidable golf course is the recipe for these high-GL clubs:  Chicago G.C., Cypress Point, Falsterbo (Sweden), Hirono (Japan), Los Angeles C.C., Morfontaine (France), National Golf Links, Pine Valley, Royal Calcutta (India), Seminole, Swinley Forest and Sunningdale (England).
Jawdroppers   
They may not all be world-class courses, but all are sited in out-of-this-world settings, and the experience of playing each of them is singular and exhilarating: Cape Kidnappers and Kauri Cliffs (New Zealand), Old Head (Ireland), Pinnacle Point (South Africa), Quivira (Mexico), South Cape Owners Club (South Korea), Wolf Creek (Nev.).
Outposts
A big part of the appeal here is the remoteness, the difficulty of getting to the first tee. The other part of is the thrilling magnificence of the golf when you get there. Barnbougle Dunes and Lost Farm (Tasmania), Cabot Links and Cliffs (Canada), Lofoten (Norway), Westman Island (Iceland). 
Quirkplaces
Few courses have stronger identities than a trio in Scotland: Brora, where one shares the fairways with bovines and ovines; Royal Musselburgh, where play is with hickories and the course circles a race track; and Shiskine, a remote Scottish 12-holer where bells and traffic lights aid navigation. There's also Skukuza in South Africa's Kruger National Park, with all that implies; Furnace Creek in Death Valley, Calif., where the temperature can reach 125 degrees; and a course in Angola, La., where the name says it all—Prison View.