With sweet jazz in the autumn air—and arguably the country's finest golf all year long—a visit to Monterey Peninsula is always music to one's ears
It don't mean a thing if it ain't got that swing. —DUKE ELLINGTON, 1931
Those of a certain age may be familiar with the above song and its illustrious composer, whose supple ways with rhythm and tone color revolutionized jazz once upon a time. Jump forward three decades and Duke's orchestra would perform the same pulse-pounding number during a performance at the Monterey Jazz Festival in September of 1961.
That central California autumn was a propitious time and place for those whose livelihood depended on a sure sense of swing. In fact, it was exactly a week earlier that 21-year-old Jack Nicklaus won his second U.S. Amateur championship a few miles down Highway 1 at Pebble Beach. (For the record, Roger Maris hit his historic 60th homer on the 26th of that same month at Yankee Stadium.)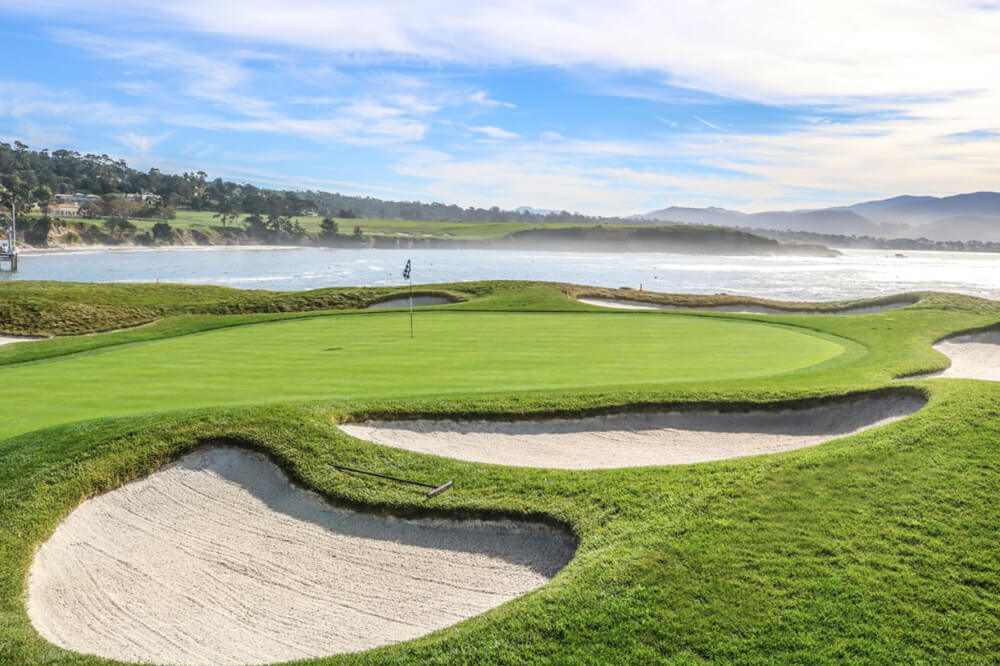 This blessedly blue stretch of California coastline has been a bucket-list destination for duffers and jazzbos alike for the better part of the last century. Migrating whales and dancing dolphins make dramatic cameo appearances here, while sea lions and butterflies spawn and sparkle in the persistent sunlight. John Steinbeck and Henry Miller found inspiration in the area, as did Ansel Adams and Salvador Dali.
But it was long before the arrival of beatniks and niblicks that a seafaring Spaniard named Juan Cabrillo first sailed into Monterey Bay in 1542, followed in turn by merciful missionaries and merciless Marines. An amphibious landing under the command of Captain William Mervine in 1846 oversaw the lowering of the Mexican flag and the raising of the Stars and Stripes. Nary a shot was fired.
Nowadays, plenty of shots are launched from an embarrassment of tee boxes on what has to be regarded as the Pacific Coast's greatest assemblage of golf holes (apologies to latecomer Bandon Dunes). Some three billion tourism dollars flow into peninsula coffers per annum, thanks in part to golf and good music, with a healthy nod to painterly sunsets and bottomless bowls of glutinous clam chowder. Adding to the allure is the temperate Mediterranean climate—just 18 inches of rain and an average of 267 sunny days per annum.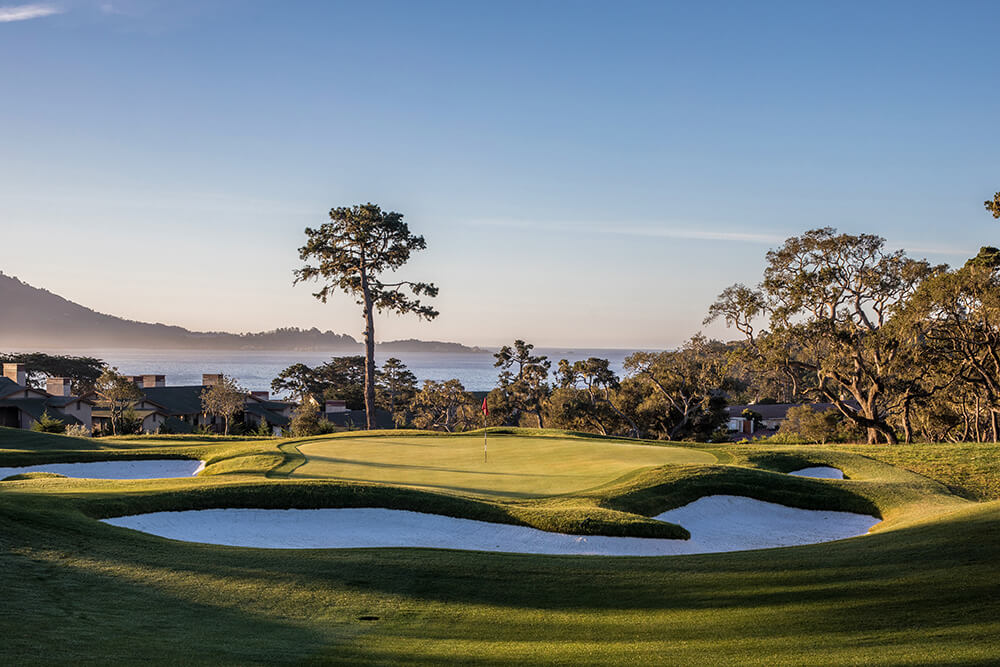 Golf was a natural fit from the get-go. Monterey is home to the oldest layout west of the Mississippi in continuous operation—Del Monte Golf Course—established in 1897 and now owned and operated by the ubiquitous Pebble Beach Company. At 6,357 yards, its smallish greens and abundant cypress and pine trees make for a challenging test at a reasonable price, especially compared to its corporate cousins some six miles south.
Brace yourselves: 18 holes at storied Pebble Beach Golf Links will now set you back some $600, Spyglass Hill a mere $435, and the Links at Spanish Bay around $300. Guests at any Pebble Beach property are entitled to advanced booking privileges, though anyone else can roll the dice and try to reserve one day ahead at Pebble. Good luck with that.
Even at over $30 a hole, golf at Pebble Beach is well worth the investment, if not for the ingenious design and majestic location then for the historic shots executed there by the game's most hallowed names. Tom Watson's chip at 17 in the 1982 U.S. Open comes to mind, as does Jack's wind-defying 215-yard 1-iron at the same 10 years earlier.
It may be heresy to say so, but Robert Trent Jones Sr.'s Spyglass Hill makes for an even more memorable round, an epic and variegated journey from ocean-adjacent, wind-sculpted dunes through the hushed shadows of the Del Monte Forest. With a course rating of 75.4 and slope of 145, it is no place for the timid. It's also worth noting that Spyglass is wedged between a couple of forgettable enclaves called Cypress Point and Monterey Peninsula Country Club.
After a proper drubbing, take what's left of your short game to the par-3 Hay Course, recent beneficiary of a Tiger Woods redesign, including an exact replica of No. 7 at Pebble. Bring a few wedges, a putter—even the family dog—then have lunch at Hay's Place, a surprisingly good Mexican-themed restaurant in an area brimming with legit taquerias. No additional charge for the Cinerama view of sea and sky.
By all means, use whatever juice you can muster to gain entry to the aforementioned private clubs, or to a handful of other exclusive tracks up-canyon in Carmel Valley. The Preserve at Santa Lucia is one of Tom Fazio's finest, anchoring a pristine residential development. And Clint Eastwood's Tehama Golf Club is a fine Jay Morrish design with forever valley views and a vast Spanish clubhouse with underground parking. Dirty Harry said he didn't want his property "to look like a wrecking yard."
Excellent public golf options abound as well, including a matched pair of former military courses appropriately named the Bayonet and Black Horse (after the 11th Cavalry Regiment). Located just north of Monterey, the Bayonet is as lethal a challenge as its name implies, replete with fescue-bordered fairways and narrow oak- and cypress-lined corridors. Black Horse affords distant views of Monterey Bay and has a 610-yard finishing hole guarded valiantly by a menacing collection of serrated-edge bunkers.
The 81 acres surrounding this duo have changed hands regularly over the last quarter-century and now belong to SKDG Capital, which has tentative plans to erect a 330-room hotel and townhouses. Final approval is up to the town elders, but Troon Golf is already on board to manage the golf facilities and word is that Tom Watson took a recent stroll with an eye toward a friendlier, resort-golf makeover.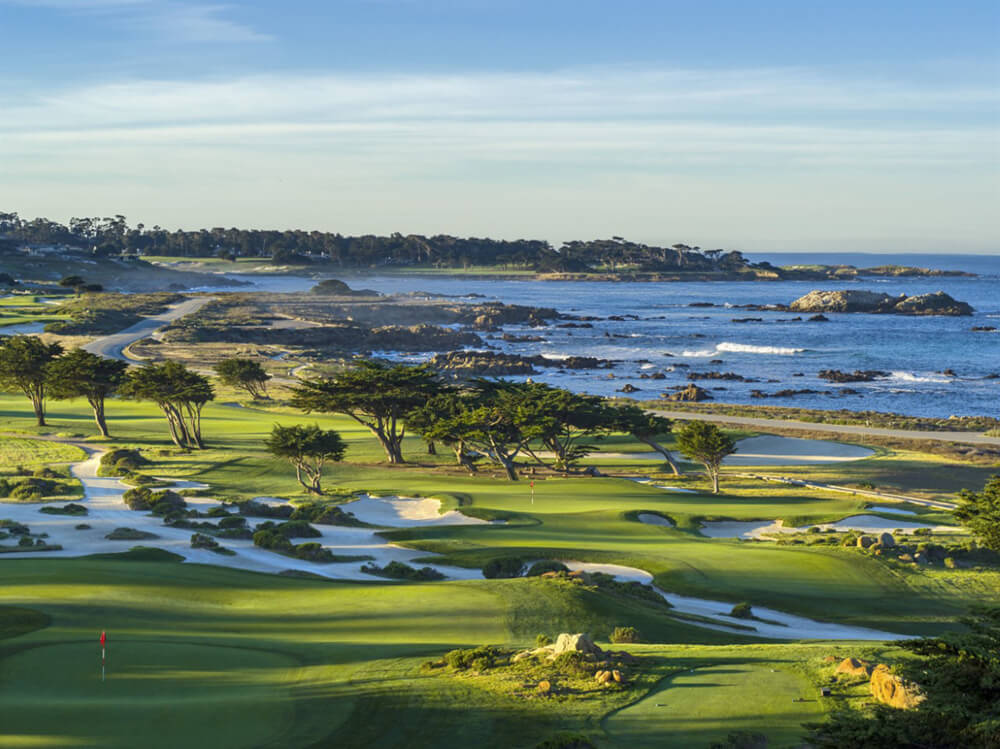 Robert Trent Jones Jr.'s Poppy Hills—owned and operated by the Northern California Golf Association since 1986—has been tweaked and refined by its designer as recently as last year and is now faster and firmer, with fewer contours on the bentgrass greens. It's four miles from the ocean in a lush pine forest and wind-protected to a certain degree. I once played a foggy, early morning round there and couldn't visually track my shots for the first three holes. They should throw in a free bowl of haggis after such an outing.
Pacific Grove Golf Links has often been referred to as the "poor man's Pebble Beach," which is the very definition of damnation by faint praise. Yes, it scans at a tenth of the price of a round at Pebble, and the linksy back nine—a knockdown wedge from the bay—has a timeless look and feel that belie its recent birthdate in 1960. The front nine, opened in 1932, is a bit scruffy and cramped, but like a well-made play the third act is downright cathartic. Sadly, it now makes my local muni look like a cornfield by comparison.
Quail Lodge & Golf Club in Carmel Valley, a mid-century Robert Muir Graves design with 2015 updates by Todd Eckenrode—sits astride the whispering Carmel River and is defended by five man-made lakes and a trio of longish par threes into elevated greens. It is also the perfect headquarters for a peninsula golf odyssey, as cozy as it is serenely quiet, with tennis and pickleball courts, a heated swimming pool, and spa.
If you prefer a little hubbub and a redolent whiff of Steinbeck's Cannery Row, the Portola Hotel & Spa might well be your cup of chowder. Located steps from the Old Fisherman's Wharf and the Convention Center, the recently renovated hotel is airy and sunny and a mere five-minute drive from the incomparable Monterey Bay Aquarium. It's refreshing to encounter sea creatures without tartar sauce or lemon wedges in the vicinity.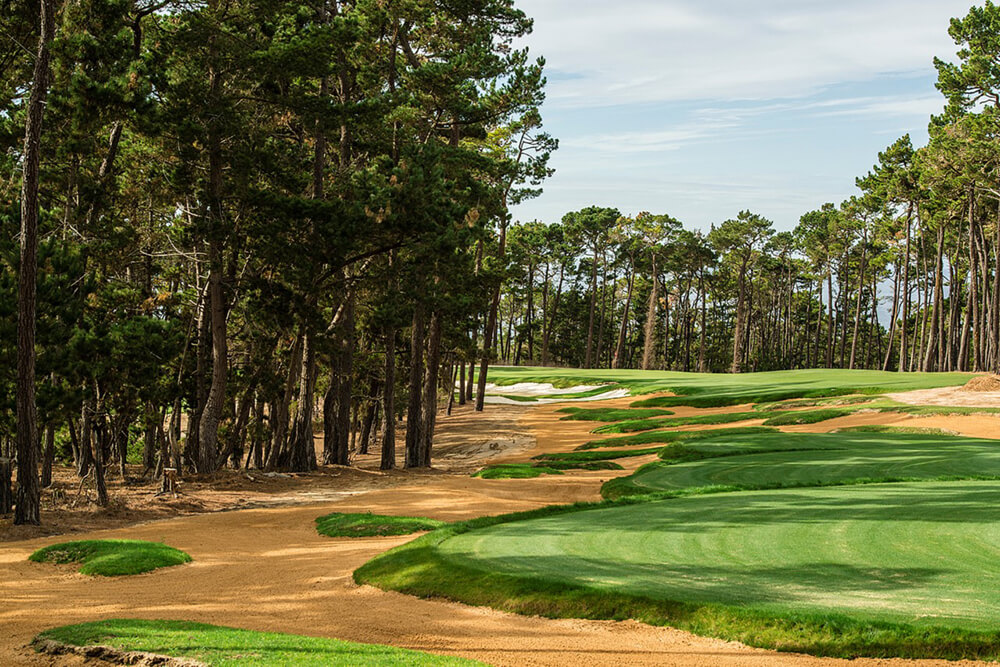 Truth be told, but for a nicely prepared fish and chips lunch at Flaherty's in Carmel, it's hard to find the sweet spot between high-end, avocado-toast emporia and the earthier taco and pizza joints flanking the Monterey Fairgrounds. My go-to is the slightly bougie Peppers MexiCali Café in Pacific Grove, known for its savory corn chowder and tart, blood-orange margaritas. The Whaling Station in downtown Monterey is an old-school, post-golf redoubt featuring aged prime steaks and plenty of contentious, bourbon-fueled repartee.
Warning: Those of us who live in a golf-centric universe would be well-advised to not miss the forest for the trees—literally and figuratively. An hour's drive south of Monterey lands you in a bohemian time-capsule called Big Sur, where Henry Miller sought refuge from the madding crowd and pioneering psychonauts nibbled mind-bending mushrooms in the hot springs of the Esalen Retreat founded by Michael Murphy of Golf in the Kingdomfame. And although I personally consider hiking a true walk wasted, the Point Lobos State Reserve in Carmel affords encompassing views of the coastline and Pebble Beach itself.
One can save a few pennies visiting the area during the winter months when both temperatures and hotel prices dip a wee bit. April and May are also prime, with fewer tourists willing to battle the bone-rattling evening winds. And come late September, the pipe-and-goatee set assemble for the venerable Monterey Jazz Festival, a time to dispense with swing thoughts in favor of just plain swinging.