Motoring around "Motor City" reveals a trunk-load of challenging designs from some world-famous architects
As one would expect from a state with the most public golf facilities in the U.S, a host of verdant courses can be seen from the window seat of a plane flying into Detroit Metropolitan Airport.
5 COURSES — 98 MILES — $235-285
Located less than seven miles from the terminals, the Lakes of Taylor Golf Club is a popular municipal course that opened in 1995 and boasts a good driving range and practice area. Designed by Arthur Hills, the layout's yardage ranges from 5,643 to 7,028 yards with five sets of tees. With a variety of intriguing holes and looks, the Lakes of Taylor is well maintained and offers a challenging experience, summed up by the par-three 17th hole that calls for a mid- to long iron into an impressive green with no room to miss on three sides.  
For lunch before or after the round, locals like to gather at the nearby Taqueria Los Agaves, a modest but highly recommended Mexican restaurant known for its fresh and consistently well-made food. 
A 30-minute drive north, Rackham Golf Course is a Donald Ross design long a favorite with residents and visitors alike. It opened in 1925 and immediately attracted the best players and eventually hosted two U.S. Public Links Championships (1940 and 1961). Adjacent to the Detroit Zoo, from the tee box of the 15th hole golfers may catch sight of the zoo train and giraffes beyond the fence. In his day, legendary boxer Joe Louis was a regular at Rackham.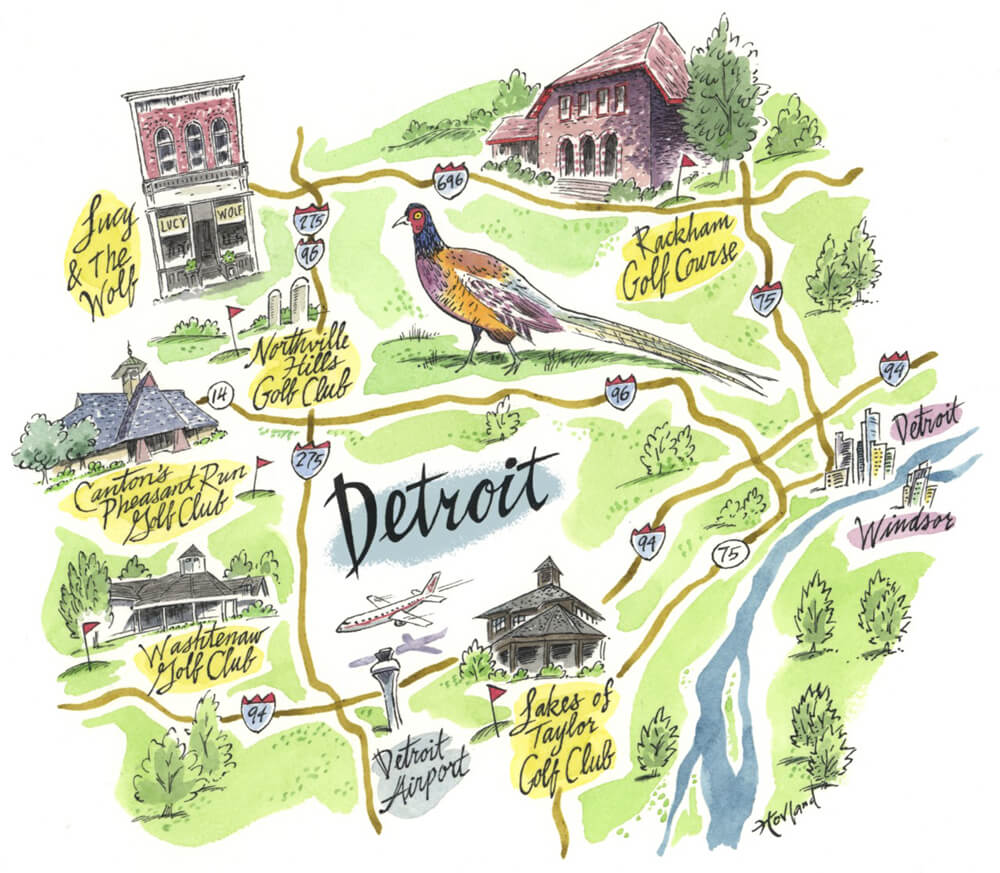 Head west on the freeway for 25 miles to Northville Hills Golf Club, an Arnold Palmer design opened in 2000 that winds its way through an upscale residential community. But fear not: the homes are situated far back from the course. Wide fairways and huge greens prevail as do excellent course conditions.  
For dinner, it's a short three-mile drive to downtown Northville and the delightfully named Lucy & The Wolf. It's basically an American tapas restaurant but with a distinctive Spanish character: Small plates—both "chilled" and "charred" items—reign supreme as do an extensive cocktail list and smart wine offerings. And to enjoy Michigan's pleasant fall weather, shady street side seating is available.  
Due south for nine miles is Canton's Pheasant Run Golf Club, another municipal layout by Arthur Hills. Situated on more than 300 acres of rolling topography marked by wetlands, woodlands, and native grasses, Pheasant Run features 27 holes. On the South nine, holes 15 and 16 with their tree-lined fairways lend an "up north" look and feel.  
Less than 13 miles to the southwest is Washtenaw Golf Club in Ypsilanti, whose origins in 1899 make it one of Michigan's oldest courses. For most of its history, Washtenaw was a private club but now it's a daily fee—and a classic 18-hole, par-72 test at that. Having called it "one of state's most underrated courses," noted architect Ray Hearn is now creating a master plan to restore and renovate the layout.
Before heading back to the airport, make a quick coffee stop at the Bridge Community Café, only a few minutes from Washtenaw. Freshly made rolls, bagels, and cookies pair up well with a wide selection of coffees.