Every famous golf course has at least one memorable, signature hole. But only a select number of those famous properties have equally famous food. Here, we've highlighted six, not-to-be-missed bites and dishes that are served at noteworthy golf courses around the country.
The Burgerdog at The Olympic Club—San Francisco, Calif.
Created in 1950 by Bill and Billie Parrish, the husband-and-wife team that owned Hot Dog Bills (a mobile hamburger trailer in San Francisco), the Burgerdog is a long rectangular beef patty made from a blend of ground chuck that is topped with fresh condiments and served on a toasted hot dog bun. Initially, the Parrishes created it for two reasons: 1) the shape of the patty took up less space on the grill, and 2) the patty fit nicely on a hot dog bun, which allowed them to be more resourceful.
In the beginning, the Parrishes would often park their burger trailer at Lake Merced, directly across from The Olympic Club's Lake Course. Before long, caddies were regularly trekking across the street to buy sandwiches for members. So, in 1954, the club offered Hot Dog Bills a permanent spot on club property. Today, Hot Dog Bills has three stations within the club; however, Burgerdogs are also served at Silverado Golf Course in Napa.
Crunchy Cream Pie at Firestone Country Club—Akron, Ohio
Almost five decades ago, Victor Pallotta, then Firestone Country Club's resident baker, was famous for his eclairs, but he always ended up with extra custard. Pallotta often experimented with ways to use the leftovers, but those experimentations stopped once he created a custard pie topped with crushed peanuts and coconut flakes. "It was one of those things that we rolled out to the members and it just took off right away," says Dick Robbins, the club's member services manager. "The next thing you knew, he was making more crunchy cream pies than anything else."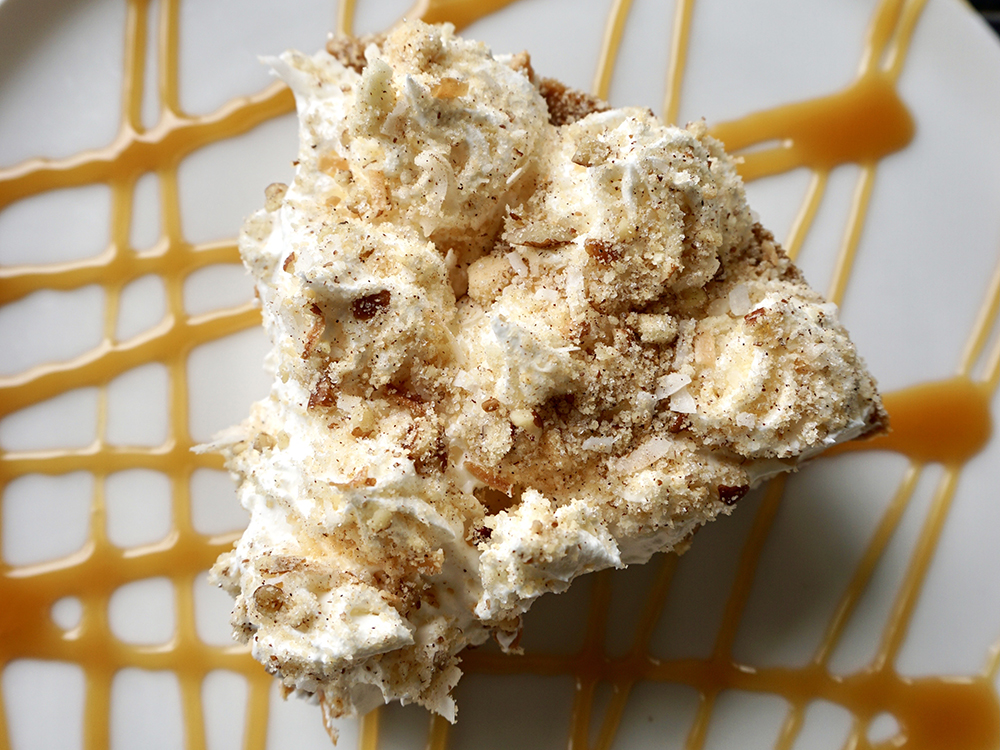 The pie itself isn't complicated—vanilla custard topped with a layer of fresh whipped cream and the aforementioned crunchy mixture—but it's delectable. Some might even call it addictive. "It was just the right concoction and everyone loved it," Robbins says, adding that a bevy of PGA Tour players have also gone out of their way for a slice over the years. In fact, Jack Nicklaus once sent his private jet to Akron to pick up 30 pies for a special dinner that he was hosting at his own club in Muirfield Village.
Snapper Soup at Pine Valley—Pine Valley, N.J.  
Beyond the 18 holes that were designed by George Crump and Harry Colt, circa 1918, there are many aspects of Pine Valley that also convey the golf club's long-standing history. One of them is the snapper soup that graces the club's dining menu—a rich concoction made not from fish, but from turtle.
Barry Hyde, a golf agent for the Wasserman company (and former CMO for the USGA) and son of noted chef Jeff Hyde, has worked in kitchens in Washington, D.C., New York City, and Vermont. He's also played rounds at Pine Valley and many of the country's most prestigious clubs and appreciates great food just as much as great golf. His advice about the soup to share with first-time guests of the club: "It's thicker than a bisque and it's meaty. It's heavier than you think, so stick with ordering a cup."
Also, bottles of sherry are positioned on each of the tables in the club's dining room. According to Hyde, first-time guests who order the soup inevitably learn afterwards that the soup is meant to be topped with a few dashes of the sherry. "It gives the soup a more pleasant finish," he says of the sherry, so don't hold back when adding it to the club's iconic appetizer.
Sheboygan Bratwurst at Whistling Straits—Kohler, Wis.  
At most golf clubs around the country—if not the world—golfers are likely to order a hot dog or two at the turn. That won't fly in Wisconsin, at least not at Whistling Straits in Kohler, where complimentary bratwursts are served up at the halfway point of rounds played on The Straits course (and all other courses at Destination Kohler).
View this post on Instagram
Produced by Johnsonville, a local company based in neighboring town Sheboygan Falls, the brats are spicier and plumper than a traditional hot dog, not to mention more fulfilling. The complimentary brats served at the turn are appropriately simplistic in their presentation, but golfers who want to double-down (literally) on their Wisconsin bratwurst experience can venture upstairs to The Irish Pub in the Whistling Straits clubhouse after their rounds and order the Grilled Sheboygan Double Bratwurst, which is loaded with sauerkraut, stewed onions, and spicy mustard.
Peanut Butter and Bacon Sandwich at Mountain Lake—Lake Wales, Fla.
Before golfers reach the 11th hole at Mountain Lake they'll come to Marion's 11th Tee, the private club's halfway house, whose name honors a club employee who had dedicated more than 30 years of her life to preparing food for the club's members. There at the 11th Tee, members line up for the club's famous grilled peanut butter and bacon sandwich.
"I thought it was odd for the sandwich to be famous until I had it," says Hyde. "It offers a delightful juxtaposition of textures and flavors. You bite into it and you get some chewy and salty crispness from the bacon along with the sweet and smooth peanut butter. It's just delicious."
The sandwich is so famous, in fact, that it's also served at Fishers Island Club, Mountain Lake's sister club in New York.
Buffalo Chicken Wings at Bayonne Golf Club—Bayonne, N.J.   
At first glance, it likely seems strange that Buffalo wings have made this list. You might be thinking, "How different can the wings at Bayonne Golf Club really be?" The answer, of course, is just different enough. Slathered in that unmistakable spicy sauce and served with chunky bleu cheese dressing, the wings deliver all of the expected flavors that a good Buffalo wing should. But as Hyde reveals, these wings earn special accolades for their presentation.
For starters, only drumsticks are served. Some wing purists are likely to argue that the flats of a wing are superior for their crispier skin and juicier meat, but when it comes to more substantial bites that are easier to eat, drumsticks win every time. The wings at Bayonne are also Frenched, meaning the end portion of the bone has been cleaned—this is the same technique that fine dining restaurants use to elevate the presentation of rib racks. In the case of Bayonne's wings, the technique also makes for cleaner, easier eating.
"They're chicken wings elevated," says Hyde. "If there was ever a fancy chicken wing, this is it."
What are some of your favorite famous golf course food items?