The village of Kohler, Wis., will take its place front and center within the golfing world when the Ryder Cup is brought into town and, over three days of competition, two dozen of the world's best players (along with an exuberant group of fans) will experience one of the sporting world's most passionate international events. During that time, the Straits course—a 7,790-yard Pete Dye design known for its psychologically intimidating layout—will monopolize the spotlight; yet Destination Kohler (as the resort is called) is so much more than one iconic, championship-caliber golf course.
Here is your insider's guide to the lesser-known aspects and amenities that make Destination Kohler a worthy candidate for your next bucket-list golf trip.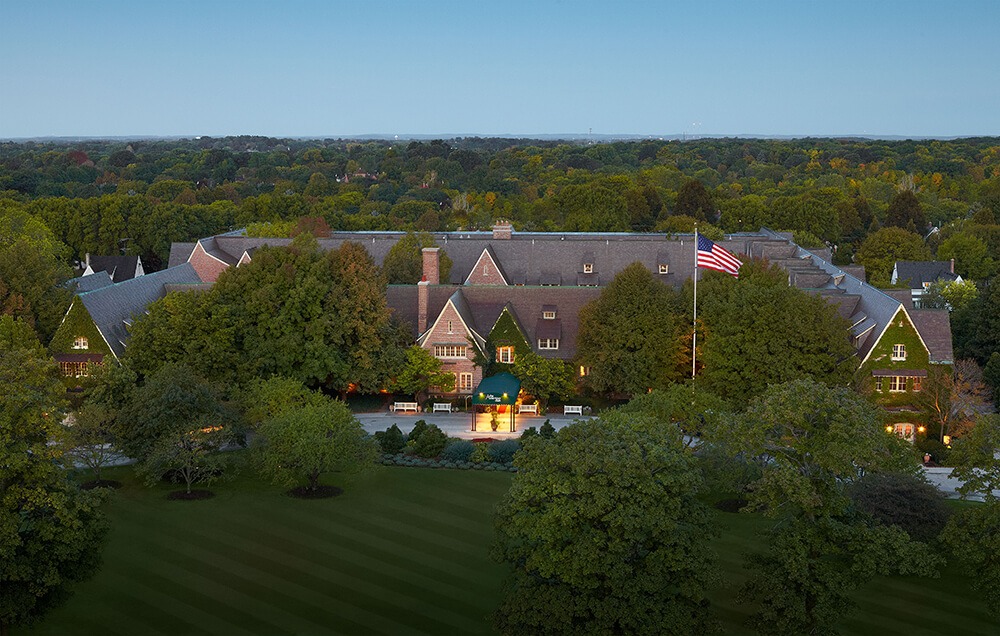 Golf Beyond the Straits
If the Straits course is the most visually intimidating golf layout in Kohler, then the River Course at Blackwolf Run, situated about nine miles south of Whistling Straits, is the most beautiful. Its glamour fully reveals itself on the 5th hole, a par four that starts with an elevated tee shot hit through a chute of trees to a generously wide fairway. The Sheboygan River makes an appearance on the right and shots are played to a green perched on a ledge that is positioned significantly uphill. The vista from the tee (and also looking back from the green) reaffirms the hole's "Made in Heaven" moniker.
Daniel Hastreiter, the head pro at Blackwolf Run, describes the River as "a shotmaker's golf course." But when storm fronts come in and the wind blows hard—as it often can—the layout also becomes a ball striker's course. Such was the case earlier this summer, when a four-hole stretch of my early morning round produced a three-club wind with even stronger, intermittent gusts.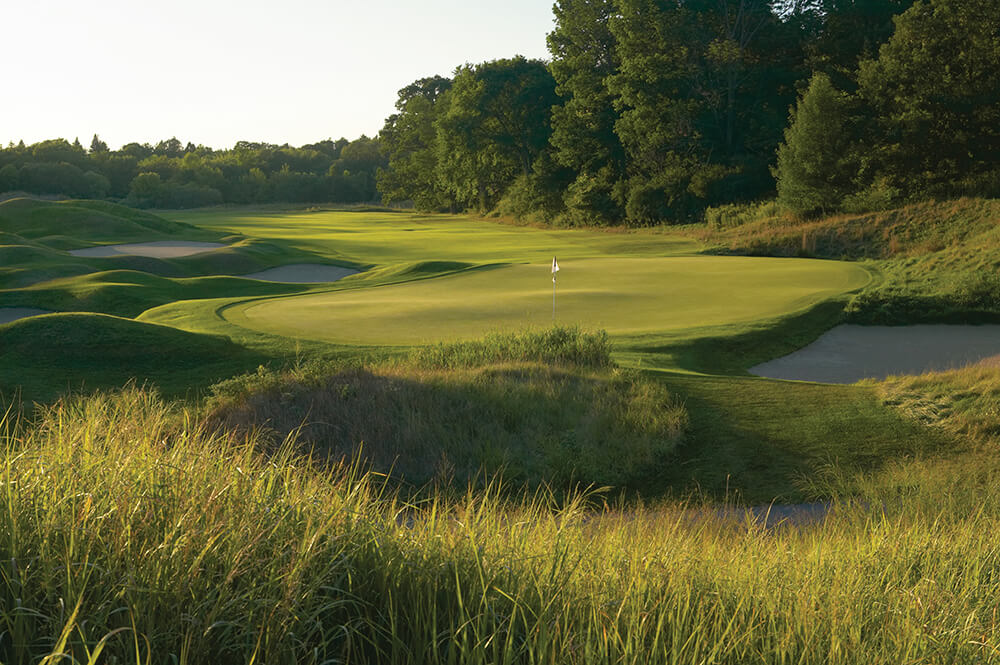 The back nine of the Meadow Valleys course at Blackwolf Run offers a few equally stunning holes, some which prove surprising to players who have no prior course knowledge. On the 227-yard par-three 15th hole, aptly named "Mercy," the massive green is punctuated by an equally massive swale running through the center; however, the severity of its right-to-left slope cannot be ascertained from the tee. On days when the hole is cut on the right side of the green—as was the case when I played it in July—shots that land a few yards left of the pin pick up speed as they roll farther and farther from the hole, an outcome that had me futilely pleading for mercy.
As for the ideal time to visit the resort, Hastreiter recommends September: "If you can make your way here when the salmon are running up the river and the leaves are changing colors, it's one of the most picturesque forest and river valley golf courses that I've seen."
Short Yet Sweet
Those who just can't get enough golf and are staying at The Inn on Woodlake can also roll putts on a boldly contoured practice green located only a few steps from the inn's back patio. The undulating putting surface has six hole locations, most of which are modestly positioned relative to the contours. One, however, is cut in a precarious spot near the back center of the green; as I joined a group of guests hanging out at the few small tables on the patio, cajoling over a round of beers, I watched as individuals took aim at that hole about 30 feet away. Some playful heckling ensued, though no one doing the jeering proved they could get any closer than six to eight feet.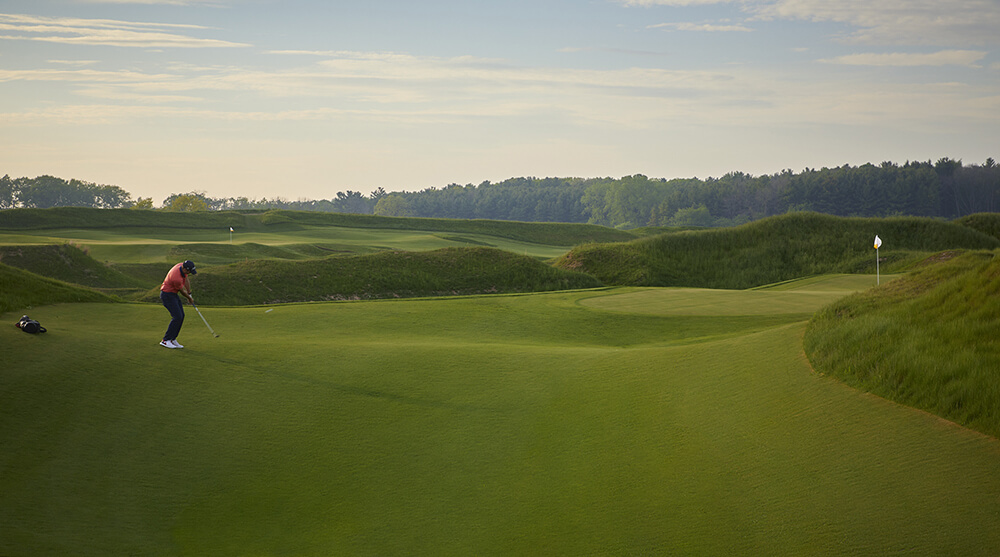 Such a relaxed level of fun is ratcheted up several notches when golfers visit The Baths, a 10-hole short course that features a few famous green complex designs (i.e., Royal Troon's Postage Stamp). Spread across 27 acres, the youthful course plays firm and fast; and with plenty of moguls around the putting surfaces (and unmistakable slopes on the greens), The Baths is a layout that not only encourages creativity, it rewards it. From the longer teeing grounds, some holes can play as much as 175 yards; but the course truly came alive when I grabbed a single wedge and putter to play the forward tees.
Active Lifestyles
Yes, guests who wish to take in the area's natural beauty can do so with rounds of golf on any of Destination Kohler's five courses, but a plethora of outdoor activities are also offered. River Wildlife has about 500 acres of hiking and biking trails, and guests can also go horseback riding, fly fishing, or shooting either at a sporting clays course or on driven bird hunts.
Destination Kohler's best-kept secret is the resort community's diverse portfolio of wellness offerings. At the expansive Sports Core athletic center, guests can partake in fitness classes, enjoy two swimming pools, or play tennis on indoor and outdoor courts, and in the summer, guests can also access a beach area and swim outdoors in the freshwater lake. At Yoga on the Lake, more than 75 classes are offered each week, from traditional indoor and outdoor sessions to detoxifying hot yoga classes taught inside an infrared studio that can reach 105 degrees Fahrenheit.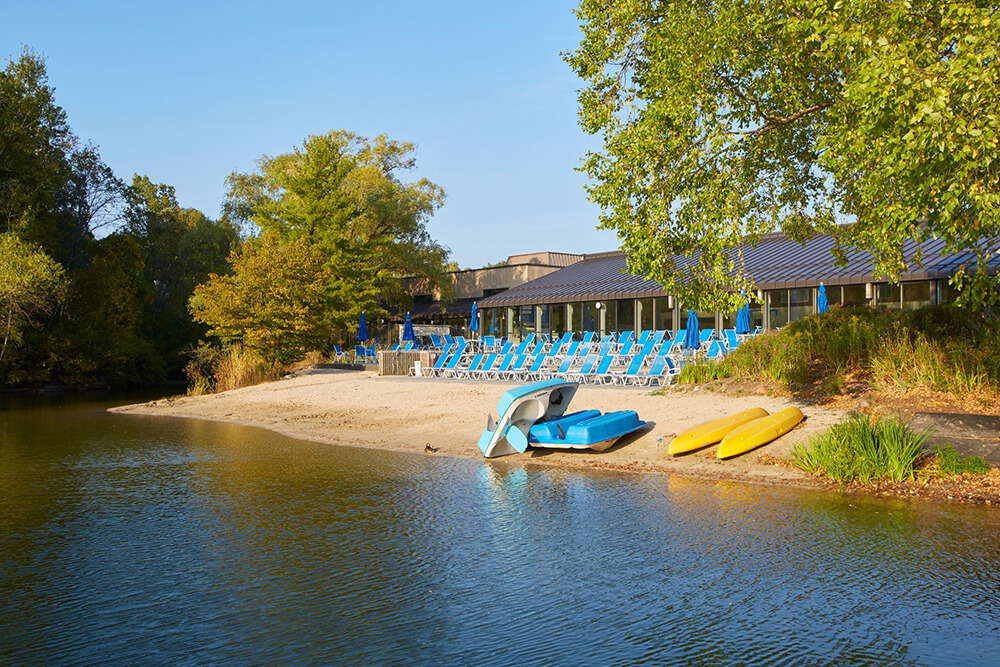 If you ask Hastreiter, who grew up in the countryside of northern Wisconsin, nothing beats a kayaking trip down the Sheboygan River. "Depending on river levels and how much rain we've gotten, it's either a physically intense exercise or a casual seat that floats you down," he says. "The kayaking trips also take you through the golf courses, so you get to see the holes from a different angle. You get a little different perspective of the topography as you wind your way through, as well as some moments of quiet and peace."
Aqua Therapy
If water-aided respite is what you're after—but the thought of paddling with or against the current isn't your idea of rejuvenation—book a treatment at Kohler Waters Spa, which offers more than a half dozen hydrotherapy treatments, many of which utilize Kohler's custom Vichy shower. This collection of treatments was inspired by the Latin phrase salus per aquam, meaning, "health through water." Hot water is incorporated to sooth the body and to slow down the activity of internal organs, while cold water stimulates and invigorates.
Of course, guests who stay in select rooms at The American Club can enjoy R&R in deep soaking tubs every day, if they so choose. Equipped with whirlpool jets and heated bubble massage functionality, these tubs were a godsend for me a few years back after battling a mid-October snowstorm during my round on the Meadow Valleys course.
Indulgent Food and Drinks
Given that the resort has hosted an annual food & wine festival for more than a decade, it came as no surprise to me that Destination Kohler is as committed to its culinary offerings as its fairways and greens. That dedication is fervently on display inside the six intimate dining rooms that comprise The Immigrant Restaurant—each a decorative homage to the half dozen European cultures that settled across what would eventually become Wisconsin. Meals at The Immigrant begin with an amuse bouche—in my case, a shrimp and nori salad with lime vinaigrette, fresh mint, and cilantro—followed by an offering of bread served with a citrus butter, fresh ground pepper, and rock salt. There's no shortage of delectable dishes on the menu; ultimately, I selected the pan-seared foie gras as a starter, and for my main course a grilled Wagyu beef strip loin served with a red wine purple potato puree, trumpet mushrooms, summer black truffles, and a Hoisin demi-glace.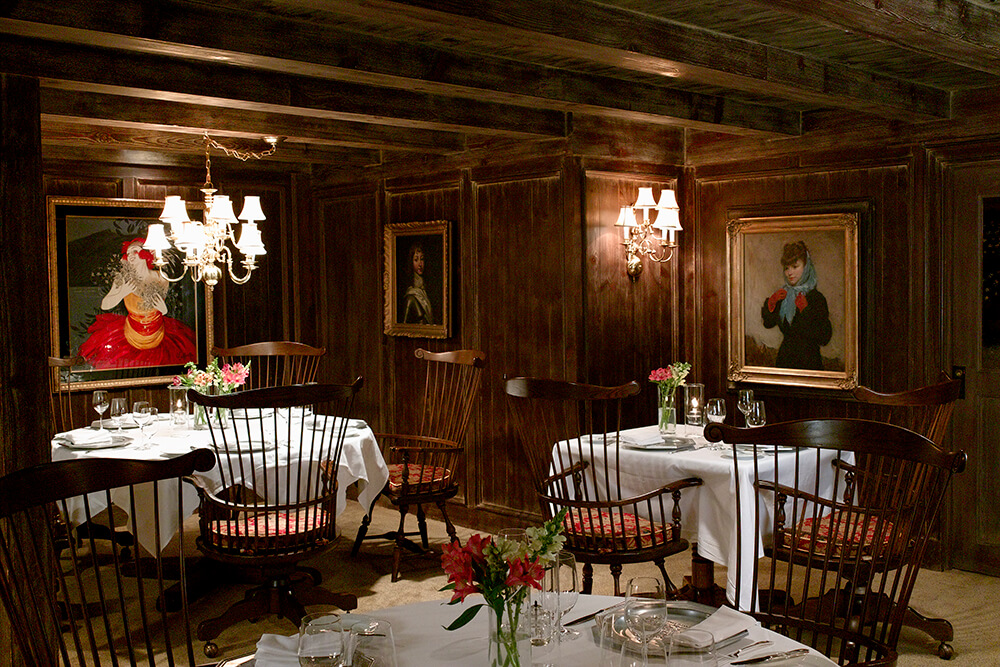 Dining experiences at River Wildlife (available only by reservation) are similarly distinctive. Seasonal menus will wow patrons with dishes that showcase unique Midwestern ingredients, such as walleye, while the various dining rooms, with their rustic lodge décor, can easily make one forget that they're only a mile away from the heart of the village.
As its name suggests, The Winery Bar inside The American Club offers full bottles or individual glasses of elegant Old World and American wines; standout pours include Cakebread Cellars chardonnay and Shafer Vineyards cabernet sauvignon. However, the intimate lounge shines brightest for its jaw-dropping whiskey collection.
For those who yearn to raise a pint at the end of the day, I found the broadest selection of craft beers at the Horse & Plow, a modern-day pub that once operated as a taproom for the Kohler Co. workers who lived at The American Club back when the 241-room hotel existed as dormitory. However, after a round at Whistling Straits, golfers would be remiss if they didn't venture to The Irish Pub on the second floor of the clubhouse. Not only does it feature a wall of windows that offers a view of the 18th hole on the Straits course, the pub also serves as a communal meeting area where players from around the country come together to clink pint glasses and commiserate about their rounds.
Design Center
The main floor of the Kohler Design Center, located only a short walk from The American Club, looked like what I might expect. It's the 36,000-square-foot facility's two other levels that make the design center a noteworthy destination, even if only for 30 minutes or an hour.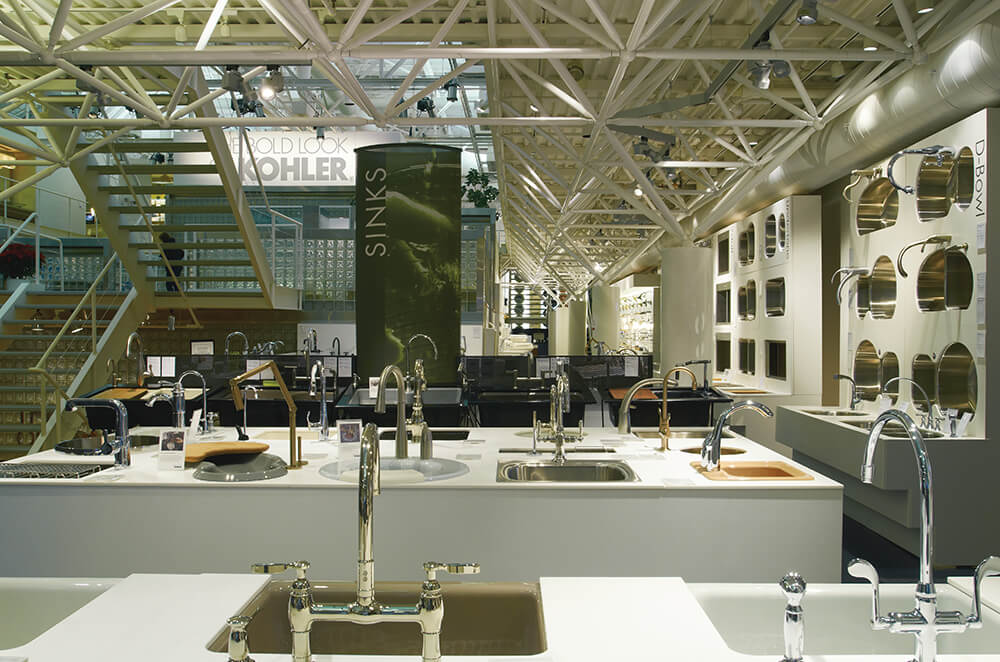 The upper level is like the Epcot Center for kitchen and bath design, home to dozens of designer galleries that position some of Kohler's flagship products in fully constructed (and tastefully designed) home environments. The lower level is the Design Center's most compelling space, home to a museum that tells the village's story, including how the Kohler family expanded a single company, founded in 1873, into a vast enterprise that spans several industries and has thrived for more than a century. Emerging from that basement museum, I stepped outside onto Kohler's Main Street not only with a new perspective on the village, but better appreciation for what it represents.
Have you been to Destination Kohler?