Like a carpenter, a bartender is only as good as their tools. These home-bar implements will help you nail it every time.
Anyone can pour gin over ice, top with tonic, and call it a day. And sometimes, that's really all we need. But when you want to mix a cocktail that exceeds expectations, it takes an attention to detail that goes beyond the ingredients. Choose tools as high quality as the spirits you enjoy and it will pay off in the clarity, balance, and overall deliciousness of your cocktails—as well as in the pleasure you'll take in mixing and serving them. Here are some easy upgrades that will seriously up your home bar game.
Jigger
With athletic shakes and dazzling free pours, bartenders make mixology look like a show. But behind all that fancy arm-work, it's all about precision. Invest in a jigger to ensure consistency and balance in each and every drink. OXO's is particularly good, with multiple gradations for precision measures and a nonslip grip for easy pouring even when it's wet. $11. oxo.com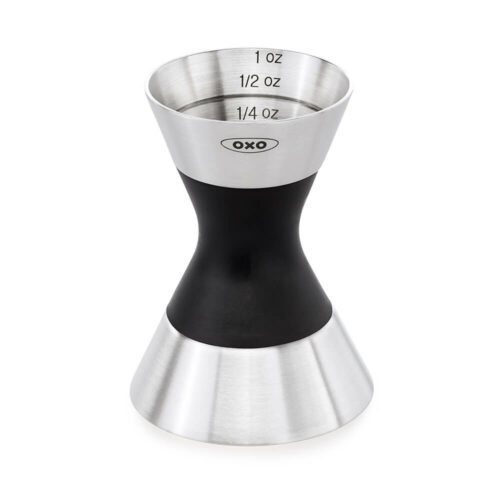 Mixing Glass and Bar Spoon
The ultimate mixing glass is a sturdy vessel large enough to stir the ice around the glass without banging it into shards. It's also thick enough to hold a good chill, so the drink gets cold without too much dilution. The perfect bar spoon is long and slim, designed to move the ice around in one whole unit, preserving its integrity.
Bull in China, a shop out of Portland, Ore., answers both these needs with extreme panache: Its Artisan Series BIC Mixing Glass ($128) is hand blown and subjected to a cold water bath to give it extra durability as well as a light-catching rippled-water effect. And its Teardrop Barspoons ($15–$20) are 12 inches of gracefully twisted, well-weighted metal available in a variety of eye-catching hues. bullinchinapdx.com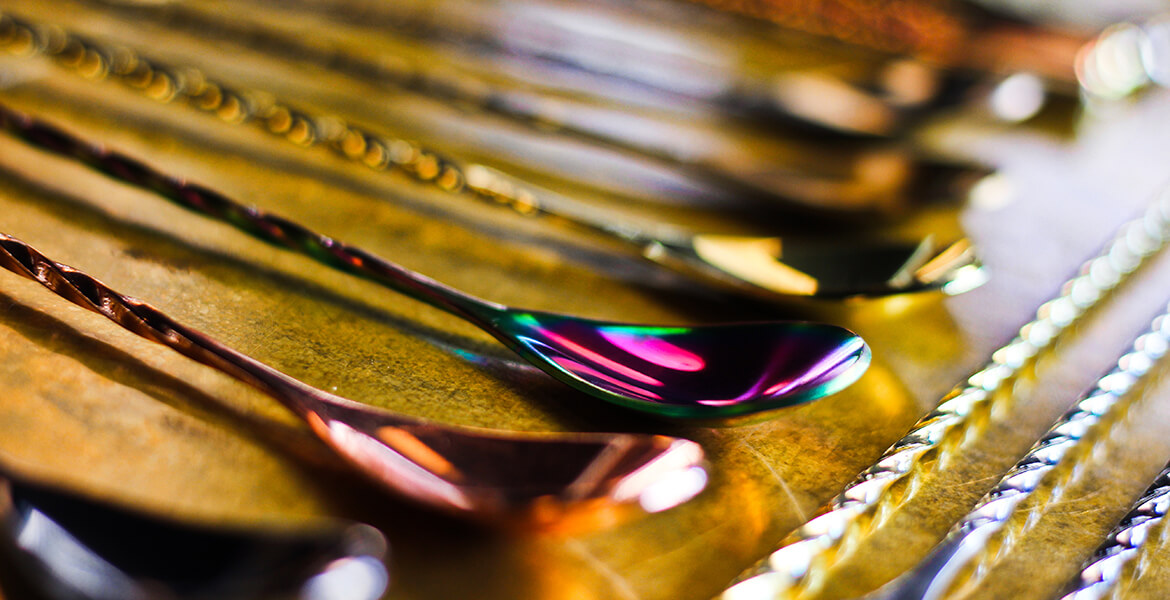 Boston Shaker
If you prefer your drinks shaken, not stirred, you'll need a Boston Shaker, which consists of a pint-glass-sized container that fits tightly into another similarly shaped one. Bartenders tend to favor metal-on-metal versions for their light weight and durability; the conductivity of the metal also makes it easy to gauge the coldness of the drink inside. They also tend to be easier to open than glass versions. Koriko makes the all-round bartender's favorite: A set of two weighted, heavy-duty stainless-steel tins runs $35.98. cocktailkingdom.com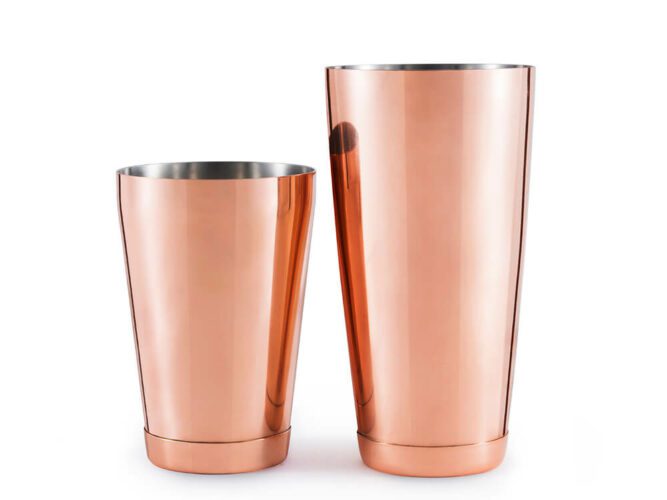 Hawthorne Strainer
To strain drinks off ice, invest in a Hawthorne strainer, made up of a coiled wire on a metal plate that fits snugly over the top of the glass. Select the sort with prongs on the sides for stability, and tight coils for crystal-clear strains. Buswell's 4-Prong Hawthorne Strainer is $22.99. cocktailkingdom.com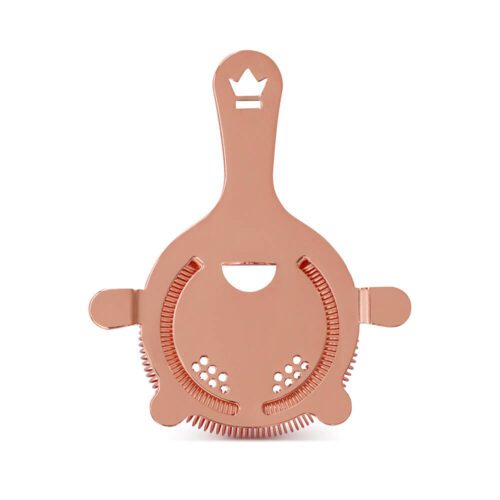 Cutting Board
Hardwood cutting boards are beautiful but need to be kept dry—something a busy bartender can't always do. Architec makes colorful, indestructible, nonslip polypropylene boards that are gentle on knife blades and don't mind getting wet—and they can take a spin in the dishwasher at the end of the night. $8. architecproducts.com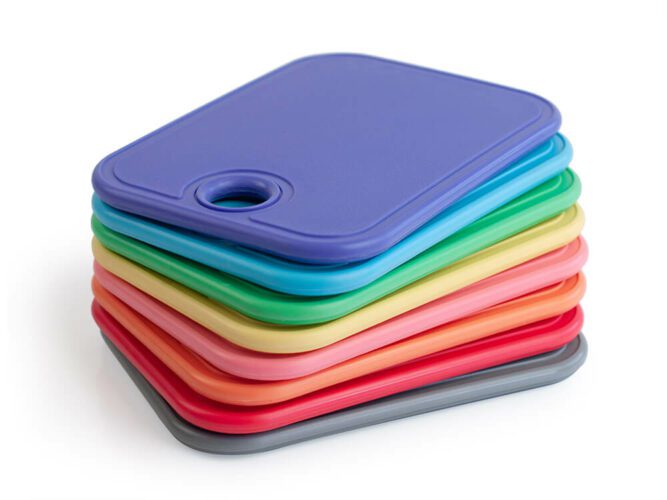 Ice Maker
Ice can make or break a good drink. Little cubes dissolve too quickly, diluting the spirit; large cubes with fissures or other structural imperfections quickly become the equivalent of ice shards. While top bars might install a Hoshizaki, the Aston-Martin of the ice world, or even chisel their own cubes from ice carvers' ice, Wintersmiths Phantom Ice Maker can make bar-quality, crystal-clear ice spheres in the confines of a home freezer. The Mini is $85 and makes three large and three small spheres; the full-size starts at $140 and can produce an array of spheres, cubes, spears, and prisms with its specialized molds. wintersmiths.com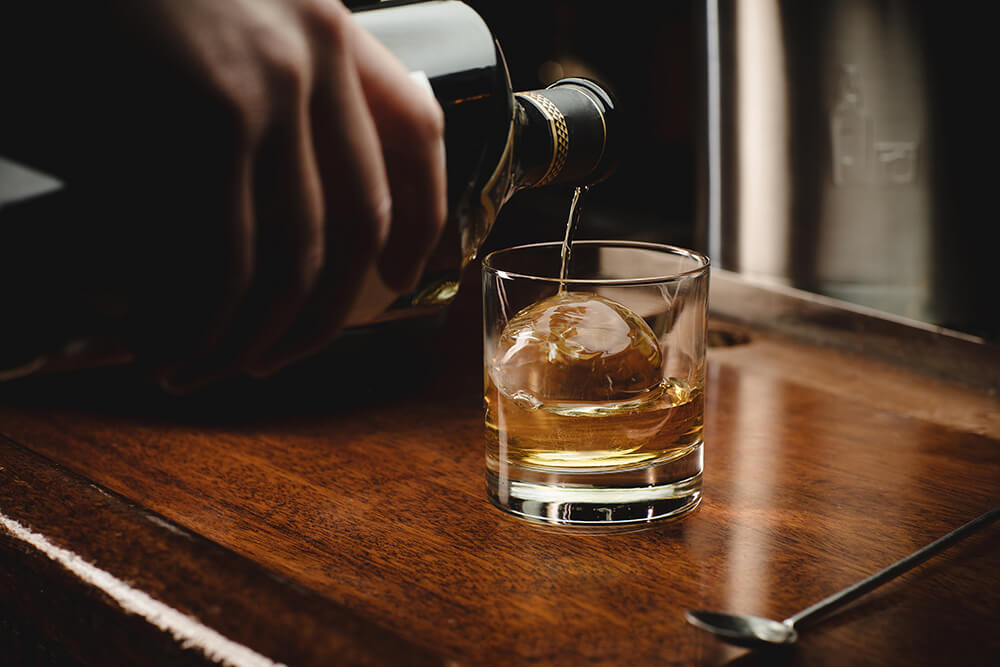 Fruit Juicer
If you care about the quality of the spirit in your glass, you should care just as much about the fruit you add to it. Fresh citrus juice begins to deteriorate, losing fragrance and acidity, within minutes of squeezing. Hand-held citrus reamers work well for small batches of drinks, but electric juicers are essential for bigger jobs. Sunkist makes an array that are fast and easy to operate. Or take it up a notch with a Vitamix, which will juice just about anything, including fibrous ginger and tough citrus zest. The high-speed whipping also aerates juices to give them what bartenders call a "fluffy" feel, creamy yet featherweight. The Vitamix Professional Series 750 is compact and self-cleaning, and even comes with a seven-year warranty. $599.95. williams-sonoma.com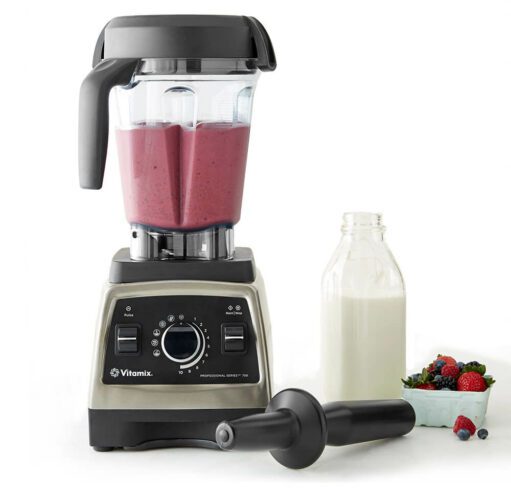 Bar Knife
Whether halving lemons or crafting garnishes, you'll need a sharp knife. Opt for a three-inch blade and consider ceramic. While it is more delicate than carbon steel, it won't stain if left in contact with citrus, and it keeps a wicked-sharp edge. Kyocera's Innovation line is designed to be extra-durable yet weighs just 3.8 ounces. The three-inch knife runs $39.95. cutlery.kyocera.com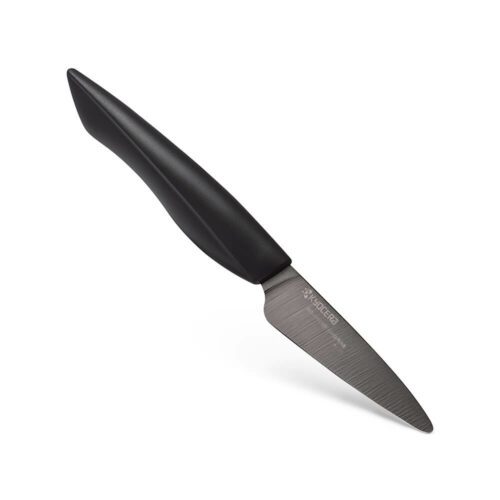 Muddler
If Caipirinhas and Mint Juleps are on the menu, you'll need a muddler to crush all the goodness out of the citrus and mint. Cocktail historian David Wondrich designed the Cato Muddler out of Ipe, an extremely hard Brazilian wood, so it will withstand moisture, acidity, and any other home bar abuse without needing varnish or other treatments that might leach into a drink. It's also got style, with a smooth curve that feels good in the hand. $26.99. cocktailkingdom.com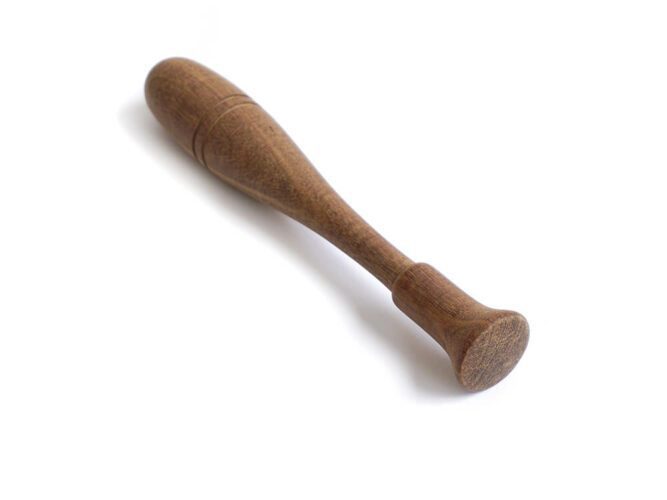 Glassware
Mason jars may be the rage in this day of to-go cocktails, but a beautiful drink deserves a beautiful glass. Austrian company Riedel may be best known for its extensive array of wine-specific glassware, but they do spirits as well. It engaged bartender Zane Harris to create Drink Specific, a collection of six glasses that covers all the classics, from a squat, sturdy rocks glass to the elegant Nick & Nora, a stemmed glass for chilled drinks that's easier to hold than the usual Martini. All are lead-free, dishwasher-safe, and cost $44 per set of two. riedel.com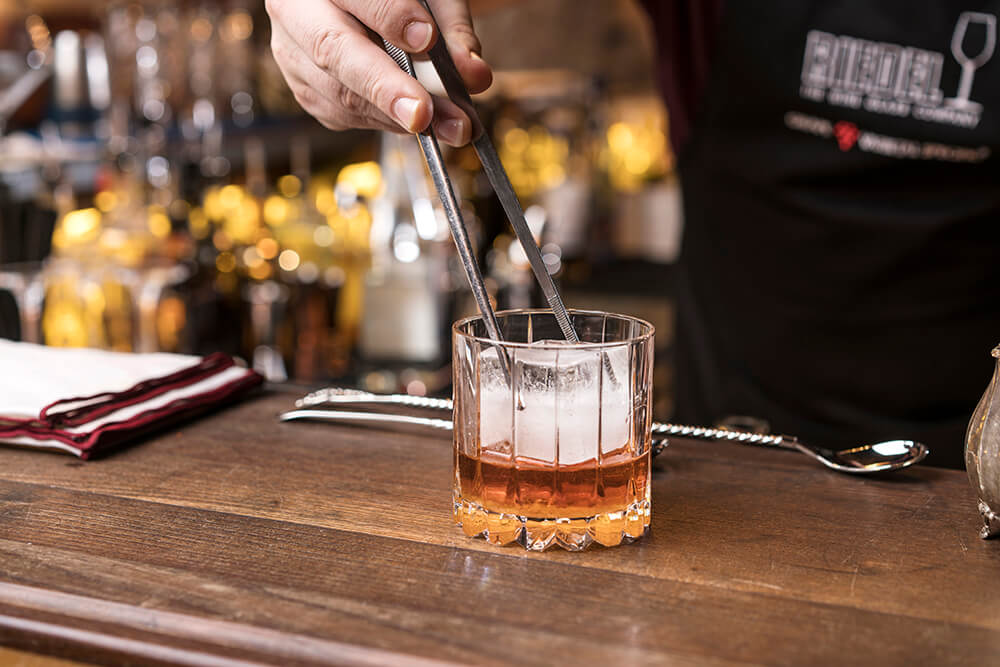 Bar Napkins
Don't leave your guests furtively drying their fingers on their pants: Always hand over a drink on a napkin. For maximum effect—and an environmentally friendly option—make it linen. At Leontine, you can design your own, from fabric to monograms, designs, and borders, and they will be cut from the bolt and then hand-stitched at Leontine's workshop in Hardinsburg, Ky. Heirloom quality, they are also machine washable. Prices start at $45 each. leontinelinens.com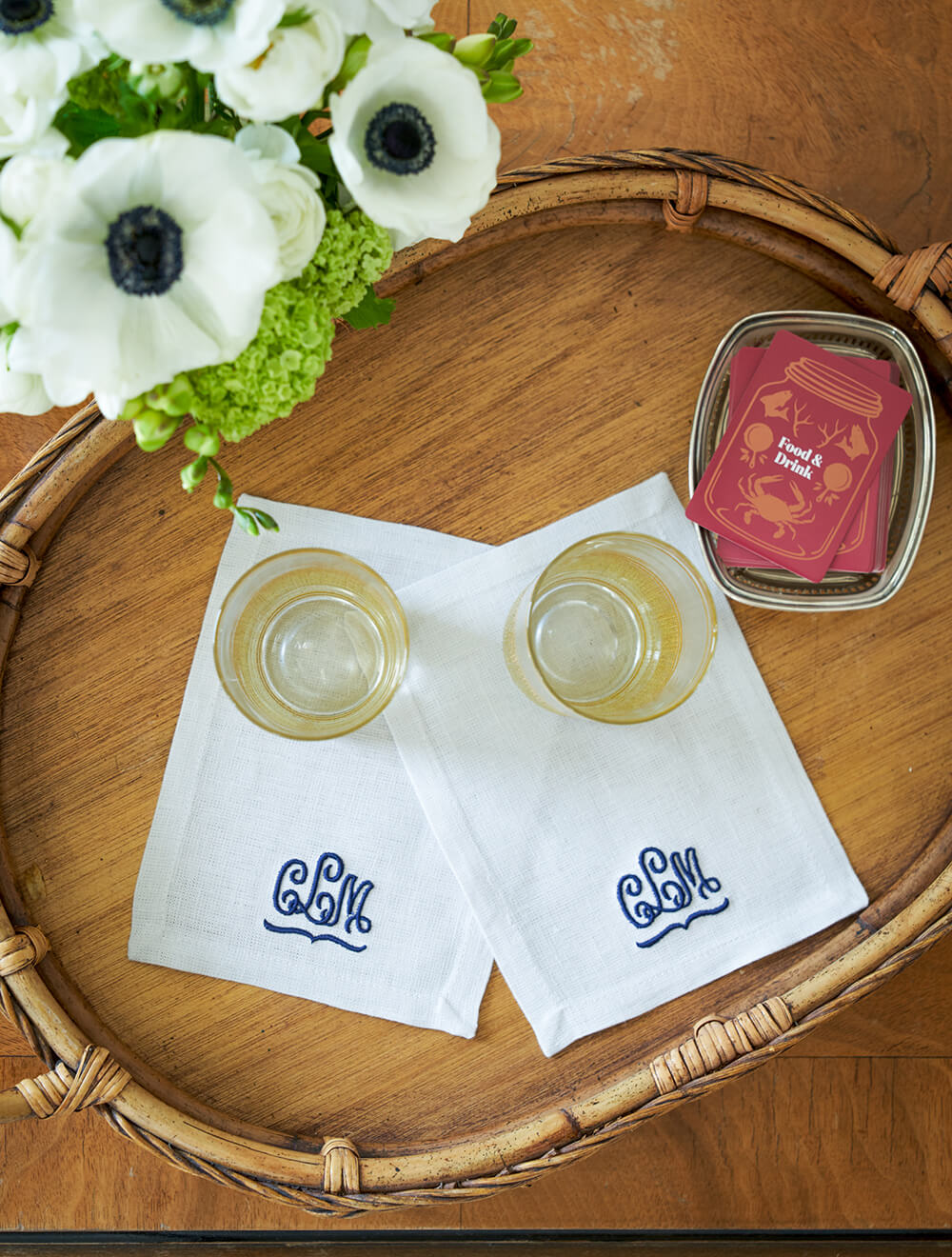 Reference Book

 
A cocktail manual is handy to have around, but the brand-new Oxford Companion to Spirits and Cocktails has the answers to every question you could think of—and a whole lot more. Unclear on just why absinthe was outlawed? Want to know more about rye whiskey or China's baiju? Or just need to know how to mix a Brandy Zoom? Editor David Wondrich and his team of 150 experts deliver, and in a manner so engaging you may find yourself reading it for entertainment. $65 
What items do you have in your home bar?