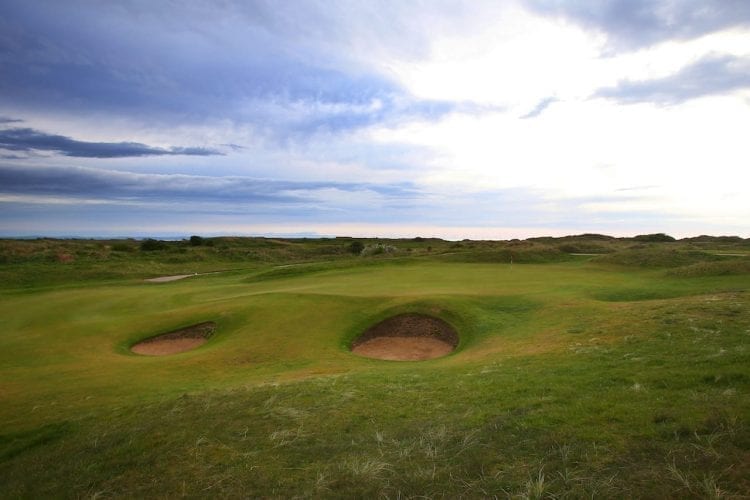 It's a bit fresh today," a member said cheerfully, referring to the wind. (My transcription of his remark is based partly on lip-reading: the gale made hearing unreliable.) The course we were playing—St. Annes Old Links, on the Lancashire coast in northwestern England—has a few small water hazards, of which the largest is smaller than a pond and the smallest would fit under your living-room rug. There were whitecaps on all of them. I had driven to St. Annes that morning from the airport in Manchester, and as I approached the course I noticed sand dunes forming along the windward edges of the curbs on the main road. The conditions, in other words, were ideal for links golf.
If you measure in a straight line, St. Annes is less than 30 miles from Royal Liverpool, where the Open Championship was held in 2014. Yet the curving seaside corridor between the two clubs contains what may be the world's densest concentration of first-rate links courses, known locally as England's Golf Coast. Three of the courses are on the Open rota—Royal Lytham & St. Annes, which hosted the Open in 2012, and Royal Birkdale, which will host it in July, are the other two—but the non-Open courses are so good that you could spend a week playing only them and still have an unforgettable trip. In 2010, eight friends and I played 15 rounds in eight days on 11 Golf Coast courses, and at dinner on our last night in England the nine of us named eight of them as the one we would most like to play again.
England's Golf Coast owes its existence to the affluence of late-19th-century Liverpool, which was one of the world's busiest seaports and was described by a London newspaper in 1886 as "a wonder of the world" and "the New York of Europe." Real estate developers built golf courses among the sand dunes to the north of the city—in order to tempt prosperous Liverpudlians into buying houses beyond the reach of the coal smoke that hung above the docks—beginning with West Lancashire Golf Club, just beyond the mouth of the River Mersey, in 1873. Men who traded cotton, sugar, timber, and grain would finish their business by midday, grab their golf clubs, and catch the noon train to the linksland. Some of the courses they played no longer exist—Blundell, Banking & Insurance, Grosvenor, YMCA—but the ones that have survived are awesome.
The history of the Golf Coast is the subject of Links Along the Line, by Harry Foster, a retired teacher and a social historian. I bought a copy in a local bookstore in 2010, and read it twice. Three years later, I looked up Foster himself, and he invited me to join him and two friends for a round at Hesketh Golf Club, where he'd been a member for many decades. Foster was in his early 80s. (He died the following year.) Spring hadn't reached his joints yet, so he didn't play, but he rode along in a golf cart and provided expert commentary. On the second tee, he told us that a volunteer artillery battery used to practice firing 25-pounders toward the sea from roughly where we were standing. "They gave advance warning to the local fishermen," he said, "and then the fishermen would retrieve the spent shells from the mud flats and use them as ballast."
That evening, Foster and his wife joined me for dinner at Formby Golf Club, a few miles to the south. (They met in a Liverpool dance hall shortly before the rise of the Beatles.) Formby, Foster said, was founded a month before Hesketh, in December 1884. "At first, they limited the membership to 25," he said. "They leased the land for just six months of the year because during the summer it was their intention to play 'proper' games." Formby is unusual among seaside courses in that many of the holes are bordered by pine trees, which the original landowner planted in profusion after admiring them in France. The 7th, 8th, and 9th holes are relatively recent additions; they were built in the 1970s to replace three holes that the ocean was devouring. The new 7th and 8th—an uphill par four and a sinuous downhill par five, whose curving fairway is as hard to hit as the top of a balance beam—aren't the least bit links-like, but they're both terrific holes, as is the new 9th, a long, long, long par four.
Formby has a second course and club, Formby Ladies, which was founded in 1896 and has its own clubhouse, greens staff, mowing equipment, and finances, as well as 350 members. The ladies' course is encircled by the big course. It's short but notoriously challenging: a man competing in a senior tournament once said, "You told me it was 5,300 yards long. You didn't tell me it was one yard wide." I had skipped Formby Ladies on previous golf trips, but this time I played it twice, with two pairs of members, and I'll never skip it again. One of my playing companions was Anne Bromley, the secretary manager, who grew up at Royal County Down, in Northern Ireland, where her father was the head professional. "I learned to play with just the odd-numbered irons," she said, "but then I had to switch to the evens, because my father had sold my set." The 12th on Formby Ladies, a 158-yard par three, is often said to be the best hole on either course. My favorite was the one just before it, a short par four that has no bunkers but does have several bomb craters: Liverpool was a Luftwaffe target during the Second World War, and not all the bombs fell on the docks.
The turnoff to both Formby and Formby Ladies is from Victoria Road, also known as Millionaires Row. (The current millionaires include several famous footballers.) At the far end of the road is the southernmost section of the Ainsdale Sand Dunes National Nature Reserve, which extends up the coast toward Southport. Its attractions include a broad beach, the Formby Red Squirrel Reserve, and enough prime linksland for three or four more courses, should British conservation authorities ever decide that golfers would be a good fit with natterjack toads and great crested newts. I drove to the end of the road one afternoon and bought a cup of coffee at a mobile stand, which was operated by a middle-aged couple. The man—who turned out to be a retired Merseyside policeman—noticed my golf hat, struck up a conversation, and invited me to join him and his son for a round at Southport & Ainsdale, where he's a member.
Southport & Ainsdale hosted the Ryder Cup in 1933 and 1937 and the British Amateur in 2005. It occupies the southeastern third of what from the air looks like a single 54-hole golf course: S & A is separated from Hillside Golf Club by a Merseyrail commuter-train track, and Hillside is separated from Birkdale by scrubby vegetation and a fence. If you added a pair of wire-cutters to your golf bag, you could manage the whole thing without returning to your car. Harry Foster told me to be sure to notice that the holes at Birkdale, whose principal designers were J. H. Taylor and F. G. Hawtree, follow the valleys between the dunes, while the holes at Southport & Ainsdale, which is mainly the work of James Braid, play across them. He also told me that he doesn't think much of Hillside, whose second nine was added in 1967, because "I don't like holes where a designer drew them up on a drawing board." (That drawing board belonged to Fred W. Hawtree, F.G.'s son and Martin's father.) Still, the second nine at Hillside is spectacular, and was once described by Greg Norman as the best in Britain.
A good place to park yourself overnight during a Golf Coast adventure is in the city of Southport, which is roughly halfway between Liverpool and Lytham. In 2010, my friends and I rented three large three-bedroom apartments, which I'd found by Googling patiently and making a few phone calls.