They were from Calgary, a middle-aged couple riding back from the golf course with me to our rooms. He was in the front seat, she and I in the back, when she whispered to me, "It's our second marriage, but this one's a keeper. He loves golf almost as much as I do."
But what they really love, she said, was the course they'd just played, and not for the first time. They'd been coming to this property—Vidanta Puerto Peñasco, at the top of the Gulf of California—for the last few years, escaping the Canadian winter for three or four weeks at a time. They have a big, luxurious timeshare suite overlooking the gulf and play the Nicklaus-designed course every day.
When I told her I write about golf for a living, her happy expression turned serious and she said, "Please don't tell other people about this. We don't want to share it."
Sorry, folks. It's my job. And this is too good to keep hidden.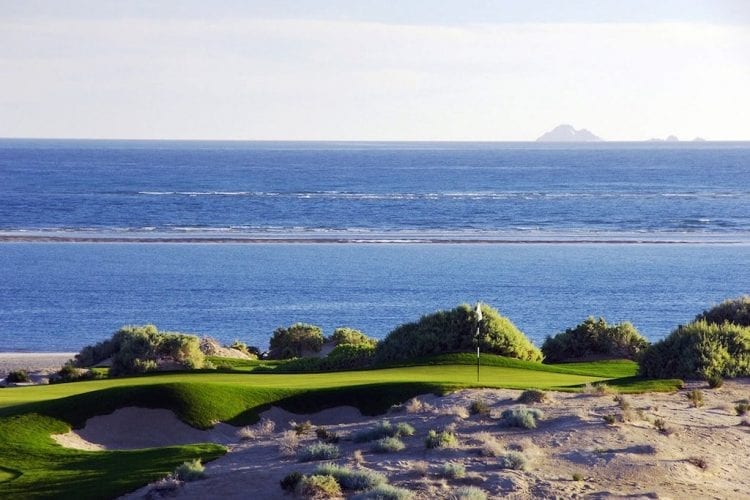 You've likely never heard of Vidanta, a 43-year-old company that has grown from a single hotel to seven membership-based (timeshare) vacation destinations throughout Mexico. Vidanta also builds and sells vacation homes, and is the largest course operator in the country.
Of the seven destinations—Mazatlan, Acapulco, Riviera Maya (near Cancun), Los Cabos, Puerto Peñasco, and two in Puerto Vallarta (called Puerto Vallarta and Nuevo Vallarta)—all but Mazatlan and one in Puerto Vallarta have golf. Nicklaus is responsible for 18-hole courses at Nuevo Vallarta and Puerto Peñasco, as well as an 18-hole "experience" at Riviera Maya, a collection of famous par-three template holes (Biarritz, Redan, etc.). Nuevo Vallarta recently opened a new Greg Norman course, while Los Cabos has a nine-holer and Acapulco an 18-hole layout.
That's as of now. More is coming.
For example, the Norman course at Nuevo Vallarta—a deceivingly challenging layout featuring wide fairways, long waste areas, and fast greens—has already undergone significant renovation since I attended the opening last fall. Re-routing will result in a total of three Norman nines, with the original 18 getting an extra dollop of difficulty.
The Nicklaus course at Nuevo Vallarta will get nine new holes within a year, creating a tougher, yet still pretty, trek through jungle and lakes. And the nine being replaced will become part of the world's first Cirque du Soleil theme park. The park will also include new hotels, which will offer stay-and-play golf packages. Furthermore, the golf academy will soon double in size, and a very cool par-three course, called The Lakes, opens this summer: Playing between high-rise resort towers, it's walking only, no hole is longer than 160 yards, and should take about 90 minutes to play.
There are also changes in store for Puerto Peñasco, but thankfully not to the golf course, which Jack and son Jackie built more than 10 years ago yet doesn't resemble many other Nicklaus creations I've seen. Wedged on a peninsula between the gulf and an estuary, it flows naturally through sandy dunes and large waste areas. The course is scenic, strategic, and woefully underutilized, but may get more play once the property expands, adding an indoor/outdoor waterpark that should attract more families.
Vidanta properties are set up for families and every other type of traveler. All its properties offer numerous choices of accommodations, varying in luxury, amenities, and price. And owning a timeshare offers other advantages. "When you are a member and own at any of our resorts, you can travel to all of them as if they were all your own," explains Kelsy Christensen, managing partner of Vidanta Golf. "We create a 'home away from home' without worrying about upkeep, insurance, and all the other stuff you have to deal with if you own a second home. And when you come back months later, it's as good or better than how you left it."
Next on Vidanta's drawing boards is East Cape, near Cabo San Lucas at the tip of the Baja Peninsula. The 3,000-acre property will be perched above the Sea of Cortez and offer resorts, restaurants, watersports (including, the website says, "the largest pool on the planet"), other amusements, and a new Norman golf course.
If you hadn't heard of Vidanta already, you will soon.