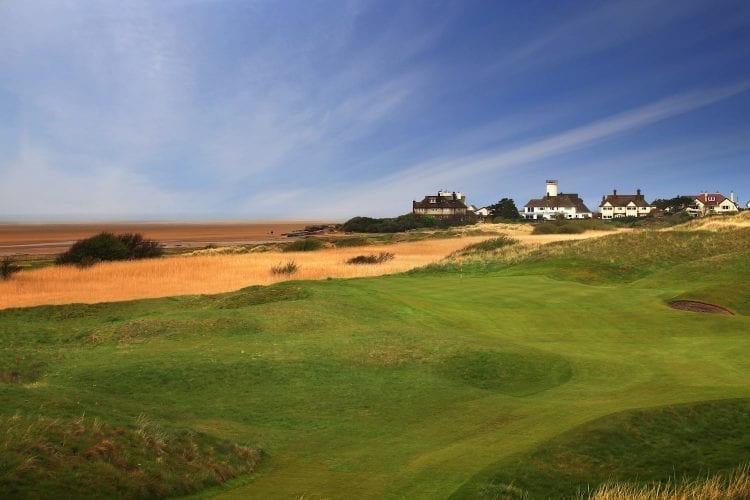 Shortly after winning the 1930 British Open, Bobby Jones described Royal Liverpool as "a long hitter's paradise lacking in subtle character." Nearly three-quarters of a century later, those words are as fitting as ever.
The links commonly known as Hoylake measured 6,750 yards when Jones won the second leg of his Grand Slam there in 1930; today it stretches to a muscular 7,200 yards. That's more than sufficient to test modern-day power hitters—which is exactly what it will do now that it's rejoined the British Open rota for the first time since Roberto De Vicenzo's two-stroke victory over Jack Nicklaus in 1967.
The club expanded its tees, moved bunkers and built several new greens in recent years, then underwent a full-blown renovation in 2000, "to guard against having a collage of piecemeal changes," says C.T. Moore, Royal Liverpool's club secretary.
But to host an Open again, Hoylake needed more breathing room for parking, corporate tents and merchandise pavilions, and practice areas. That requirement was met with the acquisition of a nearby 10-acre field and a partnership with a neighboring golf course. Thus, sometime in the near future (an exact date is yet to be determined) a British Open will be contested over this historic venue. When it ends, it's possible Tiger Woods and his tour pals will have no idea what hit them.
If the wind blows, Hoylake will surely distinguish itself as one of the toughest venues on the rota. From the first hole onward, the course applies the pressure and refuses to let up. The opening tee shot presents the golfer with a narrow alley marked by white OB stakes on the right and left, then a 90-degree right turn at the 260-yard mark. Hit it too long and you're in knee-high rough; hit it left or right and you're out of bounds. Throw in the fact that the prevailing wind is nearly always in your face, and you quickly realize this is the toughest opening hole in major championship golf.
The unusual interior out-of-bounds at No. 1 stems from the course's former life as a horse track: The first and 16th fairways make up the track's oval and the infield is used as a warmup area. You're more accepting of such oddities when you know they've been here since 1871. Royal Liverpool is the oldest course on the West Coast of England, and the site of more British Open Championships than any course in the country.
Like the city of Liverpool itself, the Hoylake course is tough and industrial, a no-nonsense, workmanlike links with a hidden sense of artistry buried just beneath its sandy surface. There are no jaw-dropping, pulse-quickening vistas on the property, nothing to make you stop and stare. As at Royal Birkdale a few miles to the south, the ocean is visible from only a couple of holes at Royal Liverpool.
So, if you're going to England for the scenery, you can scratch this links off your list. But if you're going for high-quality, demanding golf with little subtlety and a premium on length, Hoylake is the place for you. As at all great British courses, there's a richness of golf history about the place. John Ball, winner of the 1890 British Open and five-time British Amateur champion, lived a few feet off the 18th fairway. His neighbor was Harold Hilton, winner of the 1892 and '97 Opens.
A total of 10 Opens have been contested at Hoylake, each with a fascinating story and all with great golf ruling the day. For instance, in 1902 technology turned the corner as unheralded Sandy Herd upset the mighty triumvirate of Harry Vardon, James Braid and J.H. Taylor. Herd shot 301 in an Irish Sea wind so strong players could barely keep their tweed coats buttoned. But it wasn't the upset of golf's ruling elite that made news as much as it was the equipment that produced Herd's victory: He became the first major champion to win with the new Haskell wound ball. The gutta percha soon went the way of the feathery, and the wound ball became a staple of the game.
In 1930 Jones picked up the claret jug for a third time by playing what he termed "sloppy golf." Only his prodigious length and skilled recoveries around the greens kept his Grand Slam quest alive. In the final round, he all but gave away the championship on the par-5, 480-yard eighth. After negotiating the first 465 or so yards in two, Jones left with double-bogey, a ghastly turn of events that prompted the famous British journalist Bernard Darwin to write, "A nice old lady with a croquet mallet could have saved Jones two shots."
But Jones went ahead for good with a miraculous up-and-down birdie from the greenside bunker at the 16th. That bunker was markedly different from the ones found at present-day Hoylake. The scruffy hazards faced by the likes of Hilton, Herd and Jones would be considered waste bunkers today. Revetted bunkers, those deep-walled pits that look more like dried wells than sand hazards, came into vogue only after World War II, when wispy grass and unkempt sand were no longer considered acceptable.
Players will find the bunkering at today's Hoylake to be penal but fair. A long, straight shot won't end up in trouble; an errant shot, no matter how innocent it might appear, is likely to end up at the base of a sand-filled sinkhole that could swallow a midsize car.
When the Open makes its triumphant return to Royal Liverpool (the year is still to be determined), expect a long hitter to prevail, although anything is possible if the winds are calm and the course is soft. Certainly no one could have predicted De Vicenzo's victory over Nicklaus, a win that prompted the affable Argentine to confess, "I was only stealing some of the Bear's honey."
Lacking in subtle character though it may be, Royal Liverpool will once again make a worthwhile championship venue. Darwin best described it when he wrote, "Hoylake, blown upon by mighty winds, breeder of mighty champions."