Longtime PGA Tour caddie Steve Hulka was waiting to check in at Baltimore's Thurgood Marshall Airport not long after 9/11 when he spotted two military personnel carrying M-15s. That's when it hit him how much traveling, especially for those who do it for a living, had changed for good.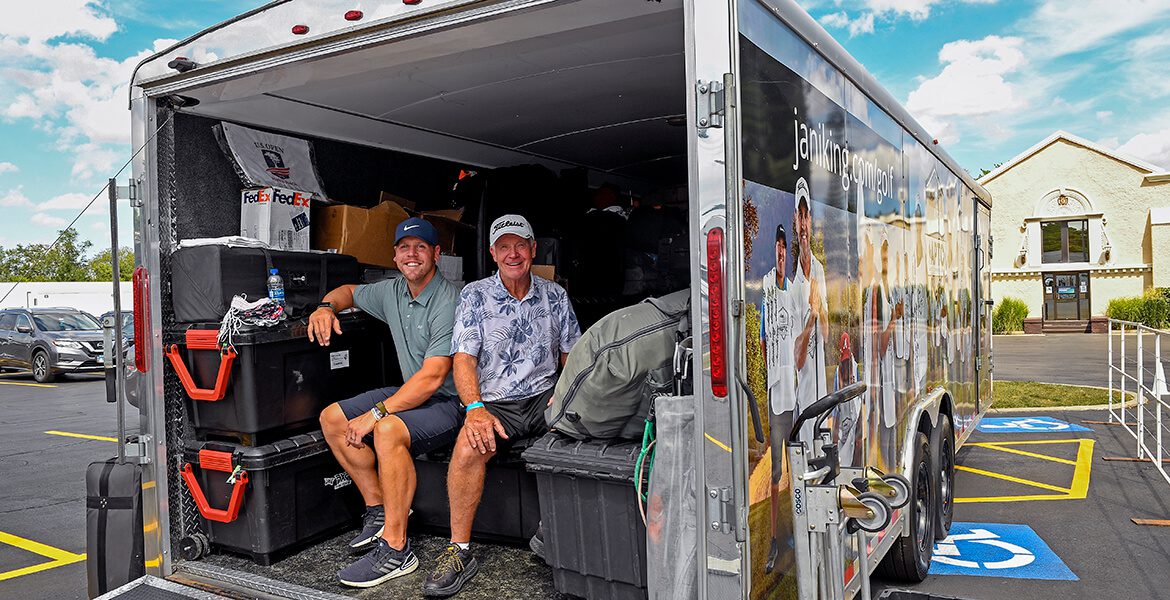 "It was an eye-opener and I thought, 'Are the players going to go through this hauling all their gear every week?'" he recalls. "Right there in the line, I thought, 'What if someone else handled all that hassle?'"
Hulka, 68, launched a club-toting business in 2003 with the PGA Tour's blessing and the support of players Paul Stankowski, Jonathan Byrd, Ben Crane, Pat Bates, and Tim Herron, who each contributed $1,500 in seed money and became charter members. Corey Pavin, who had a young child at the time, caught wind and wanted in, too. "Like the NHL, I call them my original six," Hulka says.
The company name, HOPE—Hulka's Overland Player's Express—wasn't by accident either: "I hoped the players would want to use it."
He bought a 2003 Chevy Silverado and a trailer and word of mouth did the rest. That first year, his clientele grew to 20 players; today, more than 50 full-timers pay Hulka an annual fee to transport some 200 plastic bins and items to every domestic Tour stop.
The Hulka Express is on its fourth truck, each time upgrading to a larger trailer (it's now 24 feet long). Trailer No. 3 was purchased for Hulka by former PGA Championship winner Rich Beem, who did so with one caveat: becoming a HOPE life member.
It's a family affair, with Hulka's wife Mary handling the books and often driving the graveyard shift, and son Ben, who caddies for C.T. Pan, learning the ropes.
They've lugged their share of unique items. Webb Simpson never leaves home without his personal coffeemaker. Crane's fishing poles hang from hooks. For three years, Louis Oosthuizen traveled with a Stearns & Foster Queen mattress for his achy back. Paul Casey and Greg Owen used to squeeze mountain bikes aboard. Matthew Wolff has stored an electric motor scooter for his grandma.
Rickie Fowler, who has a Container Store worth of bins, is among the players who have autographed the inside metal roof, adding, "You make life easy." Life is even easier for the likes of Simpson, Aaron Baddeley, and Kevin Chappell, who all have large, young families and have benefited from "The Schmooze" option: Hulka drops off all gear at a player's rental house or hotel on Tuesday or Wednesday and picks it up again on Saturday or Sunday. It costs a little extra, but it's a small price to pay to be able to go straight to the airport gate with just a backpack containing a toothbrush and a change of clothes.
The Hulka Express averages 30,000 miles a year, but despite all that tread on the tires, Hulka has been ticketed by the police only twice and his lone accident was the time he hit the carcass of a mule deer in West Texas after midnight and needed $8 in quarters to clean up the rig.
Hulka first caddied at the 1971 Robinson Open, a long-defunct Illinois Tour event, at age 19, where he made $20 and three percent of winnings. Since then he's worked more than 1,100 events for more than 160 players, which, he jokes, "makes it sound like I couldn't keep a job." But gimpy knees and a desire to spend more time with his grandkids have him threatening to call it quits, with Ben and wife Heidi planning to take the wheel of the family business next season.
"I'll spell them occasionally," Hulka explains. "And I'm permanently on call to caddie." The Hulka Express rides on.