Ahh yes, the lavish life of a tour professional. How many times have you watched a golf tournament on television and thought, "These guys get paid to play golf for a living…How cool is that?"
Yes, being a tour pro certainly has its perks. Playing a game you love in vacation-like settings for large sums of money certainly sounds fantastic, but for many professionals the life is an absolute grind.
After years of covering professional golf and the players that tee it up for a living, I've heard many misconceptions about the game they play and the life they live. Here are 5 myths about tour pros.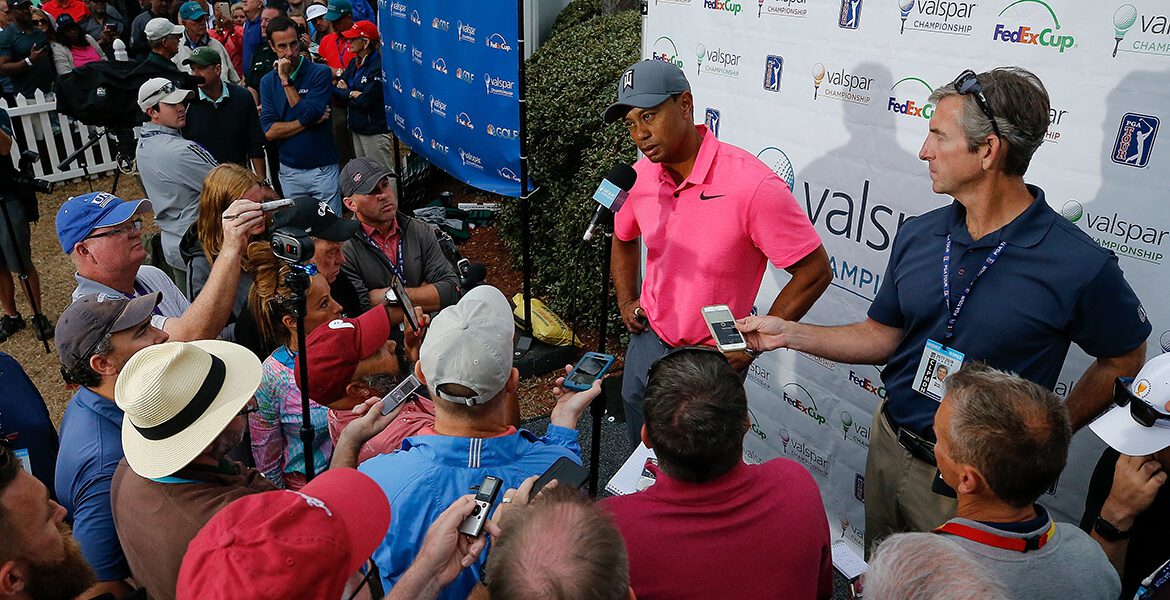 1. All tour pros are millionaires
True, the top tier talent like Rickie Fowler and Justin Thomas are multi-millionaires 10 times over living an extremely comfortable life. But the idea that all tour pros are earning millions on the golf course is a widespread myth. Of the 254 players that earned prize money on the PGA Tour during the 2019–2020 season, less than half of those players (91) reeled in more than $1 million dollars. On the Korn Ferry Tour, the season prize money numbers ranged from $550,000 down to $1,200. There is certainly big money to be made, but most players are simply grinding it out, trying to make a living with the hopes of one day hitting the jackpot.
2. Tour pros always make putts 10 feet or shorter
After watching my son get upset after missing a nine-foot putt recently, I asked him how often he thought the best putters in the world make that putt. His response: "From that distance, they make them all." Wrong kiddo! In fact, the top ranked player in the 2019-20 season in putts made from five to nine feet was Bryson DeChambeau, holing just 67 percent of his putts from that distance. And that number drops dramatically when professionals putt from 10–15 feet (40 percent). So next time you're beating yourself up over missing a semi-short putt in your Saturday match, remember the best in the world are just like us, missing many of those same putts, quite often.
3. Playing professional golf is luxurious
If your name is Tiger Woods, Brooks Koepka, or Dustin Johnson, the life of NetJets, private homes, and personal chefs is a weekly occurrence, but for most it's far from the norm. "It's not like other sports where everything is taken care for the players," says PGA Tour pro Jason Kokrak. "We don't have a team owner to do all of that for us." A small minority of players do get taken care of, but for every professional golfer flying private to an event there are four players carpooling to the next tour stop. "Chasing Monday qualifiers is super expensive," says Roberto Diaz, who has spent time on both the PGA and Korn Ferry Tours. "There's lots of driving, eating fast food, and staying with three guys in mid- to low-end hotels. Making $100k on the Korn Ferry Tour leaves you almost $20k in debt." Bottom line: Traveling around the country playing in tournaments is expensive, which only puts more pressure on players to perform well and avoid ending up in the red.
4. All tour pros get paid big bucks to play with golf clubs
There has certainly been a paradigm shift over the last five years when it comes to golf club manufacturers and sponsorship deals. Gone are the days of tons of players inking six-figure deals simply to use a certain brand of golf club. While some of those deals still exist, both manufacturers and players are being much more selective. Look at TaylorMade, for example. Instead of dishing out millions to pay any tour player that will tee up a SIM driver, the company has established an elite yet small group of pros that are on staff. The reluctancy to dish out large equipment deals has led to a growing trend: the free agent. Even elite tour pros like Koepka are playing a mixed bag these days, with the common sentiment that they are going to play the clubs they want and feel most comfortable with rather than the name that will pay them the most money.
5. Tour pros love talking golf
I've interviewed hundreds of professional golfers and one surefire lesson I've learned over the years is that the best way to get a tour pro talking is to chat about anything other than golf. Most of the guys I've spoken with are very personable and interested in engaging in a good conversation, unless your primary topic is their job. As much as recreational golfers love to chat about their clutch putt down the stretch, tour pros would much rather discuss college football, fishing, or even their kids. Put it this way: If you're an accountant, do you feel like chatting up the intricacies of tax codes after hours? For tour pros, golf is a job, and many prefer to leave their work at the office when they are done for the day.
What are some other common myths about tour pros? Let us know in the comments section.