A friend of mine recently sent me an email asking if I knew what the world's most isolated golf course is.
He's an Australian scientist working on Norfolk Island in the South Pacific, a volcanic outcropping over 1,000 miles from the next closest land—New Zealand or New Caledonia. While jogging around the island one morning, he was surprised to see a linksy 9-hole course on the windswept coast sandwiched between a graveyard and the ruins of an old convict barracks.
Only about five miles long and three miles wide, the rugged island is an external territory of Australia and has a population of fewer than 2,000 that includes descendants of mutineers from the HMS Bounty. It also has golf. Boasting spectacular views and a rich history, the Norfolk Island Golf Club is one of the only courses in the world located within a World Heritage site. And if it isn't the world's most remote golf course, it's certainly in the running.
For this exercise, we're looking at courses that are furthest removed from any other golf facility. In the case of Norfolk Island, it's about a two-and-a-half-hour flight from Sydney or Brisbane, but the next closest golf course to this getaway destination is quite far removed.
Here are five other examples for consideration.
The seven-mile-long volcanic island of Tristan da Cunha is 1,243 miles from its closest neighbor, Saint Helena, almost 1,500 miles from South Africa, and over 2,000 miles from South America. Accessible by a six-day boat journey from Cape Town, this British sovereignty has less than 300 residents. The island's 9-hole par-35 course was established in 1977 by an expat temporarily living on the island. There are no true golf greens, as the course's grass is kept short by grazing cattle and roaming chickens, and the bunkers are filled with compacted volcanic sand. Players get a scorecard that features a map, as well a certificate of proof that they've played a unique course.
Scenic view from the sixth hole of the Tristan da Cunha Golf Club #TristandaCunha #islandlife #golfcourse pic.twitter.com/gDK4x4tPy6

— Philip Kendall (@Piquer) October 14, 2023
This is by no means a traditional golf course, and there's no green to be found on this island off the coast of Greenland. About 500 miles north of the Arctic Circle, the small town of Uummannaq is home to what's considered the most northern golf course in the world. Every March, golfers come from around the world to risk frostbite at the World Ice Golf Championship, an event a local hotel owner sagely started in 1977—laying out holes on the vast Arctic tundra, smoothing "greens," and planting flags. Golfers use red balls against the blinding white backdrop and graphite clubs are preferable to steel-shafted irons that can shatter in temperatures that dip to 50 degrees below zero.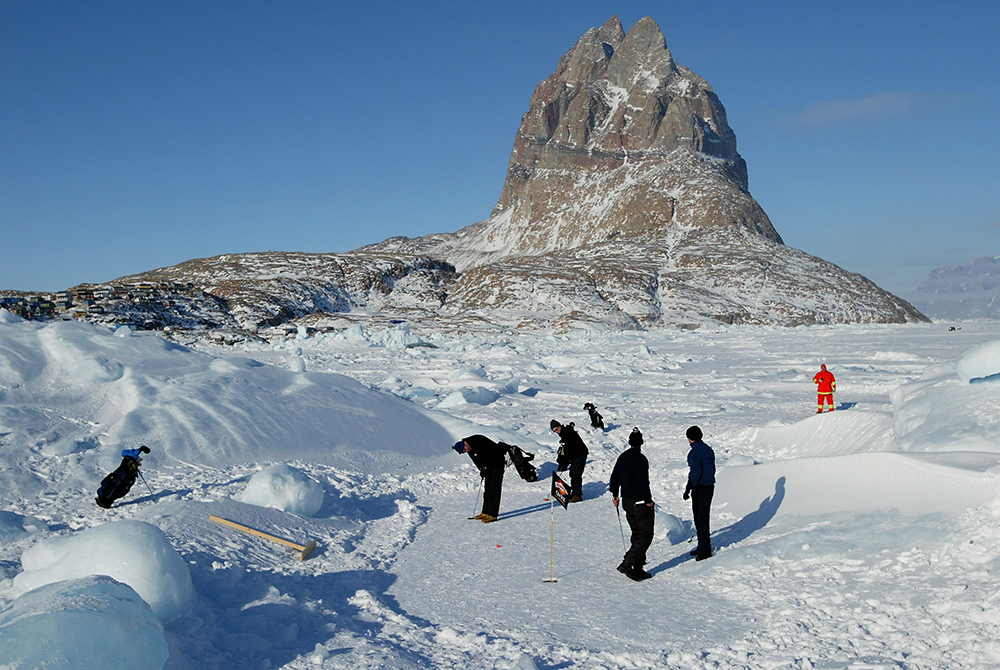 Set among the peaks of the Himalayas in the tiny nation of Bhutan—nestled between India and Nepal—the Royal Thimpu Golf Course is among the highest courses in the world at almost 8,000 feet in elevation, in addition to being one of the most remote. The course was established by an Indian army officer in the 1970s and its membership is comprised mostly of government officials and diplomats who enjoy significantly further carry than they'd find at sea level. The publicly accessible layout, which sits near the palace that's home to the King's throne, was later redesigned by American architect Ron Fream and can be played as an 18-holer with two tee boxes per hole.
Set on the edge of the Himalayas in the spectacular kingdom of Bhutan, is one of the world's most remote golf courses. The Royal Thimphu Golf Club is a 9-hole layout and you'll hit the ball around 10% further here because it sits more than 8,000ft above sea level pic.twitter.com/t1JVks3b3I

— The Wandering Golfers (@GolferWandering) February 15, 2021
In the remote Upper Mustang region of Nepal, which boasts eight of the 10 tallest mountains on earth, this 9-holer opened in 2022 with a special claim to fame: the world's highest golf course. Sitting at more than 15,000 feet, it surpassed a military course on an Indian Army Base (Yak Golf Course) at just over 13,000 feet of elevation. While there are six other courses in the nation of Nepal, this one is home to an event called the Top of the World Golf Classic that lures itinerant golfers with a particularly adventurous bucket list. A local member of parliament used money from an infrastructure development fund to build the course (about $8,000 U.S. dollars) and spark the return of tourism impacted significantly by the pandemic.
Playing golf in world highest golf course Mustang Nepal pic.twitter.com/gr6qUAHE3m

— म यस्तै छु (@sksimkhada) August 29, 2022
The southernmost golf course in the world, Ushuaia is situated on the tip of Argentina and earned a spot in the Guinness Book of World Records about three decades ago. The 9-hole layout is decidedly remote, far from its next-closest neighboring course, but also located less than a mile from the most southernly operating railway on the planet. As celebrated by Argentine golf: "Where the world ends, the course begins."
View this post on Instagram
What other remote golf courses have you heard of? Tell us about them in the comment section.