Just as migratory birds fly south every winter, adventurous golf travelers in search of unique rounds in unexpected places head north during the summer. In some cases, the courses that await those intrepid golfers deliver pristine playing surfaces amidst a rugged backdrop. Other times, the course itself is as rugged as the landscape that surrounds it. When journeys for golf venture this far north, both scenarios are welcome, as the thrill of hitting mid-irons amongst the fjords and rolling putts under a midnight sun far outweigh any predispositions about course conditioning. Here, we introduce you to four of the world's northernmost layouts.
Lofoten Links (Gimsøysand, Norway)
There are a number of ways to accurately convey the location of this Jeremy Turner-designed course. It's located 95 miles above the Arctic Circle, for example. You could also say that it's four degrees of latitude north of Iceland. Or, if you prefer, you can simply say that it's situated close to the 68th parallel. Any way you slice it, Lofoten Links is the northernmost links course in the world.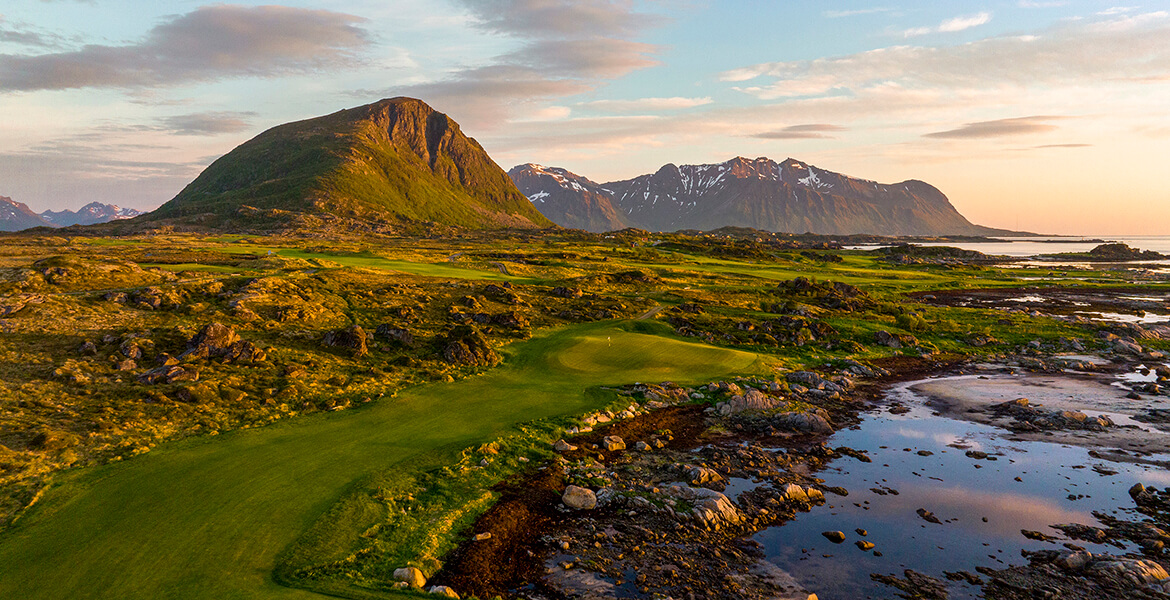 The course began as a humble 6-hole layout back in the 1990s, but finally expanded to a full 18 holes in 2015. Since then, the 6,687-yard design has earned critical acclaim—and for good reason. Its fairways, planted with native, cold-season grasses, meander around fields of stone and are peppered with pot bunkers. Don't expect many calm days during the golfing season, which typically runs from early May to mid-October. And with many of the fairways lined by vast stretches of stark, angular rocks, you shouldn't expect to find (or be able to play) any shots that don't come to rest on grassed terrain.
That being said, Lofoten Links's position does make it possible to tee it up 24 hours a day (from mid-May to late-July). Theoretically, that means you could play golf literally all day and all night—provided you don't run out of balls first. – lofotenlinks.no
Akureyri Golf Club (Akureyri, Iceland)
The playing season at Akureyri Golf Club in northern Iceland—just as Lofoten Links—is condensed. In other words, don't plan for tee times earlier than mid-May, and don't expect the course to be open beyond October. But unlike Lofoten, this par 71 layout designed by Magnús Guðmundsson, a five-time Icelandic champion golfer, is more than 50 years old. Over the years, greens and tees have been renovated, while other aspects of the course have been redesigned. Nevertheless, one thing has remained constant (at least since 1986): Akureyri hosts The Arctic Open during the summer solstice every year. The two-day Stableford tournament is open to both pros and amateurs, so long as they have requisite handicaps no higher than 24 for men and 28 for women. At its peak, the event has attracted as many as 120 golfers.
As for the course itself, Akureyri's 18 holes stretch to almost 6,600 yards and the layout is often described as "moorland" in appearance. Broad ridges come into play across much of the course, as do several rock outcroppings—another shared characteristic with Lofoten. However, when it comes to wayward shots, this Icelandic course (the country's second oldest) is more forgiving than its Norwegian cousin. – gagolf.is
Whalsay Golf Club (Skaw, Shetland, United Kingdom)
The almost four-hour drive from St. Andrews to Dornoch (a 115-mile journey as the crow flies), might make you think that the Highlands village is far removed from pretty much everything. That is, until you visit Whalsay Golf Club, located on the northern shore of Whalsay Island, a small isle within the Shetland Islands, which sits more than 200 miles northeast of Dornoch (also as the crow flies). Getting there takes commitment, especially if you're willing to take the overnight ferry from Aberdeen.
View this post on Instagram
Such commitment is rewarded two-fold. First, you'll be able to boast that you've played the northernmost golf course in the British Isles. Second, you'll have the opportunity to play golf in the most tranquil of settings. More specifically, you'll play out and along a peninsula that juts into the North Sea and offers unobscured views of the ocean in multiple directions. – whalsaygolfclub.co.uk
Yellowknife Golf Club (Yellowknife, Northwest Territories, Canada)
You're likely to feel as though you've ventured into unfamiliar golfing territory when you read the local rules on the back of your scorecard at Yellowknife Golf Club. Rule number one reminds you that you won't incur a penalty if your ball is stolen by a raven or any other wildlife. If that doesn't make you feel out of your element, a glance at the course itself will surely do the trick. The 6,182-yard layout offers 18 distinctive holes, though you'll only find grass when you reach the greens. Yup, sandy fairways mean that golfers will use a portable mat and practice "preferred lies" throughout their round.
It's a luxurious upgrade from the experience playing the 9-hole course at Ulukhaktok Golf Club almost 600 miles to the north. There, artificial greens and tee boxes are separated by scrub-covered tundra, which makes the diminutive, 2,000-yard track a challenge to navigate. That being said, just traveling to the Canadian hamlet located north of the 70th parallel is an accomplishment in itself. – Yellowknifegolf.com
Have you played any of these northernmost golf courses? Tell us about your experience in the comment section.