A reporter once asked Julius Boros when he planned to retire. "Retire?" said Boros, twice a U.S. Open winner who captured the 1968 PGA Championship at age 48. "All I do now is play golf and fish. What would I do if I retired?"
Indeed, as leisurely paced, scenic activities, golf and fishing share a happy, easy coexistence. As proof, here are the 10 best golf courses that embrace fish or fishing.
Situated midway between San Jose del Cabo and Cabo San Lucas, Twin Dolphin is named nostalgically for a revered beachfront hotel that existed on the site from 1977–2006. The five-year-old, 7,156-yard course honors its namesake beautifully. Fred Couples collaborated with Todd Eckenrode of Origins Golf Design to create a low-profile layout that melds seamlessly into the natural rolling terrain. It's a true hillside desert course, framed by cactus and other spiny trees and shrubs, studded with strategically placed bunkers, slashed by desert washes, and backdropped by rock outcroppings and long-view ocean panoramas.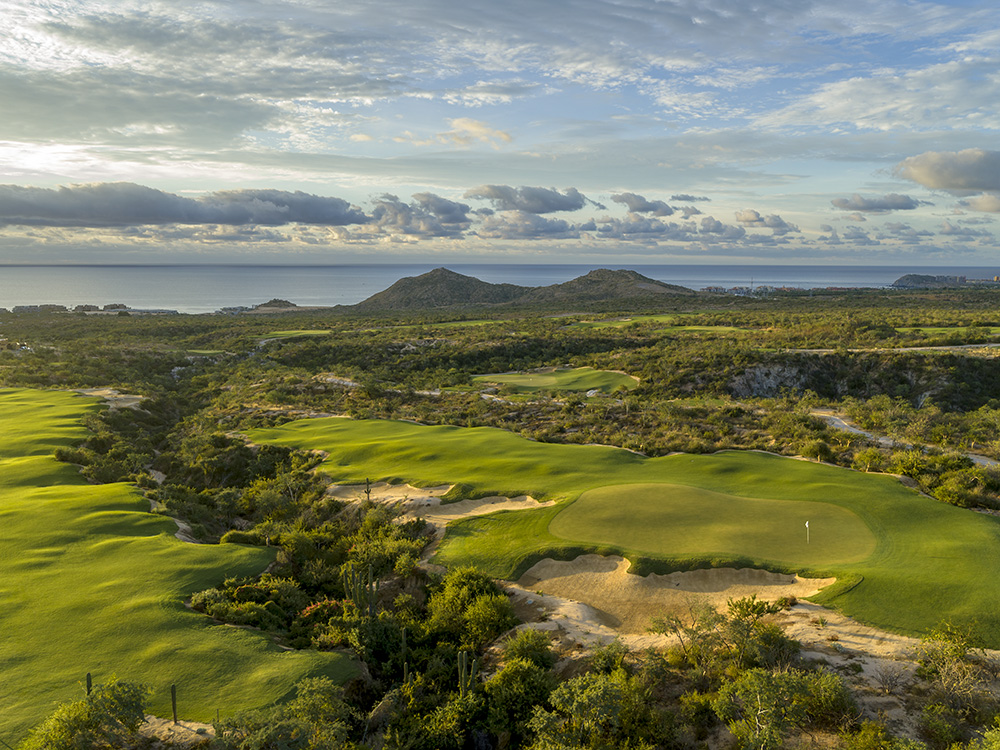 The late Mike Strantz was an artist with a bulldozer. At Caledonia, on the south end of the Myrtle Beach Grand Strand, he created a layout worthy of a museum exhibit. Gnarled oaks frame the rippled fairways and the course winds along the Waccamaw River for much of its journey. Caledonia measures just 6,526 yards from the par-70 tips, but they're replete with wetlands, vast waste bunkers, and contoured greens. The superb closer is a 383-yard par four that edges the river and old rice fields, with a green fronted by water and backdropped by the Antebellum-style clubhouse.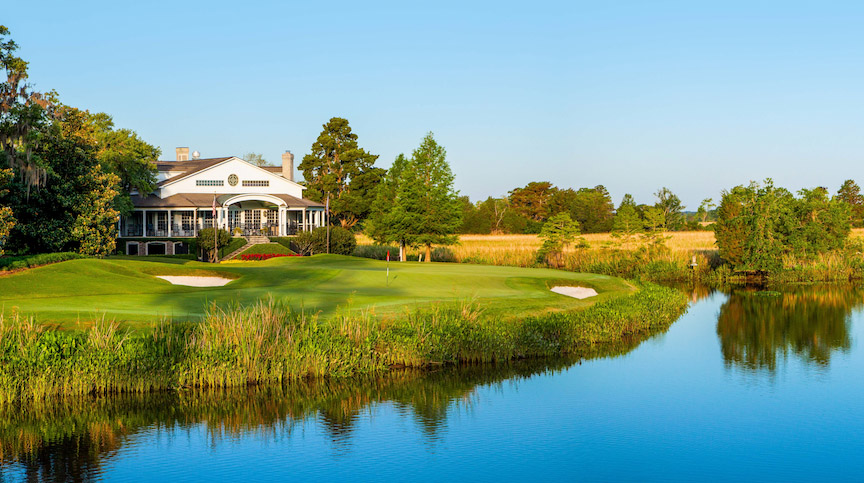 This 2002 design from the Shark himself, Greg Norman, eases in and out of tall pines with a mix of wide and narrow fairways in its 7,246-yard journey. A handful of forced carries spices the play, while fairways flow straight into the low-profile greens, encouraging creative low-to-the-ground approaches. Absent are rough, sharp edges, and mounding. Most memorable are back-nine stunners such as the 533-yard par-five 13th and the 213-yard par-three 14th that feature Lake Powell to the right side. While the contouring is soft, the persistent breezes off the nearby Gulf of Mexico provide Shark's Tooth with plenty of bite.
Tiburón is the Spanish word for shark—so it's no surprise that Greg Norman is the architect for this Sunshine State standout. What is surprising is that both its Black and Gold courses are so good, they each host prestigious professional tournaments. Late in 2022, the Gold course welcomed the LPGA Tour's season-ending CME Group Tour Championship and two weeks later, the QBE Shootout, a PGA Tour Challenge event. Early in 2023, the Chubb Classic presented by SERVPRO on the PGA Tour Champions touched down at the Black course. Laid out next to the 295-room Ritz-Carlton Naples, Tiburón, both courses are worthy. The Gold, which opened in 1998, sports stacked sod bunkers, crushed coquina shell waste bunkers, and shaved down roughs. There's no shortage of lakes and wetlands, either. Yet, at 7,382 yards with a par of 72, the Gold is considered easier than the younger (by three years) 6,949-yard Black course thanks to the Gold's wider fairways. On the Black, huge bunkers, multiple water hazards, and avenues of tall pines force accurate driving from every class of golfer.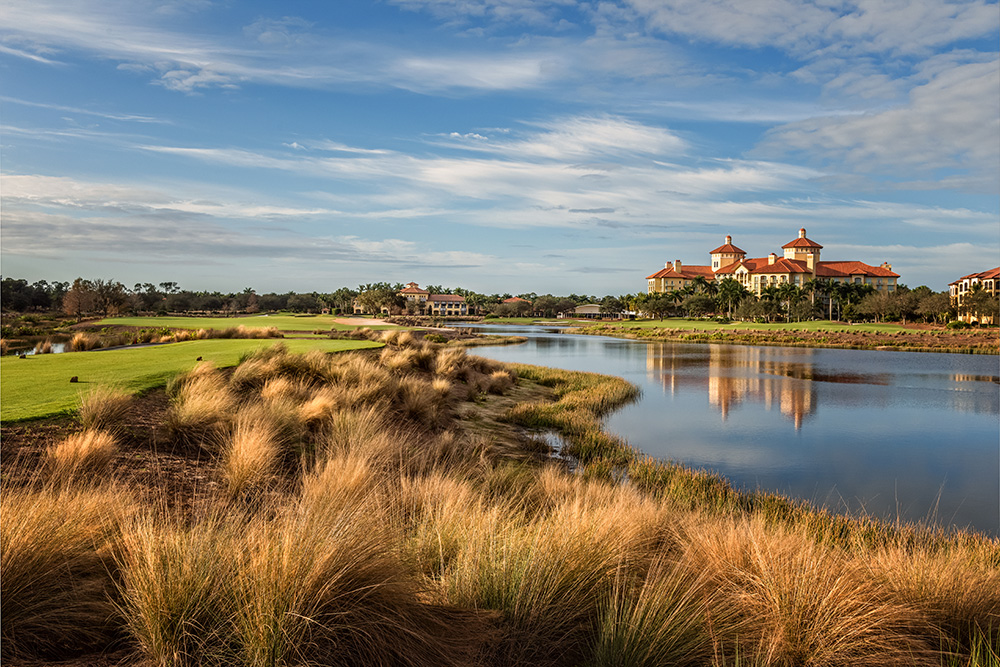 Brian Silva crafted this private layout in 1998 and it has held up superbly over the past quarter-century. Cape Cod National is currently ranked as the top public-access course in the state by one esteemed industry publication; tee times are available for guests of the nearby Wequassett Resort & Golf Club. At 6,954 yards, par 72 from the tips, it isn't soul-crushingly long, but rolling topography, a succession of meaty dogleg par fours, and approximately 90 good-sized bunkers combine with coastal breezes to provide a stern but fair test.
Founded in 1900, Bass River came into its own following a 1914 redesign by Donald Ross. Located on Cape Cod, the course is short on length, at 6,138 yards, but it's long on scenery, quirk, and shotmaking required to access the small greens. Most memorable is the unusual closer, a 169-yard par three which plays over a marsh and alongside the Bass River. Nearby Bass Rocks in Gloucester, a par-69 layout that dates to 1896 and offers Atlantic Ocean views, is another option, but Bass River gets the nod here because it's public, whereas Bass Rocks is private.
View this post on Instagram
Legendary British writer and broadcaster Henry Longhurst uttered of Killarney, "What a lovely place to die." Longhurst wasn't being morbid, just truthful. Killarney's Killeen (a six-time Irish Open venue) and its sibling, Mahony's Point, are two of the world's most beautiful and tranquil inland courses, amid mountains, forests, brilliant rhododendrons, and the gorgeous shores and inlets of Lough Leane. At 7,252 yards, Killeen is the brawnier of the two, but the 6,780-yard Mahony's Point features one of the world's most visually stunning inland par threes, the 18th, which stretches nearly 200 yards and plays to a slender green framed by trees, bunkers, rhododendrons, and by the lake itself to the right and beyond.
Soon approaching its 25th birthday, Trophy Lake certainly seems to fit Julius Boros's idea of heaven. Carved into a tranquil setting on the Kitsap Peninsula, the dual attractions start with the John Fought-designed golf course, which rambles for 7,206 yards through Pacific Northwest forest and atop undulating terrain. Large greens and bold bunkering pair nicely with scenic vistas of Mount Ranier and the Olympic Mountains. For anglers, Trophy Lake sports two trout-filled ponds—one adjacent to the 6th tee and the other next to the 18th green—with fly-fishing lessons available.
Salmon Arm—Salmon Arm, British Columbia, Canada
Golf at this western Canada institution dates to 1928, though its tournament-ready layout, the Champions course, came on board in 1994. Designed by the prolific Les Furber, the semi-private Salmon Arm measures at 6,701 yards, par 72, and twists through pines and firs. The risk/reward closing hole, a 506-yard par five, is reachable, but only with a straight drive and a high-flying approach that must carry a pond fronting the green.
You can't play this one—yet—but when it finishes construction in 2025, look for Trout National – The Reserve to climb every list. A passion project from baseball legend Mike Trout, who grew up nearby, the course is being molded and shaped by TGR Design—Tiger Woods, Beau Welling, and the rest of their talented team. The 7,455-yard par-72 layout will unfold atop land that once housed a silica sand quarry, along with sections of the property composed of gently rolling farmland. Vast natural sand features between holes will highlight each nine. With Trout and Woods involved, look for this course to hit a grand slam.
What fish-themed golf courses did we leave off our list? Let us know in the comment section.