The moment you make the turn through the gate at Caledonia Golf & Fish Club, you realize this is no ordinary public facility.
Your first exposure to the former rice plantation is a drive down the club's long and narrow entrance road, a half-mile stretch splitting the gap between the 1st and 10th holes enveloped by 150-year-old live oaks covered in Spanish moss. A right turn guides you parallel to the Waccamaw River where you might drive next to a boat pulling out of the docks at the Fish Club. You get this feeling like you've been transported to a different place and time—something that lingers throughout the course of your round.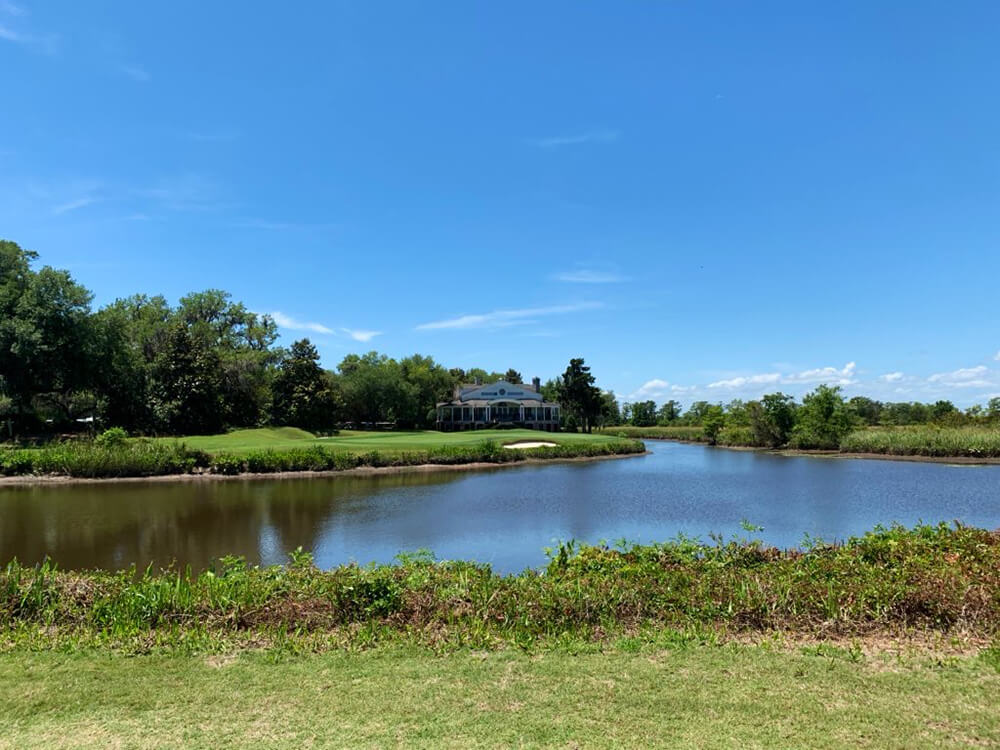 Consistently ranked among Golf Digest's list of "America's 100 Greatest Public Courses," Caledonia (Roman for "Scotland") opened in 1994 as the first solo design of the late Mike Strantz, the commercial artist turned architect whose layouts are commended for their creativity and originality. In an effort to preserve the land's natural beauty, Strantz and his team moved a mere 100,000 cubic yards of dirt in building a course that seems like it was meant to be there all along.
The tee markers are the first thing you notice, each designated as a different species of duck (the rice fields have been a popular duck hunting spot for the property's owners). At most, the course extends to 6,526 yards from the Pintail tees—although seemingly undaunting, you're dealing with a par-70 layout that has three par fives and five par threes. At the advice of the starter, we chose the Mallard tees which are listed at 6,121 but "play like 6,400."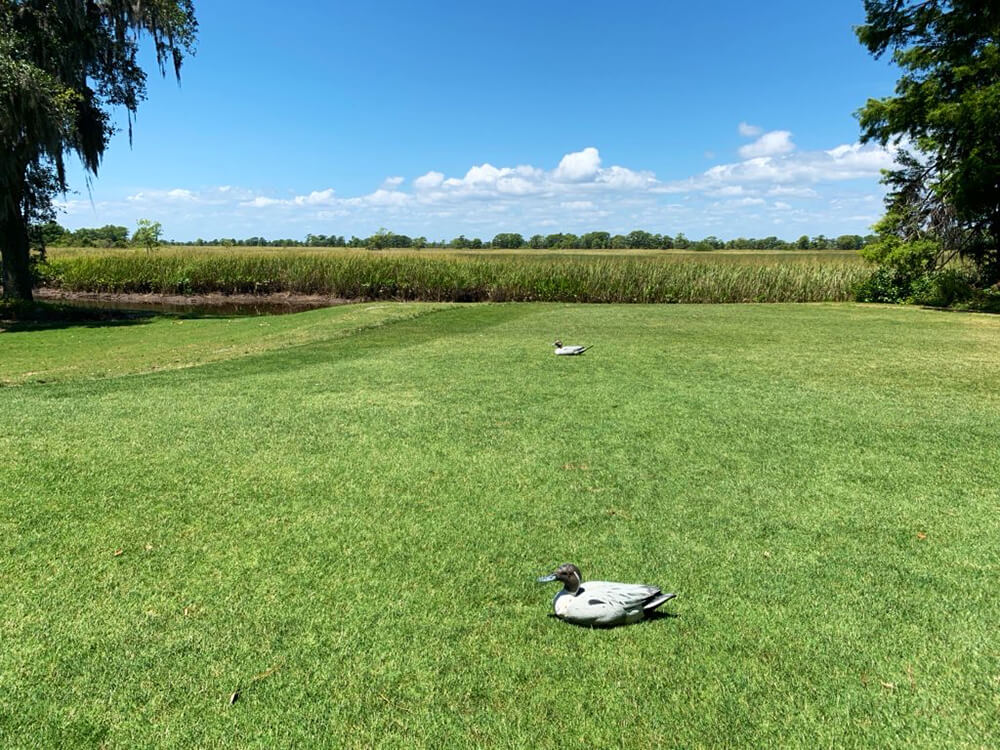 A couple of things to note before your round begins—if you plan to hit any balls to get warmed up, you'll have to do so across Kings River Road about a mile away at Caledonia's sister course, True Blue (another Strantz design) as there is no driving range on-site. And if you want to spend your round cruising on one of the club's Finn Scooters (think a motorcycle with a bag holster) instead of the traditional two-man cart, it's best to reserve one well in advance. Although $30 extra, they're a hot item—and were all reserved when I called in a day earlier.
From the first—a short, tight par four with road on your left and woods on your right—it's evident that the tee ball is a premium. The greens are generally big enough to give players an opportunity at redemption for a wayward drive—as long as you're not blocked out by a well-placed oak—but are often guarded by a punishing combination of water and sand.
As my brother-in-law so eloquently put it staring down the 175-yard par-three 3rd (with a 40-yard-long, three-tiered green and sand just about everywhere but the putting surface), "just don't be left, right, long, or short."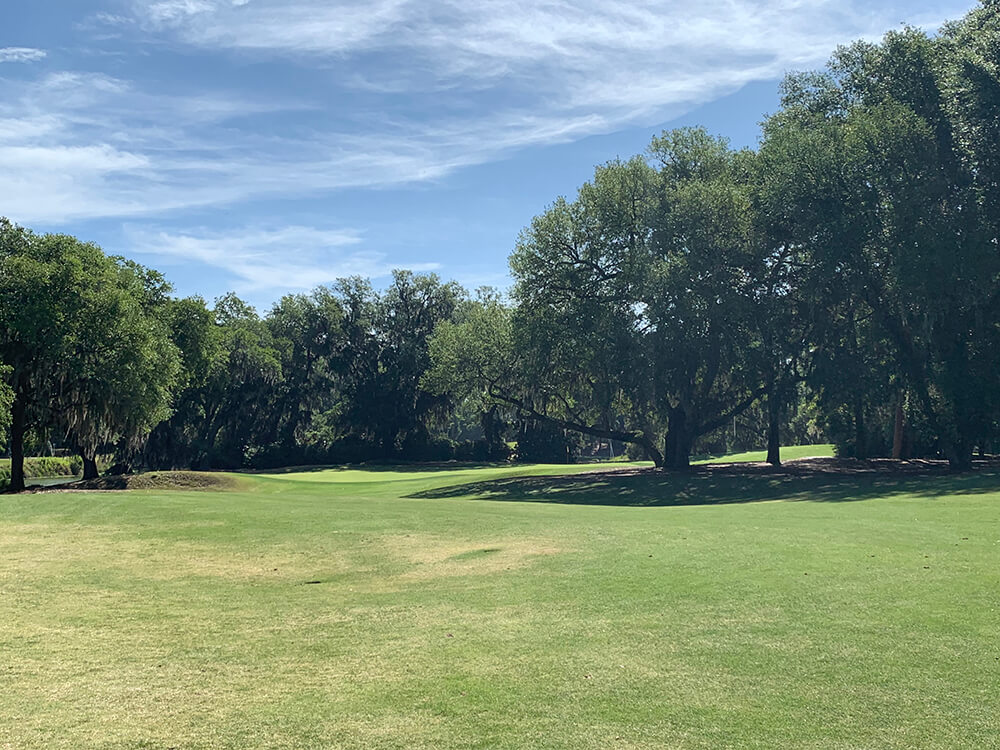 The par-four 7th is another good example. At 346 yards from the Mallard tees, there is trouble all down the left. Yet if you bail too far to the right, your next shot is sure to be behind a massive tree situated less than 50 yards from the front of the green. Too long of a drive, if not hit perfectly left-center, means you'll be punching under said tree on your approach—and too short means you'll have to hit over it.
That being said, Strantz made the course fair and pretty straight forward. If you can hit the shot he's asking you to hit, you'll be in a good position to find the hole in par or better. If you don't…let's hope you've worked on your scrambling.
Playing through the 18 holes brings forth several Lowcountry charms like covered bridges, birdhouses, and plenty of alligators swimming around. A white wooden hut between the 9th green and 10th tee typically offers complimentary chowder. You'll notice these features more than usual when you're in the course's interior, where there are no houses to be found.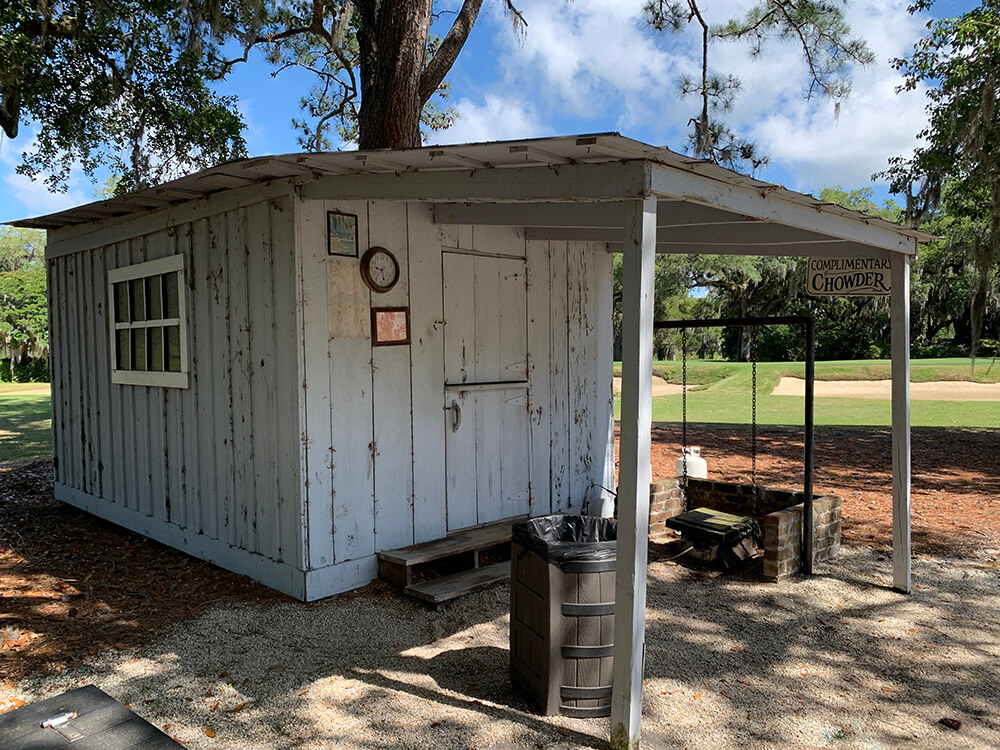 The final three holes build to a dramatic finish. The 16th is marked as the toughest test on the scorecard—a 400-yard dogleg right requires you to split two bunkers off the tee and carry a pond short right with your approach. The 17th is a nervy 156-yard par-three island in the sand with nowhere to miss, but still plenty of room to find the dance floor.
It's the 18th that many will look back and remember. After taking less than driver off the tee, all players face a forced carry over a popular fishing spot in front of the final green. Once you're done, take your seat on the clubhouse's back porch and watch the following groups attempt to escape Caledonia without losing one final ball.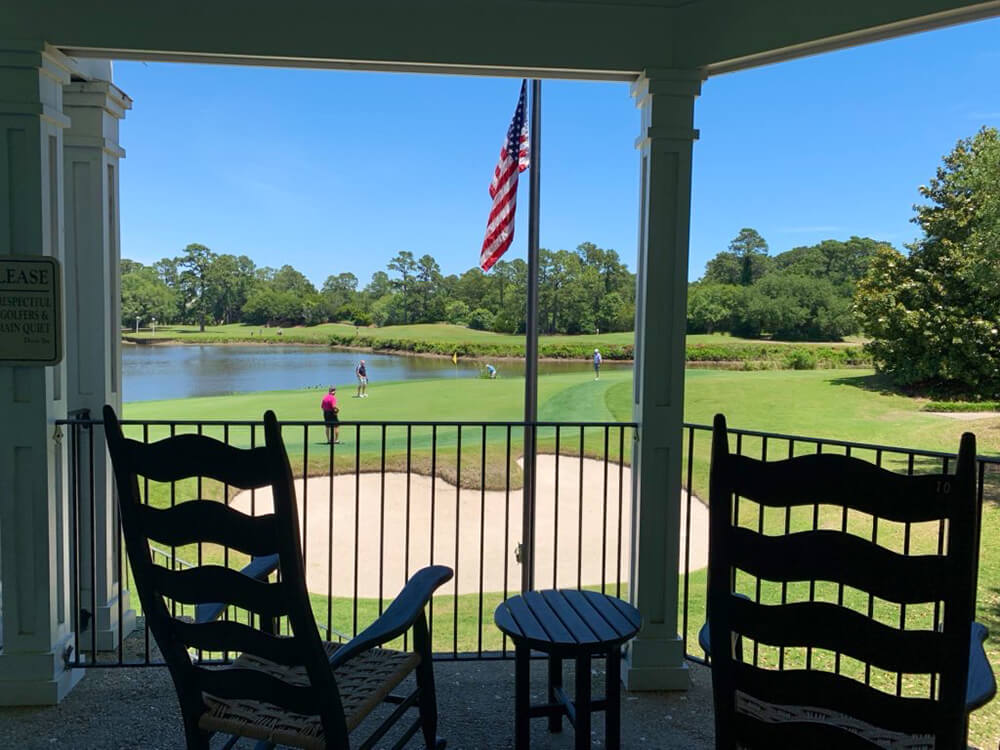 In reflection, you won't find a better public course to tee it up in the Myrtle Beach area than this sanctuary just south of the Grand Strand.