There are double greens and then there are dual greens.
Double greens are essentially one large green that's shared by two different holes, with separate hole placements and flags. Think St. Andrews, one of the world's most famous courses, which has seven double greens.
In contrast, dual greens are when a single hole has two separate putting surfaces. These dual, or alternate greens, have been a more common practice in Japan, with differing grass types on each allowing for playability across steamy summers and frigid winters. While turf advancements have reduced the need for differing grass types, a good number of busy golf courses in Japan and South Korea still maintain dual greens to reduce wear and tear on their putting surfaces.
In the U.S., having two greens on a single hole is far less common, but they're out there. Here are 10 of the most interesting dual greens I've come across in my stateside golf journeys.
8th Hole—Pine Valley Golf Club (N.J.)
I'll start in my home state, at one of the world's most revered courses. Pine Valley's short par-four 8th is the favorite hole of five-time Open Championship winner Tom Watson, presenting players with a short approach shot, but one bound to be on an uneven lie to small, uphill greens fraught with surrounding peril. Notably, the club's 9th hole also has dual greens, with trees behind the left one having been opened up recently to provide an "infinity green" perspective.
The double-green par-4 8th at Pine Valley Golf Club. This hole is often no more than a wedge, depending on the setup and the wind, but it is as scary a wedge shot as you'll find, as both greens are tiny, severely sloped, and surrounded by the stuff of nightmares. Birdie or bust. pic.twitter.com/3w42GdcJOr

— LinksGems Golf Photos (@LinksGems) January 20, 2018
4th Hole (Sherman)—Union League National (N.J.)
Down at the Jersey Shore, Union League National's dramatic 27-hole private club has taken some inspiration from Pine Valley. That includes a dual green on the 4th hole of the Sherman nine. This spectacular par four has two angled greens that are encircled with sand—the right one even more so than the left.
View this post on Instagram
6th Hole—True Blue Golf Club (S.C.)
True Blue was the fourth signature creation of visionary architect Mike Strantz. The par-four 6th hole features two greens split like antennae. The drive not only requires a healthy carry off the tee but demands accurate placement for the ensuing approach shot. Play too far right off the tee when the right green is being used and the second shot will be blocked by trees.
4th Hole—Cassique Course at Kiawah Island Club (S.C.)
The second-shortest par four on this Tom Watson-designed links-style course has two different routings with its two greens, both of which are surrounded by three small bunkers. When the right-hand green is in use, the play is up the right side of the fairway, and vice versa. The mounds in front of and between the putting surfaces are said to be modeled after the 11th hole at Ballybunion in Ireland.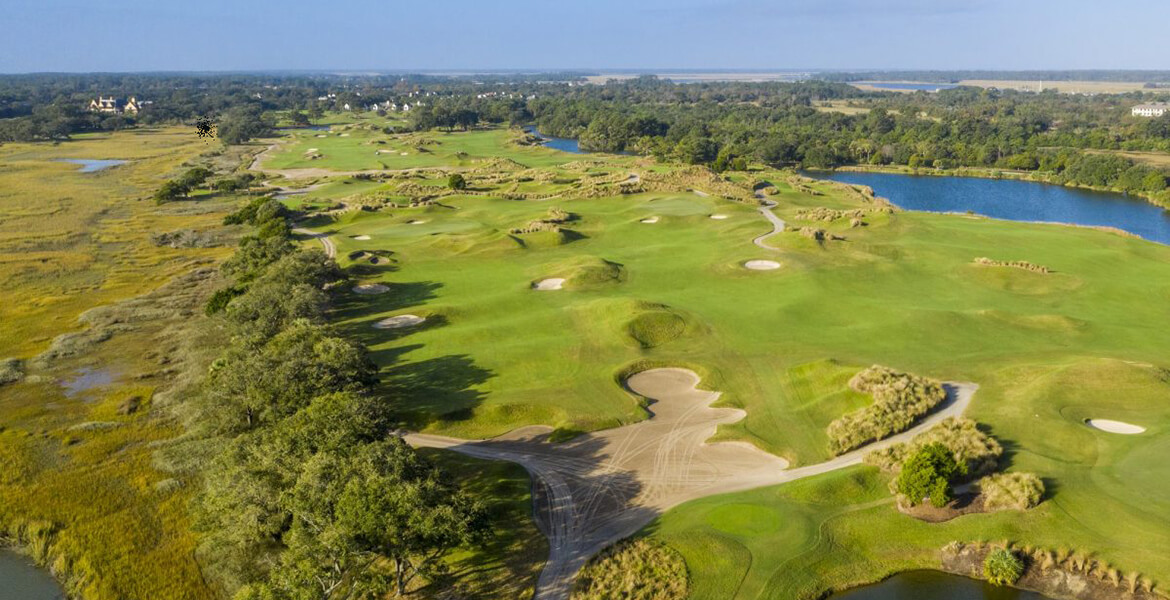 13th Hole—Finkbine Golf Course (Iowa)
The signature hole at the University of Iowa's golf course is a par three that plays to two island greens. The front tee on the left green can play as short as about 100 yards while the back tee on the right green can stretch to 235 yards.
https://twitter.com/IowaHawkeyeGolf/status/1621569300942168066?s=20&t=GuPkLrSgGLGFw8FLPTzXqA
13th Hole—Streamsong Black (Fla.)
After being challenged by a long stretch of bunker in the middle of the fairway, players on this mid-length par four are confronted with two greens. The left green sits down in a hollow, with rumpled surfaces and severe spill-offs that once led to a four-putt for this unfortunate writer. The right green is bit more elevated, not to mention tucked behind a large, splotchy bunker.
9th Hole—Pacific Dunes (Ore.)
When players get to the tee for Pacific Dunes's par-four 9th, there's a sign to let them know which green they'll be playing that day. If the lower green is in play, the sloping fairway helps players hitting a draw get closer to the hole, which sits down and has a large mound in the center. The right green is much higher on the hill and requires a shot played well to the right in the fairway for optimal line of attack. Miss left and the uphill approach is completely blind.
The par 4th 9th at Pacific Dunes is a ton of fun. I love that it has an upper and lower green. pic.twitter.com/ZaxF6SkWDv

— The Ambulant Golfer (@ambulantgolfer) February 29, 2016
13th Hole—Barefoot Resort's Fazio Course (S.C.)
Tom Fazio included two very different looks on this par four. The straighter option pinches tighter on the approach to a green that sits to the right of a lake. The alternate green sits on the opposite side of the hazard, making the hole a little shorter—a dogleg left with what's typically a wedge over the water to a shallower green.
13th Hole—Pelican Hill Ocean South Course (Calif.)
After taking a moment to appreciate the coastline views, players need to double-check the yardage plates on this scenic par three to make sure they're playing the right green. Lucky No. 13 is a shorter one-shotter, with the left hole (closer to the water) playing anywhere from 97 to 131 yards. The right green, meanwhile, is a little larger and ranges between just 83 and 108 yards. Architect Tom Fazio protected both with a massive bunker in front.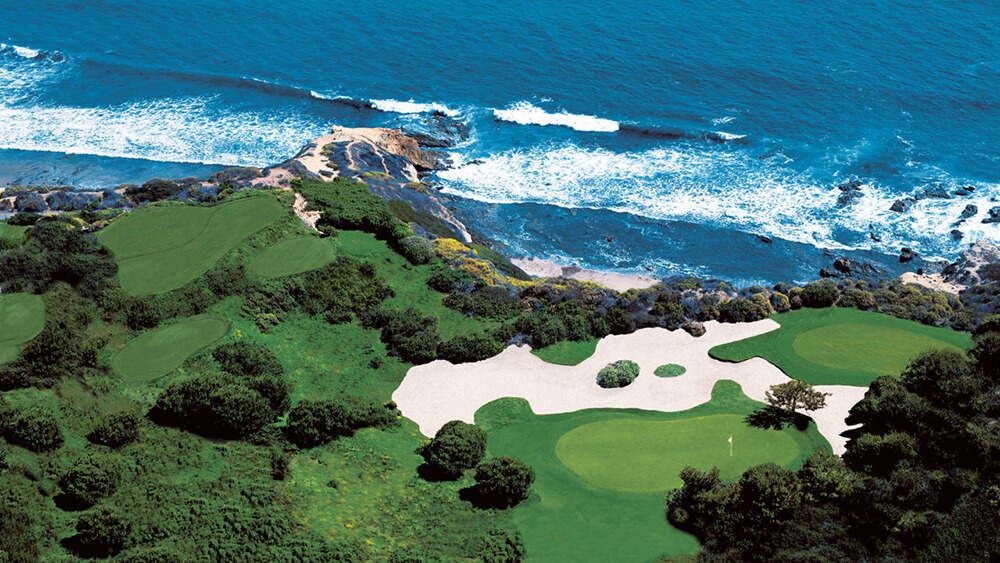 18th Hole—Glenmaura National Golf Club (Pa.)
Near Scranton and Wilkes-Barre in eastern Pennsylvania, Dr. Michael Hurdzan built this private course on a rocky, wooded mountainside. At the signature finishing hole, two greens sit side-by-side, fronted by stone walls at the base of a small waterfall, with a stream bisecting them. The only dual green 18th on this list has made for some wild finishes over the years.
18th at Glenmaura National GC. pic.twitter.com/Dv5AoOISCG

— Peter Steve (@P_Steve26) January 9, 2020
Bonus: Three Greens, One Hole
18th Hole—The Creek Club at Reynolds Lake Oconee (Ga.)
As the fifth designer at Reynolds Lake Oconee, architect Jim Engh was given the mandate to create something "outside the box" at the property's member-only Creek Club. Nowhere is that more evident than the closing hole, which has three separate greens and three distinct looks depending on which of the greens is in play on that particular day.
What other dual greens have you experienced at courses in the U.S.