Naples

s

takes

a

c

laim to

g

olf

h

eaven

 
The Florida peninsula is endowed with 1,350 miles of coastline, and many stretches of that shore have been tagged with catchy names like The First Coast, The Space Coast, The Gold Coast—each with its own cleverly crafted backstory. When the Naples, Marco Island, and Everglades Convention and Visitors Bureau decided to get in on the act, they knew that no ordinary handle would suffice. Naples, after all, is no ordinary place. The name they settled on? The Paradise Coast.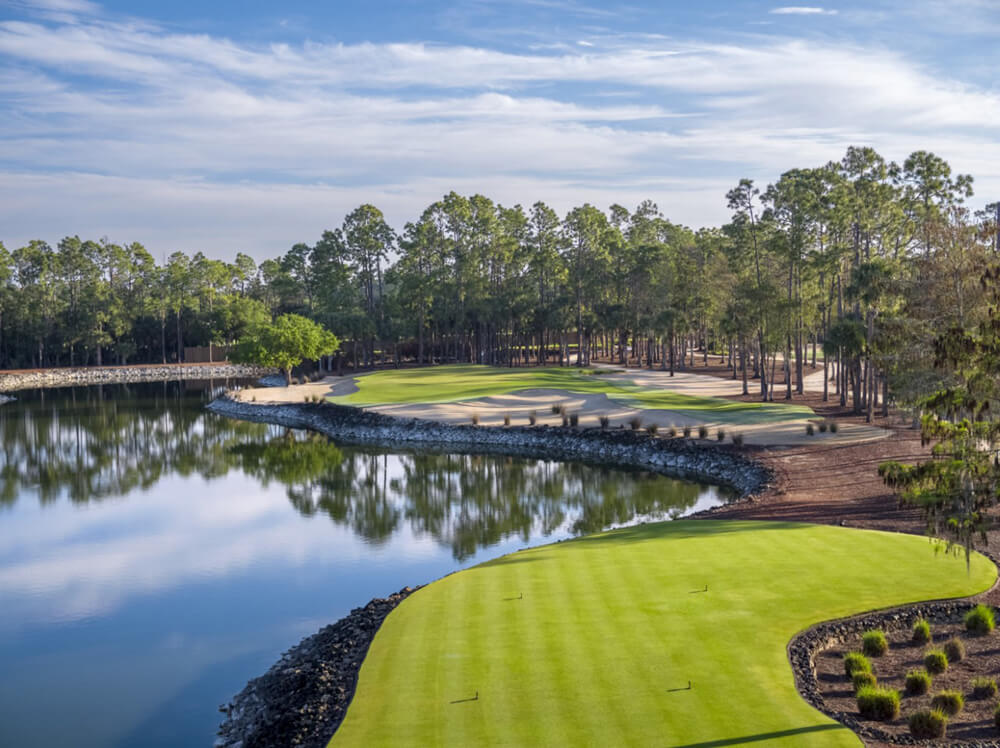 Naples's version of paradise revolves around upscale private communities, ritzy shops and eateries, and an arts and cultural scene that caters to its mostly older population—with innumerable palm trees sprinkled around for effect. It may not be everyone's idea of heaven, but it's fair to say that Naples is one of Florida's classier towns. In fact, the area is home (or, more likely, second home) to the U.S.'s second-highest number of millionaires. And where there are greenbacks, you'll find greens. Naples's promoters call it the golf capital of the world. That's a stretch, but it's true that you'll find more golf holes in Naples than in any other city in Florida. 
Naturally, with so many millionaires around, private clubs dominate the local golf scene—clubs with palatial clubhouses and initiation fees that soar into the mid six-figures. But the area's public courses excel, too. You'll find some at lavish resorts that in addition to golf offer white-sand beaches and spa services ranging from the sublime to the ridiculous. Others wind through housing developments dominated by red-tile-roofed, Mediterranean-styled villas. A few occupy postcard-worthy, Old Florida settings that will give you a vague idea of what the region looked like before it was discovered by developers.
The Jack Nicklaus-designed Old Corkscrew Golf Club in Estero is a strong example of this third kind of experience, making it one of Naples's most sought-after tee times. An Audubon Silver Signature Sanctuary course, Old Corkscrew zigzags through stands of mature oak, pine, and cypress trees, and is home to birds, turtles, racoons, and the occasional alligator. It's also bogey country. Water in the form of lakes, ponds, and wetlands factors into a dozen holes, and while the terrain is generally flat, the greens are decidedly not. Nearly every putting surface features three-putt-inducing swales, tiers, humps, and hollows—with several greens also guarded by false fronts and/or closely mown run-off areas. You'll find some fun breather holes, though, like the drivable par-four 4th, and a great collection of par threes, all of which call for Jack-level precision.
The Gold Course at Tiburón Golf Club annually plays host to the LPGA Tour's CME Group Tour Championship. From the championship tees, it tips out at over 7,300 yards—and in many cases, you'll be firing down narrow chutes of pines from those back tees. You'll need to avoid water hazards and crushed-coquina-shell waste areas on many shots, as well as the sod-wall bunkers that guard several of the greens. The club's Black Course plays shorter, but for many players it's the preferred of Tiburón's two, both Greg Norman designs. After a short par-four opener, the Black Course ramps up quickly at the 422-yard par-four 2nd, the number-one-handicap hole, where you'll need to be laser-accurate off the tee to avoid sentinel pines both left and right. Plan to hit at least a few shots off pine straw here if you're not a straight driver of the ball.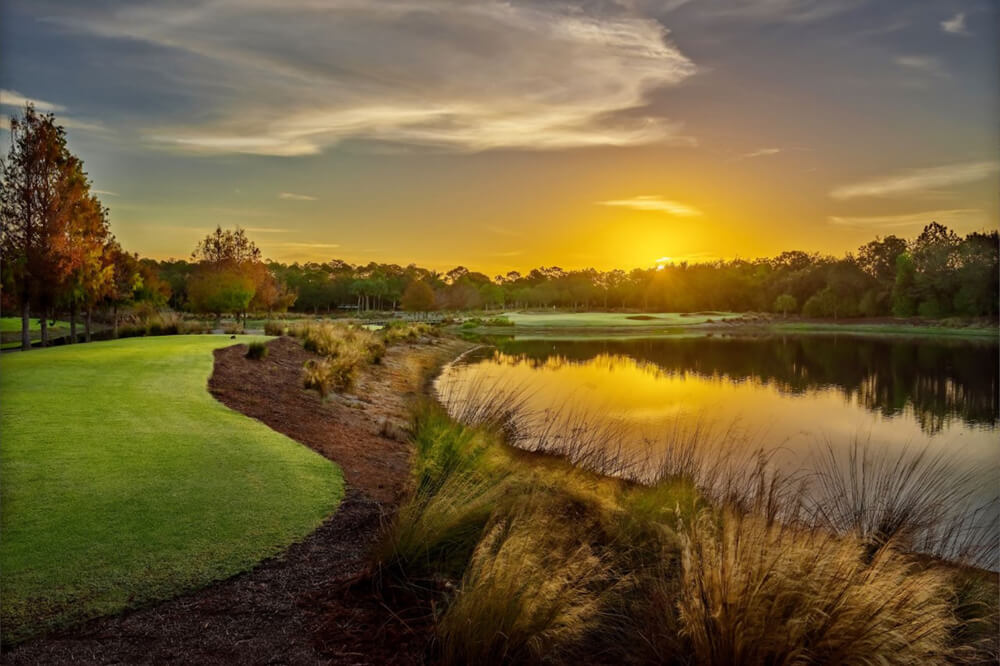 Beachgoing is the primary activity at the Naples Grande Beach Resort, but its Rees Jones-designed course makes a strong case that it should be golf. You'll find more tall pines here, more ribbons of sandy waste area—and water hazards that always seem to be right where you don't want them. For a resort course, there's surprisingly little intrusion from the other resort activities when you're enjoying your round. And it's a track with a lot of character, as exemplified by the par-five 16th, whose left side is guarded by a serpentine bunker and whose green is perched atop a rock-faced knoll. After your round, an open-air tram ride will take you to the resort's Clam Pass beach: Don't pass up the opportunity to spend some time in its warm Gulf of Mexico waters. 
You'll find more good resort golf at the LaPlaya Golf & Beach Resort and the Lely Resort. The Bob Cupp-designed LaPlaya Golf Club is private, but guests at the resort have access to its lake-lined fairways, many of which are runway-straight and, as a result, a little monotonous. The greens are well bunkered, though, and thoughtfully tiered, and the course's par fives—almost all of which are pinched by water—make it worth a visit alone. Of the two public courses at the Lely Resort, Flamingo Island (Robert Trent Jones Sr.) is the better test, with rock-rimmed water hazards and mounding that frames the fairway corridors well. You'll find broader landing areas, less penal hazard locations, and more forgiving green surrounds at the resort's Lee Trevino-designed Mustang Course, making it a good choice for higher-handicappers.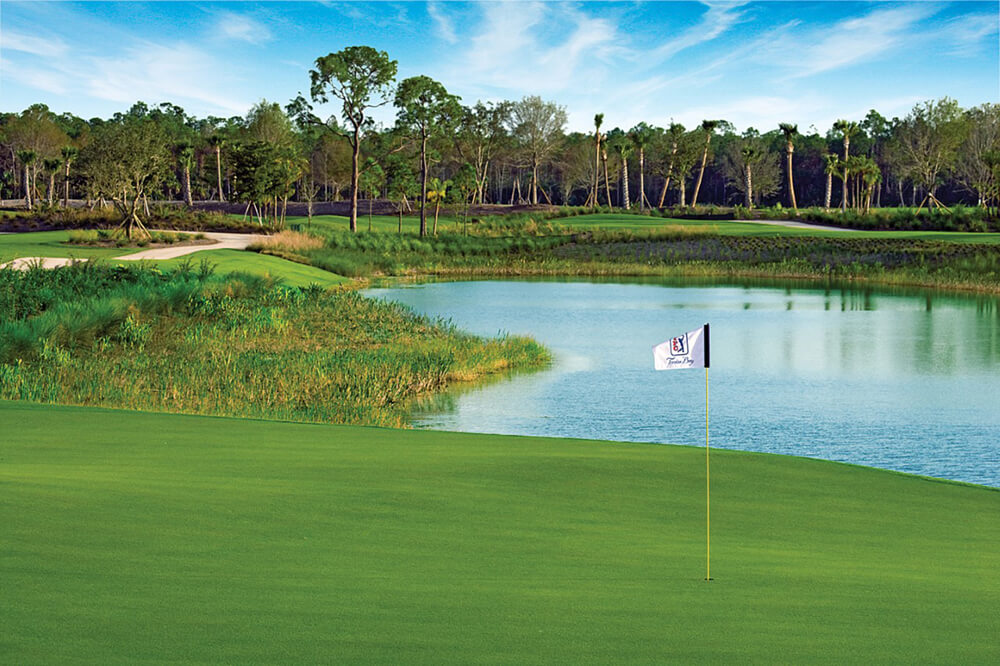 Guests at the J.W. Marriott Marco Island Beach Resort have access to two private clubs. Choose Hammock Bay and your round will be overlooked by tall condo towers and neighboring homes. But it's an Audubon Gold Signature Sanctuary Course with live oaks, marshes, mangroves, and broad stands of pampas grass that are home to eagles, herons, and gators galore. The fairways skew toward the wider side, and the course has a surprising amount of elevation change for a Florida course, with smooth greens that putt true. At The Rookery at Marco (not actually on Marco Island but close by), you'll find 45 acres of ball-hungry lakes dotting an otherwise peaceful, natural landscape—and nine sets of tees ranging from 4,760 to 7,160 yards. If you're not a resort guest, you may still be able to snag a tee time at these courses up to two days in advance. 
TPC Treviso Bay is a private members' club from November 1 through April 30, but off-season visitor tee times can be had. Holes like the par-four 11th, a perfect Cape hole, are prime examples of why it's considered one of Naples' premier golf experiences. You'll also want to keep an eye out for Saltleaf Golf Preserve on Estero Bay, where Raymond Floyd has been at work reimagining and lengthening his unique, bunkerless Raptor Bay layout. A 9-hole short course is slated to be part of that project, expected to open in 2023.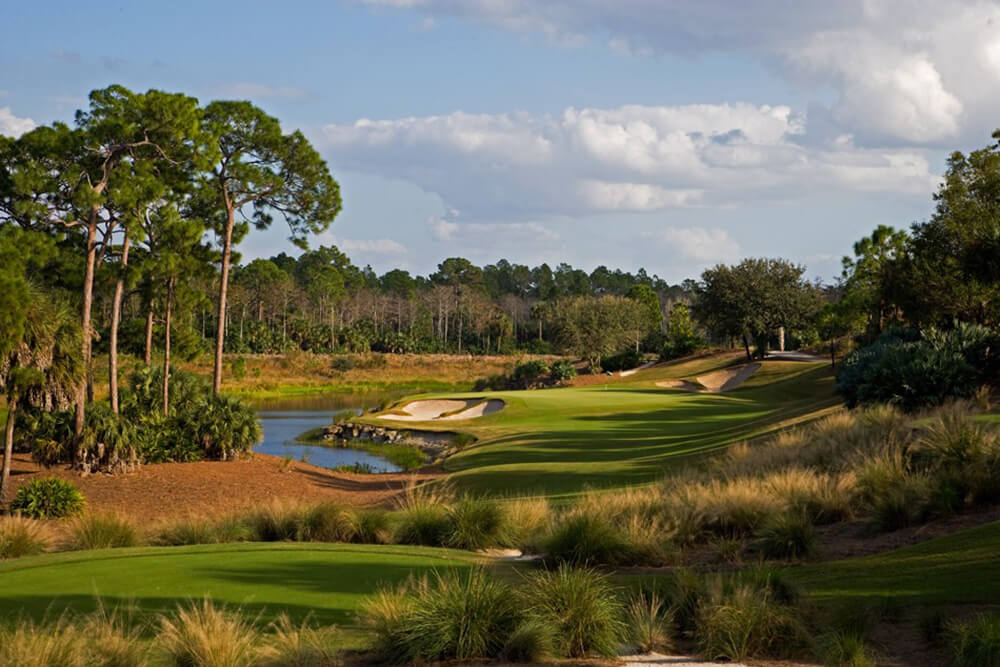 If you happen to know any Naples millionaires, definitely try to finagle your way onto some of its private courses, a dozen of which are standouts and several of which rank among the best in Florida. The most drool-worthy of these is Calusa Pines, where all 18 holes are bona fide centerfold material. Hurdzan/Fry used the site's elevation and natural ridges to create a course that feels like a more user-friendly Pine Valley. Native vegetation and waste bunkers define the perimeters, and the emerald fairways are generally accommodating. But the closer you get to the greens, the sharper you'll need to be. Many of the putting surfaces are elevated, and they normally stimp at 12 or 13, which makes dealing with their slopes, mounds, and crests a memorable day's battle.
Members at private Naples National Golf Club have Hurdzan/Fry to thank for their slice of heaven, too. That duo, known for their focus on environmental sustainability, incorporated just 50 acres of turf into the design of this course. The rest is wetlands, ponds, cypress hammocks, sandy waste areas, and the course's signature coral rock walls, which line hazards and tee boxes and give Naples National a distinctive look.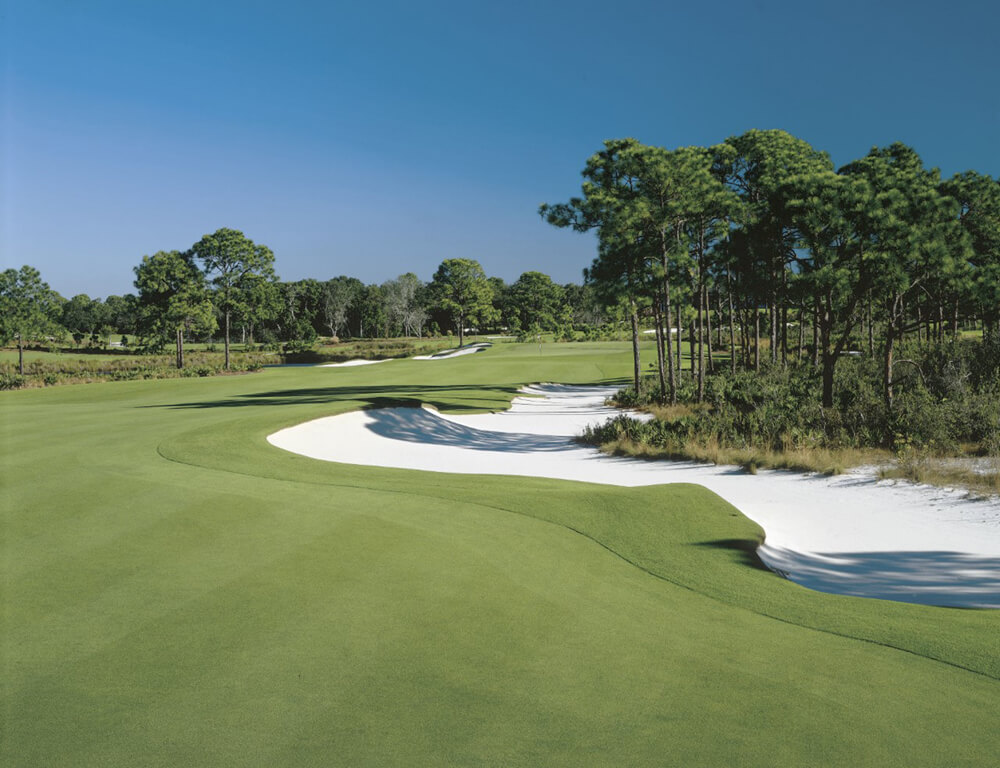 Hole-in-the-Wall Golf Club debuted in 1958 as a private Dick Wilson design, but several other architects have tweaked it since, including Ron Forse, who reconstructed the course in 2009 and extended it to its current 6,600 yards. Though it's on a compact site, you won't be crowded by housing. It's a walk in nature, with lots of dogleg holes, including the double-dogleg 7th, where water, trees, and sand—including four bunkers that encircle the green—make par a good score.  
If you squint, you might think you've arrived at Augusta National when driving through the bright white gates at Old Collier Golf Club. But then you see that the clubhouse is 300 percent larger and you know you're in Naples. Old Collier plays more like Pinehurst than Augusta—at least until you reach the back nine, where several holes run along the edge of a saltwater marsh lined with mangrove bay trees. Old Collier is the work of Tom Fazio and a true golfers' club, where most players take caddies. The greens are typically lightning-fast, and the closing stretch—particularly the par-four 18th—will make you very thankful that you found a way to tee it up there. Score well, and you might even think you're in paradise.
Have you played golf in Naples?