Bill Coore and Ben Crenshaw have already produced an incredible resume of courses. But could it be that we haven't even seen their best yet?  
Bill Coore always said he and design partner Ben Crenshaw feel most comfortable working on one to three projects a year. Any more than that, he added, might prevent them from devoting the amount of time necessary to each course to create something genuinely great.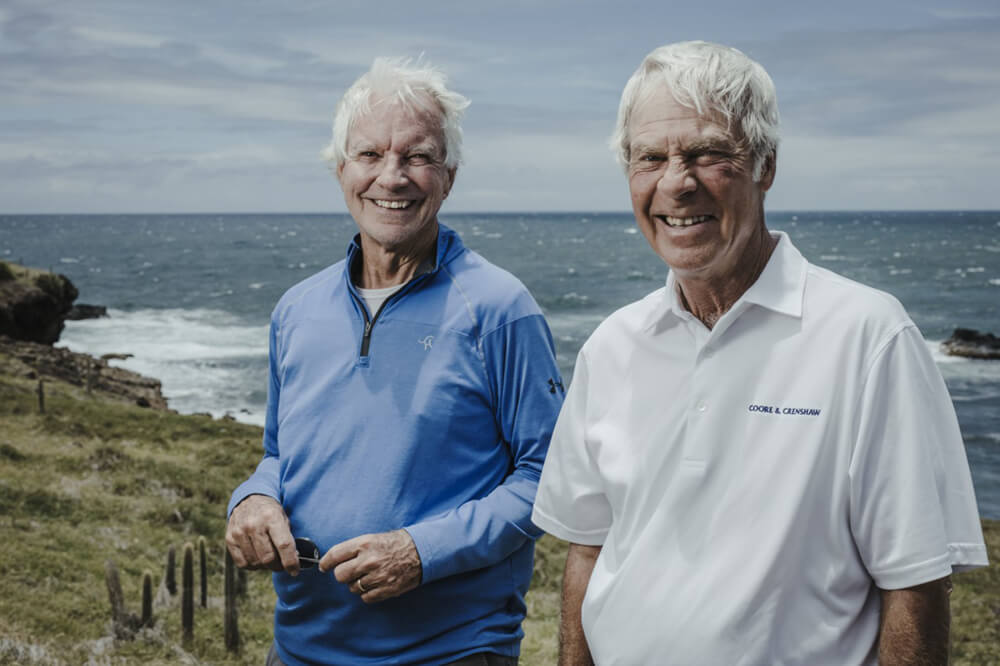 The last two or three years, however, seem to have been one of their most productive and creative periods, popping up in magazine articles and press releases, and on websites and social media a little more regularly. Indeed, the partners had five courses at various stages of construction in 2022—McArthur in Florida, Brambles in California, Wicker Point in Alabama, Cabot Saint Lucia in the Caribbean, and Te Arai in New Zealand—suggesting that even as their hair grows a little grayer, they are beginning to change their Modus Operandi and take on more work. 
Coore shuts down the notion quickly. "It's really all Covid-related," he says. "Projects that should already have been completed or much further along in the process were delayed significantly and they all just kind of piled up. As the whole world experienced, it was an incredibly frustrating time. Getting in and out of the various sites was extremely difficult, especially Te Arai and St. Lucia."  
Coore spent weeks quarantining in New Zealand and associate Keith Rhebb was forced to remain in St. Lucia for a year, unable to leave the island and return home. Not the worst places to be holed up, of course, but still.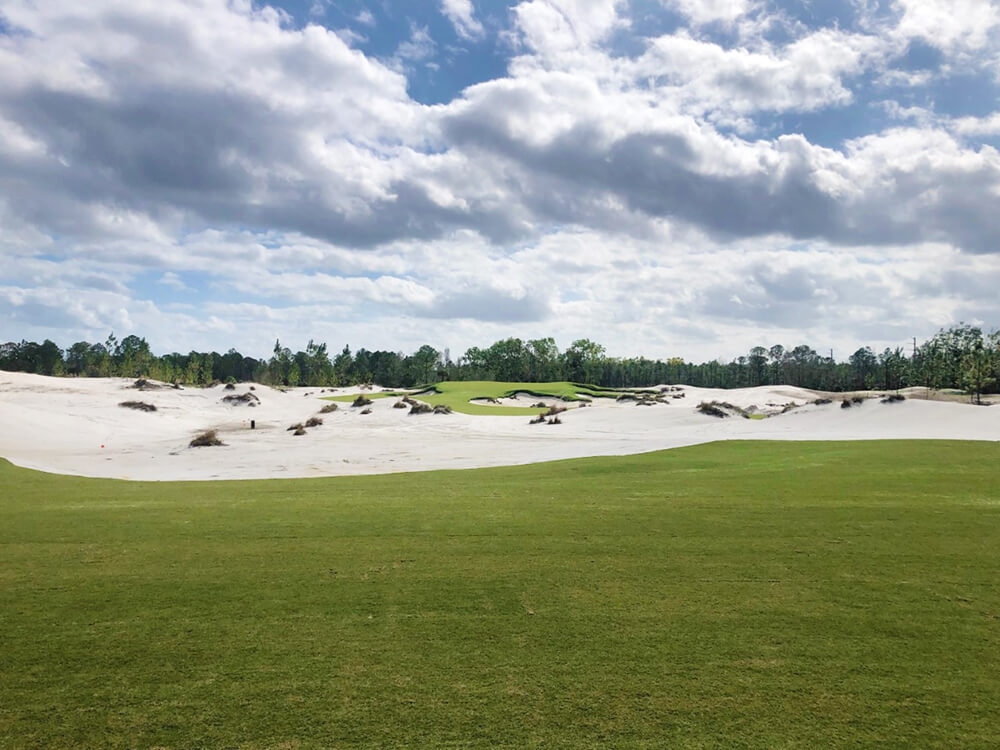 Covid backlog or not, there's no doubt the dynamic duo remains in great demand and is consistently producing courses that rank in America's, if not the world's, top 100 the day they open. So sought-after are they, in fact, they reluctantly have to turn down a good deal more jobs than they take on. "That's one of the very few aspects of the job I dislike," says Coore. "Sometimes it just doesn't work. I know we're upsetting a lot of good people who really love the game and want to build a special course, but we just don't want to spread ourselves too thin. Scheduling has become very difficult these days."
The pair's design philosophy hasn't changed a great deal over the last 30-plus years. Crenshaw, who grew up playing Perry Maxwell's 1950 course at Riverside—the original site of the Austin Country Club—says the goal has always been to build a course positioned quietly on the property and which reflects its surroundings. "There are so many people in our industry who can move earth spectacularly well," he adds, always ready to compliment others. "We just prefer to follow Maxwell's old adage about doing small things on suitable ground." Crenshaw says he likes to have a reachable and unreachable par five and a variety of two-shot hole lengths, including a short par four on either side. "And I love short par threes," he adds. "But you can really only have this if the land gives it to you."
The land Coore and Crenshaw choose to work on certainly gives them plenty, but the reason they remain so popular goes well beyond building courses that are on great land and are so stimulating golfers never tire of them. As every developer who has ever hired them will tell you, Coore and Crenshaw are a great pleasure to work with and leave each project having made lifelong friends.  
"I feel privileged for the opportunities I've had to work alongside Bill and Ben," says Ben Cowan-Dewar who, along with partner Mike Keiser, hired them to build the incredible Cabot Cliffs in Nova Scotia and Cabot Saint Lucia. "It has been one of my life's greatest pleasures to watch their meticulous approach to artistry. Along with being true geniuses with gifted eyes, their kindness, dedication, and humility inspires everyone around them. They continue to amaze me with the passion they bring to every project."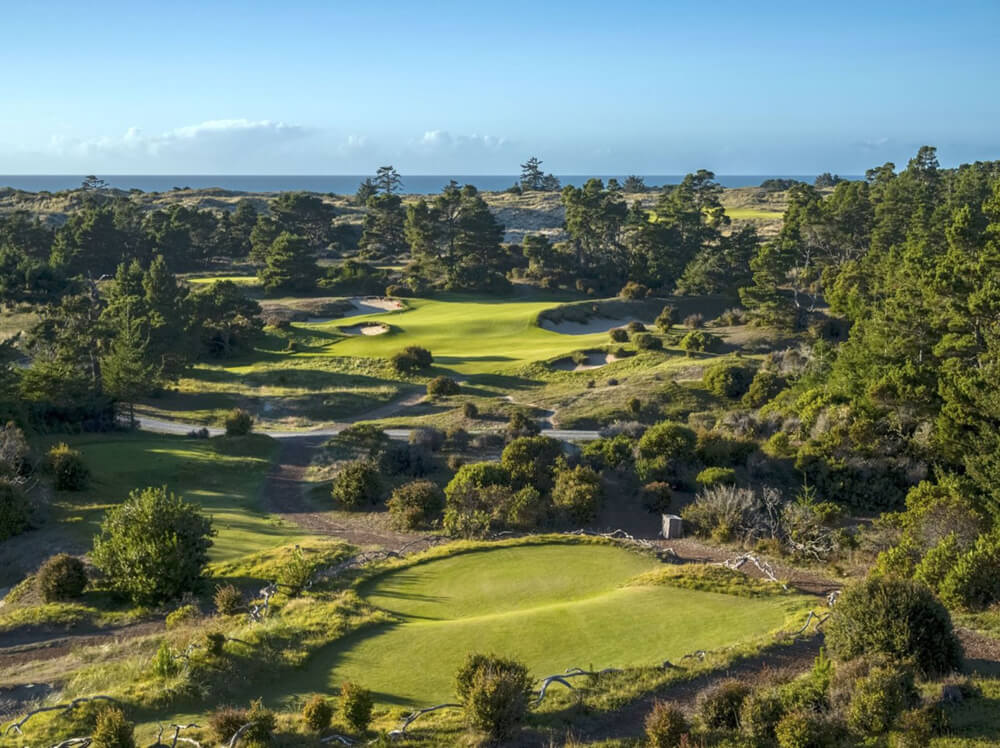 Keiser has long been a fan, perhaps their biggest, hiring them for the first time at Bandon Trails, which opened in 2005, and thereafter at Barnbougle Lost Farm in Australia and Sand Valley in Wisconsin.  
"They remain my first choice," says Keiser. "Tom (Doak) and David (McLay Kidd) are both excellent too, certainly, but for me Bill and Ben build the best greens—large and mostly flat with subtle contours like the brilliant greens at Chicago, the Old Course, and Royal Dornoch. And Bill's routings are brilliant, so natural. The Sheep Ranch is one of the best in the world. It still amazes me how he got 18 great holes in that space. The work they have done at St. Lucia is remarkable. And if, as at McArthur, the site doesn't have great natural features, Bill routes interesting holes in perfect sequence and it works beautifully, same as at Chicago where Macdonald took a lousy site and built a fascinating golf course."
That's only half the story, though because not only are they great to work with, they're also a pleasure to work for. Just ask any of the dozen or so shapers and construction experts they've employed down the years—associates who remain fiercely loyal, who jump at the opportunity to talk about the impact the "bosses" have had on their own careers, and who have contributed significantly to this recent rich vein of courses.
Riley Johns, Trev Dormer, and Rhebb all began doing the relatively small stuff but are now trusted colleagues who design courses themselves when not shaping bunkers and other features for Coore & Crenshaw. Rhebb first worked for them in 2005–06 at Colorado Golf Club outside Denver, where he was given the opportunity to build the par-3 course.  
"Bill and Ben showed incredible faith in me there," says Rhebb, who, together with Johns, designed Winter Park 9 in Orlando, the Bootlegger par-3 course at Forest Dunes in Michigan, and has completed renovations and long-range masterplans for Point Grey in Vancouver, BC, Canterbury in Ohio, and Rolling Green in Pennsylvania. "They've always been very encouraging and have always given me the freedom to suggest ideas," Rhebb adds. "I've never felt a fear of failure because if I did make a mistake they would just suggest an alternative and we'd move on."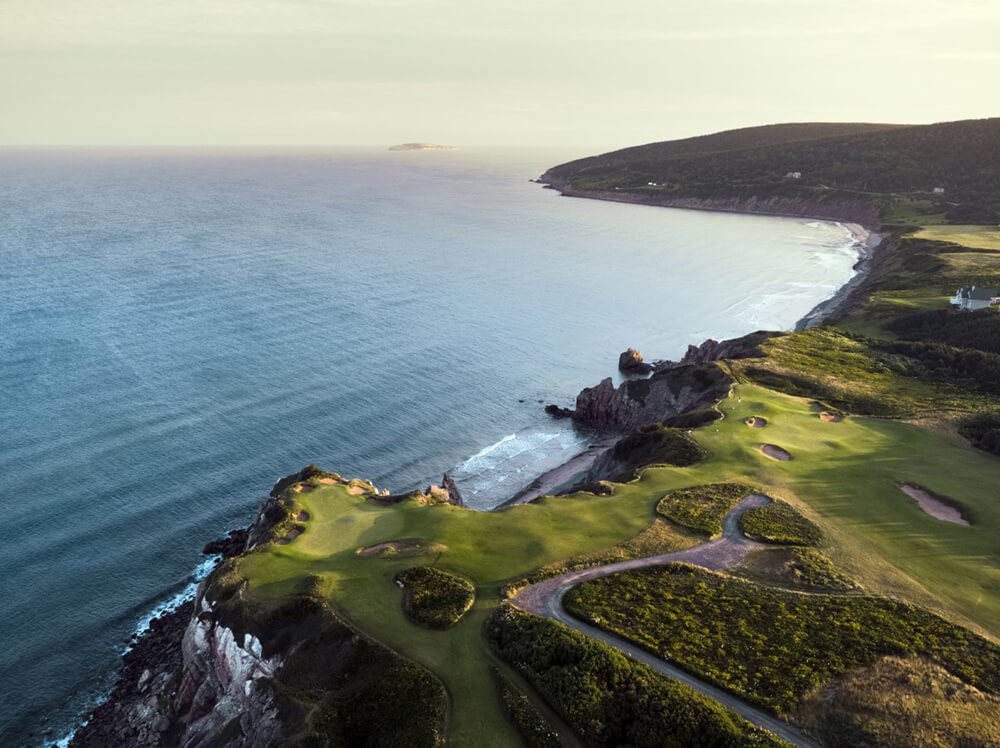 Design-wise, Rhebb says he has learned a lot from Bill about routing, horizon lines, tie-ins, and restraint, the last an important skill the great architects use to avoid overdoing a certain feature. "All that's important," he adds, "but by far the most crucial thing I've learned from them is how to treat people and make friends of associates and clients. You want to work hard for them because they show such faith in you."
Johns and Dormer say much the same, agreeing that what sets them apart is how Coore & Crenshaw deal with the people around them .
"When Bill and Ben are on site, they put everyone at ease," says Dormer. "Their humility has no parallel that I can see in the design world. Bill remembers the names of guys putting up silt fences and always says hi when passing. At client dinners, everyone is laughing, and the project is rarely the subject of the conversation."
Scotty Sayers—the company's business manager, who, Coore says, has been a hugely important part of the story—is well aware of the human qualities that have allowed Bill and Ben to build such a reliable and talented group of associates as well as so impressive a roster of clients. He won't commit to saying this recent period has been their most creative, citing the years between 2000 and 2006—when they knocked out Chechessee Creek, East Hampton Golf Club, the Warren Course at Notre Dame, Austin Golf Club, Friar's Head, Hidden Creek, Old Sandwich, Bandon Trails, Colorado Golf Club, and We-Ko-Pa (as well as renovating Lakewood in Dallas, Prairie Dunes, and Wykagyl)—as being pretty hard to beat. But he does concede this has been a particularly fruitful time for the company. "They have just been consistently good for so long," he says. "And I don't even know if they've peaked yet."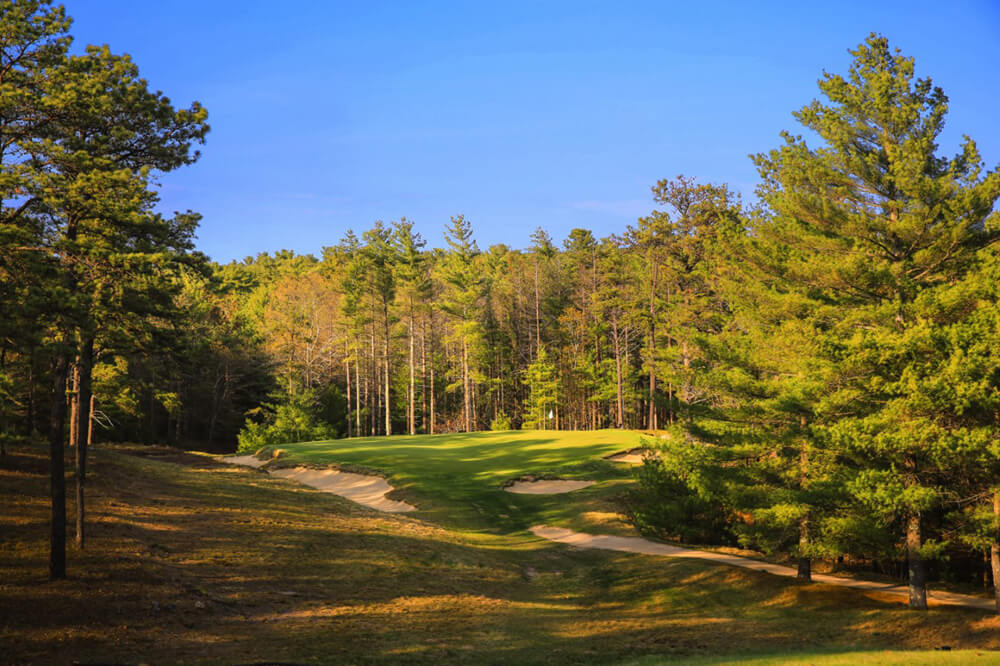 Sayers delivers that last line by email, so it's hard to know if he's being serious. Really, it's outrageous to think Coore & Crenshaw might not have done their best yet, given their incredible body of work. But let's dream, if only for a moment.
Coore says that while the two never got along badly, they have never gotten on better than they do now.  
"My relationship with Ben has been greatly enriched through the years," he says. "We have so many shared experiences. Our friendship and professional partnership are based on mutual respect and a belief in each other's abilities. We don't always agree but are able to overcome disagreements and find that whoever is more committed to their idea usually prevails. We're brothers from different mothers, and it feels like a family business."
What's more, even though Coore is now 77 years of age and Crenshaw is 71, neither man shows any signs of slowing down. "We're every bit as excited about building good golf as we were 35 years ago," says Crenshaw. "I always think of the Ben Hogan line about the next shot being the most important one. That's how we feel about our projects. The past is past, we want our next course to be our best course."
This doesn't surprise Rhebb one bit. "They're just so excited about what they're doing and can both outwalk people much younger than them, Bill especially." Dormer agrees having walked the entire site at St. Lucia with Coore in October. "He was jumping over drainage ditches and hiking hills and didn't take a breather at any point. I've walked 36 holes a day with both of them several times in the past. Over rocks, in mud, rain, 90 degree heat—it's a sight to be seen." Sayers says they love having the chance to see new pieces of property and use their imagination. "It's like a new adventure every time for them."
Presently, the pair has four projects lined up for 2023: The Pines Course at The International near Boston, which will be a complete redesign of Geoffrey Cornish's original; Crazy Mountain Ranch in Montana; Torch Cay in the Bahamas; and The Chain at Streamsong, a 19-hole short course to go with their already existing Red layout at the Florida resort. It's possible another course might be added following the revival of the Coul Links project near Dornoch in Scotland, where the local population remains vocal in wanting the course and where several concessions have been made to those fighting it (a decision should be coming in early 2023).   
But there could be even more. Coore says that, if the planets align, he and Crenshaw might actually sign on for six or even eight new projects in the near(ish) future—while trying to adhere to their limit of three a year as closely as possible. Crenshaw mentions a site in the Colorado dunes, about 40 minutes north of Denver International Airport, where they've routed a course called Rodeo Dunes. "Mike Keiser and his sons just keep finding these amazing sites for golf," he adds. "The land there is so incredible, it's like a mini Sand Hills. We wouldn't have to build much. I really hope it happens." 
"It's a very gifted site for golf," adds Coore. "And as long as we're given the opportunity to work on great sites like that, I'll continue. Building great golf is what motivates Ben and me. If the day comes when I don't get nervous about delivering a great course on a great site, then it will be time to stop." 
Thank you for supporting our journalism. If you prefer to read in print, you can also find this article in the Winter 2023 issue of LINKS Magazine. Click here for more information.