Golf course construction is on the rebound. Across the globe, recovering economies and undimmed ambition are leading developers and architects back into the new-course market. Some countries have continued to build, while in others, economic revival is the cause. Whatever the impetus, the news for traveling golfers is all good. Great sites, even if far afield, and great courses with something original about them, are the order of the day.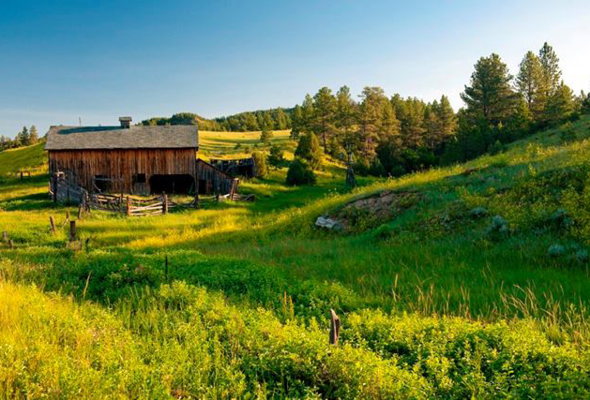 1. Wyoming Club Newcastle, Wyoming
"It's like an island in the sky," says architect Steve Forrest when asked about the site of his current project, the new Wyoming Club in the far east of the state. Set at 5,600 feet on top of a mesa just big enough for 18 holes, and with steep cliffs at every side, the views stretch across the state line into nearby South Dakota.
Wyoming Club is being developed by the Weinreis family, owners of the largest privately held cattle ranching business in the U.S., on land the family has owned for years. Originally, the course was to be built in a valley below the mesa, with a small number of premium housing lots on top, but, says Forrest, "I told them 'It's nice to have 50 people see this view, but if you put the golf course up here you get to sell the view again every day.'
"I have never seen a site like this," the architect continues. "The mesa is sandstone, so the soil is perfect, and the cliffs are 100 feet or more high. The golf course will match the site—it's going to be rugged and rough, with sagebrush and the craggy trees hanging off the cliff as visual keys." Site clearance is underway; the course should open in 2017.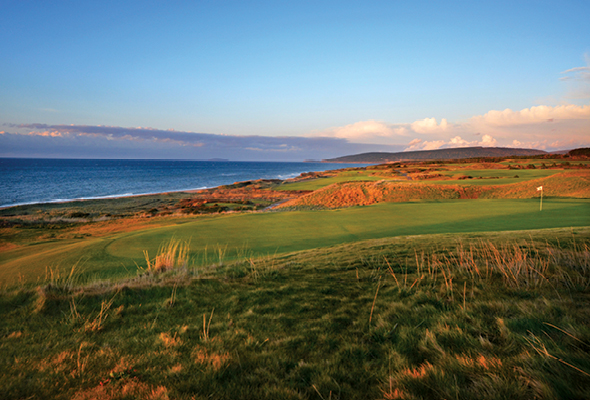 2. Cabot Links Nova Scotia, Canada
Visionary developer Mike Keiser has done more to kick-start the boom in accessible-destination courses than anyone. His most recent opening, Cabot Links on Canada's Cape Breton Island, achieved world top 100 status within a few years. But it's the second course at Cabot, now nearing completion under the watchful eyes of architects Bill Coore and Ben Crenshaw, that seems certain to create a real stir.
I saw the land set aside for Cabot Cliffs five years ago, shortly after Keiser and partner Ben Cowan-Dewar acquired it. Set atop jagged cliffs and cut through with deep ravines, its potential was obvious. But as Coore/Crenshaw have moved forward with the build, and as photographs have leaked out, so excitement has grown: The par-three 16th immediately calls to mind the matching hole at Cypress Point, while the two closing holes run parallel to the cliffs. Even the normally cautious Keiser has broken cover. "Bill and Ben are building one for the ages," he told a reporter recently. Golfers must wait till next year to find out just how good Cabot Cliffs is.
3. Lofoten Golf Links GimsØysana, Norway
Plenty of tourists head to the Arctic region in the summer to experience the midnight sun, or later in the year when the Northern Lights illuminate the sky. Few, though, go this far north to play golf.
Opening next year, the 18-hole Lofoten Golf Links in Norway may change that. More than 100 miles north of the Arctic Circle, the Lofoten archipelago is a chain of islands off the country's western coast, protected from the worst of Arctic weather by the Gulf Stream, which often lifts summer temperatures above 70.
Course owner Frode Hov's family has lived here for more than 400 years, but it is only in the last 20 that golf has come to the islands. Hov built a six-hole course by hand in the 1990s after realizing his property was similar to Scottish linksland. Swedish-based British golf architect Jeremy Turner helped extend the course to nine holes a few years ago and now has returned to rebuild and extend. The most memorable hole will be the 2nd, a par three with its green sitting on a rock stack almost entirely surrounded by the Arctic Ocean.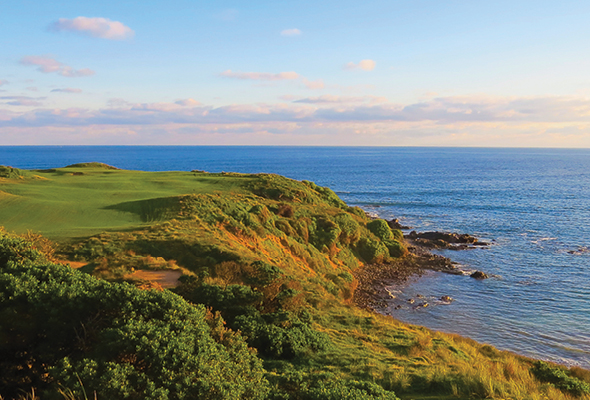 4. Cape Wickham King Island, Australia
Golfers from other parts of the world who have looked longingly at photographs of the two magnificent courses at Tasmania's Barnbougle Dunes may not wish to hear this, but there will soon be even more reasons to head for the islands off the southern coast of Australia. Roughly halfway across the Bass Strait between Melbourne and Barnbougle sits King Island, home to 1,800 people and one of the world's most anticipated courses.
Set to open in 2015, Cape Wickham is being designed by American architect Mike DeVries, creator of the Greywalls and Kingsley Club courses in northern Michigan. Australian golf journalist Darius Oliver is the brains behind the project; the author of the Planet Golf series of books saw the land before persuading developer Duncan Andrews to back it and DeVries to uproot his family from the U.S. for two years to get it built. All 18 holes have views of Bass Strait; eight play directly alongside the water with five others abutting the sea at tee or green. "The day Cape Wickham opens, at least 98 of Australia's top 100 courses will drop down a spot," says Aussie architect and touring pro Mike Clayton.
Furthermore, architect Graeme Grant is building another 18 on a similarly spectacular site elsewhere on the island, and the existing nine-hole course has been named as one of the world's best by many respected commentators. So plan a stop-off on the way to Barnbougle.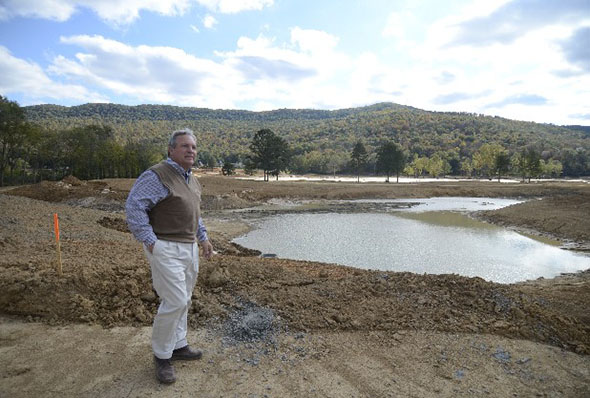 5. Sweetens Cove South Pittsburg, Tennessee
When architect Rob Collins left Gary Player's design practice to start his own business a few years ago, he could hardly have expected to end up a course operator, too. Collins and partner Tad King were hired in 2010 to rebuild the nine-hole Sequatchie Valley course in South Pittsburg, Tenn., half an hour from Chattanooga. Not long after construction finished, the family that owned the course changed its plans and sought to unload responsibility for operations, a decision that eventually led to Collins partnering with Ari Techner, owner of custom-clubmaking firm Scratch Golf, and taking on the course himself.
Sound unusual? It is, but the renamed Sweetens Cove course is pretty unusual, too. With a practically unlimited supply of sand from the owners' concrete business, Collins and King turned the flat land into one of America's most remarkable nine-holers, with huge, humpy-bumpy greens, centerline bunkers, and the feel of an old-school Scottish links. Most dramatic is the 4th hole, a par three with a 25,000-square-foot green that can play from 95 yards (at which distance the shot is blind) to almost 200. Nearly as weird is the closer, an amped up Redan, where the smart play may be a bump-and-run 5-iron. Sweetens Cove opens this fall.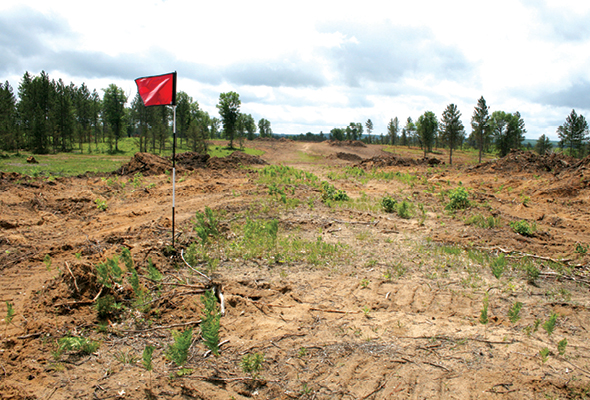 6. Forest Dunes Traverse City, Michigan
Tom Doak's portfolio already rivals that of any architect in history, so it is hardly surprising he is on the lookout for different challenges. One thing Doak has wanted to do for years is build a course that is equally playable in both directions, and he's talked Lew Thompson, owner of the Forest Dunes resort in Doak's hometown of Traverse City, Mich., into giving it a go. Already home to a highly rated Tom Weiskopf design, the reversible course will, in effect, give Forest Dunes 54 holes; the plan is to play the course in different directions on alternate days, inducing resort guests to stick around longer.
Look for greens that are less extravagantly contoured than some of Doak's recent work—the architect himself says that savage slopes will not work on greens that have to be playable from two directions.
Bizarrely, after the concept has been ignored for centuries, two other reversible courses are under construction. Dutch architect Frank Pont is building a nine-holer in Holland, while Dan Hixson is at work on one in Oregon.