With Labor Day this weekend and its inherent celebration of the common man, it's time to recognize the nation's finest municipal golf courses, which include facilities developed and owned by a city, county, or state. For some, a "muni" conjures something déclassé, a goat track with a chain link fence around it. Not so. Three of the prized munis on our list have hosted (or will soon host) a U.S. Open. Government may not always work, but more than a few enlightened municipalities have set aside good land and sought out top designers to build courses to delight citizens and visitors alike.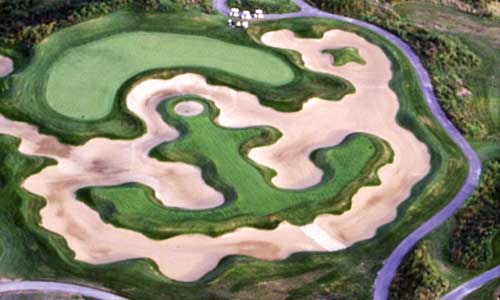 10. Harborside International
Chicago, Ill.
Occupying a pair of former toxic landfills encircling Lake Calumet on the industrial South Side of Chicago, Harborside International is the nation's most improbably situated 36-hole complex. Both the Port (pictured) and Starboard courses, designed by Dick Nugent in 1996, are marvels of environmental engineering. Contoured fairways on the treeless, windswept Starboard Course are defined by fescue-covered mounds and deep pot bunkers. The 7,166-yard layout is evocative of a British seaside links, notwithstanding the grain elevators and smokestacks on the horizon. Harborside's 57-acre practice facility is exceptional, as are the views of Lake Michigan and the downtown skyline.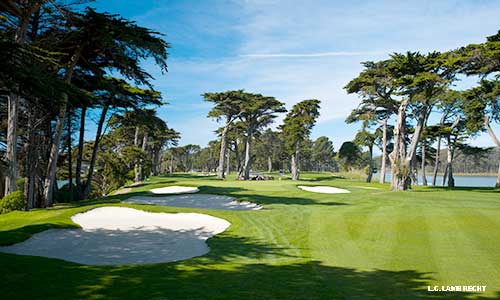 9. TPC Harding Park
San Francisco, Calif.
Stretched across a gently rolling peninsula near Lake Merced, TPC Harding Park, treated to an extensive refurbishment in 2001, is a rolling, lay-of-the-land course framed by tall pines and towering Monterey cypress trees. The 7,169-yard layout was designed in 1925 by Willie Watson and Sam Whiting, the men responsible for the Olympic Club's Lake Course. Once patronized by the likes of Ken Venturi and Johnny Miller, this historic muni's final five holes run high above the shores of Lake Merced, with the Cape-style par-four 18th a classic finisher. The facility will host the 2020 PGA Championship and its second Presidents Cup in 2025.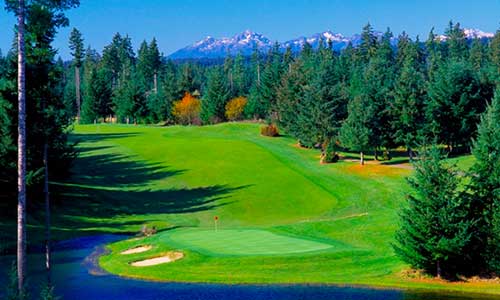 8. Gold Mountain (Olympic)
Bremerton, Wash.
Situated on the Olympic Peninsula 25 miles west of Seattle as the crow flies, the star attraction at this 36-hole city-owned muni was carved from a thick forest of Douglas firs and pines on rolling, sandy terrain by the late John Harbottle III. Play is dictated by steep-faced, sod-walled bunkers and tall waving fescues that line the fairways. The subtly contoured greens are set at various angles, forcing players chasing birdies to hit draws and fades to reach the pin. The layout's par threes, each oriented to a different point on the compass, are among the finest in the Northwest. The Olympic Course will host the NCAA Men's Regional Championship in 2015.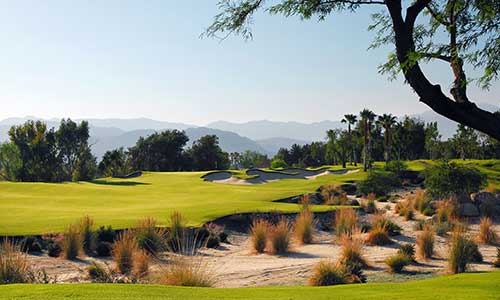 7. Indian Wells Golf Resort (Players)
Indian Wells, Calif.
Superimposed on a pre-existing layout on land once owned by Bob Hope's sons, the Players Course is the feature venue at a 36-hole resort facility owned by the City of Indian Wells in greater Palm Springs. Built by John Fought in 2007, the Players Course is a neoclassic design marked by sculpted bunkers inspired by Golden Age courses such as Riviera, Winged Foot, and Royal Melbourne in Australia. Ranked among the best-maintained public-access layouts in the Coachella Valley, the 7,376-yard Players Course offers fantastic views of the Santa Rosa Mountains, their bristly, treeless flanks rising abruptly from the desert floor at the southern perimeter of the property.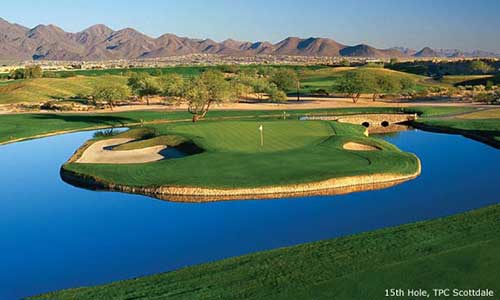 6. TPC Scottsdale (Stadium)
Scottsdale, Ariz.
Traveling golfers love to play TV tournament courses, and the Stadium Course at the Tournament Players Club, annual host of the Waste Management Phoenix Open, is one of the few TPC venues capable of challenging the pros without crushing duffers. A well-strategized layout etched into the desert by Tom Weiskopf and Jay Morrish in 1987, this well-groomed spread is known for its short "driveable" par fours (notably the 17th) and its memorable risk-reward fives. Stark brown peaks in the McDowell Mountains backdrop this subtle, links-style design. The Stadium Course is currently closed for renovation and will reopen Nov. 14.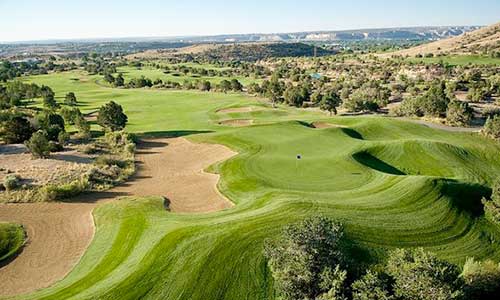 5. Pinon Hills
Farmington, N.M.
Representing one of the best bangs for the buck in the nation (the peak season weekday rate for non-residents is $41), this remote hidden gem, located near the Four Corners where Colorado, Utah, Arizona, and New Mexico meet, is well worth the detour. (Be sure to top off the tank). Laid out in 1990 by Ken Dye (no relation to Pete), this well-paced 7,198-yard layout, sculpted from a high desert plateau at nearly 6,000 feet above sea level, is girdled by dry washes and deep canyons. Framing the holes on all sides are red-rock mesas and sheer sandstone cliffs, with Colorado's La Plata Mountains piercing the sky to the north. Pinon Hills welcomes walkers, but flatlanders are advised to take a cart.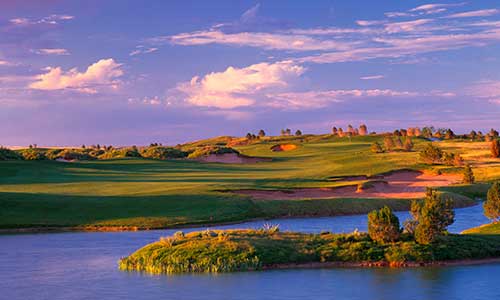 4. Butterfield Trail
El Paso, Tex.
Located near El Paso International Airport, this western frontier-style layout, designed by Tom Fazio in 2007, is accented by natural sand hillocks, pinon pines, and a rare-for-Texas 55-foot elevation change. Presenting a major-league test from the Iron tees at 7,307 yards, this well-conditioned layout, featuring smooth bentgrass greens, showcases Fazio's trademark playability from the forward markers. Each hole is named for a different stop on the historic Butterfield Overland Mail Company (pony express) route circa 1858. From every vantage point, the layout offers fine views of red rock peaks in the surrounding mountain ranges. The water-guarded, risk-reward par-five 18th, faced into the prevailing wind and fraught with danger, is a stunner.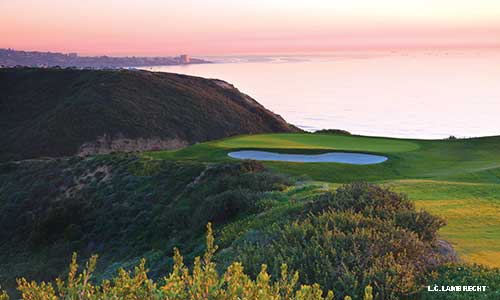 3. Torrey Pines (South)
La Jolla, Calif.
Tucked away in the tony enclave of La Jolla outside San Diego, Torrey Pines is a very popular 36-hole facility anchored by the South Course, a 1957 Billy Bell design completely renovated by Rees Jones in 2001. Routed on bold, sloping headlands indented by deep ravines and punctuated by rare Torrey pines, this civic treasure, site of the 2008 U.S. Open (the national championship returns in 2021) is a long, demanding layout stretching to 7,628 yards from the tips that comes alive on a breezy day. Sneaky quick greens, nettlesome kikuyu rough, deep plunging ravines, and grand Pacific views characterize one of the nation's most beautiful municipal courses.
2. Chambers Bay
University Place, Wash.
Located an hour's drive south of Seattle near Tacoma, this magnificent muni on the shores of Puget Sound, developed by Pierce County and designed by Robert Trent Jones II, sprawls across the floor of a depleted sand and gravel pit that bears the scars of a century of industrial mining. Broad, rolling fairways splay out in all directions beneath 60-foot-high dunes blanketed in tall fescue grasses. In addition to panoramic water views, snow-capped peaks in the Olympic Mountains rise 70 miles to the west of a layout that has but a single tree on site. This hurly-burly, walkers-only links, host of the 2010 U.S. Amateur, will welcome the 2015 U.S. Open next June.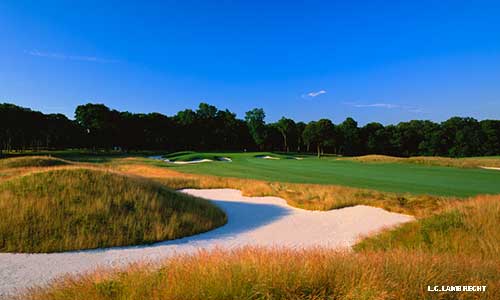 1. Bethpage State Park (Black)
Farmingdale, N.Y.
Situated an hour's drive east of New York City, Bethpage is a 90-hole golf factory where everything mirrors the size and scale of Gotham itself. This is especially true of its flagship track, the Black Course, built by A.W. Tillinghast using work relief crews in the post-Depression era. Sculpted from the spine of central Long Island's hills and hardwoods, the Black, remodeled by Rees Jones in 1998, is a strategic tour de force intended to separate the men from the boys. The nation's top muni is brute testimony to "Tillie the Terror's" design wizardry and farsightedness. Host of the 2002 and 2009 U.S. Opens, this roomy, well-bunkered layout will welcome the 2019 PGA Championship and 2024 Ryder Cup.