With so many great values available from Maine to Washington, why break the bank on a round of golf this summer? Bargains galore are available at resort, daily-fee, and municipal facilities throughout the nation, especially for walkers willing to tee it up on weekdays. Here's a sampling of 10 splendid facilities that offer a big bang for the buck.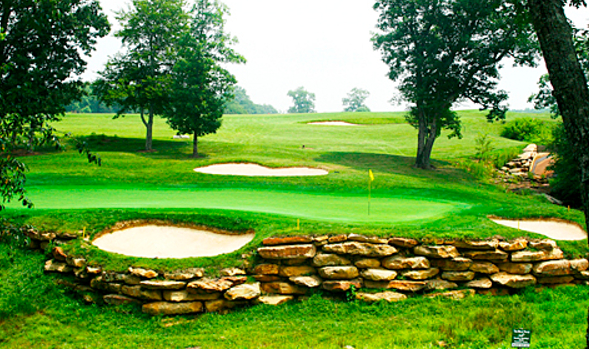 Bear Trace at Cumberland Mountain 
Crossville, Tenn.
Situated in the heart of the Cumberland Plateau 70 miles west of Knoxville, this Jack Nicklaus-designed course, situated within a state park, was built on a rocky site at 2,500 feet above sea level in Tennessee's Appalachian highlands. Carved from a thick forest of oak, pine, maple, and hickory on the nation's largest timbered plateau, the sturdy 6,900-yard layout, now part of the Tennessee Golf Trail, features an elevation change of nearly 300 feet from start to finish. Giant slabs of layered flagstone were used to prop up tees and greens on the course, which ranks among the state's most beautiful layouts. Green fees with cart are $47 Monday – Friday.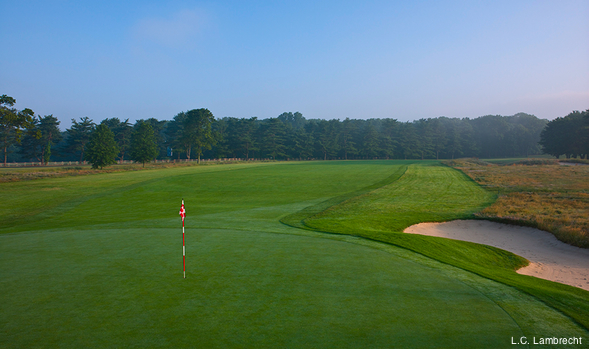 Bethpage State Park (Red Course)
Farmingdale, N.Y.
Overshadowed by the Black Course, a two-time U.S. Open venue and future site of the PGA Championship and Ryder Cup, the Red Course at this sprawling 90-hole state park complex shares the same legendary designer (A.W. Tillinghast) and inhabits a parcel nearly as grand and varied as the Black. Like its brawnier sibling, the rolling, tree-lined Red boasts a succession of sturdy par fours that dogleg left or right in the landing area. It's a steal for New York State residents ($43 to $48), but still a good deal for non-residents ($86 weekdays) given the exceptional quality of this Golden Age classic.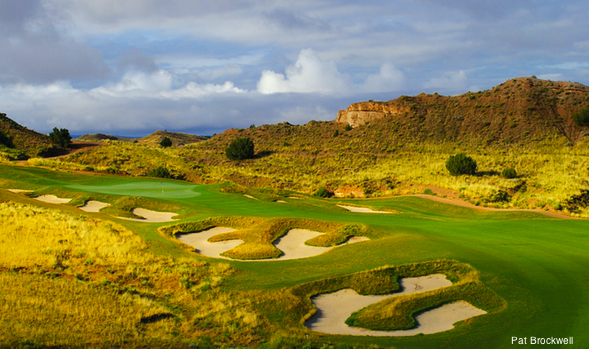 Black Mesa
La Mesilla, N.M.
Situated near Santa Fe and set at 5,400 feet above sea level, this otherworldly venue on the Santa Clara Pueblo was created by Baxter Spann utilizing the natural contours of the terrain. Chiseled into a stark site marked by box canyons and rocky ridges, the broad fairways on this 7,307-yard behemoth, many of them flanked or crossed by arroyos, roll through massive sandstone formations. Black Mesa, a regional landmark, is in view from several tees. In keeping with the scale of the site's topsy-turvy landforms, the greens are liberally contoured. Monday – Thursday, the fee is $62 for walkers, $82 with cart. Riding is recommended for flatlanders.

Buffalo Dunes
Garden City, Kan.
Considered the finest municipal course in Kansas, this hidden gem, located 180 miles from Wichita in the rural southwest corner of the state, is a nearly treeless 6,806-yard layout that's exposed to the prevailing prairie winds from the south. Water comes into play at four holes. Straightaway holes are balanced by subtle doglegs, many of them framed by exposed sand hills and a smattering of deciduous trees. The bluegrass fairways are well-groomed. The greens are very slick. The likes of U.S. Open champions Lee Janzen and Steve Jones have played here. The bargain-priced greens fee for walkers is $25 weekdays, $30 weekends.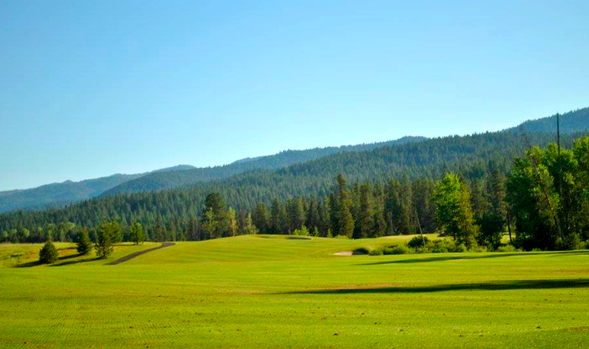 Jug Mountain Ranch
McCall, Id.
A member of the Idaho Golf Trail, this under-the-radar course, laid out by Don Knott, a former Robert Trent Jones, Jr. design associate, is an unembellished, lay-of-the-land track where the ball can be played along the ground. Man-made features were kept to a minimum on this 7,265-yard course, which features stellar views across a broad valley to Jughandle Mountain. Knott, who whittled the landscape in small bits to make way for golf, installed only 12 bunkers on the first nine holes he built. Routed at 5,000 feet above sea level, the course skirts wetlands and old-growth forests. Through Sept. 14, the Monday – Friday green fee for walkers is $55.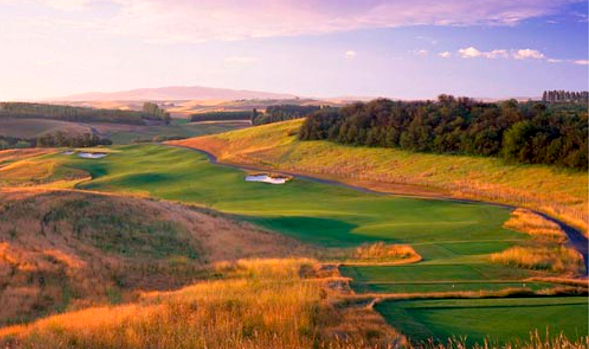 Palouse Ridge
Pullman, Wash.
Set on the campus of Washington State University 90 minutes south of Spokane, this majestic 7,308-yard layout by the late John Harbottle III, carved into a broad expanse of haystack-shaped hills, is an epic, grand-scale test with panoramas of distant peaks in Idaho and Oregon. Swept by swirling breezes, this bold, dramatic layout has the aspect of an inland links. Sound strategy and clever tactics are required to score. Priced at $30 – $40 for students (summer school, anyone?), the $99 rate for non-residents, including cart and taxes, is a fair tariff for one of the most scenic and challenging college courses in the nation.
Penn National
Fayetteville, Penn.
Located 40 miles from Harrisburg, this excellent 36-hole facility offers two contrasting courses. Founders, the original venue, is a traditional, tree-lined layout with well-placed bunkers and large, undulating greens. A seven-acre lake brings water into play on both nines. The newer Iron Forge course, opened in 1997, is an open, links-style design characterized by slick greens, huge bunkers, and 30-mile views of the surrounding farmland and mountains. A small lime kiln dating to the early 1800's is preserved behind the ninth green. Through Oct. 12, green fees from Monday – Thursday (including cart and taxes) is $65 for either course.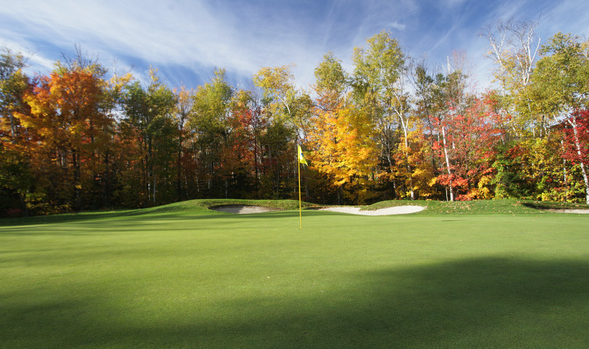 Sugarloaf Golf Club
Carrabassett Valley, Me.
Rugged and remote, this Bunyanesque layout in Maine's western mountains, attached to a renowned ski area, offers a wilderness golf experience nonpareil. Each hole on this prodigious course, designed 20 years ago by Robert Trent Jones, Jr., is carved from a dense forest of birch and pine, with magnificent views of bear-shouldered peaks in the Bigelow Range from the elevated tees. The six-hole stretch from 10 through 15, nicknamed the "String of Pearls" by Jones, flanks or crosses the rushing, boulder-strewn Carrabassett River. The golf equivalent of a black diamond ski trail, Sugarloaf has a dynamic pricing model that enables budget-minded players to sort tee times by price.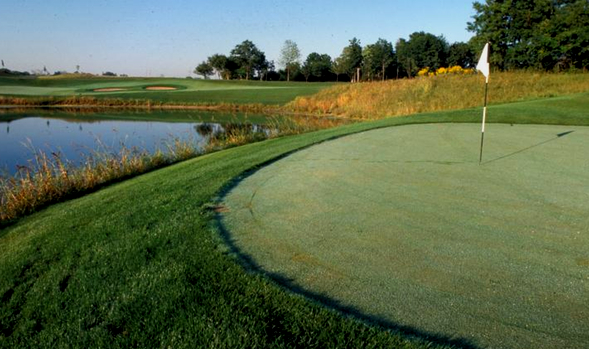 ThunderHawk
Beach Park, Ill.
Located an hour's drive north of Chicago near Libertyville, ThunderHawk, operated by Lake County Forest Preserve, offers a well-maintained, 7,031-yard course designed in 1999 by Robert Trent Jones, Jr. The layout, which has five par threes and five par fives, offers a blend of mature woodlands, pristine wetlands, and native prairie. Multiple tees, roomy fairways, and large greens challenge players at all ability levels. A Certified Bronze Audubon Signature Sanctuary, Thunderhawk is free of commercial development and is ranked among Chicagoland's finest public-access layouts. The green fee for walkers from Monday – Thursday is $52, with an Early Bird rate of $35 before 7:50 a.m.
Wild Horse
Gothenburg, Neb.
A poor man's Sand Hills? Wild Horse, etched across sandy, wind-scoured terrain in the middle of Nebraska, has nearly as much giddy-up as its more famous neighbor. Laid out by a pair of construction crew cornhuskers who built nearby Sand Hills, this compact 6,955-yard layout has wide, rolling fairways flanked by tall prairie grasses and impressive blowout bunkers. Firm, fast conditions on this breezy links-style design encourage low-running shots, especially on and around the large, glassy greens. If you can keep your feet in the stirrups, Wild Horse, always in top shape, is great fun to play. Green fees for walkers are $45.50 Monday – Thursday, including tax and range balls.