From Bandon, Ore., to Brewster, Wash., is roughly 600 miles. But for golf course architect David McLay Kidd, the two towns—the former the site of his first big-deal design (the original Bandon Dunes), the latter his most recent (Gamble Sands)—are the closest of neighbors when it comes to showcasing his philosophy of enjoyable golf.
"I went back to Bandon numerous times and asked, 'Why do people love it?'," Kidd says, explaining the process of designing Gamble Sands, which is three hours east of Seattle in the middle of the state, surrounded by apple and cherry orchards. "What did I do right at 26 that I didn't do at 36 that I want to do at 46?"
What he's done is find a way to make golf fun. Many architects give lip service to designing for all kinds of players, but Kidd has realized this lofty goal far better than most others have even attempted. In a few years, he could be seen as a pioneer in making the game more inclusive, inviting, and engaging.
"With Gamble, I'm bucking the trend," he says, not afraid to flirt with hubris. "Architects talk about shot value, protecting par, and challenge. In over 20 years in this business I've learned to design false fronts, spill-offs, and hazards. But now it's time to reconsider: Is this valid? Does the average golfer appreciate a bunker short-right that gathers his weak slice?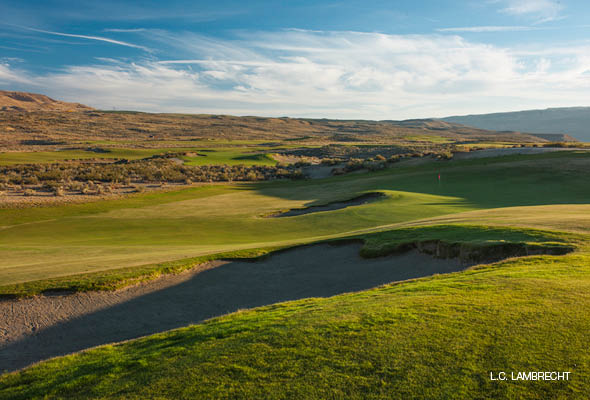 "Trent Jones said the golfer is on the attack so the architect has to be on defense. Well you know what, as an architect I want to partner with the golfer, be his caddie, and if he has some degree of talent, help him around this golf course to score, to have fun, and to want to play it again and again."
He does all that and more, thanks largely to size. Spilling across the top of a massive mound of sand, Gamble is as big a course as you'll ever see. Or at least it looks that way. It helps that the dune is about 1,000 feet high, so the views—stunning vistas over the Columbia River and Cascade Mountains—extend nearly forever in all directions.
About those mountains. Besides adding to the visual appeal, they block the clouds and rain most people associate with the "Evergreen State." That weather stays over Seattle. This part of Washington gets only about 10 inches of rain a year and much less wind than along the coast (including farther south at Bandon).
Some of Gamble's fairways are 100 yards wide, making them almost unmissable. But they're nearly all cut at angles (some sharp, most subtle), while dipping and turning. Some demand carries over large sandy fall-offs, and nearly all end at large, generally flat greens. The principal hazard is sand, and lots of it, but it's all in view and easy to avoid. There's no water to deal with and the breezes are gentle at worst.
To score, the good player must be aggressive, find the preferred lines, and land in the right locations. It's just that those locations are a little bigger and more generous than we're used to.
"This is not a course for Tour players but for everyone," Kidd says proudly. "In the past when designing a course we'd ask how we can put fear in golfers. Now we're asking how can we get the golfer to swing freely and, whatever happens, not get crucified. If he hits a weak slice, we want the land his ball finds to be flat. It may sound as if there's no challenge, but there is. More important, there's a huge amount of fun to be had."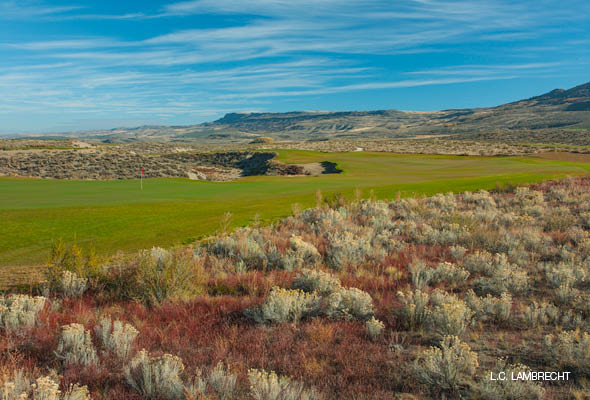 To truly be fun, Gamble Sands had to be public-accessible. Billing itself a "private resort," it sells both tee times and memberships. Lodge accommodations for up to 40 will open by 2016.
After Kidd finished Bandon Dunes he came up with the tagline that became the course's (and resort's) identifier: "Golf as it was meant to be." For Gamble Sands his slogan is: "We want you to play your best golf here." He's done everything humanly possible to make that happen.