"I think all our parks should be opened for golf unless there is some specific objection in public needs." -President William H. Taft
During the Golden Age of Golf in the early 20th century, eight public golf courses were built within the nation's capital. Three of those historic facilities remain today, among them East Potomac Park's 36 holes on a peninsula of land along the Potomac River in southwest Washington, D.C., that boasts exceptional views of the nearby Washington Monument.
East Potomac Park, Rock Creek Park, and Langston were built by the U.S. government as part of the expansion of parks and recreation facilities in the nation's capital, providing access to golf for those who couldn't afford to play D.C.'s tony private clubs. Those courses played a role in the city's Civil Rights movement and the integration of the city's recreational facilities, with East Potomac Park the site of its first golf desegregation efforts. Today, all three D.C. municipal courses are being improved, rehabilitated, and operated by the National Links Trust, a nonprofit that's dedicated to providing accessible, affordable, and engaging muni golf courses to local communities.
Architect Tom Doak has partnered with the National Links Trust to lead a renovation at East Potomac, where the Washington Monument is a target line for a number of tee shots, while Gil Hanse will oversee a restoration of the Rock Creek Park course. Beau Welling heads the design team at Langston, which was originally built in the late 1930s to replace a segregated golf course on the Lincoln Memorial Grounds and named after John Mercer Langton, the nation's first black congressman.
These three courses aren't just high profile, they're also unique. The trio are among a small group of courses located within national parks.
Yosemite National Park (California)
For a true national park feel, you'd be hard-pressed to top the surrounds at the Big Trees Lodge Golf Course (formerly Wawona) in Yosemite National Park. Aside from being a part of Yosemite's unspoiled and unforgettable wilds, the California 9-holer tucked amid the Ponderosa pines and incense cedar trees claims to be one of the few organic golf courses in the U.S., with no pesticides and the use of only reclaimed gray water for its greens. The 6th hole garnered the nickname of the "Nursery Hole" because it's a popular spot for wildlife, including bears, to come out of the woods with their young.
Death Valley National Park (California)
In Death Valley National Park in California—the largest national park in the lower 48 states—golfers can have the unique experience of teeing it up at a course with the world's lowest elevation. The Furnace Creek Golf Course at a resort called The Oasis at Death Valley stretches to just over 6,200 yards, but be prepared for the oftentimes relentless heat as well as the distance you'll lose due to the low elevation.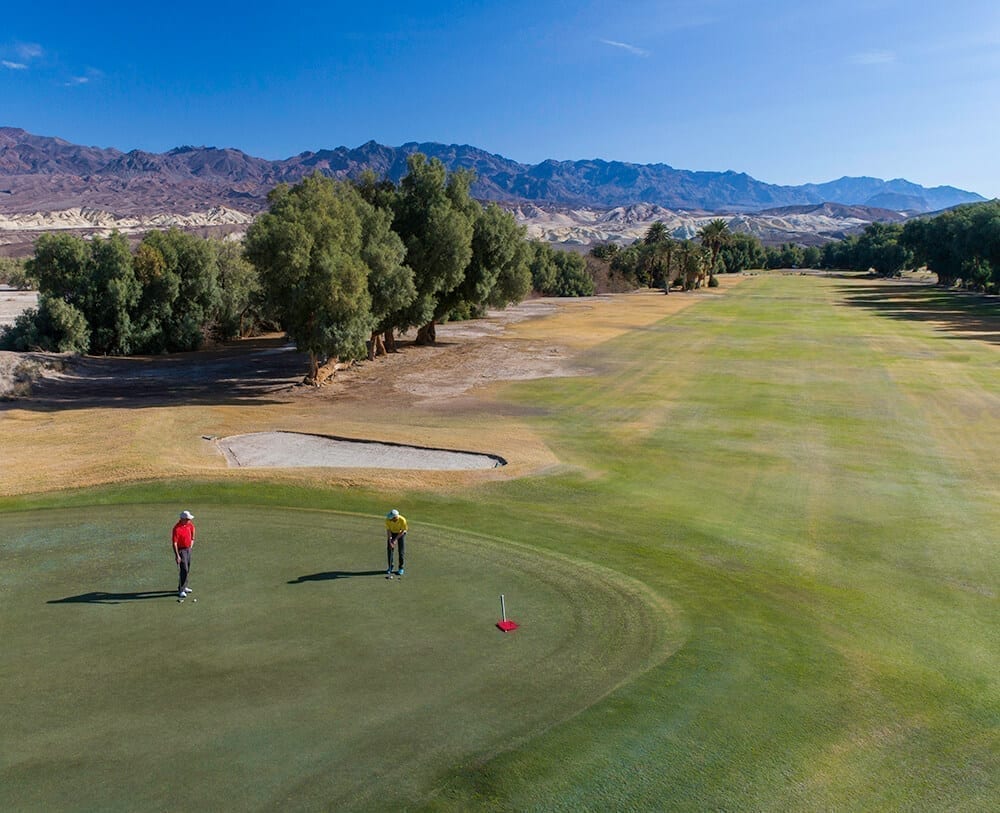 Cuyahoga Valley National Park (Ohio)
Cuyahoga Valley National Park in Northeast Ohio was at one time home to four golf courses, the most of any national park. Only two remain today, with the others being converted to natural areas or public park land. Shawnee Hills in Bedford and Sleepy Hollow in Brecksville are run by Cleveland Metroparks rather than being federally owned or operated, with the latter municipal layout a highly regarded Stanley Thompson design along the Cuyahoga River that's hosted USGA qualifying events.
Find Your Course! Golfers visiting Cleveland Metroparks courses can now access tee time bookings via the mobile app! Download now at https://t.co/SPYYhAHBjz. ⛳️ #FindYourPath pic.twitter.com/tglX5LRekd

— Cleveland Metroparks (@clevemetroparks) July 4, 2021
Cape Cod National Seashore (Massachusetts)
Highland Links, a public course perched along windswept bluffs in North Truro, Mass., dates to the late 1800s and became Federal property in the 1960s when the Cape Cod National Seashore was conceived.
The Presidio (California)
The Presidio Golf Course in San Francisco, which was originally part of a military base, opened to the public in the mid 1990s when the Presidio, adjacent to San Francisco Bay near the base of the Golden Gate Bridge, became a national park site.
View this post on Instagram
—
There are a host of other public and private courses just outside the more than 400 national park sites as well, locations that range from true parks to historic sites, battlefields, lakeshores, monuments, preserves, and recreation areas managed by the National Park Service.
Big Sky Golf Course in Montana feels like base camp for Yellowstone National Park; Black Diamond is just eight miles from the entrance of Alaska's Denali National Park; Moab Golf Course in Utah sits between both Canyonlands National Park and Arches National Park; Northeast Harbor and Kebo Valley are both on the periphery of Maine's Acadia National Park. And on the Big Island of Hawaii, I'm anxious to see if the Volcano Golf Course and Country Club gets new life on the outskirts of Hawaii Volcanoes National Park.
Are there golf courses in and around national parks that you have a special affinity for?